This weekend, the elders of Harvest Bible Chapel (HBC) announced to the church's Chicago-area campuses that the elders were owning their "failures" and getting "low before the Lord" to understand and address those failures (see video below). Among their failures, they admitted "shortcomings in the decision-making process of the Elder Board and Church Leadership" concerning the "termination" Friday of John Secrest, founding pastor of Harvest's Naples Campus. (They admitted similar shortcomings concerning the recent lawsuit and dissolution of Harvest Bible Fellowship.) Yet at the Naples campus, where Secrest's firing arguably had the greatest impact, those in attendance said no such announcement was made.
According to Heather Mahoney,* who attended the 9:00 a.m. service in Naples, Elder Fred Ananias simply told the congregation that it had been a tough week and that there was a bit of a crisis. She said Ananias added that if anyone had any questions, they could talk to him or Elder Scott Stonebreaker, but that the service was not the right time or place for those questions. Carolyn Housewert, who also attended the 9:00 a.m. service, said that's what she heard, as well. Housewert said she and her husband began attending Harvest Naples shortly after Christmas and only very recently learned of any issues concerning Harvest and James MacDonald.
I reached out to both elders and Harvest asking for an explanation as to why the Naples congregation didn't hear the same elder statement that was read in the Chicago area. To date, I have not received a response.
Debra Szemplinski, a former member of HBC in Elgin, IL, felt so strongly that people in Naples needed to be informed about recent events that she flew to Naples this weekend from her home in Illinois. Szemplinski was putting copies of my article about Secrest's firing on the windshields of cars in the church lot when two security men approached her and asked her to leave. She said as she was leaving, she asked one of the men if he knew about Secrest's firing. She said the man replied that Secrest hadn't been fired, but had resigned. She said the man then took pictures of her and her license plate, so Szemplinski took a picture of him (below):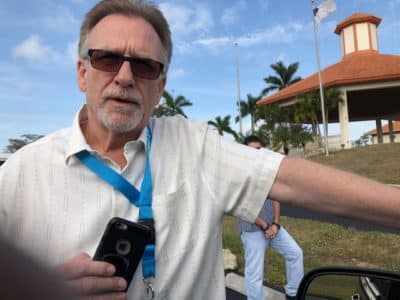 Mahoney reported that about 80-percent of the main floor of the church auditorium at Naples was full at the first service. Randy Huizinga, a major donor to HBC Naples who said he's no longer going to attend, reported that the second service seemed about half full.  
Give a gift of $30 or more to The Roys Report this month, and you will receive a copy of "I Didn't Survive: Emerging Whole After Deception, Persecution, and Hidden Abuse" by Naghmeh Abedini Panahi. To donate, click here.
I'm writing more about the situation at HBC Naples in an upcoming article for WORLD Magazine. I spent Sunday and Monday in Naples, but unfortunately got stuck in Atlanta the night before due to issues with a connecting flight and arrived after services had ended. I got some great interviews in Naples, though, and had a sweet time with John Secrest and his wife Jessica.
To date, Secrest said he hasn't heard anything from Harvest since he was fired other than an email from Human Resources. I connected with the Secrests in the late afternoon on Sunday. When I asked the couple if they had heard the announcement the elders gave in the Chicago area, he said no, so I played a recording for him that I had on my phone. 
Below is video of the elder announcement read from the stage in Rolling Meadows by elder Dan George: 
Today, Secrest sent an email to the Naples church family, expressing gratitude for the encouragement he's received and pledging to not abandon them. He added that "there may come a time soon when we can gather to pray, to talk, and to clarify any questions and confusion." Below is the full email:
Dear Harvest Naples Church Family,

Shortly after my last email to you on Friday 1/18/2019, I was fired by the elder board of Harvest Bible Chapel.  These have been days of grief and mourning, but also days of listening and reflection and prayer.  Many of you have reached out with words of encouragement for which I am grateful.

I had hoped there could be some clarity given to you regarding these circumstances on Sunday.  But the silence from church leaders has left many confused.  I want you to know that I am available to you and there may come a time soon when we can gather to pray, to talk, and to clarify any questions and confusion. I am not abandoning you. I have not spoken out thus far because I have not wanted to make things worse, but the silence itself is deafening.

Please be in earnest prayer today and in the coming days, calling on the Lord to bring peace and healing, repentance and reconciliation for His glory.  Let us be together on our knees praying for unity.

I am praying with you and for you.

Pastor John
Stay tuned for more on this developing story.
*Mahoney is a former longtime member of Harvest in Chicago, and the mother of Ryan Mahoney, one of the authors of The Elephant's Debt. She and her husband happened to be vacationing in Naples this weekend, and due to the current crisis, decided to attend the service.