About a mile west from where a Norfolk Southern train carrying hazardous materials descarrilado in East Palestine, Ohio, on Feb. 3, a man in a white cowboy hat was greeted by smiles, car horns and waves as he handed out cases of water in a lot beside the railroad tracks on Tuesday.
One person brought him a buffalo chicken wrap for lunch. Two men in a pickup truck stopped by for water and asked if he'd be around later that night.
"You're loved from the top of your head to the bottom of your feet, you know that, right?" He called out to the men in the truck.
Known by the nickname "Cowboy," David Graham is a veteran from Fredericktown, Ohio, who has been distributing donated water and other goods in East Palestine since the second week of February.
"What brought me here was the thought that there would be people here that will need to talk," he told media. "This was one of those where God said, 'Go.'"
Give a gift of $30 or more to The Roys Report this month, and you will receive a copy of "Wounded Workers: Recovering from Heartache in the Workplace and the Church" by Kirk Farnsworth. To donate, haga clic aquí.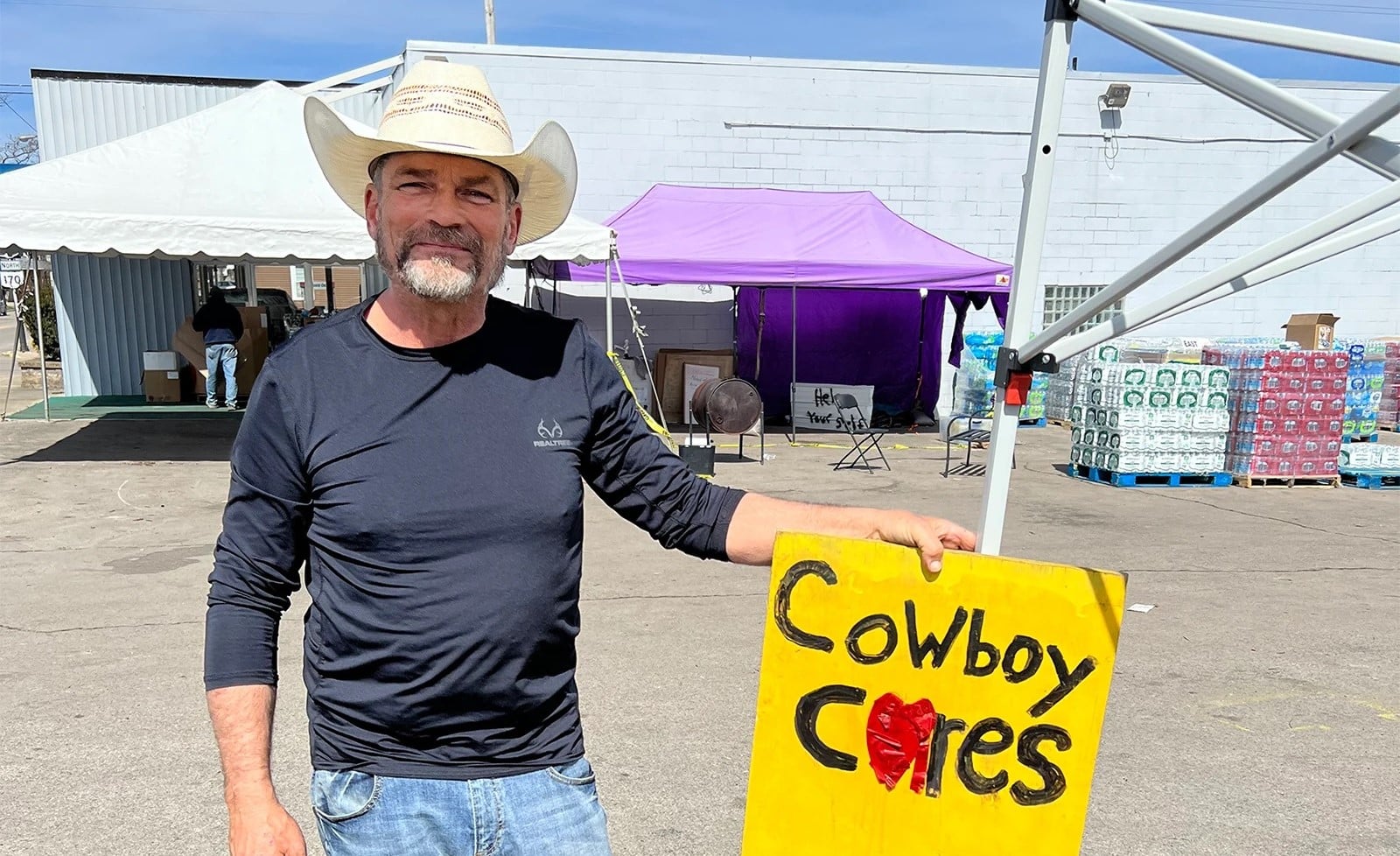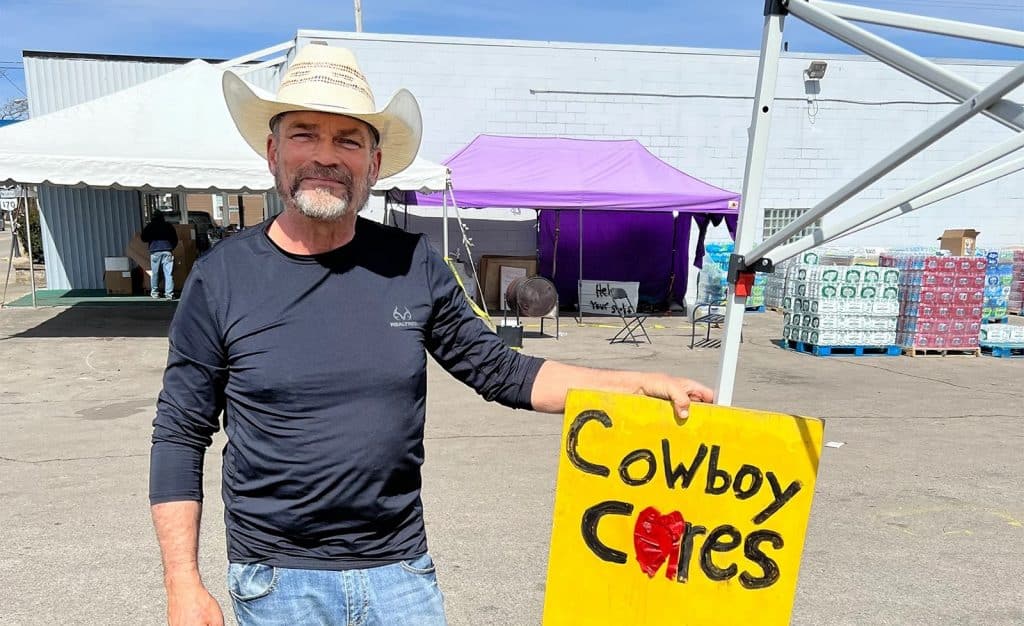 Graham grew up as an atheist, but after a conversion experience over two decades ago he now considers himself a "bapticostal" — a mashup of Baptist and Pentecostal. For 25 years he's traveled to disaster zones to offer help and hope — most recently, he was in Fort Myers, Florida, to assist with hurricane recovery — and in November he officially registered a faith-based disaster relief nonprofit called Hearts Hurt.
"I make a fire, let them pull up with their beer, their coffee, their water or their meth pipe. Make a safe place where they can say, this is where I am," he said.
In the weeks since the derailed train released toxic chemicals into the town's air, surface water and surface soil, the residents of East Palestine have faced initial evacuations, uncertainty and economic fallout. But alarmist headlines and opportunist political spins notwithstanding, signs of hope punctuate the streets of East Palestine — at Graham's makeshift distribution center, where he prays aloud for residents by name; at the local church thrift store that's given out hundreds of air purifiers and water filters; in front yards dotted with Easter decorations.
"What better season than the season of resurrection to talk about new life?" the Rev. Steve Court, a retired pastor who coordinates disaster response in the East Ohio Conference of the United Methodist Church, observed in a conversation at the East Palestine McDonald's. He said he's seeing "resurrection" in the kindness of strangers and in the joy of friends and family gathering and laughing together.
As part of his role, Court trains local volunteers who respond to disasters and coordinates long-term support for impacted communities. Right now, Court said he is focusing on the spiritual and emotional needs in East Palestine.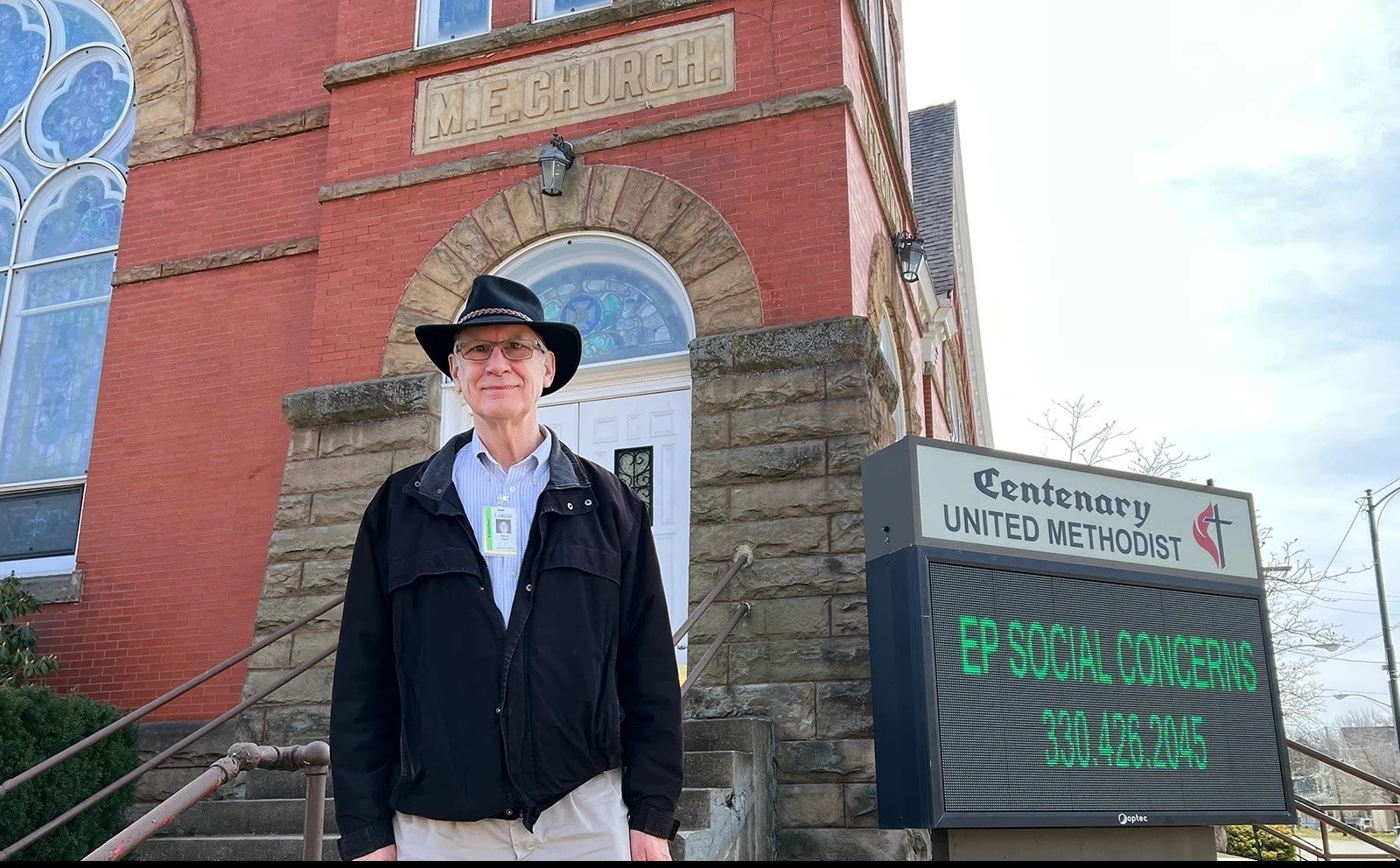 "I do prayer walking and conversations. We are focused on active listening and simply the ministry of presence. In addition, any needs we hear of, we then resource through the local churches, through the community organizations that are already responding."
According to Court, the neighborhood's handful of local churches have become hubs for the response effort.
"Centenary United Methodist Church, here in town, is the host of the EPA and railroad and other local offices. We've set it up as a coordination center," he said. Two other churches are hosting a health clinic and a Norfolk Southern-sponsored family assistance center.
Diane Russell, a community involvement coordinator for the U.S. Environmental Protection Agency, said local faith-based organizations are "key stakeholders" that are helping the EPA understand and meet the needs of folks on the ground.
"If they have questions, they're going to go to their pastor for that, not always come to us," said Russell, who has been in East Palestine since early March. She said the EPA will soon be launching a weekly community newsletter that will keep readers abreast of key updates and resources. "That was a product that was driven from conversations that included our faith-based network."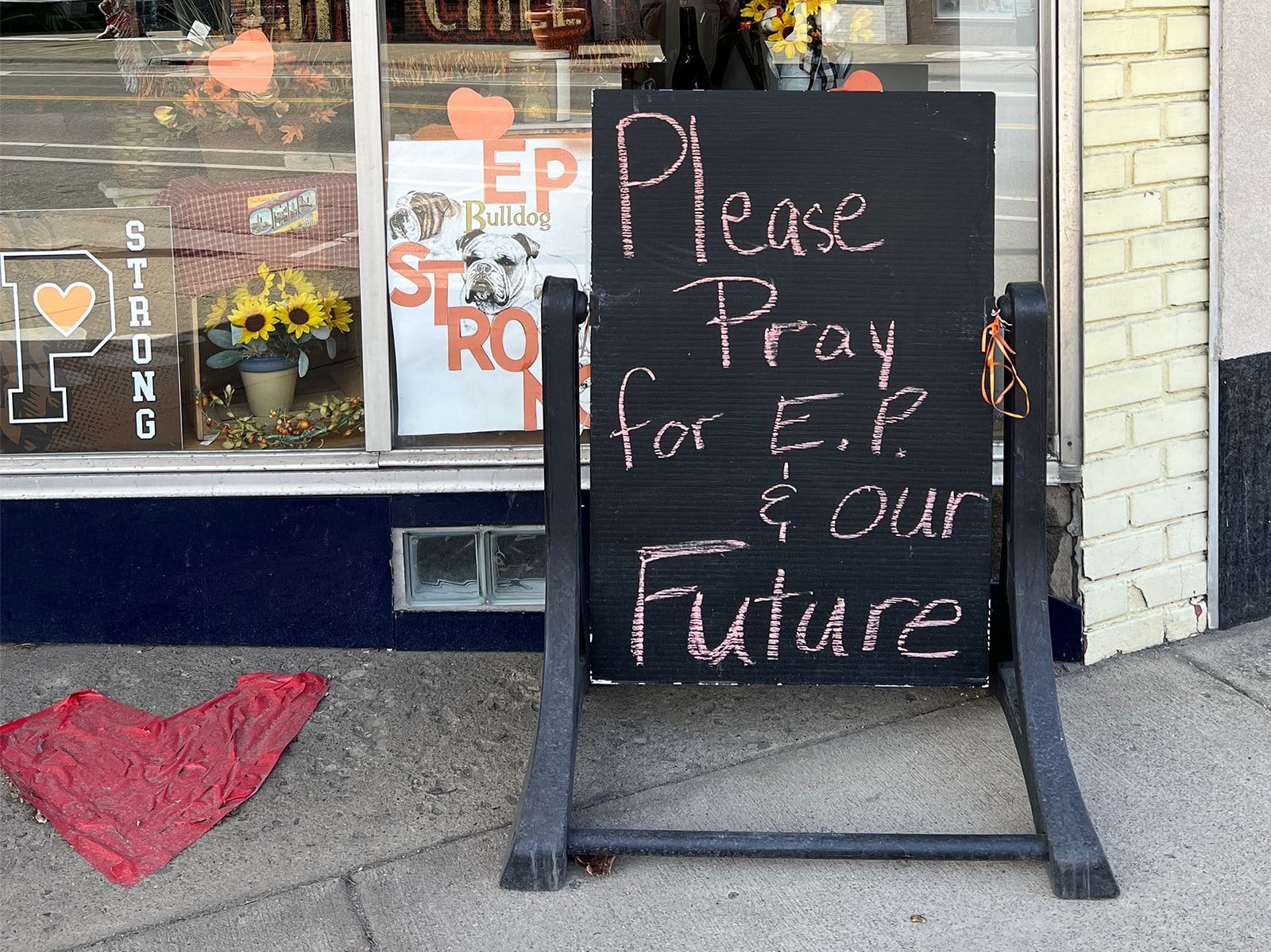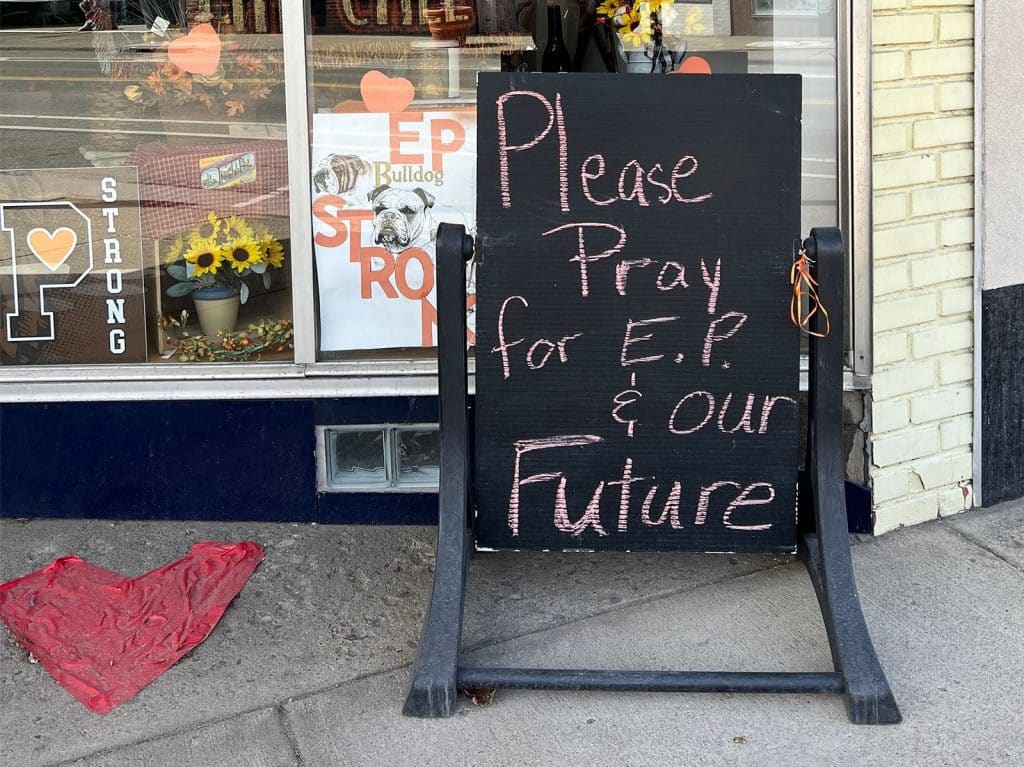 The Rev. Fritz Nelson said that for his congregation members at First United Presbyterian Church in East Palestine, it took hours, even days for the full gravity of the derailment to sink in. After the evacuations, the small congregation was scattered, and in the first week, the church — which is a block away from the evacuation zone — shut down.
After the buildings in East Palestine were declared safe, Nelson said, most of the church members returned to their homes and to the church, but questions lingered. "There was a lot of distrust of the railroad, of the EPA," he said. "There's a sense that our community isn't the safe place it used to be. There's a before and there's an after."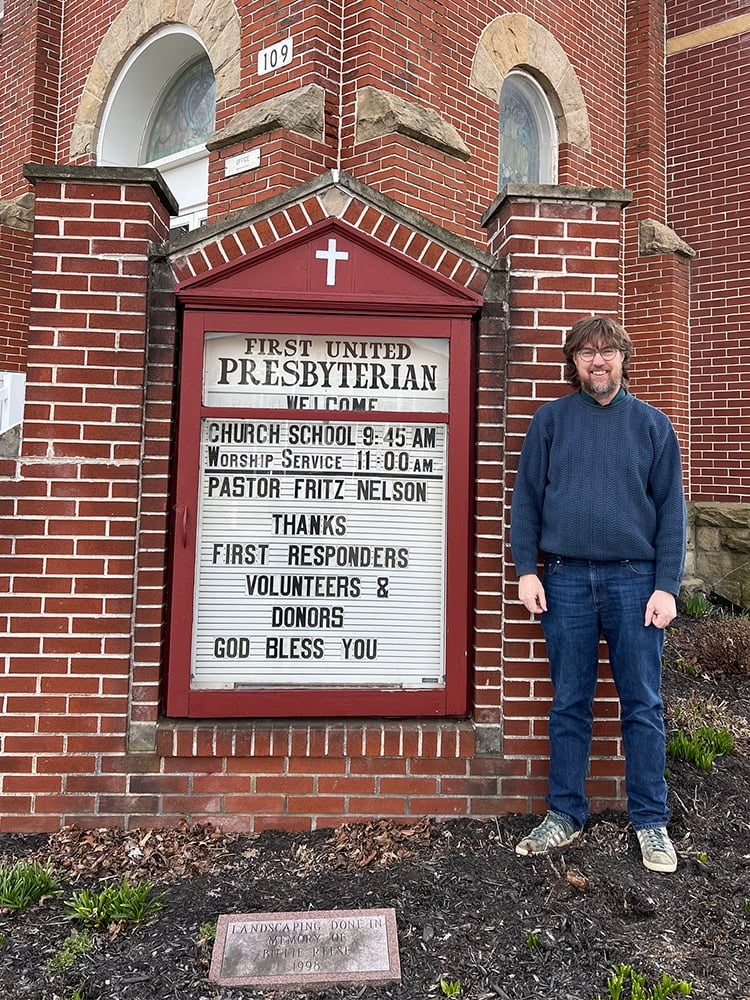 Part of that "after" involved the transformation of the church's parking lot. First United Presbyterian Church is home to The Way Station, a thrift store and the town's only staffed nonprofit human services agency, according to Nelson. In February, it quickly became a default crisis response center.
"Our church overnight became the major distribution hub. It's calmed down some," said Nelson. "We had pallets of water. We had semi-trucks coming into the parking lot, unloading. We had a forklift here for a while. We had pallet jacks. We had hundreds of people waiting in line to get water."
In the last 15 years, Nelson said, First United Presbyterian Church has been "on every closure list." He estimated that 10 people were at church last Sunday. "They are tenacious, they're stubborn, and most of all, they care for a community in a way I've never seen in any other church," he observed.
In the wake of the disaster, the church is planning to team up with environmental organizations and religious disaster recovery groups to become a community support and advocacy center, with a small congregation attached. The hope is that The Way Station will triple in size and add youth programs, employment training and other services. Though Nelson said the church has already been declared safe by a contractor sent by Norfolk Southern, by working with environmental groups such as River Valley Organizing, the church aims to retest its property for contaminants to learn more about how the church building, land and nearby stream have been impacted.
"A lot of what this church wants to do, with partnering with environmental advocates and doing independent testing, is saying, this is what we found, what research shows, and this is how it might be affecting us," Nelson said. "Then people can make their own decisions."
The second round of testing could provide additional information at a time when clarity feels elusive. While national media attention has ushered in resources to the community, Court says the coverage has also intensified anxiety and uncertainty. "That uncertainty is, emotionally and spiritually, a second level of disaster," he said.
Nelson added that people in the "deep red," politically conservative community have felt that news reports treated them like pawns in a political dispute that's far removed from the reality on the ground. "The politicization hurt," said Nelson. "One of my elders, she's like, 'We're on the news, and I didn't recognize us.' They're being dragged into a debate that wasn't theirs." Narratives depicting East Palestine residents as poor and helpless have especially robbed them of their dignity, Nelson said.
Still, as the Christian liturgical season of Lent marches steadily toward Easter, Nelson hopes the wave of support and collaboration could be an opportunity for resurrection.
"We have this chance to build something new," said Nelson. "And maybe if we start advocating for a cleaner environment, we can start advocating for a more functional city government, a stronger economy. Maybe we can repair the community and institutions and begin something a little bigger."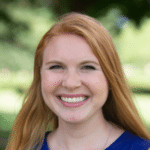 Kathryn Post is a reporter for Religion News Service based in Pittsburgh, Pennsylvania.