Well-known names from the world of gospel music and the Black church gathered at the Museum of the Bible in Washington, D.C. to hail the contributions of African American churches and to call for continued efforts toward building unity and bridging divides.
The "Blessing of the Elders," an awards celebration held Thursday just blocks from the U.S. Capitol, specifically honored seven leaders known for their contributions in megachurches, denominational leadership, civil rights, music and religious broadcasting.
The Rev. A.R. Bernard, an honoree and a Brooklyn, New York, pastor, described the Black church, in its varied expressions, as a repository of Black culture in America.
"Embracing Christianity, Blacks didn't seek to imitate white Christianity — oh no, instead we created a parallel religious culture, our own brand of Christianity with our own hymns, music, style of worship, much influenced by the challenge of slavery," Bernard said in the museum's World Stage Theater.
"Christianity gave Blacks hope in the midst of a hopeless situation, and we're not done yet. I believe the 21st century will see the Black church lead the way to hope and healing in a deeply divided nation."
Give a gift of $30 or more to The Roys Report this month, and you will receive a copy of "The Ballot and the Bible" by Kaitlyn Schiess. To donate, click here.
One honoree, Bishop Charles E. Blake Sr., the former top leader of the Church of God in Christ, was unable to attend due to medical reasons.
"Bishop Blake wanted me to tell you he was sorry he couldn't be here," said Harry Hargrave, chief executive officer of the Museum of the Bible. "He's coming off of COVID. He's feeling much better."
Jon Sharpe, the museum's chief relations officer, and the Rev. Tony Lowden, pastor of the Georgia church where former President Jimmy Carter is a member, took the stage to explain how the predominantly Black gathering came to be.
Sharpe said he had a vision two decades ago that "the Black church is going to lead spiritual renewal in America."
The museum executive, who is white, shared his idea over dinner with Lowden, an African American man who had attended a 2020 fatherhood conference at the museum. Lowden said the concept — which Bernard now calls a "movement" — resonated with him.
"There was a move that we had to answer, asking us to come together, go around the nation to talk about how we can bring the Black church together to lead," Lowden said.
Over the course of the more than three-hour ceremony, coming together and overcoming were recurrent themes.
"The only way we can go forward now is with 'love one another,'" said honoree John Perkins, a civil rights veteran and reconciliation advocate, quoting the New Testament book of 1 John and elevating the church as a whole over congregations attended by Black or white people. "'He that loves knoweth God. He that loveth not knoweth not God.'"
North Carolina pastor Shirley Caesar, an honoree known for her award-winning gospel singing, spoke of worshipping in the "red church," based on the sacrifice of Jesus, rather than at a Black church or a white church.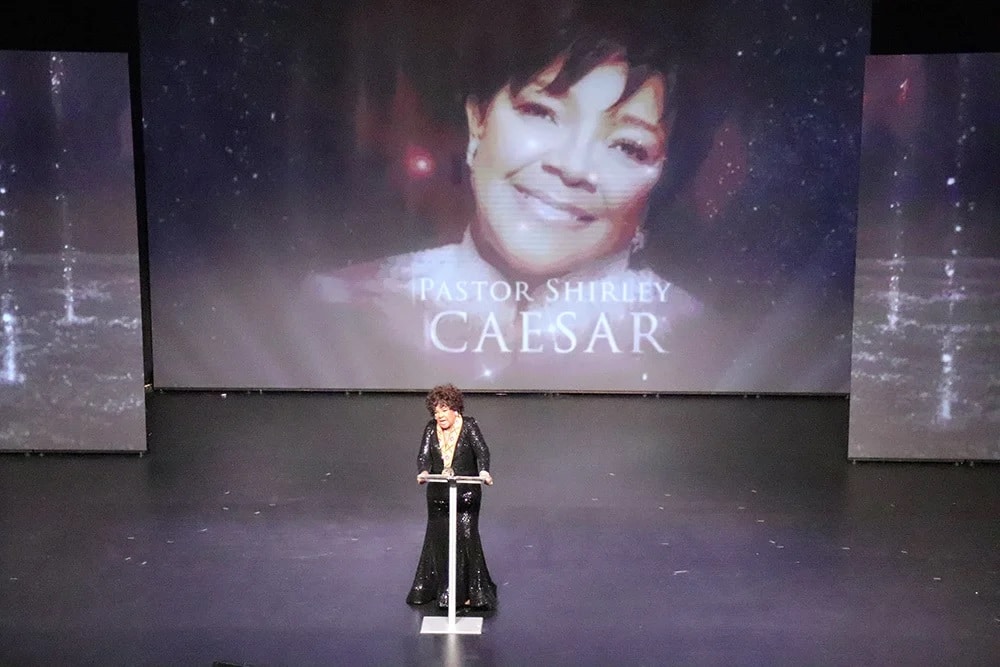 And Dallas pastor Tony Evans also spoke of a unified church, saying, "It's time to go public as the Black church and white church of the kingdom of God, the glory of God and the advancement of his rule in history. It's time for the church to lead the way."
Bishop Vashti McKenzie, an honoree and the first woman prelate in the more than 200-year-old African Methodist Episcopal Church, said she accepted her award "on behalf of women who have been pushed to the margins of church culture, yet their gifts continue to make room for them." As McKenzie stood between her daughter and granddaughter, whom she asked to join her on stage, she urged others to adhere to the biblical admonition to "stand firm."
Actor and producer Denzel Washington, one of the presenters at the event, noted his spiritual trajectory was shaped by two of the evening's honorees as they led churches on opposite U.S. coasts — Blake's West Angeles Church of God in Christ in Los Angeles and Bernard's Christian Cultural Center in Brooklyn.
"It's been an amazing 40-year journey from Bishop Blake's church, where I first was filled with the Holy Spirit, to tonight," Washington said, noting that Bernard, "a man of God with a mind of God," had asked the actor to speak during his time of tribute. "It has been a blessing for all of us to be students of Pastor A.R. Bernard. It's been a blessing for me personally to have someone that I can talk to, ask questions."
Between prayers and speeches, a range of Black church music was featured, including from co-hosts BeBe Winans and Erica Campbell — who also harmonized a bit of "Amazing Grace" while awaiting a working teleprompter. Wintley Phipps, Pastor Marvin Winans, Lecrae, the Clark Sisters, Tramaine Hawkins, Fred Hammond and Anthony Brown & group therAPy also performed.
The Blessing of the Elders initiative, which thus far has included a steering committee and been supported by the Museum of the Bible and partnering foundations, individuals and corporate sponsors, is now a not-for-profit corporation that Bernard will chair. In an interview before the gala, he said its next steps could include a documentary, an exhibit or a curriculum about the history of the Black church that would be particularly intended for white churches "to walk a mile in our shoes."
Steve Green, board chair and founder of the museum, said in a separate interview that a temporary exhibit centered on the Black church — delving more into the subject than what is already featured in its Bible in America permanent exhibit — is a possibility at his facility.
"To be able to do a deep dive within the Black community and the Black church is an exciting opportunity for us to consider because there is a story to be told," he said.
The evening ended with a blessing of the celebrated elders, but Bishop T.D. Jakes, another honoree, made it clear the concluding prayer should not be solely for the seven people with bios in the program but rather all those who gathered to laud them.
"Perhaps the greatest elders are not on this stage; perhaps the greatest elders are you," he said. "So if we bless the elders and exclude you from the blessing, we will have missed the opportunity of God's attention. Because the future is in your hands and your mouth. We've all spoken. The next message is on you."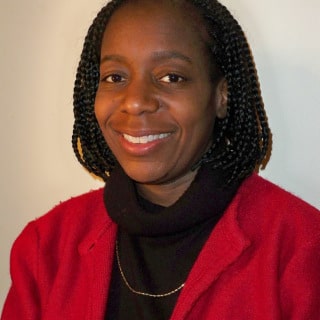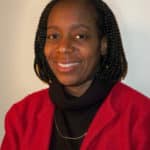 Adelle Banks is production editor and a national correspondent at Religion News Service.