Canadian apologist Sye Ten Bruggencate publicly announced his permanent departure from ministry because of an unknown "moral failure."
In a Facebook post Wednesday morning, Bruggencate said he was leaving public ministry because of a sin that disqualified him from ministry. Bruggencate did not specify the sin and referred all questions to Faith Presbyterian Church, the church he attends in Tillsonburg, Ontario.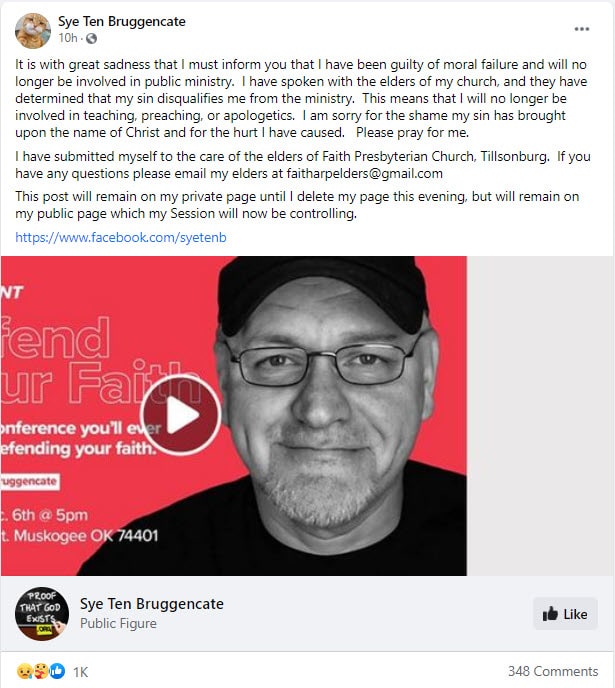 The same apology also appears on Bruggencate's website.
Since 2008, Bruggencate has worked fulltime in his "presuppositional apologetics" ministry, which argues that without presupposing God's existence, people can't appeal to logic, experience, or feelings.
His ministry has produced a film on apologetics called "How to Answer the Fool" and Bruggencate has debated atheists including Matt Dillahunty, Matthew Isaacs, and Paul Baird.
Give a gift of $25 or more to The Roys Report this month, and you will receive a copy of "Ecclesiastes and the Search for Meaning in an Upside-Down World" by Russell L. Meek. to donate, click here.
Bruggencate's Proof That God Exists ministry, which accepts donations, is not registered as a charity in Canada. His website says it decided not to register as a charity to avoid government attempts to control the ministry's content. 
Bruggencate deleted his private Facebook page Wednesday night and relinquished control of his public page to his church's elders.
In a statement to The Roys Report, Faith Presbyterian pastor Steve Richardson said that Bruggencate confessed a "troubling circumstance" to the church on Sunday, involving Bruggencate. The situation happened in the past and is not ongoing, Richardson said.
After a 48-hour investigation, the church had "ample cause" to ask Bruggencate to step away from ministry and cease taking the Lord's Supper, said Richardson. The church's inquiry will continue.
"We directed him to make public his confession to us that he had acted far beyond the boundaries of acceptable conduct," Richardson's email statement said.
Richardson said the church cannot disclose personal identifying information, but felt the need to act swiftly.
"We are extremely mindful that many institutions, churches but also schools, sports teams, political organizations, media outlets and others, have failed to act swiftly or seriously in the past," he said. "By their delay, they have made worse the suffering of one or more parties. We will not be rash, but we will not make that error, either."
Before he became an apologist, Bruggencate worked as an engineer in the automotive industry and as a factory worker.
"I wanted people to become Christians, so I learned all of these arguments on how to defend my faith, and I would use them at work with my unbelieving colleagues," he said on a Think Institute podcast. "One of the things I've been blessed with is taking these difficult arguments and dumbing them down to my factory worker level."
Faith Presbyterian said it will be making further public statements "when and as the situation allows."
CORRECTION: Sye Ten Bruggencate was the only member of the church involved in the troubling circumstance. An earlier version of this story stated that another church member was involved. This copy has been corrected.
Jackson Elliott is a Christian journalist trained at Northwestern University. He has worked at The Daily Signal, The Inlander, and The Christian Post, covering topics ranging from D.C. politics to prison ministry. His interests include the Bible, philosophy, theology, Russian literature, and Irish music.