On February 25, Alex George shared an article on Facebook critical of disgraced former Harvest Bible Chapel pastor, James MacDonald, who had just announced his return to public ministry.
The article, which had been published on The Roys Report, was written by Alex's father, Dan George, a former elder at Harvest. And it strongly warned people not to follow MacDonald, whom Dan described as "unrepentant and unchanged" since being fired by Harvest a year earlier.
For sharing his dad's article, Alex George was suspended from his job as a producer of weekend services at The Bridge, a large, multisite church in the Chicago area with average attendance around 1,800.
George then resigned. And recently, he posted his reasons on Facebook, sparking debate about the influence MacDonald still wields in the faith community, and the alleged controlling and secretive culture that dominates some churches.
"The world is seeing the need for accountability more and more with the #MeToo movement, corporate fraud, and police brutality," George wrote. "The church of Jesus Christ should be leading the way with accountability and transparency. Congregants should be able to ask their pastor questions. Pastors should be eager to be held accountable. . . ."
Give a gift of $30 or more to The Roys Report this month, and you will receive a copy of "The Ballot and the Bible" by Kaitlyn Schiess. To donate, click here.
Alex George's post about leaving The Bridge:
Avoid sides on a "polarizing issue"
According to The Bridge Senior Pastor Scott Ziegler and Executive Pastor Brian Nelson, The Bridge suspended George because he violated church policy, prohibiting leaders from using social media "to take a side on a polarizing issue."
They say George had been warned about this policy once before. And the pastors were disappointed that George violated the policy after being fully informed of what the boundaries were.
But George says he's never seen a copy of this policy, despite requesting it numerous times since his employment began in 2019. He also said that previously he had been told simply to not be "unkind," but the church didn't mention anything about "polarizing issues."
He also said that Nelson told him in a phone conversation on February 29 that the church's objection was specific to MacDonald. "I was told I could talk about other issues, like the Catholic Church," George said, "but not James MacDonald."
George also said the church's position is ironic, since Pastor Ziegler engaged on George's February 25th Facebook post about MacDonald, liking some of the comments and even posting one himself.
George's Feb. 25 post about his dad's article:
Ziegler posted, "I agree," in response to a comment on George's post, stating: "I don't understand the desire to keep talking bad about (MacDonald). . . . Why the need to hold him down and talk bad about him online to everyone."
Ziegler also liked a comment that confronted George for using social media to "talk smack."
George responded to Ziegler's comment with one word: "Why?"
When Ziegler did not respond for two days*, George reached out again, asking Ziegler for clarification about his position.
"It is important not just to me personally but to also clear up your stance for the other Bridge attenders and staff who have commented and reacted to this thread," George wrote.
Ziegler did not respond.
When George and Nelson texted days later about the issue, George suggested he would speak to Ziegler the following Sunday at church.
Nelson replied, "You and I will speak next week. Sundays are the worst day to talk with Scott about a serious thing."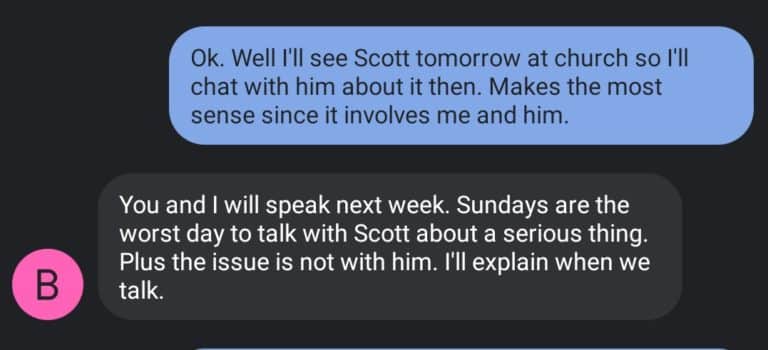 George says even now, months after the interaction, he has not heard from Ziegler.
Ziegler says he's been swamped with calls since quarantine and talking with George "was just not on my radar."
When I asked Ziegler why he engaged online about a "polarizing issue," which seemingly violates the church policy, he responded that the church's policy makes an exception for the senior pastor, who is the spokesman for the church.
I asked for a copy of the policy, which Ziegler sent (see below). However, Ziegler included a note, saying that he was wrong that the policy stated that the senior pastor would act as a spokesman.
Ziegler said he spoke with the elder chairman at The Bridge, who confirmed that the elders had decided that the pastor would be a spokesman on social media but the elders decided not to include this information in the social media policy.
However, Ziegler said he wished the church had been better at distributing the social media policy. He said the policy was distributed to deacons when it was first written in 2016 but has since been communicated to staff verbally.
"Secretive" & Controlling Culture
George said his decision to resign from The Bridge and post his experience online was a matter of conscience. After witnessing the "secretive" and controlling culture at Harvest Bible Chapel, as both a church member and employee, George said he couldn't submit to a policy that silenced him.
Having a social media policy is not unusual for churches. However, according to David Middlebrook, an attorney who focuses on church and nonprofit issues, the policy should be written in a handbook that is signed by all employees. The policy should focus on staff posting content that's consistent with living a committed Christian lifestyle and the Church's teachings.
George said he didn't have any problem with the policy when he understood the restrictions to be limited to engaging on social media in a Christlike manner. It was avoiding any "polarizing issues" that he found objectionable.
Plus, George said he was disturbed by a text he had received from Nelson while George was on leave, which he felt encouraged him to be dishonest. In the text conversation, George says to Nelson: "I have had people asking what is going on/why I am not service this month. How would you like me to respond?"
Nelson texted back: "(I)f it were me, I would probably tell them I just needed a few weeks to work some stuff out . . . I would be thinking about how to protect the church and myself. Less words the better in these situations, at least when I've been in them. That's what I've learned. People don't need to know anything imo. That's how I live overall."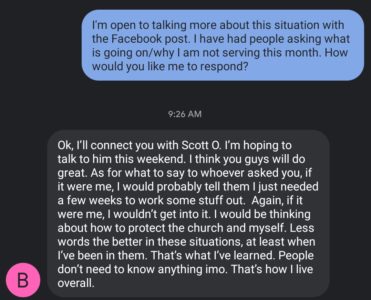 George's objection to the way The Bridge has handled the situation is shared by his father and dozens of others who have commented on social media.
 "This secretive, controlling, lying culture in churches has to change," Dan George (@CaptScrub) tweeted in response.
Similarly, Diana (@NotInOurChurch1) tweeted, ". . . When did the church become like the mafia? Since when did Christians believe we have to stay silent or lie about wolves?"
And @Farmchicksuz tweeted: "Glad (Alex) posted. It was necessary. The Church is being shifted, beginning with leadership. . ."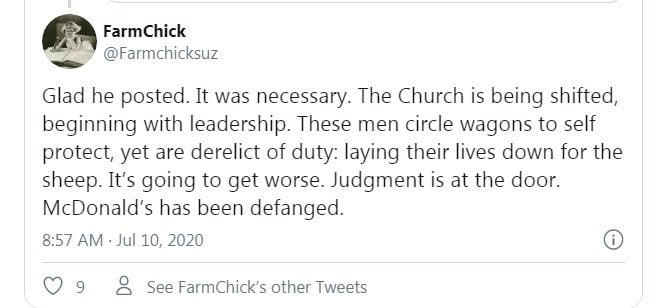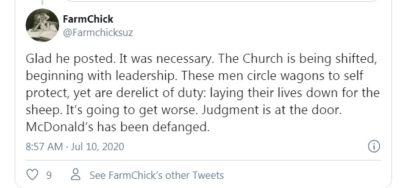 Some, however, posted in favor of the church, noting that there are many former Harvest members attending the church who don't need to be reminded of their former hurts.
Joe Bolz commented on Facebook: "I don't think it's fair to publicly blast the church like that. This is a matter of opinion, not fact. . . . The church wants them to heal, not remind them of what they used to be part of. It's their choice if they want to avoid talking about that specific issue."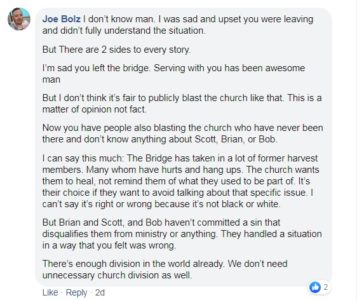 Some on social media have claimed that Abby MacDonald, James MacDonald's daughter, and Abby's husband were on staff at The Bridge, and that this influenced The Bridge's actions toward Alex George.
Ziegler said neither Abby nor her husband have ever served on staff at The Bridge.  However, Ziegler confirmed reports that Abby and her husband attended The Bridge when it was holding in-person services.
Despite the criticism, Ziegler maintains he and The Bridge are nothing like James MacDonald and Harvest. He said his church is simply "laser focused on the gospel" and doesn't want church employees detracting from that focus by engaging in online debates.
But Alex George says he believes The Bridge and many other churches are infected with the same toxic culture that Harvest had under MacDonald.
"It just feels like, 'Hey, we're going to do what we're going to do. And if you're going to talk about it, we're going to treat you like the Scientologists treat the people who leave.'. . . There are so many parallels. It's just another Chicago church that has this secret culture."
The Bridge's Social Media Policy:
As Leaders at The Bridge, our social media activity represents not only our personal views and behavior, but we also represent our Lord, the Christian faith, and The Bridge Community Church with our posts and other activity. Because of this, it's important for us to follow these social media guidelines:

• Use social media as a mechanism to encourage, uplift, and point people to Jesus.


• Pray and look for God's approval before each post.


• Seek feedback from an elder or a pastor if any post might be in question.


• Never post when in the throes of emotion.


• Not use social media to persuade others to an opinion or political viewpoint.


• Not use social media to take a side on a polarizing issue.
*An earlier version of this article said Alex George reached out to Ziegler after nine hours, instead of two days.