The lead pastor of a prominent south Florida church has resigned, following a turbulent four-year tenure marked by allegations of lack of financial transparency and hundreds of members expelled or deciding to leave the church. 
On Wednesday, First Baptist Fort Lauderdale (FBFTL) announced that James Welch, who had been hired in February 2019, has departed. "(He) has resigned as lead pastor this week to pursue other interests," said the statement from the church's Trustee Board and Deacon Body. They added that a "plan of action to search for a new lead pastor" will be announced Sunday.
Affiliated with the Southern Baptist Convention, the historic church owns a seven-acre downtown campus reportedly worth over $120 million, including a main sanctuary that can seat over 2,500 people. However, in recent years, weekly attendance at FBFTL has dwindled to fewer than 200 people, according to multiple sources. 
Welch, who marked his fourth anniversary with the church two weeks ago, commented via Instagram on Thursday about his departure. "Life is full of seasons. Some come to end sooner than expected," he wrote. He also described his pastorate at FBFTL as "a season of stretching and learning." 
The controversial pastor's exit comes only days after Ministry Watch reported that the Evangelical Council for Financial Accountability (ECFA) has suspended the church. Many large churches and ministries use the ECFA as a "seal of approval" to reassure members of effective charitable giving. 
Give a gift of $30 or more to The Roys Report this month, and you will receive a copy of "I Didn't Survive: Emerging Whole After Deception, Persecution, and Hidden Abuse" by Naghmeh Abedini Panahi. To donate, click here.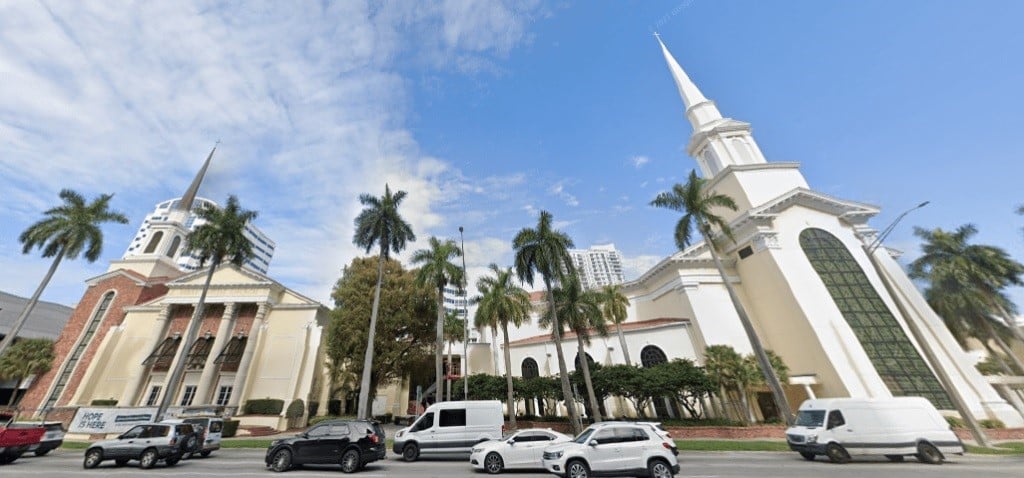 A recently updated ECFA public report stated that FBFTL has been suspended as of October last year while "under review of compliance with Standard 4." This standard of the ECFA concerns the church exercising proper "management and controls" to ensure compliance with "applicable laws and regulations." 
In a statement to media, Steve Blount, executive director of ministry services at FBFTL, said: "We aren't surprised by the review, given the sustained campaign of unsupported and unsubstantiated public criticism we have endured these last three years,"
Since 2020, more than 200 former FBFTL members have formed a group called Concerned Members of First Baptist Fort Lauderdale. Their spokesman, Brian Keno, said they are pressing for "transparency and accountability" following years of church mismanagement. 
"We're trying to get our church to open their books and show us where the money went," he said. "Why are we broke? As former members, we're also trying to get our rights back that were stripped away from us."
Under Welch's leadership, reportedly more than 100 members have had their membership "terminated." One of those members provided a letter he received, dated July 16, 2021. The letter stated the board had terminated his membership because his actions "contributed to discord within our church (and) encouraged divisions."
In his Instagram post, Welch framed his departure from the church as pre-planned. "What a way to wrap it up, a message on the Holy Spirit, a full altar, and a baptism. I submitted my resignation the next day," he wrote. He also encouraged prayer for the church as it begins a pastoral search process. 
However, on Sunday, Welch preached the third part of a four-part sermon series and did not allude to his departure. 
Holly Orr, part of the Concerned Members group, called his exit "sudden and abrupt." She added: "There is more to this, and the congregation should know the truth." 
The Roys Report (TRR) reached out to FBFTL for comment but did not hear back.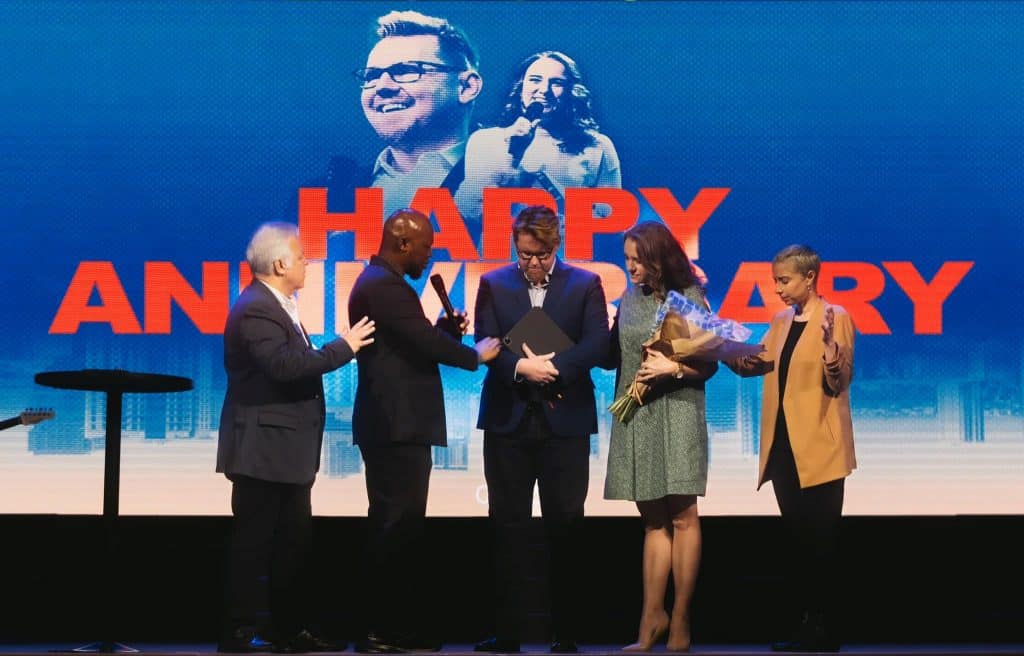 Questions around sale of church land
While it was not specified by the ECFA, the group's review of First Baptist Fort Lauderdale may stem in part from questions surrounding a sale of church land last August.
Blount, who is also a church trustee, told a local newspaper in 2021: "The property is our most valuable asset and it's not for sale." Yet, within a year, the church sold a small parcel of its downtown property to the Naftali Group, a New York-based real estate development firm.
According to local news site Florida Bulldog, the congregation met on July 31 and voted to sell the parcel of land located at 501 NE 2nd St., which is across the street from the main church campus. However, the sale price and buyer's identity were not disclosed to church members. 
Responding to criticism on August 19 last year, church leaders stated: "We cannot contractually disclose the price of the sale, but it was considerably higher than the appraised value."
The Concerned Members group says this transaction confirms their claims of the lack of financial transparency. "We still don't know the sale price of that lot which was owned by the church," said Keno, who is a local business owner. 
"How can you do business like this in a congregational-led church?" 
Author of church bylaws files suit against church
Dissident members have raised other disputed issues. Welch reportedly had an annual salary of $250,000 during his tenure, which some Concerned Members deemed "excessive," said Keno. 
During the first year of his pastorate, Welch canceled the church's 36-year-running annual Christmas Pageant. While former members claim the elaborate show raised significant revenue, church leaders claimed in a statement that it was "a large financial burden."
Those initial issues, in addition to the forced termination of members who questioned such moves, sparked the formation of the Concerned Members of FBFTL group. They found an ally in James Geiger, a former attorney and church member for over 50 years. "He wrote our church bylaws many, many years ago," said Keno. 
On June 22, 2021, Geiger and a few other longtime members filed a civil lawsuit to force arbitration between First Baptist Fort Lauderdale and the group of dissident members. 
Last May, Broward County Circuit Judge Jeffrey Levenson ordered the church to enter arbitration with the Concerned Members group. Ten months later, those meetings have not yet been initiated according to multiple sources. 
John Harris, a longtime member of FBFTL and a party with Geiger in the suit, provided a statement to TRR regarding the current stance of Concerned Members of FBFTL. 
"We are hopeful for a swift resolution including an opportunity to review our internal issues with the current FBFTL administrators," he stated. "Otherwise, we will be forced to advance the quest in Court for clarification of the current order to compel arbitration, granted by the court."
In its emailed statement on Wednesday, the church sought to reassure members. The church stated: "Be assured that the work and ministry of FBFTL, as directed by God's Word, and illuminated by way of the Holy Spirit, will not be deterred."
Email sent on March 8, 2023 to First Baptist Fort Lauderdale members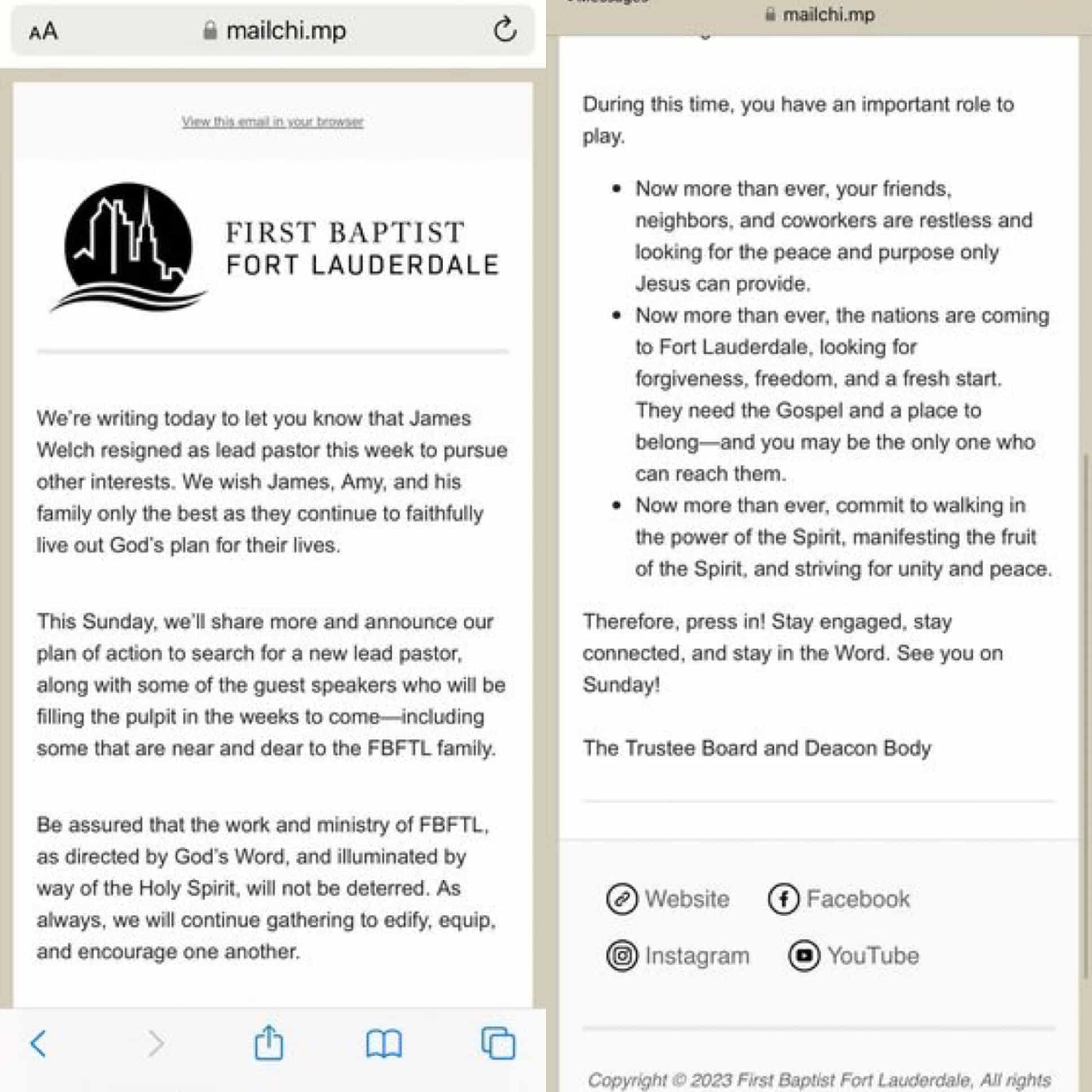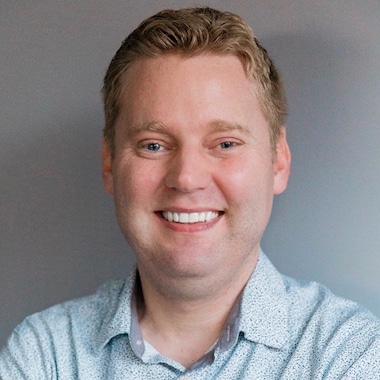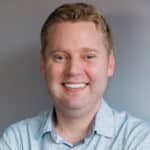 Freelance journalist Josh Shepherd writes on faith, culture, and public policy for several media outlets. He and his wife live in the Washington, D.C. area with their two children.