John MacArthur's Grace Community Church (GCC), which has defied county orders banning indoor worship, appears to be having an outbreak of COVID-19 among its leadership and members.
But a GCC leader who wanted to remain anonymous for fear of losing his job says staff and members are being pressured not to report new COVID cases to the health department for fear of being shut down.
Under a county health order, places of worship must report to public health when at least three coronavirus cases are identified among church staff or congregation within a span of 14 days.
The Los Angeles County Department of Public Health told The Roys Report, "No additional outbreaks have been reported by Grace Community Church" since an outbreak at the church in October. (That outbreak was investigated and closed in November after no further cases were found among employees for 14 days.)
But the GCC  leader, whose identity I've confirmed, said he knows of staff at GCC who recently contracted COVID, as well as two GCC members who are professors at The Master's University where MacArthur is chancellor emeritus. He added that multiple members of the Filipino ministry have tested positive for COVID, including a leader of the Filipino ministry, who's been hospitalized.
Give a gift of $25 or more to The Roys Report this month, and you will receive a copy of "I Can't Hear God Anymore: Life in A Dallas Cult" by Wendy Duncan. To donate, click here.

The leader said he and his wife also have COVID and he is very sick. Several times during our interview, he had to stop because of coughing fits and to catch his breath.
Similarly, a blogger on Medium who goes by the pen name, "Modern Day Zorro," posted last night that seven staff and elders who attended a Christmas party at GCC have COVID and are exhibiting symptoms. Zorro said that at the party, "lunch was served and maskless elderly and Elders sat should to shoulder, hugged and shook hands."
I asked the GCC leader about Zorro's account and he confirmed that GCC had a Christmas party on December 8. But he added: "John (MacArthur) will NEVER admit that number. I have no doubt that it is true, but any church leader who publicly affirms that will be looking for a new job!"
Facebook Posts Confirm Outbreak
Numerous posts this past week to a private Facebook group named after GCC's GraceLife fellowship group confirmed the outbreak at the church.
One post stated that "a lot" of members of GCC's Filipino Outreach Ministry "have been testing CoVid+." The post added that one of those sickened is a leader of the Filipino Outreach, who's been hospitalized.
The post said two other members of the Filipino ministry have pneumonia and one of them has been admitted to the hospital, as well.
Below is a screenshot of the post, which was shared with The Roys Report. (It has been blurred to protect the privacy of those with COVID.)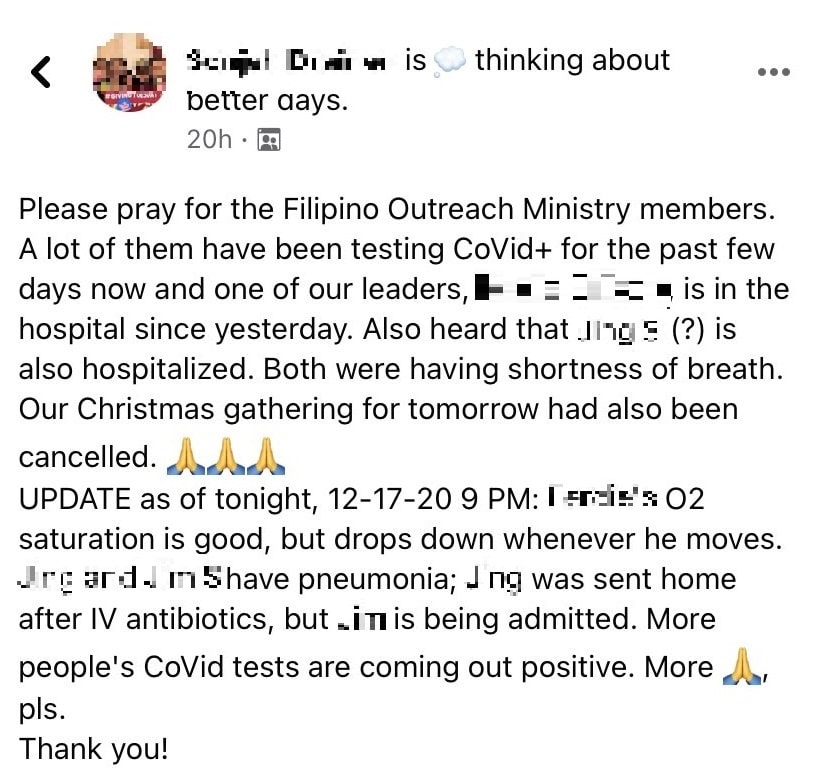 Several other Facebook posts by leaders of GraceLife this week mentioned that members of the group have COVID or COVID-like symptoms.
Staff pastor Mike Riccardi, who leads GraceLife with Pastor Phil Johnson, posted earlier this week that he had received a report that a member of the group had been rushed to the hospital with pneumonia and a "very low" oxygen level.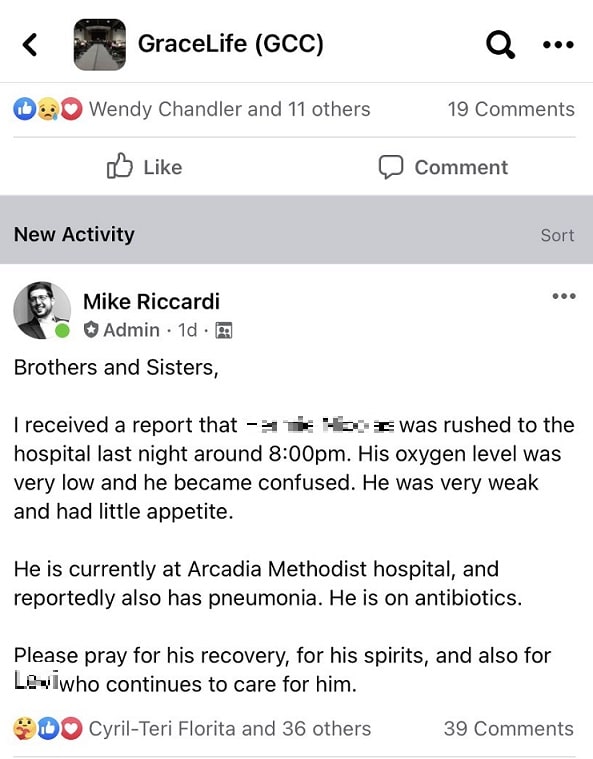 Also this week, Ron Modugno, who's "shepherd" of GraceLife's Santa Clarita Study, posted that GraceLife had decided to cancel its banquet that was scheduled for Saturday, December 19.
In response to Modugno's post, one member of the group said she wouldn't have been able to come because she has COVID. Another group member responded that she knew a group member with the "China Virus" as well.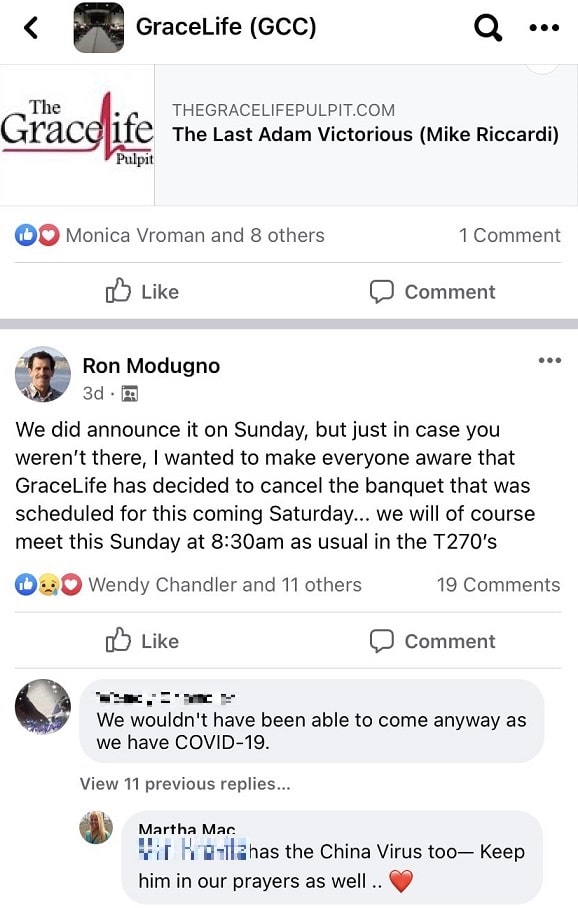 Members of GCC also posted about their COVID diagnoses on their personal Facebook pages.
On Wednesday, Dr. William Varner, a professor of biblical studies at The Master's University, posted that he has COVID. Varner also is pastor of a fellowship group at GCC called Sojourners.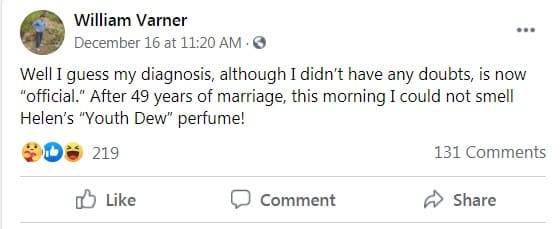 On Friday, GCC member Sarah Duckett, announced that her 14-year-old son has COVID.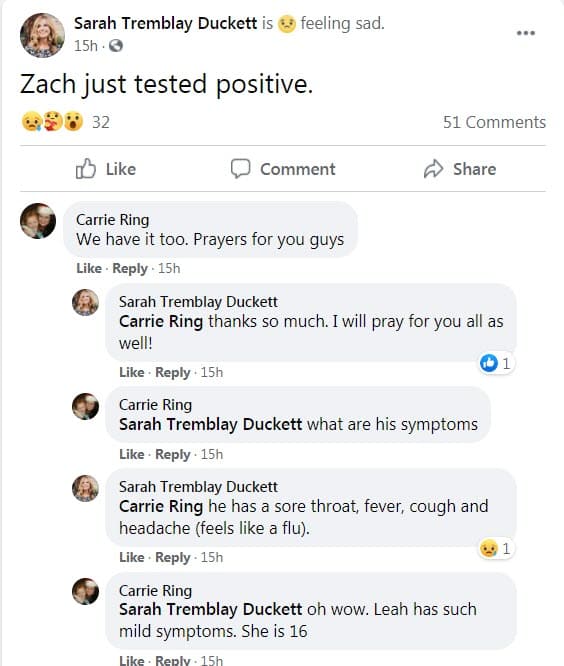 I private messaged Duckett and she said that her son had attended the evening service at GCC last Sunday (Dec. 13) but wore a mask the whole time. Duckett said the rest of the family attended the service outdoors and did not enter the building.
In response to Duckett's post, a GCC member whose husband is a neighborhood outreach leader at GCC, commented that her whole family of eight was just getting over COVID.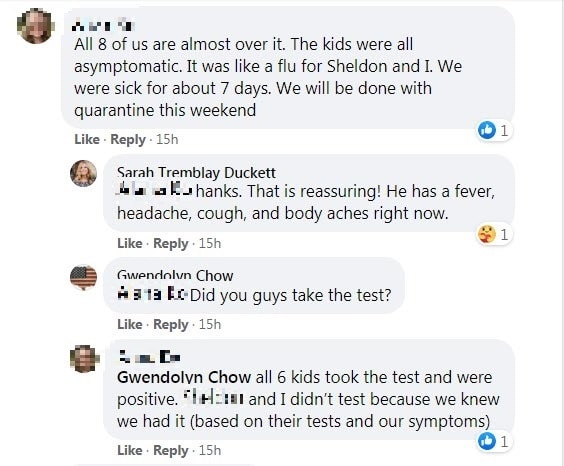 I reached out to the woman for more details, but she did not respond.
I also reached out to several GCC pastors for comment about the outbreak at the church, including GraceLife Pastors Mike Riccardi and Phil Johnson, but they did not respond either.
A Culture of Intimidation
I spoke with multiple members of Grace Community Church this week who said they were scared of speaking out about the outbreak for fear of retribution. Some said they feared losing their jobs. Others said they feared being ostracized and losing their community.
GCC is currently embroiled in a lawsuit with L.A. County for defying COVID regulations. And MacArthur has publicly urged other pastors to open their churches and Christians to sign a petition aimed at deeming the church "essential."   
The GCC leader who wished to remain anonymous said MacArthur has downplayed the seriousness of COVID throughout the pandemic and often refers to COVID as simply "the flu."
The leader said on GCC's campus almost no one wears a mask. And in the service and fellowship groups, people are packed close together.
He added that he felt pressured by church leaders to attend in-person events at the church and now is "paying the price" for complying.
In a question and answer session at the church two weeks ago, MacArthur expressed doubt that COVID is as contagious as is being reported. He stated: "We've been meeting together like this—and for months and months and months. And the health department was here a couple of weeks ago to say, there's no outbreak at Grace Church. How is that possible if what they say is so? We are a microcosm of the world."
MacArthur added, "I wanted to encourage you that, spiritually speaking, this is the best place you could be." He also expressed doubt in COVID vaccines, saying "it's all about money" and about "two massive corporations becoming more wealthy than you can even comprehend."
L.A. County announced yesterday that it is changing its health order to allow indoor services "with mandatory physical distancing and face coverings over both the nose and mouth that must be worn at all times while on site." The change was made to reflect recent Supreme Court rulings against state efforts to restrict indoor worship due to the coronavirus.
This morning at 8:30 a.m., the fellowship groups are scheduled to meet in-person at GCC, including GraceLife and Sojourners. GCC is also planning in-person services today for its congregation of about 7,000. 
"People have been put at risk. People endangered," the GCC leader said. "And I pray it doesn't turn into a huge outbreak that (MacArthur) is ultimately responsible for because he's not taking the steps to control it."
Editor's Note: The information about MacArthur's comments two weeks ago was added after this article was initially published.