A student at The Master's Seminary, which meets on the campus of John MacArthur's Grace Community Church, says the school is flagrantly violating its own COVID-19 guidelines and mocking compliant students.
Now a Master's seminary student has died after contracting COVID.
The deceased student, whose name is being withheld at his family's request, is a man in his sixties who had come to The Master's Seminary (TMS) in August to pursue a Master of Divinity. The man died on Monday morning.
According to the man's daughter, her father had been "very healthy," but was hospitalized in mid-December after contracting COVID-19 and pneumonia. She said she believed her father didn't actually die from COVID-19, but from pneumonia.
However, according to Paula Cannon, a virology professor at the USC Keck School of Medicine, the man's pneumonia was almost certainly a consequence of COVID-19. So, the man may have died of pneumonia, but it was likely "caused by the assault to his lungs and body of having a serious COVID infection."
Give a gift of $30 or more to The Roys Report this month, and you will receive a copy of "The Ballot and the Bible" by Kaitlyn Schiess. To donate, click here.
Austin Doucette, a TMS student who's upset by the seminary's alleged failure to follow public health guidelines, called the man's passing a "tragic and unnecessary loss."
Doucette believes the deceased man likely contracted COVID at either Grace Community Church, where the man had been attending, or TMS.
Grace, a megachurch with about 7,000 congregants, has openly defied public health orders by meeting indoors and not socially distancing or wearing masks.
TMS, on the other hand, has published a list of COVID-19 protocols the seminary claims to be following.
However, Doucette said very few TMS students wear masks or social distance. He  added that some professors, especially those who are on staff at GCC, openly ridicule COVID guidelines and deride those who follow them.
I emailed TMS President Sam Horn for comment about the TMS student's passing and Doucette's allegations, but Horn did not respond. I also emailed TMS Dean of Faculty Nathan Busenitz, who's also an elder/pastor at Grace Community Church (GCC), but he did not respond either.
The seminary has not announced the student's death on its website or social media.
However, the man's home church posted on its marquee Monday: "A good and faithful servant. We will miss you –."
Doucette said the deceased student was a "wonderful, godly man who was constantly praying for others."
He added that he hasn't received any announcement from TMS about the student's passing. Instead, he found out the man's death when a fellow student posted about it on a seminary social media account and requested prayer for the man's family.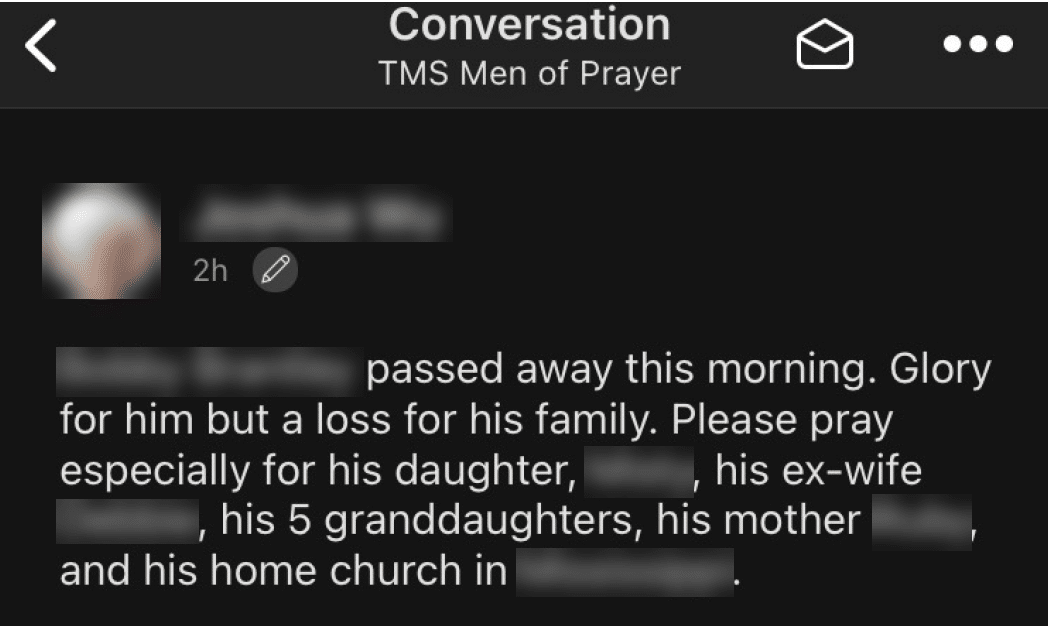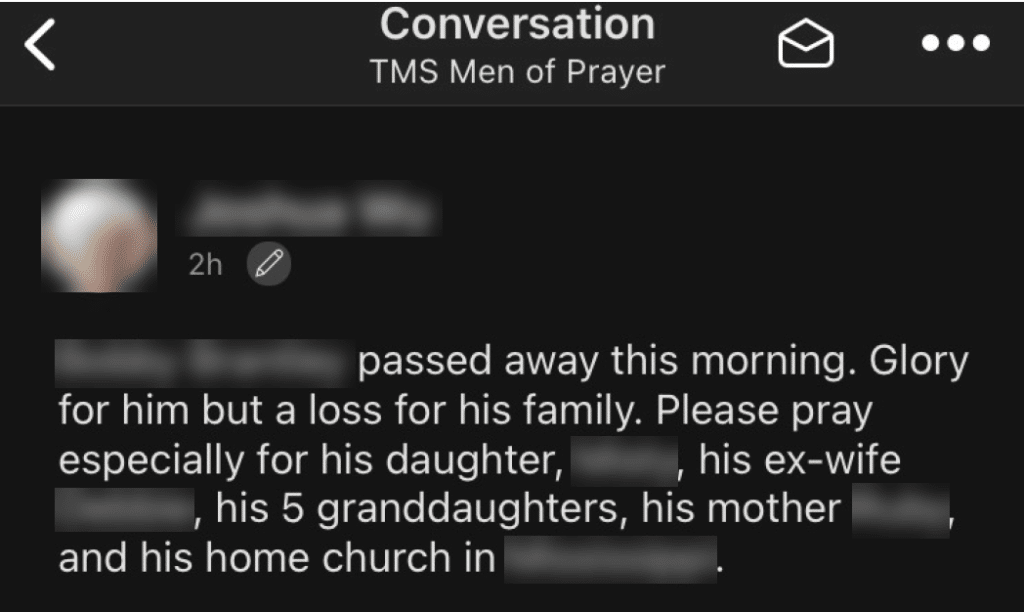 Violating & Mocking Precautions
For months, Doucette said he has been disturbed that TMS has not been following its own COVID protocols.
According to TMS's published list, these include classroom setups "arranged to maintain appropriate physical distancing" and requiring students to bring "a cloth face covering or otherwise approved facemask with them to campus."
The list also encourages professors "to remind their students of these protocols." And when meeting with students in person, faculty are supposed "to do so outside, and to maintain proper physical distancing."
Yet Doucette said he sometimes is the only student in classes of 30 students who wears a mask. And though he said some TMS professors follow guidelines and are respectful, others are not.
"I noticed that—especially professors who have roles at Grace or are elders at Grace—they were not only flippant, but they would talk about how these restrictions are ridiculous," Doucette said. "They would make fun of social distancing and masking."
Doucette sent The Roys Report a picture he took before the beginning of a TMS class on August 15, showing only two students in the foreground who were wearing a mask. Others were sitting unmasked close together and one had a mask dangling from his ear.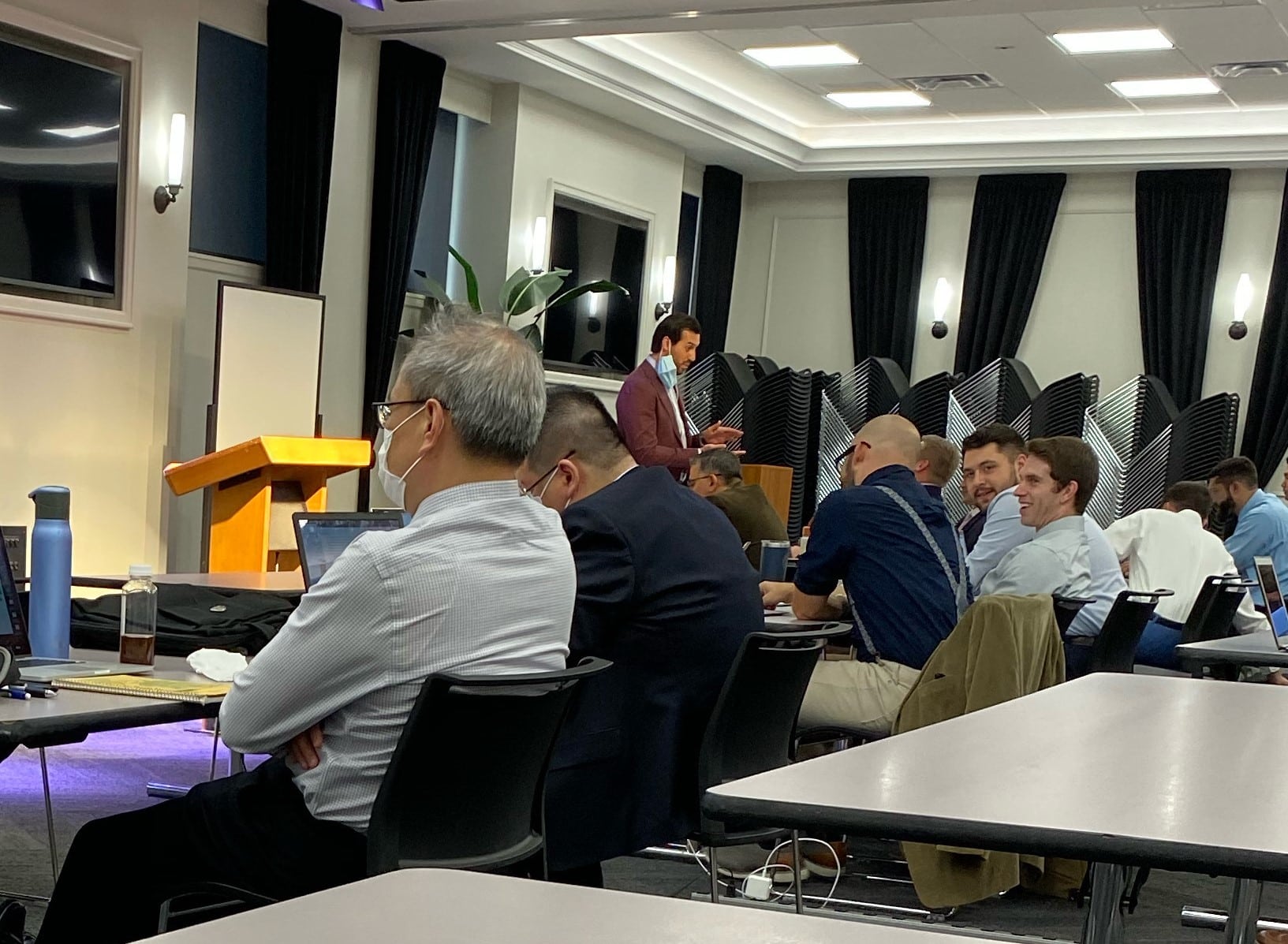 Doucette also sent a clip from a lecture that was streamed online and a classmate had recorded. In it, Mark Zhakevich, a professor at TMS and pastor at GCC, says, "Are you all, um, enforcing social distancing?" and the class laughs.
According to Doucette, that's how protocols like social distancing are treated by some TMS professors: they're jokes.
I reached out to Zhakevich for comment, but he did not respond.
Doucette said the most egregious incident he witnessed was in his TMS discipleship group, which was led by GCC Pastor Tom Patton.
In an October 25, 2020, letter to TMS Dean Nathan Busenitz, Doucette describes the incident:
In my discipleship group, I'm the only one who wears a mask—we meet with a large group of guys in a very small office. I wear my mask in submission to the school and government—and because I help take care of my sickly grandparents. Yet during my last discipleship meeting, all the men began bagging on masks. My discipleship leader suggested they don't work and actually make you sicker. He made fun of people who wear them while driving. Another student said he hates wearing them and is so glad the school doesn't require it. "How can anyone be comfortable wearing those things?" Then my leader talked about how COVID isn't actually that bad, pointing to Trump's quick recovery. He insinuated that TMS's decision to tell a student (who was missing from our group) to not attend class (because he was in contact with someone who tested positive) was a bad one. As they were saying these things and laughing—I felt completely shamed.
I reached out to Pastor Patton for comment about the incident, but he did not respond.
However, Doucette said he met with Busenitz on November 12 to discuss his concerns.
(Doucette said the two also discussed issues Doucette had with a professor over a theological position.)
According to Doucette, Busenitz responded compassionately to his concerns, but said TMS was "between a rock and a hard place" because of the position GCC had taken on COVID.
MacArthur is pastor at GCC and also serves as chancellor emeritus at TMS. Earlier this year, MacArthur praised his congregation for meeting in-person and for "not distancing" and "not wearing masks." MacArthur also has stated that "there is no pandemic."
According to Doucette, Busenitz told him that TMS was leaving it up to students to decide if they want to follow the school's protocols or not.
Yet Doucette added that Busenitz was disturbed by the incident with Pastor Patton and said he would talk with Patton about it.
Ten days later, Doucette followed up with Busenitz via email. Busentiz responded that he would be happy to set up a meeting between Doucette, himself, and the professor with whom Doucette had a theological dispute. Doucette responded immediately with his availability.
For six weeks, Busenitz did not respond.
However, on Sunday afternoon, I sent Busenitz an email requesting comment about concerns Doucette had shared with me concerning TMS's handling of COVID and the incident with Patton.
Busenitz did not respond to my email.
But first thing Monday morning, Busenitz sent an email to Doucette, thanking him for his patience and offering to arrange a time for Doucette and him to meet with Pastor Patton.
Hope for Change
Doucette, who's a graduate of The Master's University and was attending TMS on a near full-ride scholarship, says he's withdrawn from the seminary in large part because of its handling of COVID.
He said he's going public with his concerns now because he cares deeply for the TMS student body and those at GCC.
"Students at The Masters Seminary and congregants at Grace—they're mimicking the rhetoric from the pulpit," he said. "And they're believing that the pandemic isn't real, and that they should rebel against the governing authorities. And I think now more than ever, we're seeing the repercussions of that, with students and members of the church becoming sick and deathly ill."
Similarly, Dr. Cannon urged institutions like TMS and GCC to adopt precautions like social distancing and wearing masks, comparing their effectiveness to that of wearing seatbelts.
"Seatbelts don't stop people dying in car crashes," she said. "But we all understand that seatbelts save lives. Masks and social distancing are the seatbelt that we have in this pandemic."
The daughter of the victim confirmed that her father had contracted COVID-19 at the same time as another TMS student and GCC congregant who's a very good friend of his.
Her father had posted on a social media network on December 15 that both he and the other student were "laid up with the Covid nemesis."
According to the Los Angeles County Department of Public Health (DPH), there are eight staff at The Master's University and Seminary that have COVID-19, as well as 14 students.
(TMS and The Master's University meet at separate locations separated by 15 miles. I contacted the county, asking for a breakdown of how many staff and students at each location have COVID, but no one responded.)
A DPH spokesperson told The Roys Report that four employees of GCC and one congregant tested positive for COVID-19 at the end of October. However, according to the county's website, no cases have been reported since then.
A GCC leader told me in mid-December that many at the church had COVID-19, but the church is pressuring them not to report to the health department for fear of being shut down.
Similarly, Doucette said he's experienced "a culture of fear and intimidation" at TMS that keeps people quiet.
"I know students who are disturbed by what they see as far as guidelines not being followed, but they don't want to be put on a list," Doucette said. "That's what I've been told by several different people—that you'll get put on a list. And then you're known as someone who spoke out, or someone who is not going with the flow."
The same GCC leader who spoke with me earlier told me last week that he knew of a GCC member who had recently died of COVID (not a TMS student), two who were "deathly ill," and multiple GCC staff who were sick.  
Also, MacArthur was scheduled to preach the past two Sundays at GCC, but other preachers have filled in for him both times.
GCC has not explained MacArthur's absence, other than Pastor Patton's statement last Sunday that the time off gives MacArthur "a little bit more time to rest and prepare Shepherd's Conference."
(Shepherd's Conference is March 3-5 at GCC. Last year, two elderly men who attended Shepherd's Conference tested positive for COVID-19 shortly afterwards and died.)
I have reached out to the church multiple times, asking about the alleged new outbreak, but GCC has not responded.