Phil Johnson, the director of John MacArthur's broadcast ministry, Grace to You, doxed me yesterday in a document he posted online. When confronted, Johnson defended what he did.
To dox someone is to publish private or identifying information about that person, especially as a form of punishment or revenge. Doxing is  illegal in California and punishable up to one year in jail or a fine of $1,000.
In my case, Johnson published my home address. This was in response to an article I posted this week about the salaries, secrecy, and lifestyle of Johnson's boss, John MacArthur. My article also noted that Grace to You (GTY) paid Johnson a $230K+ salary and a sizeable loan, which was fully forgiven. 
Johnson included my address in a letter he posted online and then linked to in a tweet. After I confronted Johnson publicly for what he had done, he blurred the address in the online letter, which still includes my city and zip code. Johnson did not comment about what he had done, but instead defended publishing my address in a tweet.
The tweet below shows both the original letter Johnson posted, which has been modified to obscure my address, beside the letter with the blurred address:
Give a gift of $30 or more to The Roys Report this month, and you will receive a copy of "The Ballot and the Bible" by Kaitlyn Schiess. To donate, click here.
In Johnson's initial tweet with a link to the letter (3 of 5 tweets Johnson posted Friday), Johnson complained that I had cherrypicked quotes in my story and "didn't link to full versions" of certain documents. 
3/5 Apparently she quoted from me in this latest eruption of her monomania, but she didn't link to full versions of the documents she cherry-picked quotes from. Perhaps it's because these include data that don't fit her narrative:https://t.co/wwwDfw2bzAhttps://t.co/h5rraq4umL

— Phil Johnson (@Phil_Johnson_) February 5, 2021
Yet Johnson later admitted in a tweet that he had never mailed the letter with my address that he posted online. He sent me an email instead. Plus, while the online letter is dated "23 March 2020," the document's embedded metadata shows the letter was created on February 3, 2021, at 5:14 p.m. CT (3:14 p.m. PST). That's the same day I published my article on MacArthur. 

When asked on twitter about the creation of the letter, Johnson claimed that he had created a hardcopy of the letter in March "for his files." He says he then scanned the letter to a pdf more recently.
No, that's just how I format letters. But because at the time she was Tweeting nonstop trying to drum up hysteria about COVID at ShepConf, to expedite her getting it, I copied the text into an email & sent it. I kept the hard copy for my files & scanned it to a pdf this week.

— Phil Johnson (@Phil_Johnson_) February 6, 2021
However, the original PDF of the letter, which is no longer available online but I have in my possession, is editable and the font appears to be real and not a picture. Also, a link to the GTY website at the bottom of the letter is active, which would not be the case in a scanned document. (This link was also active in the revised letter with my address blurred at the time of publishing.)
Additionally, in the letter posted online, the name of GTY CFO David Fisk is removed and appears as "D_____ F_____."
Yet, there would have been no reason to redact the name in a letter sent to me in March. The email Johnson sent me in March included Fisk's name. 
Other than Fisk's name and the letterhead and signature, the only difference between the email and the letter Johnson posted is the addition of my address.
I tweeted to Johnson about the issues with his story about the letter's creation, but he did not respond.
There are similar issues with the second document Johnson posted, which was also linked in Johnson's tweet about the letter. In his tweet, Johnson suggests that the document was available to me before I published. However, like the letter Johnson posted, the metadata for the second document shows it was created on February 3, 2021, as well—at 7:02 p.m.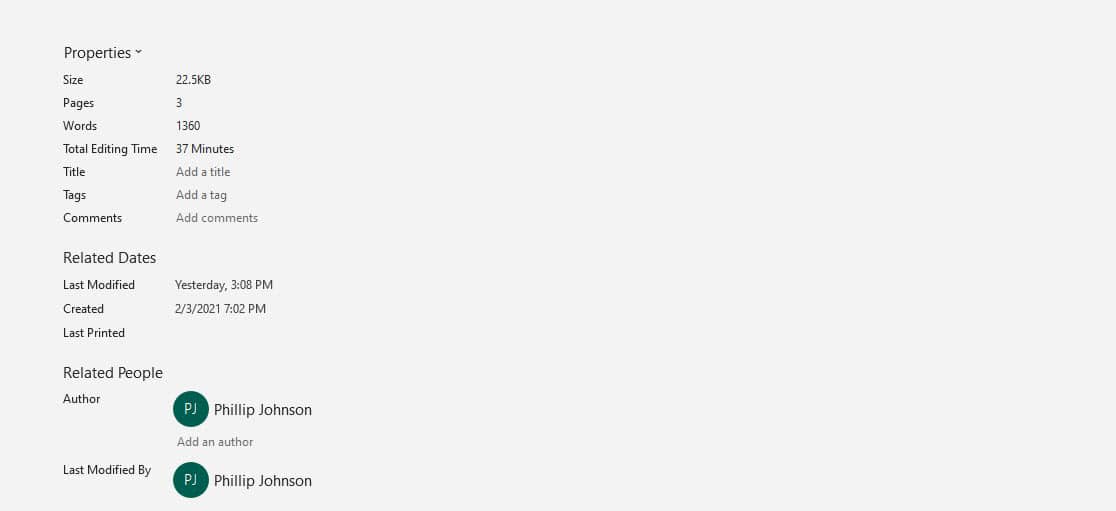 I reached out to Johnson on twitter to explain the discrepancy in dates concerning the second document, but as of time of publishing, he did not respond.
Content of Documents
The original email Johnson sent me on March 23, 2020, was a response to my request for information about MacArthur's salary, the GTY board, and GTY contracts with MacArthur family members.
Johnson's email was sent to me soon after I had reported that a person who had attended the 2020 Shepherds' Conference at Grace Community Church had contracted COVID-19 and died.
In the email, Johnson accuses me of "making false accusations" and "scandalmongering"; likens my website to "the nests of busybodies"; and says I am "bent on destroying another's reputation."
Johnson closes by saying he will never correspond with me again, nor will anyone from GTY. (I included this information in my recent financial article about MacArthur.)
The second document Johnson posted appears to be an expanded version of the statement Johnson posted to the Sharper Iron website in 2014. (I linked to the statement at Sharper Iron in my recent article on MacArthur, as well.)
The expanded version Johnson posted today includes a paragraph defending GTY's multi-million-dollar contracts with John MacArthur's son-in-law, Kory Welch.
Johnson says GTY chose to use Welch because "his company's work is excellent," "his bid was competitive," and "he has easier access to record John than any other videographers would."
Johnson's expanded version of his statement also calls critics of MacArthur "busybodies guilty of sinful scandal-mongering."
Tweets Fail to Answer Questions
Johnson's series of five tweets he posted Friday are the only responses from GTY, Grace Community Church (GCC), or The Master's University and Seminary to the serious governance and financial issues I raised in my article on MacArthur.
The tweets fail to answer why MacArthur appears to make three full-time salaries from his ministries when he seemingly works part-time for at least two of them. They also give no explanation for MacArthur's expensive lifestyle, which includes three luxury homes. Nor do the tweets address why MacArthur's sons and Johnson, a key employee, served on the GTY board for decades.
However, in two tweets Johnson offered an explanation for why Grace Community Church (GCC) withdrew from the Evangelical Council for Financial Accountability (ECFA) on April 2. This was less than two weeks after ECFA contacted GCC, urging the church to release their financial statements to me in compliance with ECFA standards.
In one tweet, Johnson said Grace Church dropped its membership "since the church doesn't solicit donations from the general public."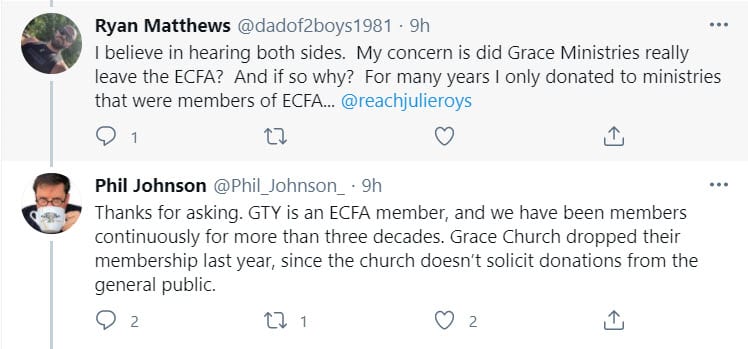 In a tweet to someone else, Johnson stated that GCC left ECFA because of "a disagreement over how much information needs to be made public, even for non-church members and non-donors.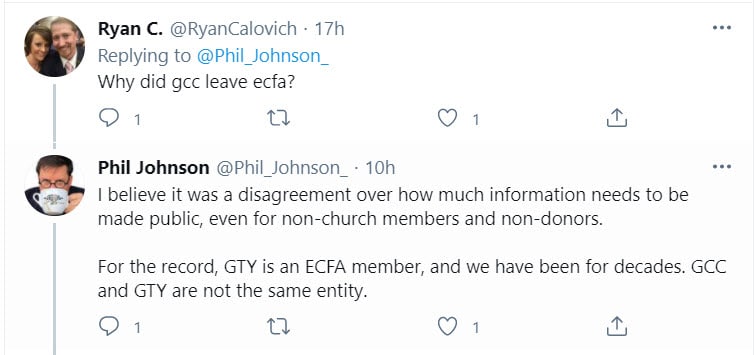 Other tweets of Johnson's were mainly ad hominem arguments, calling my work "scandalmongering twaddle" and "shoddy," and alleging I'm not a "legitimate journalist" and likening me to "relentless busybodies and gossipmongers."
Below is Johnson's initial thread of five tweets:
2/5 Others have already pointed out the shoddy features of her latest screed. It frankly doesn't warrant much of a response. Ms. Roys's unhealthy, longstanding fixation with trying to discredit JM is too obvious anyway. However—

— Phil Johnson (@Phil_Johnson_) February 5, 2021
4/5 Since those documents (both more than a year old) already answered several of her main accusations, I'm not going to waste time saying more. As I told her directly, I don't consider her a legitimate journalist.

And she seems bent on proving me right.

— Phil Johnson (@Phil_Johnson_) February 5, 2021
5/5 That's really all I have to say. Though I'm willing to answer honest questions from fair-minded people, it is my general policy not to reply (especially on Twitter) to relentless busybodies and gossipmongers who appear to have malicious intent.

— Phil Johnson (@Phil_Johnson_) February 5, 2021
I am not posting the original PDF of Johnson's letter including my address because I do not wish to dox myself. However, the tweet below gives more detailed metadata information on the original PDF Johnson posted of my letter.
"If you save any doc as a PDF it will say it was created yesterday" — Well, that depends on the source.

I just downloaded the letter in question, and as you can see, it still contains metadata; which can be altered by the creator and receiver, if skilled. @ModernDayZorro pic.twitter.com/zyrvRPsKTn

— David West (@InfinitelyManic) February 5, 2021