In a recorded conversation leaked to The Roys Report, Mark Driscoll now claims that his church in Arizona has local elders. He just won't name them.
In the past, Driscoll has said that a group of outside "wise counsel" provided guidance for The Trinity Church—the Arizona church Driscoll planted in 2016 following the implosion of Mars Hill Church in Seattle. This counsel has included Jimmy Evans of XO Marriage, Robert Morris of Gateway Church, Larry Osborne of North Coast Church, and Randal Taylor of Dunham and Company—all of whom live out of state.
But according to multiple former Trinity staff and interns, Trinity has no local elders. And an organizational chart leaked to The Roys Report earlier this year shows no one above Mark Driscoll and his wife, Grace.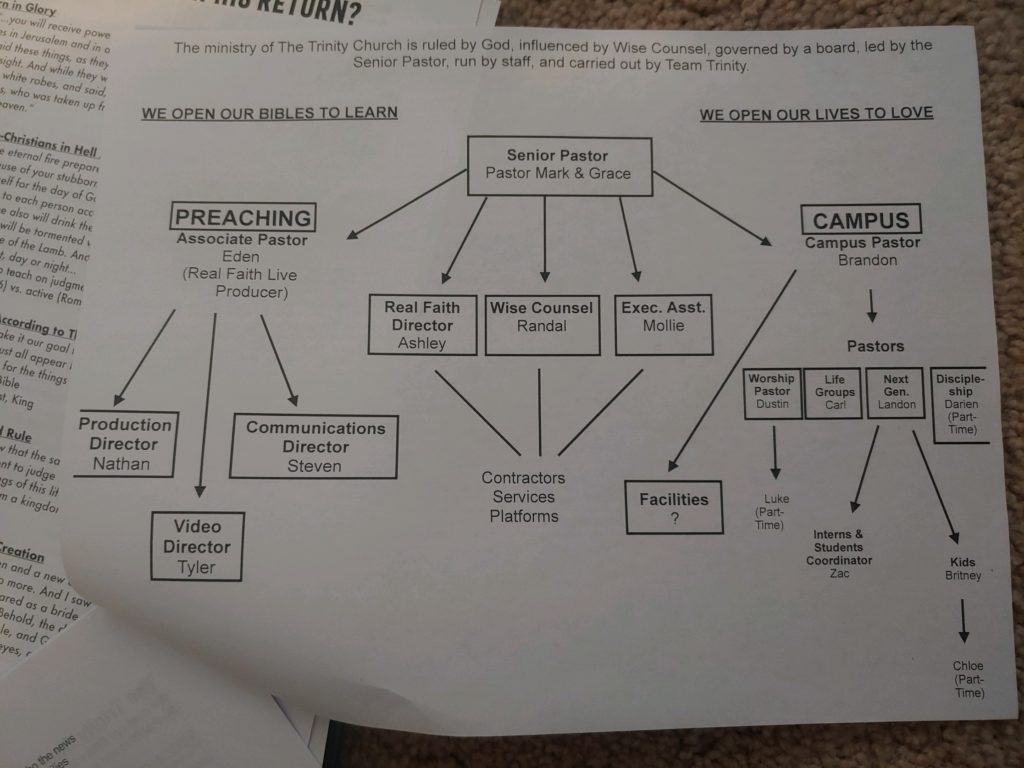 Yet, facing increasing criticism and calls from his former elders at Mars Hill to resign from ministry, Driscoll now says he has local elders.
Driscoll makes the claim in a recorded conversation released to The Roys Report by Keith Stone, a former volunteer at Trinity who has also served as a lay pastor and deacon at other churches. Stone says he made the recording without Driscoll's knowledge on July 20, 2021, while in Driscoll's office at Trinity. (Arizona is a one-party state, where it's lawful to record a conversation with only one party's consent.)
Give a gift of $30 or more to The Roys Report this month, and you will receive a copy of "The Ballot and the Bible" by Kaitlyn Schiess. To donate, click here.
Audio of Driscoll claiming to have elders:
"Do you have elders?" Stone asks Driscoll.
Driscoll responds, "Yeah, we have local—"
"Local? What do you mean?" Stone asks.
"Guys that are here," Driscoll says.
"In the church?" Stone asks.
"Yeah," Driscoll responds.
But when Stone asks for these elders' names, Driscoll refuses to name them, citing concerns about the adverse impact naming the elders might have on the elders' businesses.
"(W)e did install local elders that are here," Driscoll tells Stone. "And they're business leaders. And they said, 'Mark, we're going to get attacked and our businesses are going to suffer, and we're going to get attacked. So, we'd love to serve. We just don't want everybody in the universe attacking us.'"
Stone then questions why these elders would be attacked, and Driscoll responds:  "Everybody associated with me pretty much gets attacked."
When Stone pushes back, saying that Christians should expect to be attacked and that the church has a right to know who its elders are, Driscoll appears to change his story.
"Here, the pastors lead and run the church," Driscoll says. "So, the people interact with pastors. The pastors are the elders in the church. They make the decisions. They know the people. There's a governance."
Stone then asks if the five pastors are Trinity's elders and Driscoll responds: "No, no they're not. They're pastors. . . . None of them are on the board."
Stone again asks for the elders' names and Driscoll refuses. This time, though, Driscoll appeals to the safety of his family, claiming "some of the things said and done just about my own family are illegal . . . the treatment is actually criminal."
Four of Driscoll's family members are staff members at Trinity and their names, and in some cases, pictures, are currently posted on the church website.
The Roys Report reached out to Driscoll for clarity about Trinity's elder board, but Driscoll did not respond.
However, on its 2020 Annual Report filed with Arizona, The Trinity Church names only three officers besides Driscoll: Jimmy Evans, Randal Taylor, and Robert Morris. And according to a 2017 amendment to its Articles of Incorporation, The Trinity Church has no members with voting rights. So, it seems that whoever these "local elders" are, they have no governing power over the church. 
Earlier in his two-hour discussion with Stone, Driscoll refuses to answer Stone's questions about elders because Driscoll says he's offended that Stone came to him "with accusations without questions."
Audio of Driscoll saying he's offended and won't answer questions:
In the excerpt above, Stone says, "You know you purposefully set this church up with no authority over you, sir."
Driscoll responds, "See you don't know that."
"But where?" Stone responds.
"You see, you come in with accusations without questions," Driscoll says.
"Okay, so did you have elders here?" Stone says.
"I'm not even going to have this conversation with you because of the way you began it . . ." Driscoll says. "You picked up offenses and you brought them in my office without asking whether or not they're true."
Church dwindling
According to Stone, The Trinity Church has dwindled in both attendance and donations since Driscoll kicked the Manuele family out of the church around Easter, and a 2012 "bus" video began circulating. (In the video, Driscoll talks about running people over with a metaphorical bus who don't fall into line with his agenda.)
Driscoll also has been the focus of numerous recent podcasts. The Roys Report has published two podcasts, featuring the former head of security at Trinity and his colleague discussing the "cult-like" behavior of Driscoll and Trinity. Christianity Today also has published a series of podcasts about the Rise and Fall of Mars Hill, documenting the devastation at Driscoll's first megachurch caused by Driscoll's abusive behavior, toxic masculinity, and ungodliness.
Stone, who used to count the weekend offerings at Trinity, said donations dropped by 75% or more from Easter through July 4. Stone said weekend offerings used to total $20,000 to $25,000 but in late June and July dropped to $3,000 to $5,000.
Stone also said that after Easter, Trinity canceled its second Saturday service due to low attendance. He said the church also removed 200 seats from its auditorium to make it appear less empty.
The auditorium used to hold 800 people and services were "standing room only," Stone said. Now he says 350-400 people attend services on Saturday, and Sunday services aren't full either.
Stone attributes the loss in money and attendance to Driscoll's character.
 "I've been to a lot of churches and this guy is in a league all by himself," Stone said, adding that he believes Driscoll repeatedly lied to him in their recorded discussion.  "He doesn't have any fear for God. . . . Either this guy repents, or he needs to go."
The Trinity Church's 2020 Annual Report Listing its Directors:
The Trinity Church 2020 Annual Report

*This article has been updated to include information on The Trinity Church's documents filed with the state of Arizona.