Despite IRS rules against inurement, former Liberty University spokesman, Johnnie Moore, suggested in an email leaked to The Roys Report that Liberty create a title for longtime Trustee Jerry Vines "to justify" paying Vines a proposed pension. The email was sent in 2019 to former Liberty University president, Jerry Falwell, Jr., as Vines—a prominent Southern Baptist pastor—was facing allegations he protected a serial sex abuser. 
Liberty's latest 990 tax form shows Vines, who's now on Liberty's Executive Committee, has received zero compensation for his service as a trustee.
But according to Michelle Adams, a nonprofit lawyer specializing in Christian ministries, the proposal in the email would be "an egregious violation of tax-exempt law," which prohibits "excessive executive compensation." And just last week, Save71, an alumni reform group, reported that Liberty has retained Moore and his PR firm, The Kairos Company, to help the university navigate its current crisis concerning Title IX sex abuse cases.
The Roys Report reached out repeatedly to Liberty and Moore to confirm or deny Moore's employment, but neither has responded.
Moore's 2019 email was sent on August 22—the same day The Houston Chronicle published a damning report, showing that Southern Baptist leaders—including Vines—had supported a pastor repeatedly accused of sexual assault. That pastor, Darrell Gilyard, was convicted of sex crimes in 2008, following nearly three decades of accusations by dozens of women.
Give a gift of $25 or more to The Roys Report this month, and you will receive a copy of "I Can't Hear God Anymore: Life in A Dallas Cult" by Wendy Duncan. To donate, click here.

"I think you know this," Moore writes to Falwell, "but the Houston Chronicle is after Jerry Vines over the Daryl Gilyard (sic) saga. The real risk to Vines isn't legal (we have consulted with a very experienced and retired judge in FL) . . . but that First Jax (First Baptist Church of Jacksonville, Florida) will cut his and Mrs. Vines' pensions under pressure."
Moore then presents a "strategy" he says he has "worked with Dr. Vines for a few weeks to develop." This includes not being "responsive" to the Houston Chronicle—then, after the Chronicle story publishes, providing "a list of background material discrediting the story" exclusively to Baptist Press. (The Roys Report searched Baptist Press for articles in 2019 concerning Vines and Gilyard but didn't find any.)
Moore then asks Falwell if Liberty would consider paying Vines a pension or "some negotiated portion of the pension" should Vines' pension be revoked.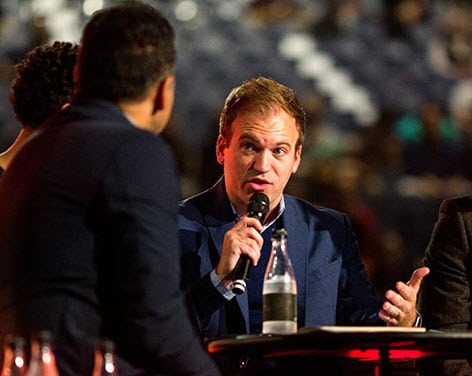 "If the worst case scenario does happen and First Baptist Jacksonville revokes Vines' pension (which – again – I think is very unlikely) then I am wondering if you would consider taking it up, maybe making Vines a Distinguished Non-Resident professor of preaching, or something, to justify it . . . or some negotiated portion of the pension," Moore writes.
He adds, "Again, I think this is HIGHLY HIGHLY unlikely BUT I have found that it is a source of enormous anxiety for Dr and Mrs Vines and I would like to see that anxiety lifted off their shoulders (remember he is 83 this fall) if we can."
After reviewing Moore's email, Attorney Adams, wrote in an email to The Roys Report: "To suggest that someone be added to the payroll under a fabricated title in order to 'justify' the transfer of funds to that individual does not, to say the very least, meet the requirement for reasonable compensation." Adams notes that there is no mention in the email that Vines would be hired to do a job, but at 83, appears to already be retired.
Near the end of the email, Moore asks Falwell to let him or Vines know what Falwell thinks of the proposal, adding that Vines "doesn't know I have written you."
Moore also says that Vines offered to compensate Moore for his advice and help, but Moore declined payment, stating, "What I didn't tell him is that I intend on putting it on your LU bill retroactively when you eventually retain me."
The Roys Report reached out to Moore, Vines, Liberty University, and Jerry Falwell, Jr., for comment, but no one responded.
Despite questionable actions, Prevo embraces Vines
Despite the allegations of promoting a known sex abuser, Jerry Vines was placed on Liberty University's Executive Committee in November 2020, according to archived screenshots of Liberty's website.
This was just three months after Jerry Prevo was installed as university president.
The documentation that Vines promoted Pastor Gilyard, even after learning of numerous reports of abuse and assault, is extensive.
According to the Houston Chronicle, Gilyard resigned from Concord Missionary Baptist Church in 1987, after at least 20 women accused him of sexual impropriety in a public meeting. Yet Gilyard continued to preach in churches for years afterward. And according to a letter obtained by the Chronicle, Vines continued to promote him.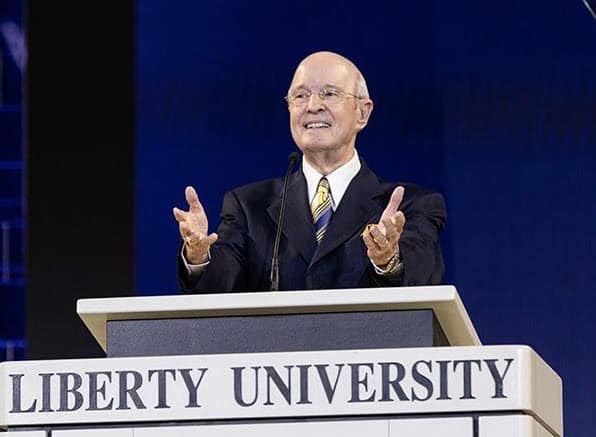 In a 1989 letter, Gilyard writes to Vines, "From time to time, some pastor will call me and say that you recommended me to him. You will never know what this means to me . . ."
Vines also reportedly brought Gilyard in to minister to the youth group at his own church in 1991 and ignored a report of sexual abuse by a young member.
Tiffany Thigpen, one of Gilyard's alleged victims, claims that in 1991, "Gilyard was placed in our youth group by Dr. Jerry Vines." Thigpen says Gilyard "attacked" her "one night after a revival," which she then reported to Vines. But Thigpen claims Vines never investigated Gilyard.
Instead, about a month later, a group of Gilyard's former victims and colleagues confronted Gilyard in a recorded meeting. This led to Gilyard's resignation soon afterward from his Dallas-area church.
Thigpen also claims Vines mischaracterized what happened with her and Gilyard in his 2014 autobiography. In it, Vines wrote that a "young person" met with him about "a matter of impropriety" that did not "go beyond some flirtation." Vines adds that both Gilyard and the other person were "single at the time." (Gilyard was married and nearly 30; Thigpen was 18.)
After being contacted by Thigpen, Vines' publisher, Lifeway Christian Resources, removed the section, stating that "upon further reflection," Vines agreed that he hadn't "accurately describe(d) the situation."
Other actions by Vines raise red flags, as well.
According to the Chronicle, Vines rekindled his relationship with Gilyard in 2003 and preached at least twice at Shiloh Baptist Church, where Gilyard was pastoring. In 2005, Vines' son, Jon, was married by Gilyard at Gilyard's church.
More red flags with Johnnie Moore
There also are multiple red flags concerning Johnnie Moore in addition to the 2019 email to Falwell.
In the fall of 2018, Moore was caught on a hot-mic recording, joking with now-disgraced pastor, James MacDonald, about planting child porn on a media executive's computer.
First, Moore is heard instructing MacDonald on how to encourage Christianity Today (CT) to change a story it had written.
"What I suggest is, have the call with (CT editor) Jeremy (Weber). See what happens," Moore says. "If he changes things, when you call Harold Smith (then-CEO of CT), the first thing you're going to say to Harold Smith is, 'Hey Harold, I just wanted to tell you how awesome Jeremy was . . .'"
In response to Moore's advice, MacDonald says, ". . . I definitely don't want you to feel like your labor's in vain. So, I will do exactly what you said, and I will call off the plan to put child porn on Harold's computer . . ."
Moore laughs and responds, "I know a few other people, though, if you need to do that."
Clip of Johnnie Moore instructing James MacDonald in hot mic recording:
In the full recording, Moore also laughs along with MacDonald when he suggests vulgar, imaginary headlines. These include ones announcing that Ed Stetzer, CT contributing editor, "fails to stop unwanted erection," and that I am having an affair with another CT editor.
When I first contacted Moore in 2019 about the recording and MacDonald's vile comments, Moore wrote in an email, "I must not have heard or understood what he was saying." Moore added, "I certainly wouldn't tacitly or otherwise support something so absurd as this."
Months after the hot mic recording was broadcast, I contacted Moore about a separate story involving televangelist and Trump Advisor, Paula White. At that time, Moore admitted he had "responded in a totally inappropriate way" on the recording.
Moore also confirmed that he had a lawyer send a letter to the parent company of WLS-AM—the radio station that aired portions of the hot mic recording—threatening them with legal action if they didn't remove a podcast containing the recording.
When asked why he never owned what he did publicly and apologized to those hurt, Moore told me he had flown to CT's headquarters and apologized to leaders there in person.
"I did the work necessary to clean it up behind the scenes without doing it publicly," he added.
When asked why he didn't apologize to me, Moore said he didn't have the same relationship with me that he had with CT. He then apologized for "any pain that I brought you."
Johnnie Moore's Email to Falwell about Vines_Redacted