If all the Rev. Carlton R. "Sam" Young had ever done was edit The United Methodist Hymnal, he'd have a secure place in United Methodist history.
But he did so much more.
"Young was the undisputed dean of Protestant mainline church music at the end of the 20th century as a church musician, composer, educator, hymnal editor, choral conductor and mentor," said C. Michael Hawn, professor emeritus of church music at Perkins School of Theology.
Young died May 21 at the VA Medical Center in Nashville, Tennessee. He was 97. 
Survivors include his wife of 76 years, Marjorie Lindner Young; their children Robert Young, James Young, Carol Young Wilson and Richard Young, and grandchildren Brook Young, Rebecca Sword, Dyami Wilson, Lena Wilson, Kirby Wilson and Raymond Young.
Give a gift of $30 or more to The Roys Report this month, and you will receive a copy of "I Didn't Survive: Emerging Whole After Deception, Persecution, and Hidden Abuse" by Naghmeh Abedini Panahi. To donate, haga clic aquí.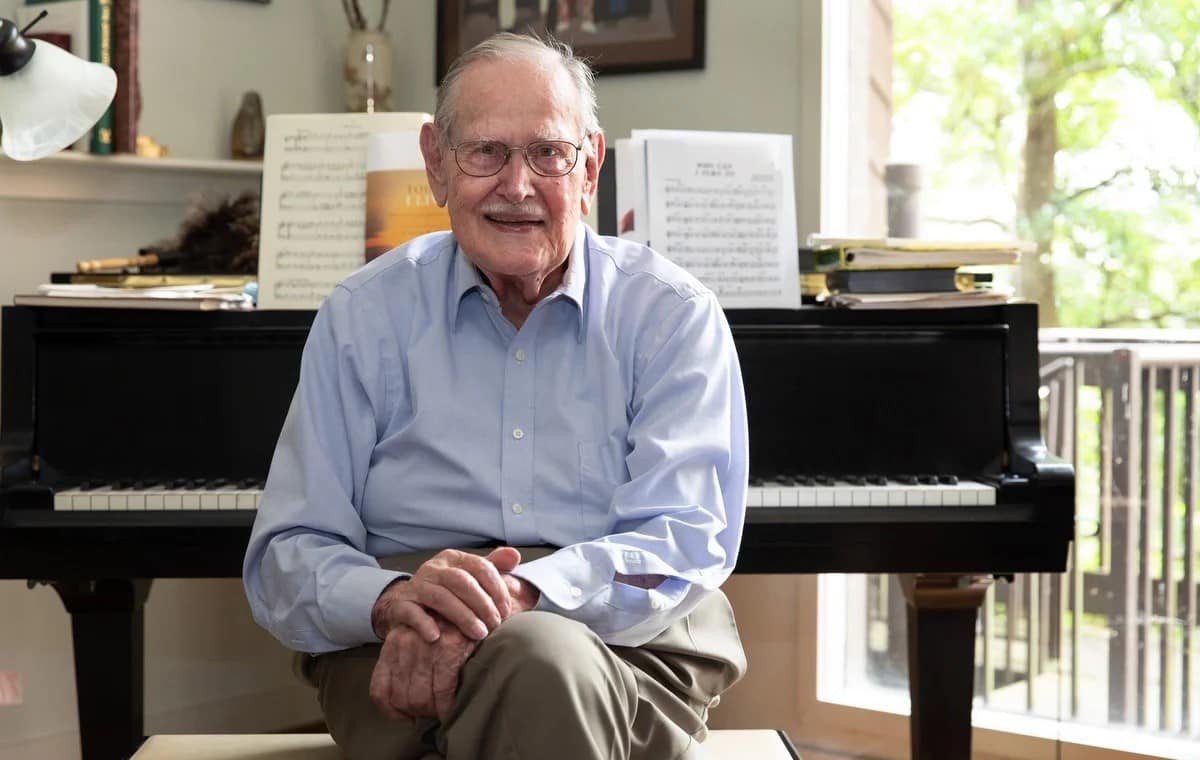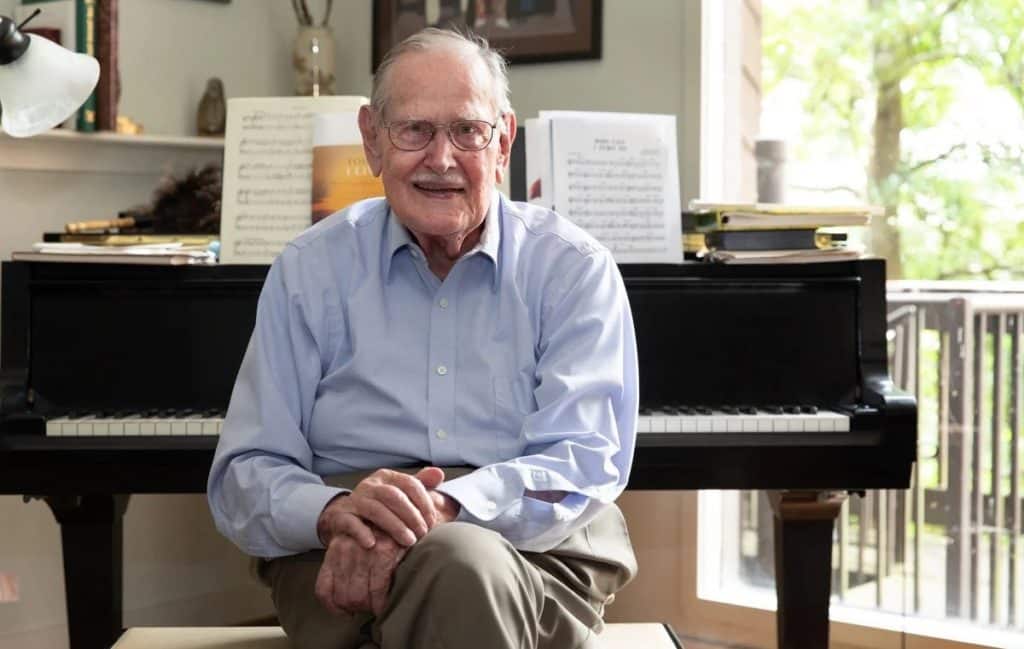 Though more prominent in the 20th century, Sam Young remained productive until near the very end, and in 2022, published a memoir titled I'll Sing On that attested to his sharpness and wit.
"His contributions to hymnody and church are unparalleled," wrote Richard Shadinger, an emeritus music professor at Belmont University in Nashville. "We will miss this great scholar and human being."
Born on April 25, 1926, in Hamilton, Ohio, Young was such a large baby that his family nicknamed him "Samson," which turned into "Sammy" and finally "Sam."
His mother died when he was just one, and his father, a Methodist pastor, entrusted his upbringing largely to grandparents. 
Young started piano lessons at age 6 and went on to learn brass instruments and string bass. He became a jazz lover under the influence of an uncle who played with the Paul Whiteman Orchestra and jazz legend Bix Beiderbecke. Young played in jazz combos himself, and some of his church music would include jazz touches. 
When World War II ended, Young was in the Air Force, training as a gunner. Once discharged, he took advantage of the GI Bill, earning degrees from the Cincinnati College of Music, the University of Cincinnati and the Boston University School of Theology.
A pastor friend influenced Young's decision to become an ordained Methodist elder, but with a focus on church music. Young shared in a 2020 interview, what the pastor told him.
"He said, 'The music of the church is not theologically informed. It's performance. It makes sounds, but it doesn't relate to preaching, and it doesn't relate to the liturgical year. You can do something about that.'"
Young would serve local churches as music minister early in his career, but soon became a multifaceted contributor to the denomination.
For example, he taught church music at Perkins, the Candler School of Theology and Scarritt College, mentoring a generation of United Methodist music ministers.
Young directed the music for nine General Conferences, including the 1968 Uniting Conference in Dallas that officially formed The United Methodist Church.
Milestone accomplishments for Young were editing The Methodist Hymnal of 1966 and The United Methodist Hymnal, which first rolled off the presses in 1989.
With the latter, he and the hymnal revision committee had to balance the demands of various constituencies within the big-tent denomination. Newspapers reported on controversies over inclusive language and whether "Onward Christian Soldiers" should be dropped as militaristic. (It was retained.)
Young wanted to honor tradition, but he insisted on shaking things up, adding gospel music and spirituals. Duke Ellington's sacred jazz piece "Come Sunday" made the cut, as did Spanish-language hymns. 
"We've still got the highbrow stuff, Bach, Mendelssohn and Vaughan Williams, everything we had," Young told The Associated Press in July 1989. "But we've expanded it to include that which had not been included."
The United Methodist Hymnal remains the denomination's principal songbook, used in thousands of churches across the U.S. and beyond. With cumulative sales of about 4.7 million copies, it may well be the best-selling Methodist volume of all time, according to the United Methodist Publishing House. 
From 1994 to 2007, Young was a consultant, transcriber and editor for the United Methodist Board of Global Ministries' Global Praise Project. He had a key role in bringing out such songbooks as "Beams of Heaven: Hymns of Charles Albert Tindley," "Steal Away to Jesus: A Collection of Spirituals," "Africa Praise Songbook," "Caribbean Praise" and "Songs for the Poor: Hymns by Charles Wesley."
"He was always out front in a prophetic way, regarding congregational song, the sung theology of the church … and so inclusive of all styles of music and the expressions of all people," said Barbara Day Miller, associate dean emerita of worship and music at Candler.
Plans for a memorial service for Young have not yet been announced.
Una versión de este artículo apareció originalmente en Noticias de la UM.
Sam Hodges is a Dallas-based writer for United Methodist News.