With Christmas Day falling on a Sunday, one of the nation's largest Southern Baptist churches has joined a growing percentage of Protestant congregations that plan to close their doors on Christmas Sunday.
The Summit Church, a multi-site megachurch headquartered in Durham, N.C., with over 11,000 average attendance, plans 17 Christmas services on Dec. 22 and 24 across its 11 locations. Lead pastor J.D. Greear, a former president of the Southern Baptist Convention (SBC), dicho Los New York Times this week that they will forego Christmas Day services.
"Sunday is the Lord's Day, and it ought to be a day you spend with the family of Christ," said Greear. "But I don't want to be the Pharisees of this generation, where I turn it into some kind of rule that there's never an exception for."
Yet, in some circles, online debate about Christmas Day services has been raging for over a month.
"It seems a little contradictory to say, 'Jesus is the reason for the season.' But then cancel church on Christmas Day," stated Will King, lead pastor of Bethesda Baptist Church in Clayton, N.C., in a publicación de Facebook shared dozens of times and with over 100 reactions.
Give a gift of $30 or more to The Roys Report this month, and you will receive a copy of "Jesus v. Evangelicals: A Biblical Critique of a Wayward Movement" by Constantine Campbell. To donate, haga clic aquí.

In a just-released encuesta, Lifeway Research noted that 84% of U.S. Protestant pastors said their church plans to hold Christmas Day services. It marks a slight decline from a similar survey in 2016, when 89% of pastors affirmed their Christmas Sunday service plans.
This year's nationally representative survey of 1,000 pastors, conducted in September, noted some statistical anomalies. For instance, only 61% of non-denominational pastors plan to hold Christmas Day services—the least likely of seven Protestant Christian subgroups surveyed.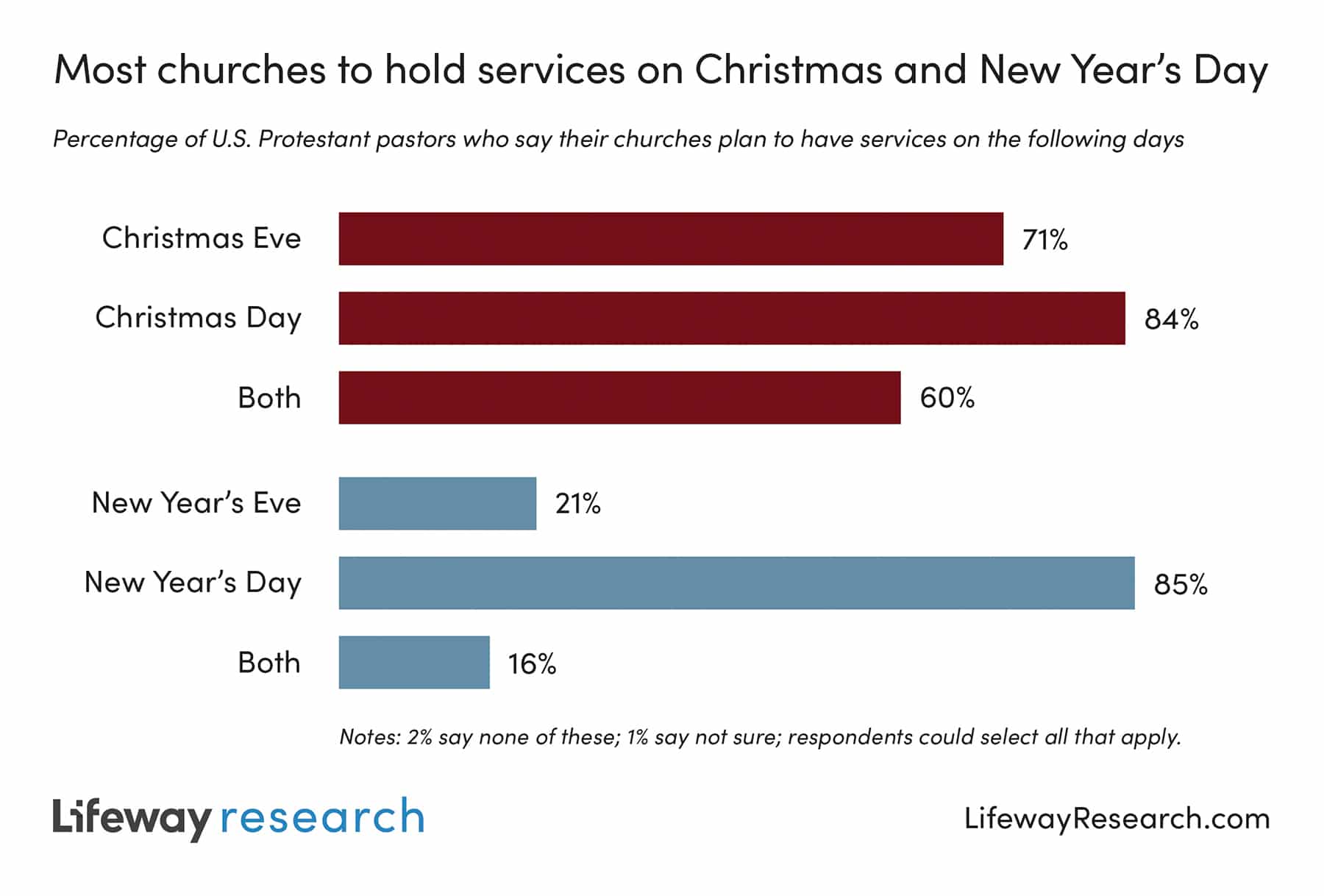 Image Courtesy of Lifeway Research
en un correo last week, Costi Hinn, pastor of The Shepherd's House Bible Church in Chandler, Arizona, summed up his church's reasons for holding Christmas Sunday services. His three points were, first, membership expectations and elder convictions; second, the opportunity to "prioritize Jesus"; and lastly, that attending Christmas Sunday services is "a great teaching moment."
But he also sought to be conciliatory, stating, "Many churches that are in the family of God will land differently on this issue."
Are some churches being driven by 'pragmatism'?
For several weeks, strongly worded social posts about Christmas Sunday services have been trending—notably in Reformed Baptist circles. The flashpoint has led some Christians to accuse others of "compromise with the world" or being "legalistic," depending on their views.
Texas pastor Tom Buck, director of preaching workshops at G3 Ministries, tuiteó on Dec. 13: "There is not one good biblical reason that can be given for cancelling church on Christmas Day!"
Similarly, Lisa Spencer, a theologian affiliated with ethnic minority-led ministry Reformed Margins, said: "Perhaps the bigger issue in the Christmas service canceling debate is how much pragmatism has driven ecclesiology rather than the church's purpose. Church was never meant to be practical but pointing to its head & the Christian's identity in it. That's why we gather."
Our gathering on the Lord's day for this purpose, regardless of inconvenience. It IS a public witness. Church is not a business enterprise but an embassy of another kingdom. That's what needs to stand out above anything else. /2

— Lisa Spencer (@theochick) December 19, 2022
Some affiliated with historic liturgical churches stood by denominational traditions. Christian author David Rowe fijado: "Growing up in Britain, we ALWAYS went to church on Christmas Day – often twice, if you include Midnight Mass. The idea that . . . it is a hardship to do so is pretty alien to me."
Likewise, Hans Fiene, pastor of Prince of Peace Lutheran Church in Crestwood, Mo., escribió en revista mundial: "Ask not whether the Lord's Day should trump Family Snuggle Time. Ask why a Christmas Day service isn't already an essential part of the Christian family's Dec. 25 rhythm."
Rejecting trend of 'worship team widows'
Many engaged in the discussion disagreed with binary choices and pointed to particular circumstances.
Chuck Call, lead pastor of Ashe County Worship Center in West Jefferson, N.C., announced online that the Pentecostal-nondenominational church "will not be having church on Christmas Day."
Él fijado in part: "I encourage you too to spend time with your family. Someone may not be here next year for you to hug or hold."
Reflecting further on ministry family sacrifices, Chellee Taylor, an abuse survivor and advocate whose husband served for years on a worship team at a church in north central Florida, said Christmas Eve services placed a strain on them.
"One year my former church had five Christmas Eve services," Chellee wrote. "My husband was the (unpaid) lead guitarist on the worship team. He had practice several nights a week leading up to Christmas. Between work and church, I barely saw him."
On Christmas Eve he left early in the morning for more practice and the only time we saw him was from our seat in the sanctuary later that day. He would back home after midnight.
When I voiced that I felt like a "worship team widow" I was scolded by staff for being selfish.
2/3

— Chellee Taylor (@InHisgrip) December 5, 2022
Her Twitter thread recounts being "scolded by (church) staff" for bringing up their lost time together.
Regional differences are also pertinent, as some Protestant churches in urban areas have a significant percentage whose families of origin are from out-of-state. Lifeway Research fundar only 74% of pastors in the Western U.S. plan Christmas Sunday services—10% lower than the national average.
Differing ways to 'celebrate Christ'
Joel Rainey, lead pastor of Covenant Church in Shepherdstown, W.V., who has served in a statewide SBC leadership role, stated online that he understands peoples' passion around the debate but said he wanted people to "see the bigger, often more complicated picture."
He described how a normal service of their 900-person congregation requires "20-plus staff and 100-plus volunteers"—and he wouldn't want them to "see Christmas Day as a work day."
As the next Christmas Sunday will not occur until 2033, Aaron Sibley, student minister at First Baptist Church in Brandon, Mississippi, urged participation for those whose churches are meeting.
Él escribió: "Whatever it takes be there. If it's in pajamas, hair a mess, be there. Celebrate Christ as a family first and then go open presents."
The debate over how to celebrate Christmas has a long history. In 1659 Boston, Puritans banned Christmas celebrations, but not Christmas worship. That year, the legislature of the Massachusetts Bay Colony passed a law subjecting anyone engaging in Christmas celebration to a five-shilling fine. The ban lasted for 22 years before lawmakers revoked it.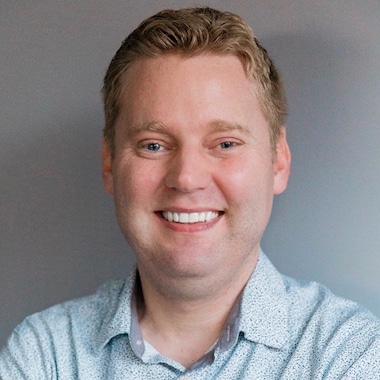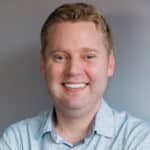 Periodista independiente Josh Shepherd escribe sobre fe, cultura y políticas públicas para varios medios puntos de venta Él y su esposa viven en el área de Washington, DC con sus dos hijos.