The oldest daughter of disgraced megachurch pastor, Jeremy Foster, last night posted numerous videos, responding to her father's adulterous affair, his divorce and re-marriage to his mistress, and the pain it's caused.
"From the moment I found out he had an affair, my dad moved in with his mistress," Jayden Foster said in a video posted on Instagram. ". . . And then, a month and a half after my parents' divorce was finalized, I got an email—because I don't have communication with him—got an email, and he was telling me that he had gone ahead and gotten married. . . .
"And it, like gutted me—like it really, really wrecked me. And I don't know if I can adequately put into words how that felt."
In January of 2022, Jeremy Foster resigned amid scandal from Hope City, un Asociación de Iglesias Relacionadas (ARC) megachurch based in Houston. Eight months later, Foster got divorced from his wife and the mother of his six children, Jennifer Foster.
Nine weeks after that, Jeremy Foster married Ratchadaporn Thongaram, a woman not associated with the church, who was charged in 2009 with operating a massage parlor without a license. Foster's father, Mark Foster, bishop of Los pentecostales de las ciudades gemelas, officiated the ceremony.
Speaking of her grandfather's role in the ceremony, Jayden said, "It is one of the most painful things I've ever experienced in my life. And it makes me really emotional thinking about it because it has fundamentally altered my relationship with my grandparents. And again, like the last year—like, I lost so much more than just my dad and my relationship with my dad."
Most recently, Jeremy Foster publicó un video, apologizing for his affair. The apology came as los roy Report (TRR) was about to break news that Foster had apparently joined John Maxwell's leadership company as a C-level manager.
In the video, Foster said his marriage "had been challenging" and that he was "overwhelmed" because his "church grew so fast." But he added "that gave me no right to do what I did. You know, it was on me."
In an Instagram photo, Jayden said her father's apology video is what prompted her to speak out.
"My dad, unbeknownst to me or my family, released that video and repositioned us in this spotlight," she said. "However, he shared a very safe (filtered) narrative."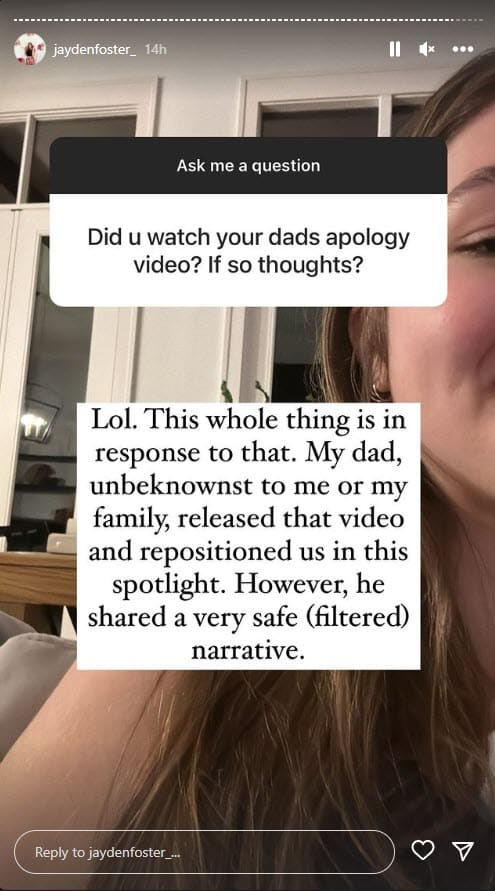 In what appears to an effort to set the record straight, Jayden responded to numerous questions people sent her. They range from very personal questions about forgiving her dad and allegations about her mother—to her opinion of "celebrity pastors" and using "grace" as an excuse. Those questions and her responses are listed below.
Do u think if he wasn't overworked, it could have avoided the affair?
Jayden said she believed there were "a ton of contributing factors" for her father's affair and that being overworked was one of them.
"But that does not excuse the behavior," she said, noting that her father didn't just make a "mistake."
"He made a conscientious decision every single day for a year, possibly more—who knows?—to continue in an affair, despite the fact that he was being called out by people on his staff, me, his daughters, his wife, his overseers. My sisters, and I called his overseers had a conversation and said we were concerned. They . . . called him out and he fired them."
Can you clear up any false accusations against your mom?
Jayden also defended her mother, whom she said her father has accused "throughout his time as a pastor and on his apology video." In 2020, Jeremy and Jennifer Foster admitted in an interview that Jennifer had been abused as a child and then was physically abusive to Jeremy in the early part of their marriage.
"I've never ever in my life, seen my mom lay a hand on my dad, ever," Jayden said. "I have seen my dad display aggression and anger. And he's gotten in my face, and he's yelled. And my mom threw rotisserie chicken at my dad once, which is not right. That's kind of funny. . . .
But Jayden added, "My mom is one of the sweetest people I've ever met, who was abused for so many years of her life, and she talks publicly about it. But to throw that on her, and to say those things about her is vile."
Do you have a relationship with your dad?
Jayden says she doesn't have a relationship with her dad, but "this is not for lack of trying." According to Jayden, her father has never repented for what he's done. About a week after she found out about her father's affair, Jayden said she wrote him a letter, asking him to sever his relationship with his mistress and seek restoration.
"He did neither of those things," Jayden said. "And so that, and then a ton of other things . . . have led to a relationship with him, like just being really, really toxic and harmful." She added that one day, she'd love to reconcile with her father "and right now, it's just not possible. But pray that maybe one day, like the Lord gets through to him, and he's able to repent."
What's your opinion of those that use "grace" to excuse your dad's actions?
Jayden notes "there is a big difference between an apology and repentance" and "between grace and enabling." While she says she's big on grace, she adds that people also need to speak truth to someone in sin, encouraging the person to repent.
Do you see yourself forgiving your dad?
Jayden added that she's trying to forgive her dad, but "it's made a lot more difficult because there are constantly new things that I'm having to forgive for."
In a picture posted on Instagram, Jayden responds to a question affirmatively concerning whether she believes her dad is a narcissist.

How do you feel about celebrity pastors?
Jayden says she believes the words celebrity and pastor are antonyms and that pastors need to be "gentle and lowly"—a reference to a book by Pastor Dane Ortlund. Ironically, Ortlund has been accused of bullying and retaliating against a church employee.
How do you feel about Christian leaders that have seemingly condoned what your dad's done?
Despite his adultery and seeming unrepentance, leaders like ARC Pastor Jimn Kyles of Anchor Bend Church have posted on social media in support of Jeremy Foster. Jayden responds that she believes many supporting her dad either "don't have the full story, or are really, really leaning on grace" to the exclusion of truth.
Despite everything she's experienced, Jayden says she's still holding on to her faith. And when asked her advice for a high school girl "struggling to stand firm and fight the lies of the enemy," Jayden responded that she should read her Bible, get in a small group, and surround herself "with strong, Biblical women."
In another post, Jayden admits she doesn't have all the answers. But she adds, "Doubt is a part of faith. It's ok to question God. Job did. Jesus quoted Psalm 22 on the cross."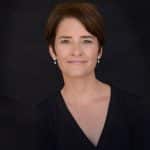 Julie Roys es una reportera de investigación veterana y fundadora de The Roys Report. Anteriormente, también presentó un programa de entrevistas nacional en Moody Radio Network, llamado Up for Debate, y ha trabajado como reportera de televisión para una filial de CBS. Sus artículos han aparecido en numerosas publicaciones periódicas.