Aaron Tremblay, now a minister in the Nashville, Tenn., area, preached for 10 years for the 75-member Leominster Church of Christ in Massachusetts. 
In Tremblay's native New England, congregations tend to be small and isolated, the 37-year-old minister noted.
"But what helps them continue on, even though in some cases the churches are only 25 or 30 people, is that they stay connected," he said. "That's the only way they survive."
It's different in Tennessee: Hundreds of Churches of Christ — often with 300, 500 or even 1,500 members — encompass the Nashville area, sometimes called "the buckle of the Bible Belt."
Historically, those congregations compete for members and attention, Tremblay and other preachers told La crónica cristiana. 
Give a gift of $30 or more to The Roys Report this month, and you will receive a copy of "The Ballot and the Bible" by Kaitlyn Schiess. To donate, haga clic aquí.
But as overall attendance numbers shrink in Music City — and across the United States — the ministers see a profound need for Christians to come together.
To that end, five Nashville-area congregations — including the church where Tremblay preaches — organized a special series this summer dubbed "Greater Together."
For four straight Sunday nights, the congregations got together for worship and fellowship meals.
The services joined Christians of different races and languages. 
Attendance exceeded expectations, starting at 568 and rising as high as 932, organizers said.
"I have valued the … simple worship services with meals and fellowship," said Mark Adams, pulpit minister for the Tusculum Church of Christ in Nashville. "But I think a very critical component … is that we are doing this with other sister congregations that are in the same area, so we can get to each other's congregations easily."
Buoyed by the crowds — and the enthusiasm — the churches' leaders pray a long-term unity effort might take off. They talk excitedly about the possibility of shared ministries and ongoing multi-congregational gatherings.
"God's doing great things with all of our churches individually, no question," said Tremblay, who serves the Smyrna Church of Christ, a congregation begun in 1882, about 20 miles southeast of Nashville. "But we just thought, 'Man, if … God is able to work through us individually, then surely God could do something if we all came together.'"
Momentum toward unity
And to think it all started with a lunch invitation.
That story requires a bit of context: In the last few years, two century-old congregations in Antioch — a community with a biblical name halfway between Nashville and Smyrna — made historic hires.
Just before the COVID-19 lockdown in 2020, Joshua Jackson joined the Rural Hill Church of Christ in Antioch as its lead minister. The congregation, launched in 1913, is about 40 percent White, 40 percent Black and 20 percent Hispanic. However, Jackson is its first-ever Black staff member.
"That diversity was part of the reason why I wanted to come here," said Jackson, 35, who earned degrees at Universidad Cristiana de Abilene and Emory University's Candler School of Theology. "I had never seen a Church of Christ like this. I didn't think it was real, honestly."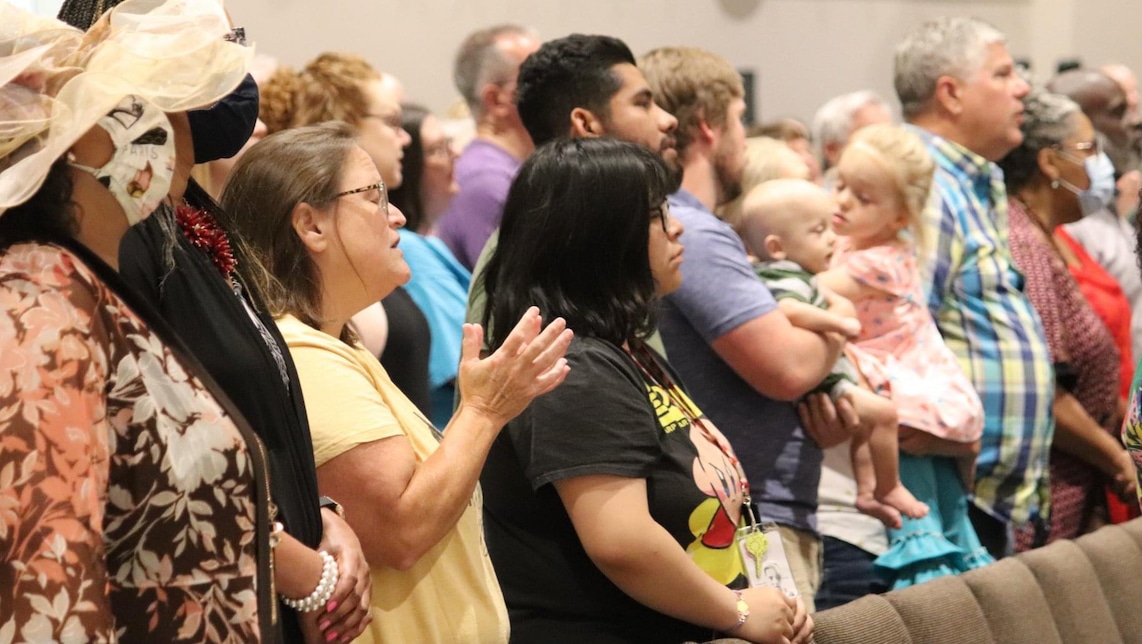 Then in 2021, the Antioch Church of Christ welcomed Patterson Morgan as its preaching/teaching minister. The congregation, with roots dating back to 1894, is roughly two-thirds White with Black and Hispanic members comprising the remaining one-third. But Morgan, 38, who grew up in the Caribbean island nation of Trinidad and Tobago before attending Harding University, is the church's first preacher of color.
Enter Christopher Jackson, 40, who has preached since 2018 for the Jackson Street Church of Christ, a predominantly Black congregation in Nashville. Started in 1896, the church's founders included the late Marshall Keeble, the famous Black traveling evangelist.
Last year, Christopher Jackson, no relation to Joshua Jackson, invited the new ministers in Antioch to lunch — a way of welcoming them to the area.
"He was like, 'Hey, let's just get together and hang out,'" Joshua Jackson recalled. "And then we were like, 'Let's just do this every month.' … And then the second time we got together, I invited Aaron (Tremblay), and Aaron came.
"Most of us were somewhat new to the Nashville area," the Rural Hill minister added. "We didn't have a whole lot of community, and as preachers, it's a lonely world sometimes. So it was just helpful to have other preachers to kind of lament what was going on in our congregations in the midst of COVID."
Bread and brainstorming
As the ministers broke bread each month, they grew closer.
Eventually, one of the preachers asked why — if they could enjoy such close-knit fellowship — their respective congregations never did anything together.
"Just out of that, something amazing took place," Joshua Jackson said. "It was just this (question of), 'What if we tried to do something simple, low-key, where our congregations could meet together?' And we just started brainstorming."
That brainstorming began just before Adams, 41, a Nashville native, returned to his hometown earlier this year to preach for the Tusculum church, which formed in 1957.
The original group of four ministers invited Adams to join the discussions, and the "Greater Together" effort grew to five congregations.
The ministers decided that the four congregations that were closest geographically — Antioch, Rural Hill, Smyrna and Tusculum — should host the gatherings.
Jackson, the Jackson Street minister, agreed to preach each Sunday night.
"So Christopher put work into sermon prep," Adams said. "The rest of us put work into planning and logistics."
Said Christopher Jackson: "From an African American standpoint, our elders were sort of nervous about COVID and everything. And so while we didn't host it, I was just grateful for Aaron and Patterson and all of them for asking me to be the speaker.
"And while it took a little while for my congregation to catch on," the Jackson Street minister added, "I was really proud of them because, especially at the last one, they definitely showed up in large numbers. So it was just beautiful."
Morgan, the Antioch minister, said he welcomed the opportunity to worship with fellow Christians of different backgrounds. 
His congregation's community minister, José Nieto, helped organize the Spanish hymns and sermon translation.
"I just believe there's a benefit to multiculturalism," Morgan said, "because we expand our experience, and we expand our learning."