Last fall, First Baptist Church (FBC) Naples—a prominent Southern Baptist megachurch in southwest Florida—made national headlines for rejecting an African American pastoral candidate because of some alleged racist members.
"Racial prejudice a factor in rejection of black pastor," read the headline of a piece published in the Baptist Standard. Similarly, an article in The Grio asked, "Did a Florida church not hire a pastor because he was Black?" And Christianity Today stated, "Black Pastor Candidate Withdraws After Controversial Vote at SBC Megachurch."
However, according to a group of 30 to 40 "Concerned Members of FBCN," which includes several former deacons, racism had nothing to do with why pastoral candidate Marcus Hayes was rejected as pastor. Instead, the group alleges that the racism charge was a ruse by men who had recently seized control of the church, expelled and maligned a beloved pastor of 27 years, and then fabricated a basis for excommunicating those who had objected.
The group adds that national leaders within FBC Naples's denomination, the Southern Baptist Convention (SBC), supported the church's leadership and furthered the racism charge.
Bob Caudill, a former deacon and spokesman for Concerned Members of FBCN, said that a month before the vote on Marcus Hayes, the group had circulated a petition requesting a special business meeting to discuss serious concerns at FBC Naples. These included a lack of transparency at the church, absence of vetted elders, and the public maligning of former longtime pastor, Hayes Wicker.
Give a gift of $50 or more to The Roys Report this month, and you will receive a copy of our two-book "Anti-Bullying Bundle" featuring No More Christian Nice Guy and Free Us From Bullying. To donate, click here.
Concerned Members of FBCN says the petition received 800 signatures. Yet Caudill said that instead of calling a special meeting in accordance with church bylaws, the leadership at FBC Naples excommunicated 18 of the Concerned Members, including Caudill. This happened just three days after the church vote concerning Marcus Hayes.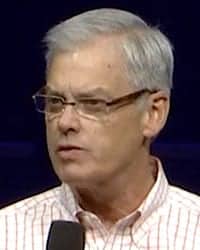 Sylee Gibson, an excommunicated member who works in law enforcement, added that the man chairing the FBC Naples senior pastor search team is a Florida businessman with a checkered past—Neil Dorrill.
In 2001, Dorrill pled guilty to racketeering conspiracy charges in connection with the Stadium Naples corruption scandal. The judge in the case withheld a conviction but gave Dorrill a $10,000 fine and three years' probation. Dorrill also serves on FBC Naples' finance committee.
Despite these red flags, leaders in the Southern Baptist Convention (SBC) have supported leaders at FBC Naples.
The day after excommunicating the 18 members, FBC Naples lay leadership and pastoral staff sent an open letter to the SBC, accusing some who didn't vote for Hayes, who's a member of the SBC Executive Committee, of racism. The FBC Naples leaders vowed to deal with "this sinful cancer" and added that "church discipline" had already started.
"Grateful that FBCN is moving toward amputating the racists," tweeted Rev. Dwight McKissic, a prominent African American SBC pastor in Arlington, Texas.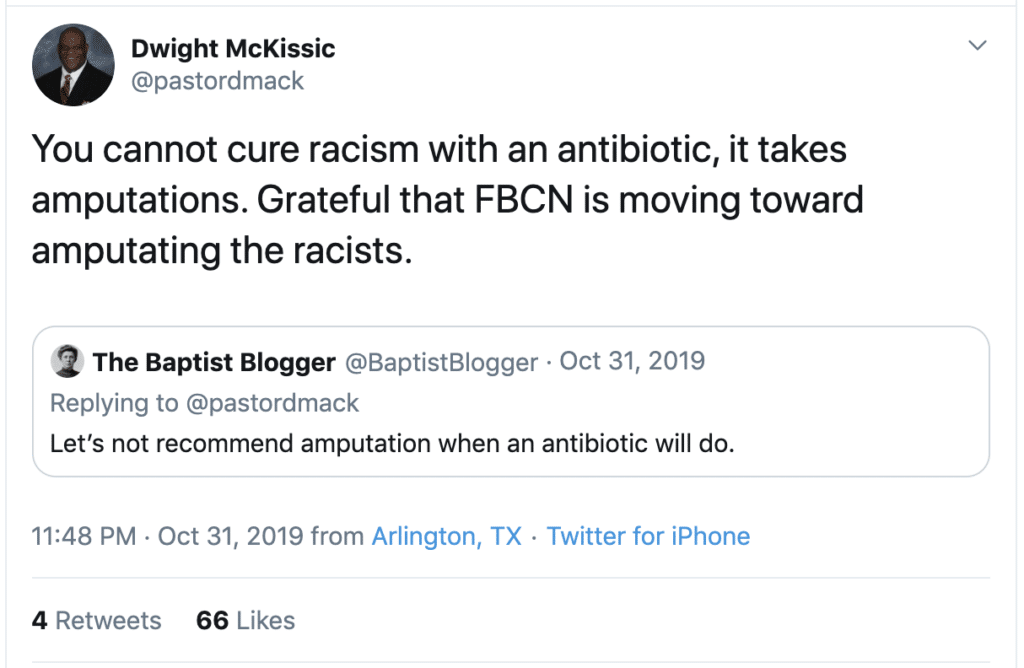 Similarly, SBC president J.D. Greear, who had written a letter of recommendation for Marcus Hayes, called the open letter by FBC Naples leadership a "bold, Gospel-faithful response of the leadership of FBC Naples." Greear added, "Let us be united in lament that any vestige of this kind of sinful prejudice remains in our churches."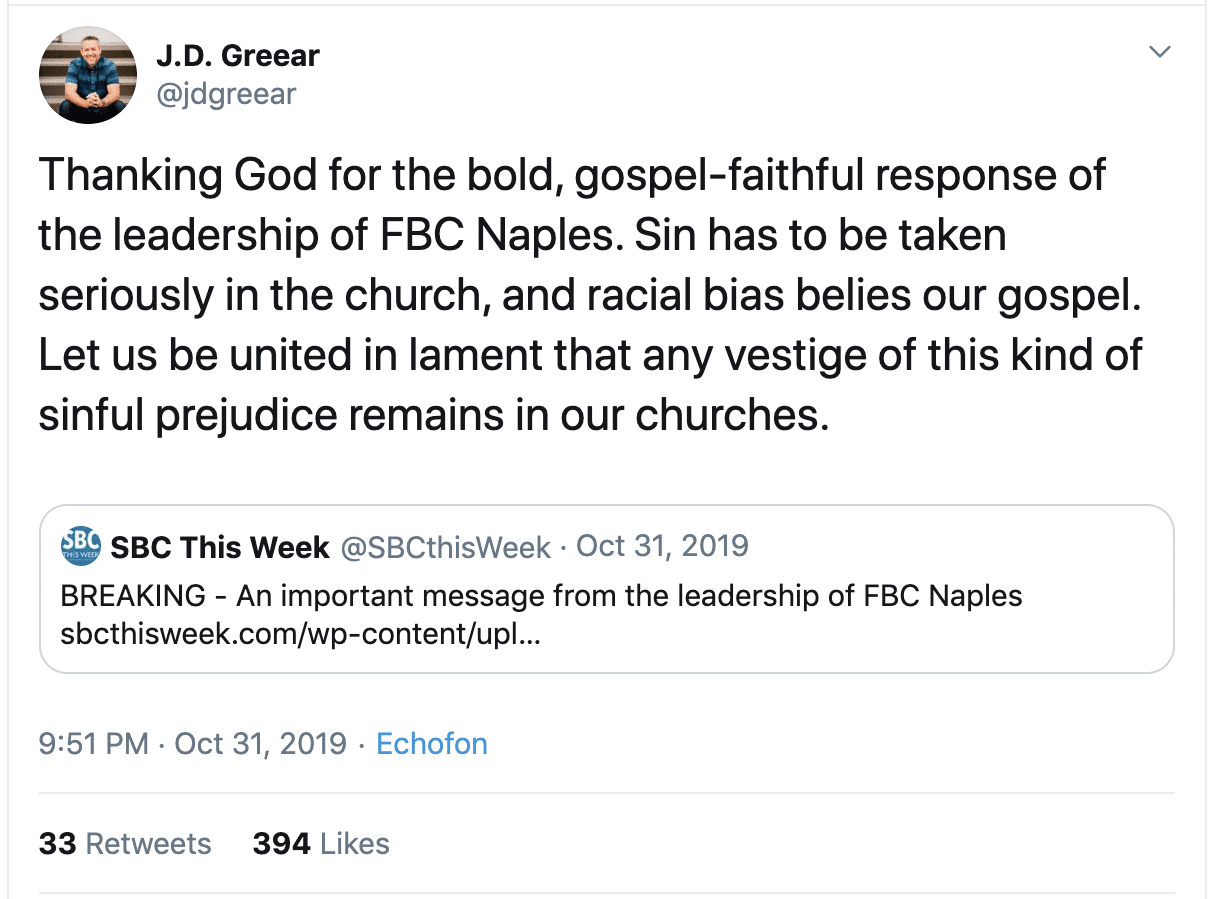 Also, Danny Akin, president of SBC-affiliated Southeastern Baptist Theological Seminary (SEBTS), described the open letter as a "strong and redemptive word from FBC Naples."
Akin's son, Jonathan Akin, is currently serving as interim pastor at FBC Naples. Jonathan Akin is also national director of young leaders for SBC's North American Mission Board.
We reached out to leaders at FBC Naples about a dozen times, seeking evidence for the racism charge, as well as comment on other issues at the church, but no one responded.
We likewise contacted SBC President J.D. Greear, SEBTS President Danny Akin, and Rev. Dwight McKissic for comment, but none responded.
FBC Naples, recently listed as the 64th largest SBC church in the country, appears to be withering in the wake of the scandal. Hundreds of members have left the church. And as of March 1, the church's $14 million budget had a shortfall of $1.2 million.
In addition, those who have been excommunicated, as well as former Pastor Hayes Wicker, say they feel like their reputations have been sullied.
Chuck Colson's Pastor Pushed Out After Easter Services
The turmoil at FBC Naples began about a year ago, when longtime Senior Pastor Hayes Wicker announced to the church that he was stepping down to make way for "younger fresher leadership." 
At the time, Wicker seemed to be well-respected by his church and denomination.
During Wicker's 27-year tenure, FBC Naples grew from 400 weekly attendance to over 3,000. The church also launched a school—First Baptist Academy. And in 2006, Wicker served as head of the SBC Pastors Conference.
Wicker also was pastor for 20 years to evangelical author and founder of Prison Fellowship, Chuck Colson. Colson thought so highly of an oath of integrity that Wicker had written that Colson included the oath in his landmark book, The Body. 
Despite this track record, Wicker said he was shut out of the new pastor selection process. Wicker said Dorrill banned him from pastoral search team meetings, and the chairmen of the personnel and finance committees told Wicker his oversight was not needed.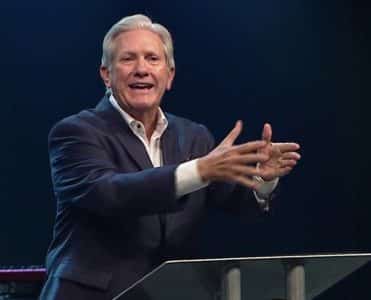 Caudill added that Dorrill advised Caudill that any pastoral candidates suggested by Wicker would be "dead on arrival."
In the months leading up to Wicker's resignation, the church hired Auxano, a church consulting company, to advise the church on the pastoral transition process. (Auxano's founder, Will Mancini, also serves as director of consulting for Lifeway, the publishing division of the SBC.)
Mancini said it's standard to recommend that an outgoing senior pastor not be involved in a pastoral succession process. However, Mancini added that the situation at FBC Naples was not typical but did not want to comment on the unique circumstances at the church.
On Easter weekend, Wicker said he received a text message that several chairmen wanted to meet with him about "church unrest." Wicker said he tried to ignore it. "I was preparing to speak before the largest crowd we would ever have," he said. "I saw that simply as a distraction from the devil."
Yet Easter services would be the last time Wicker would preach at FBC Naples.
The following Tuesday, April 23, Wicker met with FBC Naples leaders including Dorrill, Chairman of the Personnel Committee Troy Boone, Chairman of the Finance Committee Don Collier, and Chairman of Deacons Terry Cole. Wicker said that during the meeting, the men confronted him with an anonymous letter that accused Wicker of financial impropriety, such as not tracking his miles on a church-leased vehicle.
Wicker said he was shocked by the accusations, but instead of fighting, he tendered his resignation.
Former deacon, Blake Crawford, said Wicker was later exonerated of the charges in the anonymous letter by church accounting firm, Phillips Harvey Group. We reached out to Phillips Harvey Group and FBC Naples to confirm, but they did not respond.
Two days after the meeting with Pastor Edie and Chairmen Boone and Collier, Wicker said he was told to vacate church premises immediately.
"I was shocked that they would make this immediate," Wicker said. "If I had known that, there would have been no resignation whatsoever."
"I was shocked that they would make this immediate. If I had known that, there would have been no resignation whatsoever."
Despite his disagreement with the process, Wicker said he submitted to an exit agreement offered by the church, which included a non-disclosure clause. Wicker and his wife then returned a Chrysler minivan they had been given years before by a church member, and his church-leased vehicle was repossessed.
The church did not hold a reception to honor Wicker's decades of ministry, nor was Wicker permitted to address the congregation. However, in May, Wicker said he agreed to videotape a short farewell message to members from a script both he and the personnel committee had approved.
Yet Wicker said that without his approval or prior knowledge, a statement read by Boone was inserted at the beginning of the video, saying that Wicker had confessed to "misuses of power" and "actions unbecoming of a Senior Pastor." This statement was also emailed to church members on May 23. 
Wicker called the allegations "appalling."
We reached out to Boone, specifically asking about the allegations mentioned in the video, but he did not respond. (The video is now private and requires a password to view.)
Wicker said in late October, when FBC Naples excommunicated the 18 members, it also stopped paying him his severance. Wicker said several weeks later, the church emailed him, stating that Wicker had "facilitated and cooperated with a rival faction in the church," which voided his exit agreement.
Wicker responded with a 16-page letter refuting the charges against him. Wicker said the church never responded to his letter. And on December 31, Wicker said the health insurance provided by the church was cut off for him and his wife, who has a serious heart condition.
Pillars of the Church Excommunicated
FBC Naples's accusations and treatment of Pastor Wicker upset dozens of church members.
"This sequence of events raised many questions for me and my wife," Caudill said. "It was all being done vindictively and not in a righteous, godly manner."
Concerned families gravitated to the Caudills, who had served in SBC churches for over 50 years. Yet Caudill said that when he spoke up in meetings, the 79-year-old deacon was deemed "divisive."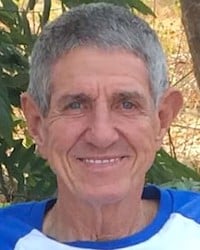 On May 28, Caudill said the church placed him on "disciplinary suspension" from the deacon board and the senior pastor search team. Blake Crawford and former deacon, Mike Dolan, said they were also suspended around that time.
In June, "Voices of FBCN" sent an email to many in the church, criticizing the actions of church leadership.
Church leadership responded in an email to members, calling the Voices of FBCN's email "inaccurate and slanderous" and claiming that a "security breach" of the church's email list had occurred. (The church publishes an annual directory with member email addresses.)
FBC Naples also sent several "cease and desist" letters from prominent law firm, Holland & Knight, to several church members suspected of having involvement with the Voices of FBCN email. 
A representative from the Collier County Sheriff's Office also confirmed that FBC Naples contacted them on July 3 regarding a "suspicious incident."
Wicker's daughter, Allyson Stephens, said that on September 13, two detectives visited her home and questioned her about the "Voices of FBCN" email. Stephens said neither she nor any member of her family wrote the e-mail, adding that "none of the church staff ever reached out or spoke to me." She also said the detectives told her that "no criminal actions had taken place."
The experience with the church was so unnerving for the Wickers that in September, the extended family—including two adult children, their spouses, and six grandchildren—pulled up stakes from Naples and moved several states away.
In November, just weeks after the church excommunicated 18 members, John Garippa, a longtime FBC Naples member who led two popular Bible Studies at FBC Naples, left the church. Two weeks later, Garippa started another church called The Naples Gathering.  Garippa said The Naples Gathering has 350 to 400 people attending, 85-percent of whom are former FBC Naples members.
Garippa, who was never part of Concerned Members of FBCN, declined to comment on why he left FBC Naples. However, he stated, "In the 22 years I was there (FBC Naples), I never heard a racist comment—ever. And that's shepherding many hundreds of people over many years."
Did Racism Play a Role in Marcus Hayes Vote?
In its open letter to the SBC, FBC Naples lay leaders and staff wrote that they know "racial prejudice" contributed to Marcus Hayes's failed vote because of "the campaign that started just days before by a few disgruntled people in our church."
Presumably, the "campaign" to which the letter is referring is an email that was sent from the Concerned Members to those who had signed the petition shortly before the Hayes' vote, requesting a special business meeting. In the email, the group warned that Hayes had endorsed "Woke Church," a book that the email claimed was promoting "cultural Marxism."
The email also objected to Hayes reportedly saying that "he rejects the concept that a person can look at a person of color and see no color." The authors wrote, "Paul is clear to us in Philippians 3:2-10 that we are to have no confidence in the flesh of our ethnicity."
However, the email also expressed concerns about Hayes' ability to reconcile the deeply divided church. It noted that Hayes had unfriended or blocked several people who had signed the petition on his social media accounts.
It also noted that Hayes didn't meet the criteria members had stated for the next senior pastor—that he have five years of experience as a senior pastor. (Hayes this month took his first senior pastor position at a church in Texas.)
Also concerning to the group was the fact that Marcus Hayes didn't respond to a letter Concerned Members of FBCN had sent him a week earlier, outlining their issues at the church.
Christianity Today (CT) reported in November that Neil Dorrill had claimed at a Q&A session that "inappropriate emails" had been sent to Hayes's church in North Carolina, Biltmore Church. However, CT said it was not able to confirm whether Biltmore Church received such communications.
We reached out to Dorrill, but he refused to answer any questions.
We also contacted Marcus Hayes and Biltmore Church about the alleged emails but they declined to comment.
Racism Charges Remain as Search for Pastor Continues
In November, Caudill sent a letter to several prominent SBC leaders, including President Greear and SEBTS President Danny Akin, urging them to retract their statements supporting the racism narrative offered by FBC Naples.
"(I)t seems from social media posts that, with no investigation, some convention leaders have chosen to believe this narrative," Caudill wrote. "First Baptist Naples is, ethnically, a predominantly white church but we are not a racist church."
Caudill said no one replied to his letter.
Pastor John David Edie, who wrote the open letter to the SBC on behalf of leaders at FBC Naples, alleging racism, resigned in early December. Following worship services on December 7 and 8, receptions were held to honor Edie's six years at the church.
The search for a senior pastor continues, with Dorrill leading the search committee.
Wicker said the future for him and his wife is uncertain. Yet despite all that's happened, Wicker said, "I pray people would not use this to come against megachurches or seeing all committees as bad."
Similarly, Caudill stated, "First Baptist Naples still has potential to be used greatly by God. But I don't see how the spirit of God can move among those people, unless they are willing to understand what has happened and admit that what they have done is absolutely atrocious, ungodly, unjust, and even in violation of their own bylaws."
Editor's note: This story has been updated to reflect accurate information regarding the participants at a meeting of FBC Naples leaders on April 23.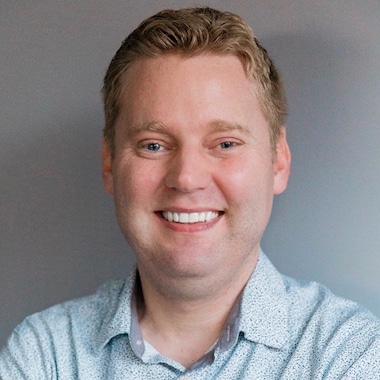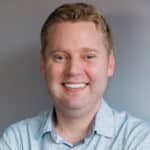 Freelance journalist Josh Shepherd writes on faith, culture, and public policy for several media outlets. He and his wife live in the Washington, D.C. area with their son.