Two eyewitnesses of an alleged cover-up of sex crimes are accusing J.D. Greear and The Summit Church of conducting a "sham" investigation into the past of newly-hired executive pastor Bryan Loritts.
Summit hired Loritts on June 1, despite allegations that Loritts had covered up criminal voyeurism committed by his brother-in-law, Rick Trotter, 10 years ago at Fellowship Memphis.
In a May 24 letter, Greear, who's also president of the Southern Baptist Convention, assured his congregation that Summit leaders had thoroughly investigated Loritts to ensure that "his prior conduct aligns with our missional values and beliefs."
However, Greg Selby, a former insider at Fellowship Memphis, and Jennifer Baker, one of Trotter's victims, say Summit's investigation of Loritts was neither thorough nor objective.
Selby and Baker say they tried to tell Summit about Loritts' role in the cover-up of Trotter's crimes during a conference call on May 28, but church leaders were not interested in hearing their story.
Give a gift of $30 or more to The Roys Report this month, and you will receive a copy of "The Ballot and the Bible" by Kaitlyn Schiess. To donate, click here.
"It was not actually a research mission on their part," Selby said. Instead, Selby characterized the call as "a mission to find out what Jennifer and I were willing to say" so Summit could do "some sort of jujitsu" to defend against it.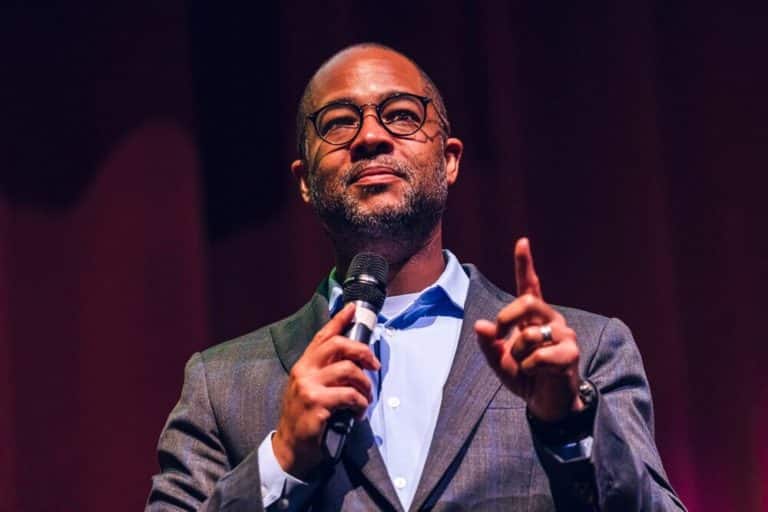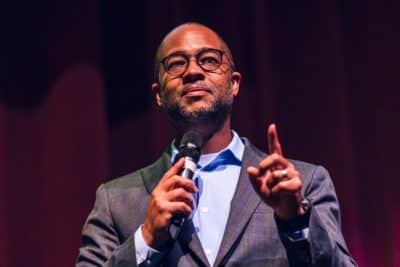 Selby and Baker allege that Loritts likely destroyed, or allowed the destruction, of evidence; discouraged victims from reporting Trotter to police; and threatened whistleblowers and victims with church discipline if they spoke.
Yet the two say that when they mentioned these issues to the leaders on the conference call—Summit Elder Dave Thompson and Associate Pastor Todd Unzicker—they were met with silence.
Baker and Selby added that Thompson and Unzicker would not answer any of their questions about the investigation. And Baker said when she asked if there was anything specific that Summit needed to know from Selby's and Baker's first-hand knowledge of events, Thompson and Unzicker responded, "Absolutely not."
Selby and Baker also expressed dismay that none of their testimony was included in the church's official statement, which Thompson emailed a concerned individual on June 1. Instead, the statement indicated that everyone Summit had interviewed supported Loritts' denial of wrongdoing.
"(I)t become abundantly clear to Summit elders that Bryan had not attempted in any way to cover up the incidents of abuse that occurred at Fellowship Memphis in 2010, protect the abuser, or discourage victims from seeking justice for their abuses," Summit said in its statement. "In fact, our thorough background check, interviews, and examination revealed quite the opposite,"
"Shame on Summit for taking a full hour to meet with Greg and (me) 'to gain more insight and information,' and then put out this blatantly false statement in complete contradiction to what we testified and what we spelled out for them," Baker said.
"Shame on Summit for taking a full hour to meet with Greg and (me) . . . and then put out this blatantly false statement in complete contradiction to what we testified and what we spelled out for them.".
I reached out to Thompson and Unzicker for comment, but neither one responded to my email.
I also reached out to Rachel Denhollander, a lawyer and well-known abuse survivor advocate, who according to Selby and Baker, was also on the conference call.
Denhollander confirmed that she was on the call. However, she said she was participating as a neutral observer and didn't feel it would be fair to either party if she commented.
Denhollander added, however, that she has urged J.D. Greear and Summit to hire a third party to investigate Loritts' handling of Trotter's crimes.
"In cases like these, churches should obtain trusted and qualified third-party firms to publicly investigate and assess serious allegations of unfitness for ministry so that survivors who disagree with, or have information contrary to the majority narrative have a safe place to speak," Denhollander said.
More Red Flags
In addition to the glaring omission in Summit's statement, Baker said she also observed a glaring omission in Summit's investigation—a failure to speak with many of the other victims.
Baker said she knows of about 50 people connected to Trotter's crimes and the cover-up. But of those she's talked to, she said none have been contacted by Summit.
Baker said this includes the Fellowship Memphis staff member* who discovered Trotter's phone and gave it to Loritts.
This is especially concerning because Summit says in its statement that it "spoke directly" to one of only two victims that Loritts talked to before elders allegedly removed Loritts from Trotter's case.
Summit says one of those victims was a family member of Loritts'; the other would seemingly have to the staff member who gave the phone to Loritts. Given that Summit's statement specifies that the victim Summit spoke to directly was not a family member, this would seem to indicate that Summit spoke to the staff member who found the phone.
Yet Baker said the staff member told her in a text on May 27 that she's "never even heard of Summit." And when Baker asked directly if "Summit the church" has called her for a statement, the staff member responds: "Nope. I haven't talked to anyone about any of that in a long time."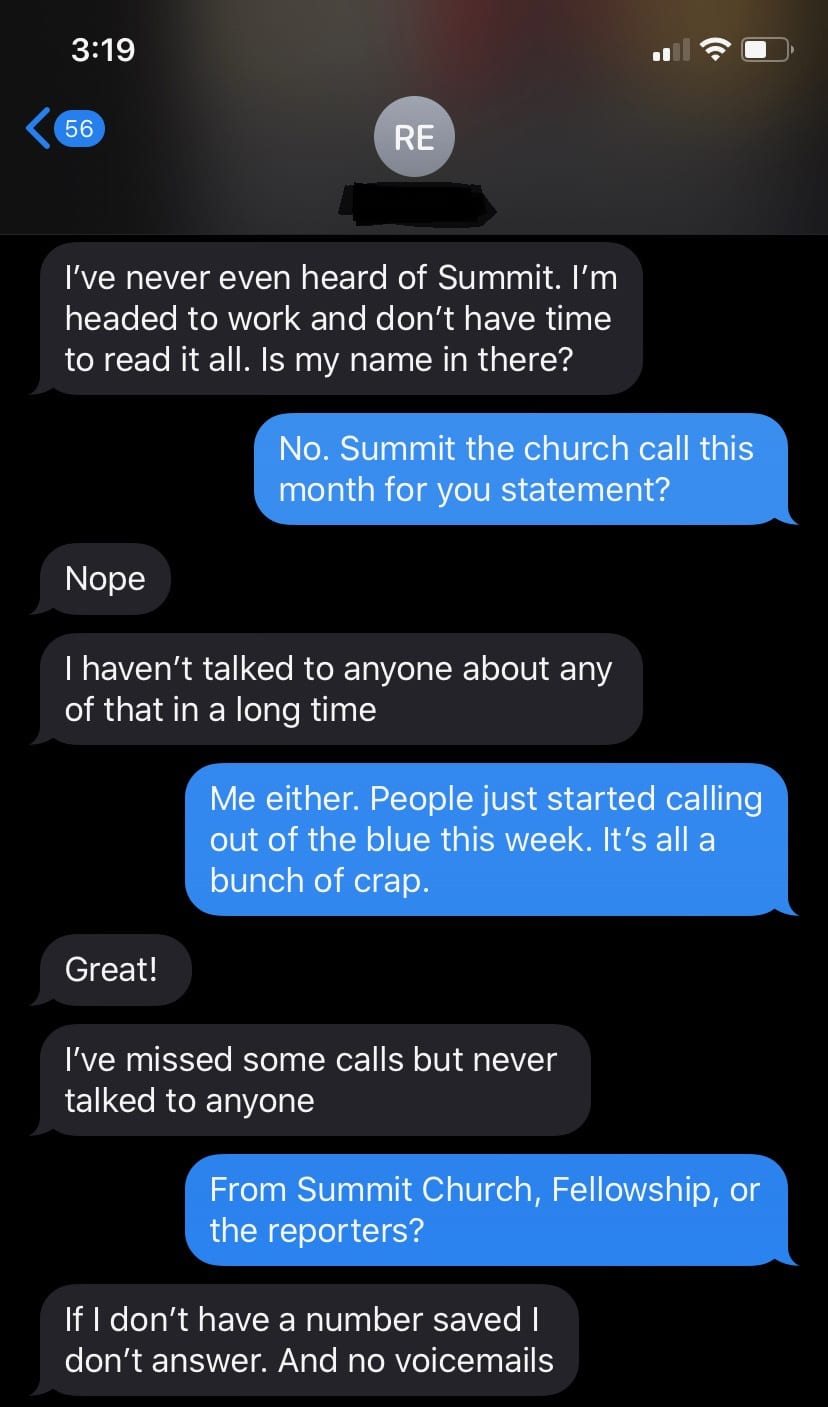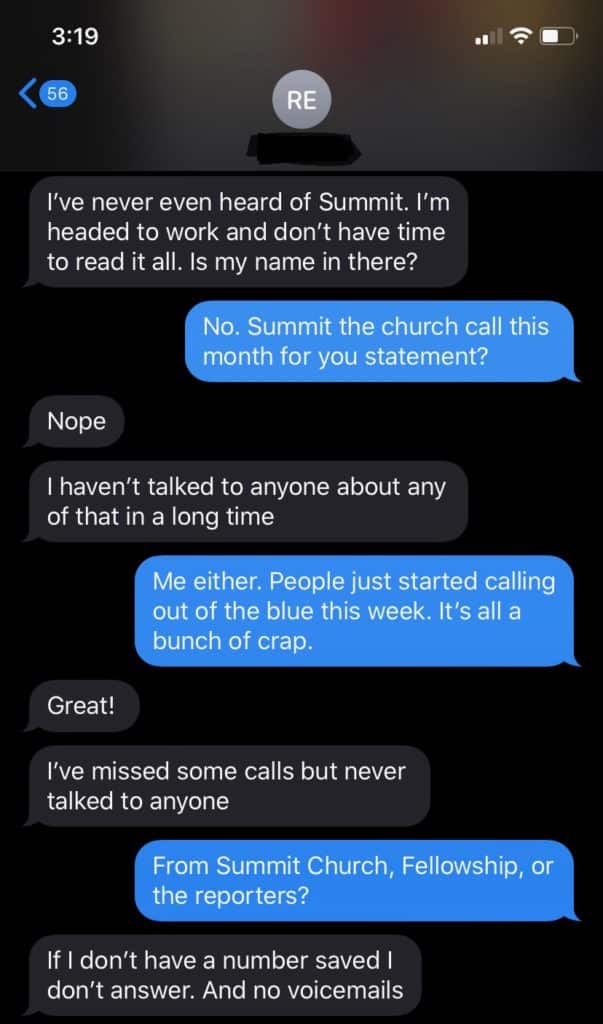 According to Summit, the victim with whom they spoke said Loritts encouraged her to pursue prosecution of Trotter. This victim allegedly also confirmed that Loritts was removed from the Trotter case "early in the process."
I reached out to Thompson and Unzicker and asked specifically if anyone from the church had contacted the victim who had found the phone—and if so, when—but no one responded.
I also reached out to the victim, but she did not want to comment.
Enablers and Predators
In a podcast released today, Selby and Baker explain how they've repeatedly witnessed the pattern of hiring guilty parties and enabling predatory behavior in the church over the past decade.
Though Fellowship Memphis fired Trotter in 2010, Memphis police say no one from the church ever reported Trotter to police. The next year, Downtown Church in Memphis hired Trotter to lead worship, where Trotter repeated his crimes until he was reported to police in 2016.
Alarmed by what was happening, Selby said he approached Sandy Willson in 2011, then pastor at Second Presbyterian—the sending church for Downtown Church, which at the time was called Downtown Presbyterian.
Willson is a council member of The Gospel Coalition, as is Crawford Loritts, the father of Bryan Loritts. Willson also was on staff with Downline Ministries, as was Bryan Loritts and John Bryson, the lead pastor at Fellowship Memphis.
Selby said when he went to Willson and complained about Trotter being on staff at Downtown Church, Willson refused to get involved and directed Selby to talk to Downtown Church Pastor Richard Rieves. Yet Selby said when he went to Rieves, Rieves dismissed his concerns about Trotter.
I have reached out to both Willson and Rieves, but have not heard back from them.
Also in 2015, Bryan Loritts hosted a Kainos Conference and hired Trotter to lead worship at the event. Loritts had an old blog post on his website talking about the conference and mentioning Trotter. Lorrits recently deleted that post, but it's still available on his old Tumblr page.
In Summit's recent statement, Loritts said he now realizes that hiring Trotter was wrong and sent "a terrible signal to victims that caused tremendous and unnecessary confusion and pain."
Selby said the experience of watching church leaders protect and cover for each other's bad deeds has so soured him on the church that he no longer attends.
"I didn't abandon church because somebody did something as wicked as Rick (Trotter) did," Selby said. "I understand the sinful nature. What I couldn't understand was everybody that was complicit. That was the part that got me. It was that Bryan Loritts and these other guys were part of a systematic coverup."
"What I couldn't understand was everybody that was complicit. That was the part that got me. It was that Bryan Loritts and these other guys were part of a systematic coverup."
Similarly, Baker said she no longer attends church either. And she said she was infuriated that at the end of the conference call with Summit, one of the Summit leaders apologized to her for what Rick Trotter had done to her.
"That was just unfathomable," Baker said, noting that the trauma from what Trotter did to her pales in comparison to the harm from church leaders who tried to silence her.
"Every victim that I've talked to has agreed that (what Trotter did) was a terrible, terrible, terrible thing that shouldn't have been allowed to continue. But the real damage has been done by the manipulation, the intimidation, and the effort to silence and keep separate and discredit all of the victims—(that) has been the most traumatic and ongoing harm, far greater than the incident that happened in 2010."
*The staff member's name who found the phone has been removed as a courtesy to her. An earlier version had printed her name.
Click here to listen to my podcast with Selby and Baker discussing these events.