Liberty University President Jerry Falwell Jr. posted a bizarre exercise video, showing himself doing pelvic thrusts on a bar holding two university coeds. Falwell also has a habit of "liking" pictures of bikini-clad students—the latest in a string of indiscretions involving the embattled administrator.
Liberty's trustees recently placed Falwell on an indefinite leave of absence, after Falwell posted to Instagram, and then deleted, a picture of himself and a woman with their pants unzipped. That picture, however, appears to be the tip of the iceberg when it comes to Falwell's concerning social media behavior.
In 2018, Falwell posted the exercise video with the female students to Instagram. Falwell says in the post that some students had told him that "Dwayne "The Rock" Johnson had a personal best of thrusting 460 pounds, so Falwell "couldn't resist posting my personal best (10 reps of 520lbs)." Why Falwell put two women on the bar while he performs the maneuver is unknown.
The video is posted below, but at the time of publishing, was still available on Falwell's Instagram account.
Falwell also has a habit of "liking" pictures of bikini-clad students on Instagram, according to numerous screenshots that were forwarded to me by a 2009 Liberty University graduate who wished to remain anonymous.
Give a gift of $25 or more to The Roys Report this month, and you will receive a copy of "I Can't Hear God Anymore: Life in A Dallas Cult" by Wendy Duncan. To donate, click here.

The graduate said she saw Falwell's exercise video and some questionable photos on Falwell's Instagram account several years ago and began searching through the thumbnail photos of the young women Falwell was following. To her surprise she said she discovered that Falwell was "liking" the women's pictures "in bikinis, on the beach, and at the gym—a lot of pictures at the gym."
One of the students whose bikini post Falwell "liked" is Kalli Locklear. In an Instagram direct message, Locklear said she was a cheerleader at Liberty for four years. When asked if she knew Falwell personally, Locklear said she did.
"He was always really supportive towards the cheer team & very outgoing," she added.
The post Falwell "liked" of Locklear is from the fall of 2018—when Locklear was a senior at Liberty. The post has since been deleted, but a screenshot blurred for modesty's sake is below.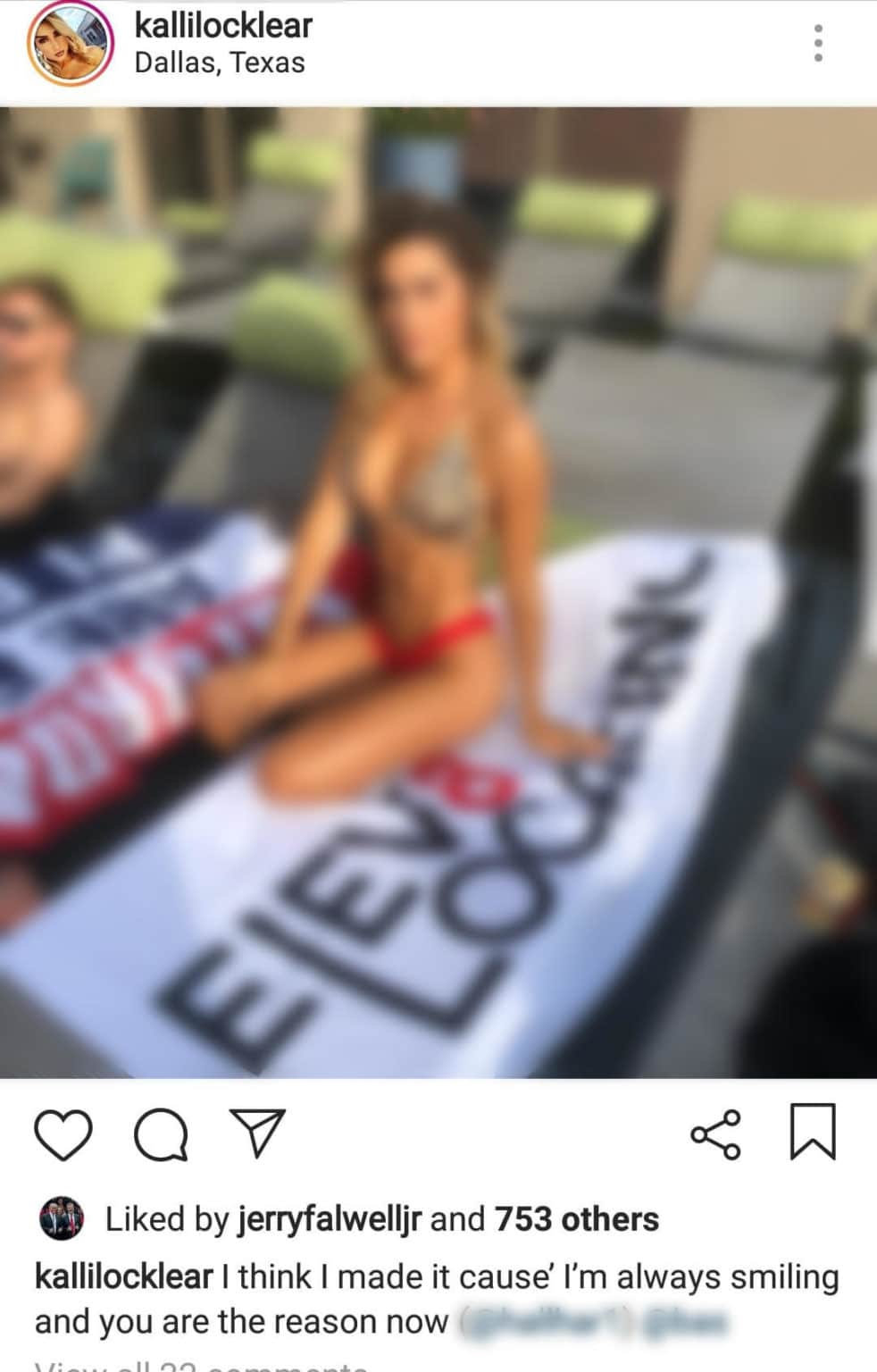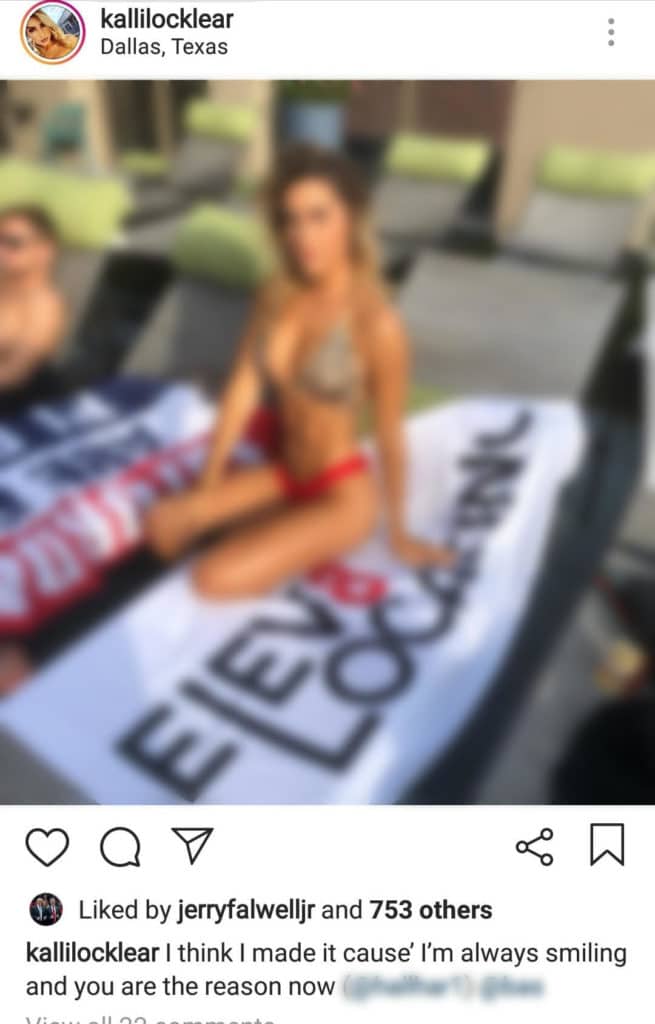 Falwell also "liked" a picture of Locklear in a tight evening dress from the same time period.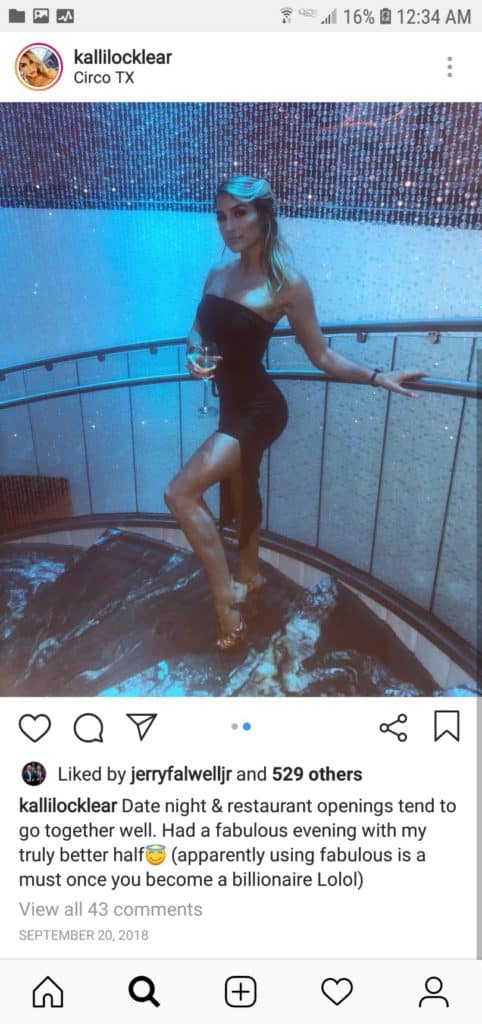 Another woman whose bikini post Falwell has liked is Madeline Sandlin. Sandlin is listed as the assistant cheerleading coach at Liberty University. Sandlin also is a Liberty graduate and was a senior in 2018 when she posted the bikini photo that Falwell liked.
The "liked" post of Sandlin's has since been deleted and Sandlin's account is now private, but a blurred screenshot of the post is below.
I reached out to Sandlin for comment, but she did not respond.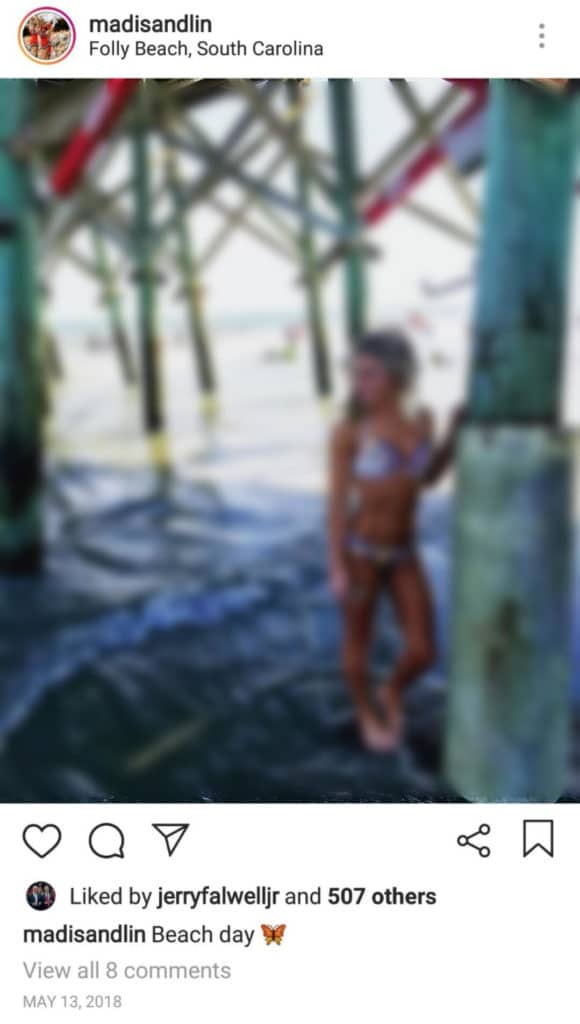 Sandlin and Locklear also appear on Falwell's shoulders in an Instagram post from November 2017. (It is not certain whether Sandlin and Locklear are the coeds in the video with Falwell.)
Yet, it's not just pictures posted by students who have since graduated that Falwell has liked.
Just this past March, Falwell liked multiple bikini pictures posted by a current Liberty student who says on her Instagram profile that she's a member of the women's hockey team.
Similarly, in June, Falwell liked a bikini picture posted by a student who studies broadcast journalism at Liberty. That picture was still posted at time of publication, along with Falwell's like.
I reached out to Falwell and Liberty University for comment about Falwell's social media behavior, but no one responded.
Evidence of a Deeper Problem
Over the weekend, Religion News Service (RNS) reported that that Falwell had "liked" sexually suggestive pictures of model Stefanie Gurzanki, as well as an ambassador for the conservative student movement, Turning Point USA. (I was given screenshots of bikini photos "liked" by Falwell of two women associated with Turning Point USA—Alex Clark and Brooke J. Sands.)
In the RNS piece, evangelical historian John Fea stated that "liking" pictures of women in bikinis is regarded by many evangelicals as "unbecoming" for the president of a Christian university. Fea added that he can't imagine another evangelical leader doing likewise.
But "liking" the bikini pictures of Liberty students, as opposed to public figures, raises Falwell's indiscretion to a new level, said Marybeth Davis Baggett, a Liberty graduate and former English professor at the school. Baggett also said that Falwell's online behavior towards Liberty coeds is evidence of a deeper problem.
"I think (Falwell) really sees the university as his own, and not so much as this institution he has care of," Baggett said. "And I suppose that's connected to this really inappropriate—and beyond inappropriate, I think, troubling behavior . . . (Liberty) is almost something that he can exploit and not necessarily something he needs to steward for God's glory."
"I think (Falwell) really sees the university as his own, and not so much as this institution he has care of . . . (Liberty) is almost something that he can exploit and not necessarily something he needs to steward for God's glory."
Similarly, the Liberty graduate who sent me the screenshots said she believes Falwell's behavior toward female students is "predatory," especially given that Falwell has "a lot of money and power."
"If I am one of the students and I see my president liking my beach picture, that's powerful," she said.
Baggett said Falwell's inappropriate behavior, and the failure of Liberty's trustees to hold him accountable, is why she resigned from Liberty this year.
In addition to Falwell's social media indiscretions involving women, Falwell also has tweeted a racist image, which prompted a group of black alumni to urge him to step down. Falwell also has been accused of maintaining a culture of fear at Liberty, engaging in self-dealing, and sharing details of his sex life and intimate pictures of his wife with university officials and employees.
Despite this, Baggett says she doubts Liberty's trustees will remove Falwell because he's made the school profitable and has amassed a $1.6 billion endowment.
"They (trustees) have a question being posed to them. 'What good is it to gain the whole world and lose your soul?'" Baggett said. "And I think they're pretty much going to say, 'We're okay with losing our soul.'"
Mitch Little, an attorney and chairman of the elder board at a Texas megachurch, noted that Falwell's behavior appears to violate Liberty's own employee handbook.
The handbook states that offenses for which an employee will be disciplined include social media involvement that "inhibits the smooth functioning of the University or creates a poor image of the University."
"I think . . .  Liberty University has to examine whether (Falwell) is out of compliance with their employee handbook, which from what's available online, it appears that he is," Little said.
Little added that he was surprised that Liberty's handbook was "so general" given the organization's size.
"But I think that generality speaks to the organization's desire to deal with these events in a subjective way. It provides some wiggle room to discern how to discipline an employee based on violations of the conduct policy."
Interestingly, the behavior that Falwell "liked"—wearing bikinis—was actually forbidden in Liberty's Student Honor Code until this year. Last year's Honor Code states, "Swimming pool attire should be a modest one-piece suit." This year's Honor Code merely states that pool attire "should be a modest swimsuit."
Regardless, Little says he finds Falwell's behavior to be surprising.
"Trolling a student's social media page and liking scantily-clad photos is not behavior you'd expect an administrator at secular university to engage in, much less a private Christian University," Little said.
Baggett said Falwell's behavior is even more surprising and grievous because Falwell bears the name of his father, Jerry Falwell, Sr., who founded Liberty.
"I knew Jerry Falwell, Sr.," Baggett said. "There's no way that Jerry Falwell, Sr., would ever behave the way that Jerry Falwell, Jr., does in terms of this kind of public behavior and have that sort of sexual indiscretion. The shame he brings to his father's name is heartbreaking."
UPDATE: In a Liberty convocation on August 2018, Falwell showed a video of him doing the same exercise maneuver (at 31:25). Then he quipped to the student body that his wife could gain three times her weight and he could still lift her.