Christian musician Sean Feucht led thousands in worship on the National Mall Sunday night, framing his performance as a protest against restrictions on churches. Feucht, a volunteer worship leader at the controversial Bethel Church in Redding, CA, also voiced opposition to abortion and celebrated the nomination of Amy Coney Barrett to the U.S. Supreme Court.
Throngs of worshipers braved colder temperatures and drizzles of rain to attend the event. Yet neither the crowd nor Feucht appeared to be deterred by the weather.
Billed as the culmination of Feucht's nationwide "Let Us Worship" tour, the concert was originally focused on voicing frustration with restrictions on houses of worship during the pandemic. Feucht's performances have frequently featured large crowds singing in tight groups without masks, flouting local guidelines and the recommendations of health experts.
However, Sunday's event also highlighted a different political drama unfolding in the U.S. Capitol building behind Feucht the same day — the Senate's procedural vote on whether to place Judge Amy Coney Barrett on the U.S. Supreme Court. (The vote passed, and Barrett was formally confirmed on Monday.)
Feucht and other speakers at the event repeatedly drew connections between Barrett's nomination and the pro-life movement. Feucht shouted to the crowd: "We've been praying for this since 1973" — a reference to the year the Supreme Court ruled on Roe v. Wade and legalized abortion nationwide.
Give a gift of $25 or more to The Roys Report this month, and you will receive a copy of "Is it Me? Making Sense of Your Confusing Marriage" To donate, click here.
"Tonight is going to be a night where things shift in America for the unborn!" Feucht said, as the crowd cheered in response.
Barrett, whose faith has garnered widespread attention, reportedly signed on to an advertisement in 2006 opposing "abortion on demand."
Republican Sen. Josh Hawley of Missouri, who also addressed the crowd on Sunday, said he had just voted to further Barrett's nomination process. He then led the masses in prayer for her.
"Huge privilege to be on the Mall tonight with thousands & thousands of Christians gathered to worship & pray," Hawley, who attends services at a congregation affiliated with the Evangelical Presbyterian Church, later tweeted.
Feucht, in turn, led the crowd in prayer for Hawley, calling on God to elevate "men and women of faith" into positions of political power.
Jentezen Franklin, an adviser to Trump who pastors the Free Chapel in Georgia, also delivered a seven-minute sermon at the event.
Several in the crowd wore "Make America Great Again" hats — a reference to President Trump's campaign slogan — whereas others held signs reading "Jesus 2020."
There was noticeable variability regarding mask use: While many people near the back of the crowd wore masks, most attendees packed tightly together near the stage did not.
A woman named Katherine, who traveled from Virginia to attend the event, was not wearing a mask. She argued that "there have been demonstrations all over this country, and there have not been any linked cases to COVID."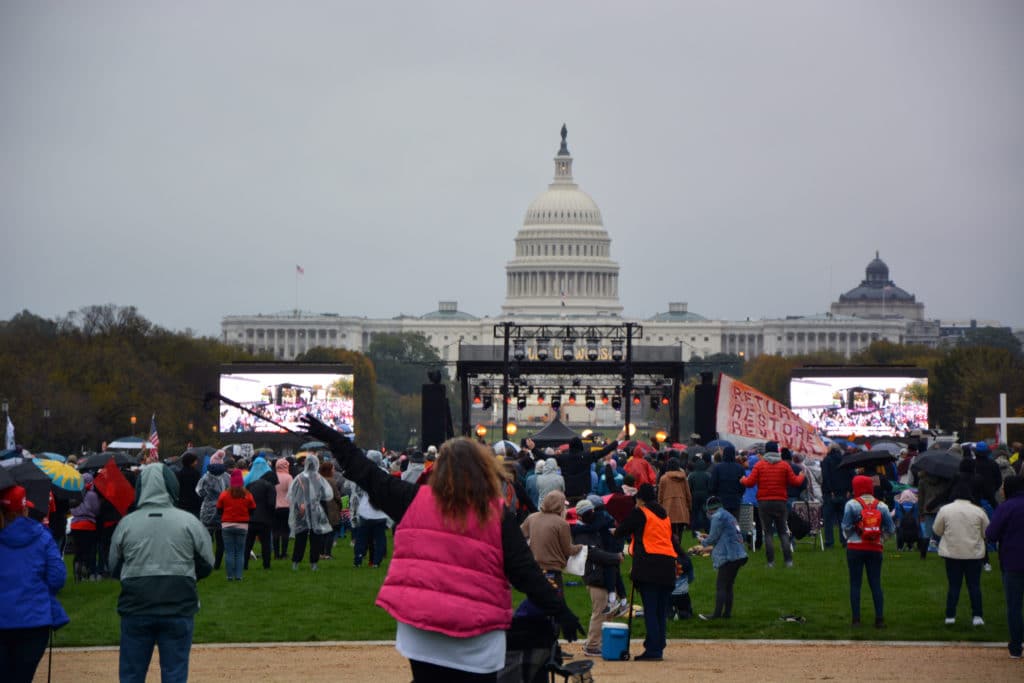 Meanwhile, Justin, a younger man who attended the event with Katherine to celebrate her birthday but also did not list his last name, was wearing a mask.
"I live in Philly, and I know people who've got COVID," he said. "So, personally, I just stayed away."
Katherine said her main motivation for being there was to worship.
"All the stuff going on in this nation right now — I mean, we need prayer and we need to worship the Lord," she said.
Karen Arteaga, who traveled from Oregon to attend the event, agreed.
"We're just here to pray for our nation," said Arteaga, who sat in a lawn chair in the back and wore a mask.
She was one of many who traveled from out of town for the event. Keira and Damion Taylor said they flew in from Billings, Montana, where they own a Christian coffee shop.
"I think what Sean Feucht is doing is raising up leaders that are just going to be a voice in America today," Damion said. "That is a voice that's just glorifying to the Kingdom of God, and that's something that we can be proud of and that's honoring the Lord."
Keira added: "We're just here praying for our nation and asking God for revival and new life."
Their companion, Alladin Bear, also resonated with the evening's political focus.
"The fact that they're closing down churches, that just doesn't make any sense to me at all," he said. "That just gives us an opportunity to then stand up for what we believe. I think it's really special, actually."
Bear also saw a spiritual connection between the event and the vote to put Barrett on the court.
"It almost seems symbolic, for sure."
Josh Wade, who is from Washington, D.C., and is a member of a local evangelical church, stood alone near the back of the crowd next to a tree throughout the concert. When approached for an interview, he quickly put on a mask before explaining he attended the event out of a desire to return to in-person worship.
"During the pandemic, I've really been feeling this draw that in-person Christian practices are important," he said, noting his church has resumed Sunday worship at limited capacity and with the use of masks. "COVID involves risk. But I started to feel this thing inside me that these Christian, in-person, community worship practices may actually be worth a degree of risk."
When asked Wade about some of the political statements at the event, he shrugged.
"I guess you can't really escape the political aspect of Christians gathering in large numbers without masks on the Mall this close to an election," he said. "However, that's really not what brought me here. I like talking about politics and thinking about politics, but I'd probably pursue my political hobbies elsewhere."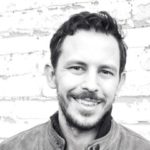 Jack Jenkins is an award-winning journalist and national reporter for the Religion News Service. National reporter Emily McFarlan Miller also contributed to this report.