A third-party investigation into recent accusations of spiritual and psychological abuse by popular Enneagram teacher and best-selling author Christopher Heuertz has found no evidence of misconduct.
However, the investigation did not include any of the 33 women and men who publicly brought charges against Heuertz last month. Several of Heuertz's alleged victims say they did not trust the investigation to be unbiased, but instead to support the interests of Gravity—a spiritual retreat center run by Heuertz in Omaha, Nebraska.
The third-party investigation was conducted by attorney Susan K. Sapp of Cline Williams, who was hired by Gravity's board. It included interviews with 15 people, including current and former employees of Gravity and Word Made Flesh, a non-profit Heuertz led until 2012.
According to a statement posted to the Gravity website, "None of (those participating in the investigation) reported being manipulated, abused, subjected to unhealthy crossing of boundaries or grooming behaviors. They said there were no inappropriate jokes or flirtations and that there was no chaos, confusion, self-doubt, tokenism, manipulation, or bullying."
The investigation did conclude that Heuertz had engaged in three inappropriate relationships between 2007 and 2012 while at Word Made Flesh. However, Attorney Sapp concluded that all were consensual and none involved "any complaints regarding spiritual or psychological abuse or sexually predatory behavior."
The investigation followed a public post on the platform Medium signed by people who had worked for Heuertz at Word Made Flesh and described a pattern of spiritual and psychological abuse by their leader.
The post also alleged that the board of Word Made Flesh asked Heuertz to leave the organization in 2012 because of "multiple instances of sexually predatory behavior toward young women of color he mentored." It added that "a great deal of secrecy" surrounded Heuertz's dismissal and that Heuertz gave "no true acknowledgement" of wrongdoing or "evidence that Christ has done the work needed to change his behavior."
The investigator hired by Gravity, Attorney Sapp, said she was unable to make contact with the any of the 33 who posted their grievances on Medium.
"None of these individuals would agree to meet with Ms. Sapp or provide any corroborating information, under any terms, including promises of confidentiality and anonymity," the board's statement said.
However, Daphne Eck, who authored the Medium post, tweeted Wednesday that she didn't participate in the investigation because it "felt like a futile exercise with deniers. Based on the history of my experience with Chris and his fans (I used to be a fan, too), I foretold the outcome."
Similarly, AnaYelsi Velasco-Sanchez, a former Word Made Flesh employee, called Gravity's statement a "gaslighting dumpster fire" in a tweet on Tuesday. Velasco-Sanchez also posted the letter she received from Sapp, complaining that she "had to find out from others that (Sapp) was w/ (G)ravity & wasn't an independent investigator. I felt the way she presented herself was shady so I chose not to engage."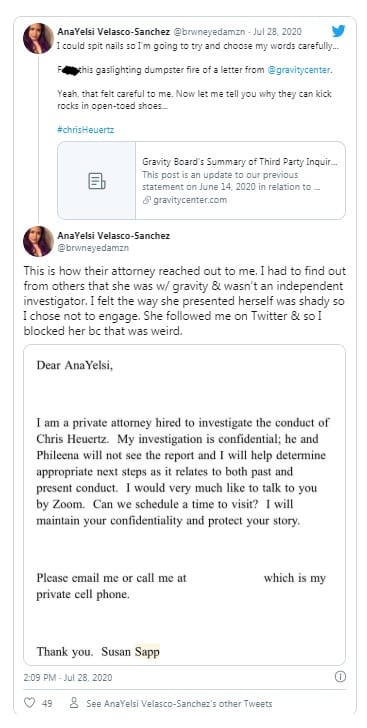 Following the post on Medium, Word Made Flesh published a statement regarding Heuertz, saying the organization "recognizes and condemns the abuse and patterns of abuse that did occur. These harmful acts consisted of manipulation, bullying, psychological, and spiritual abuse of power."
The Medium post also prompted popular social scientist Brené Brown to ask that her foreword and endorsement of Heuertz's latest book, "The Enneagram of Belonging: A Compassionate Journey of Self-Acceptance," be withdrawn.
It also led Zondervan, the Christian media and publishing company, to suspend promotion of two of Heuertz's books and to indefinitely halt a documentary featuring him.
The chairman of the board of directors at Gravity, George Mekhail, said he believes the recent investigation has cleared Heuertz of the allegations in Medium. "The important thing that came about is the specific allegations and the language used in the Medium post were found to be without credibility," Mekhail said.
However, Eck is calling for an investigation by an agency "that is truly independent, trauma-informed, survivor-centered, and understands issues of power, church and race."
Heuertz and his wife, Phileena, who co-direct the center, took a voluntary sabbatical after the allegations surfaced. It is not clear when he would return to work. The board has yet to take further action.
Religion News Service contributed to this report.