Liberty University President Jerry Falwell Jr. is at the center of controversy once again, after posting (and then deleting) a racy picture of himself and a woman seemingly at a party on his yacht.
In the picture, Falwell and a woman, described as a friend, appear with their shirts hiked up and pants unzipped with the caption: "Lots of good friends visited us on the yacht. I promise that's just black water in my glass."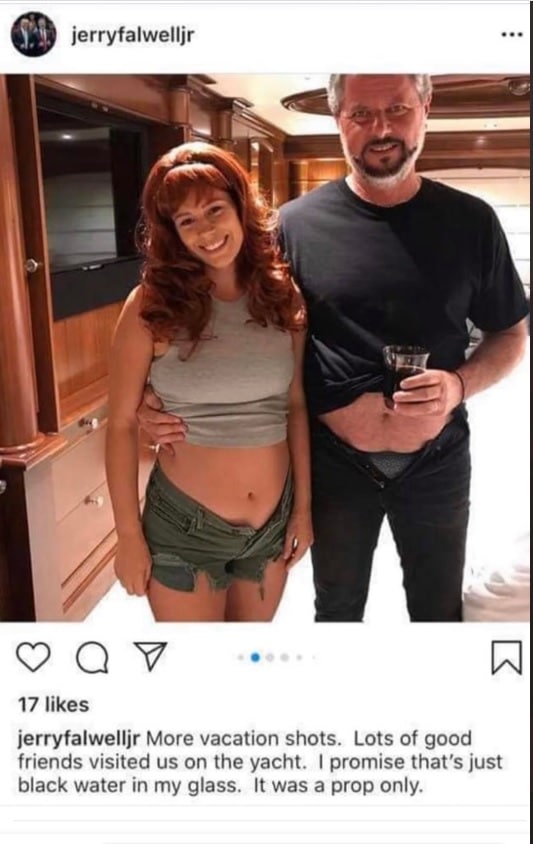 A video of the party also showed up on the internet, featuring Falwell and others at what appears to be a Trailer Park Boys themed party. The scenes are surprising, given that Falwell is the president of a the largest Christian university in the country. One guest in the video makes a vulgar gesture toward the camera. Some are wearing tight clothes with bellies exposed. Many have cigarettes dangling from their mouths. 
Initially, some on social media questioned whether Falwell, a married father with three children, was truly the person in the photo with the woman. 
At one point, Malachi O'Brien, a fellow with the Falkirk Center, a think tank launched by Liberty University, tweeted that the picture was not Jerry Falwell. But  O'Brien later retracted his statement, saying, "It was Jerry, so I was wrong. It was a photo taken out of context of the other photos w/ it."
I emailed Scott Lamb, vice president of communications at Liberty University, early Monday morning asking for comment, but he did not respond. In the meantime, several media outlets, including Relevant magazine, reported the photos. 
Give a gift of $30 or more to The Roys Report this month, and you will receive a copy of "The Ballot and the Bible" by Kaitlyn Schiess. To donate, click here.
Other Scandalous Photos
This is not the first time Falwell has been embroiled in a scandal involving photos.
In October, Falwell paid an undisclosed amount to settle a lawsuit brought by a former pool attendant who had become a part-owner with Falwell and his wife of a gay-friendly hostel in Florida. According to news reports, the attendant—and potentially others—may have had sexually compromising photos of the Falwells, which the attendant used as leverage in the case.
Also, in 2019, pictures of Falwell and his wife at a Miami nightclub sparked controversy after they were published in an article by Politico.
Initially, Falwell denied visiting the nightclub and said that the images were manipulated.
However, Seth Browarnik of World Red Eye, who took the photos , later published even more pictures of Falwell at the nightclub. Browarnik added that when he sold the pictures to Politico, he didn't even know why Politico wanted them.
"We . . . were as surprised as anyone to discover that Mr. Falwell was among the partygoers we photographed," Browarnik said.
This latest controversy involving Falwell comes just two-and-a-half weeks before classes resume at Liberty. 
Earlier this summer, 35 black alumni called on Falwell to resign after Falwell tweeted a racist image, mocking Virginia Governor Ralph Northam. The leaders said Falwell's tweet was a "microcosm" of his divisive rhetoric over the past several years and did not display the "Christlike leadership that the University deserves."
A petition posted with the letter from the alumni has nearly 40,000 signatures.