In a statement submitted to a California court on Friday, well-known pastor John MacArthur defended Grace Community Church's (GCC) failure to report an outbreak of COVID-19 to health officials in December with several problematic claims.
This is the first time MacArthur, or any official of GCC, has addressed the outbreak, which The Roys Report exclusively reported four months ago.
Nowhere in his statement does MacArthur deny that the outbreak occurred, despite the church continuing to meet in-person and without social distancing throughout the outbreak. MacArthur even admits that a "handful" of GCC congregants have been hospitalized or died from COVID. But he claims these congregants were not attending services and could not have contracted the virus at church.
The Roys Report, however, has evidence that at least one of the GCC congregants who died was attending GCC.
Throughout the statement, MacArthur also accuses me of spreading "falsehoods." And he alleges that a leader at GCC told MacArthur's staff that I "twisted" the leader's words "to create a false impression" in a second article I published about the outbreak.
Give a gift of $30 or more to The Roys Report this month, and you will receive a copy of "Wounded Workers: Recovering from Heartache in the Workplace and the Church" by Kirk Farnsworth. To donate, click here.
Yet, when I spoke yesterday with the leader, Jim Layfield—a leader with Sojourners, one of seven fellowship groups at GCC—Layfield denied that he said anything like that to GCC staff. When I read Layfield what I had published and asked if it represented our conversation, he responded, "It sounds about right."
Most of the claims in MacArthur's statement were intended as rebuttals of my second article on GCC's outbreak, which I published on December 28. This article was submitted as evidence by the Los Angeles Department of Public Health in its latest legal battle with GCC. (GCC is seeking relief from an injunction banning the church from meeting indoors and requiring social distancing when meeting outdoors.)
My December 28 article claimed that GCC knew of at least a dozen congregants with COVID but did not report the outbreak to health officials. As evidence, I cited a prayer sheet distributed by GCC's Sojourners group to its members, which listed GCC congregants who were either sick or recovering from COVID-19.
In his statement, MacArthur argues that the church was either ignorant of these congregants with COVID-19; didn't have a responsibility to report the outbreak; or that those sickened with COVID-19 didn't contract the virus at GCC services.
These claims directly contradict evidence gathered by The Roys Report.
Was GCC unaware of outbreak?
In December, GCC's Sojourners group posted a prayer sheet requesting prayer for nine members with COVID. The sheet also requested prayer for three members recovering from COVID and two who were sick with "possible COVID."
In his statement, MacArthur suggests that church staff didn't know about these Sojourners members who were sick with the virus.
He writes that the requests on the prayer sheet "were collected by a lay member of Sojourners who compiles prayer requests and distributes them to the group. . . . The cases listed there were not reported to the Church office, but solicited and collected by that lay person."
MacArthur further states: "A prayer-request list compiled by lay people and distributed to members of an adult Sunday-school class is not proof that staff people or other officials at Grace Community Church knew this information."
However, the email with the link to the prayer sheet was sent to Sojourners members on December 24 from an official church email address, which included Sojourners letterhead.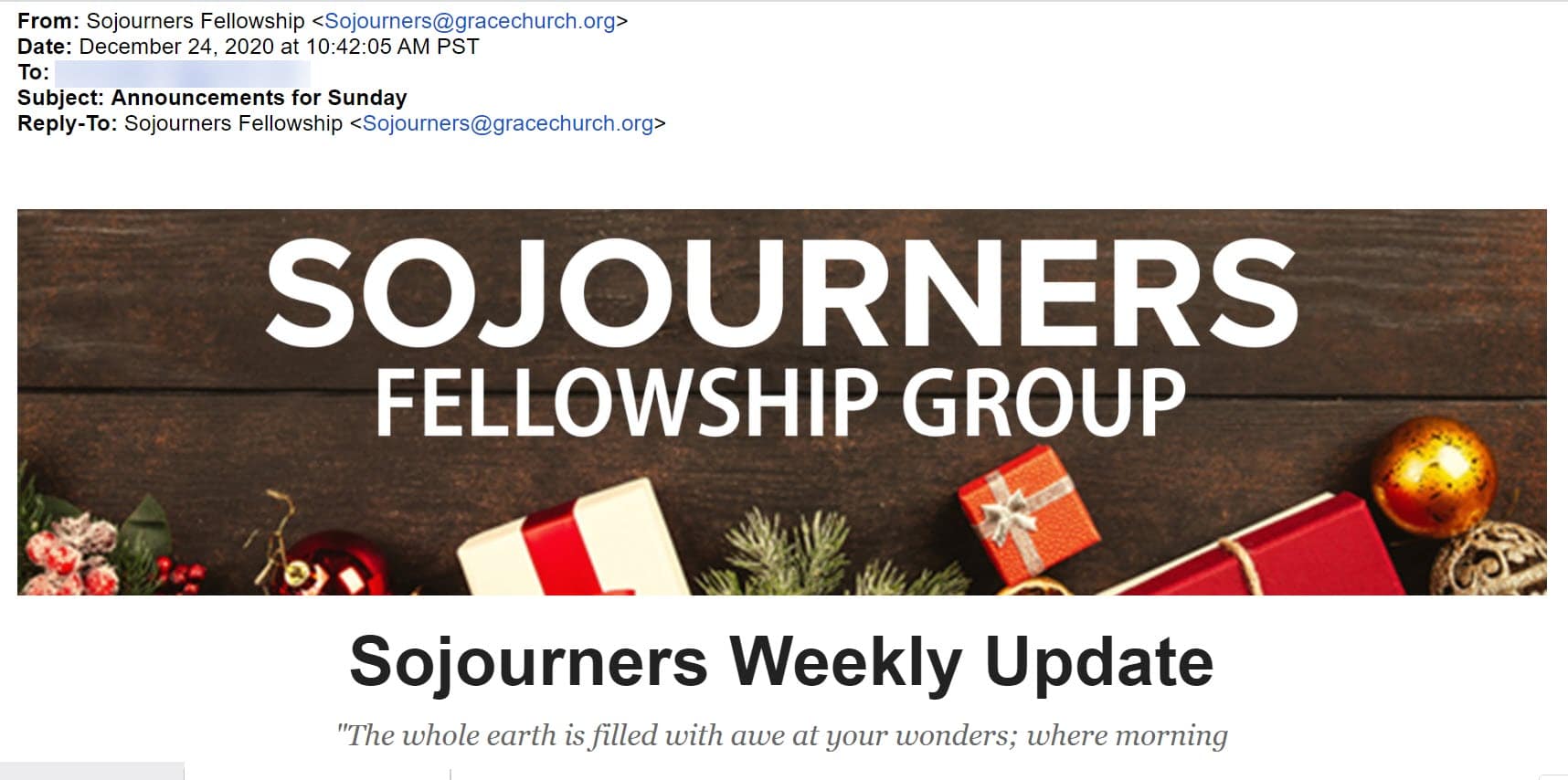 Also, one of the people listed on the prayer sheet as having COVID is Dr. William Varner, a professor at The Master's University who was the longtime shepherd of the Sojourners group. Varner's wife, Helen, was also listed on the sheet as having COVID.
Given Varner's prominence at the church, it's surprising MacArthur would claim that the church was unaware of Varner's and his wife's illness.
It's also surprising because I sent an email to GCC leaders on December 19—four days before the prayer sheet published—informing them of a report that Varner had contracted COVID.
My email also asked about an outbreak of COVID within the GraceLife fellowship group and the Filipino Outreach, and asked why the church hadn't reported the cases to L.A. County.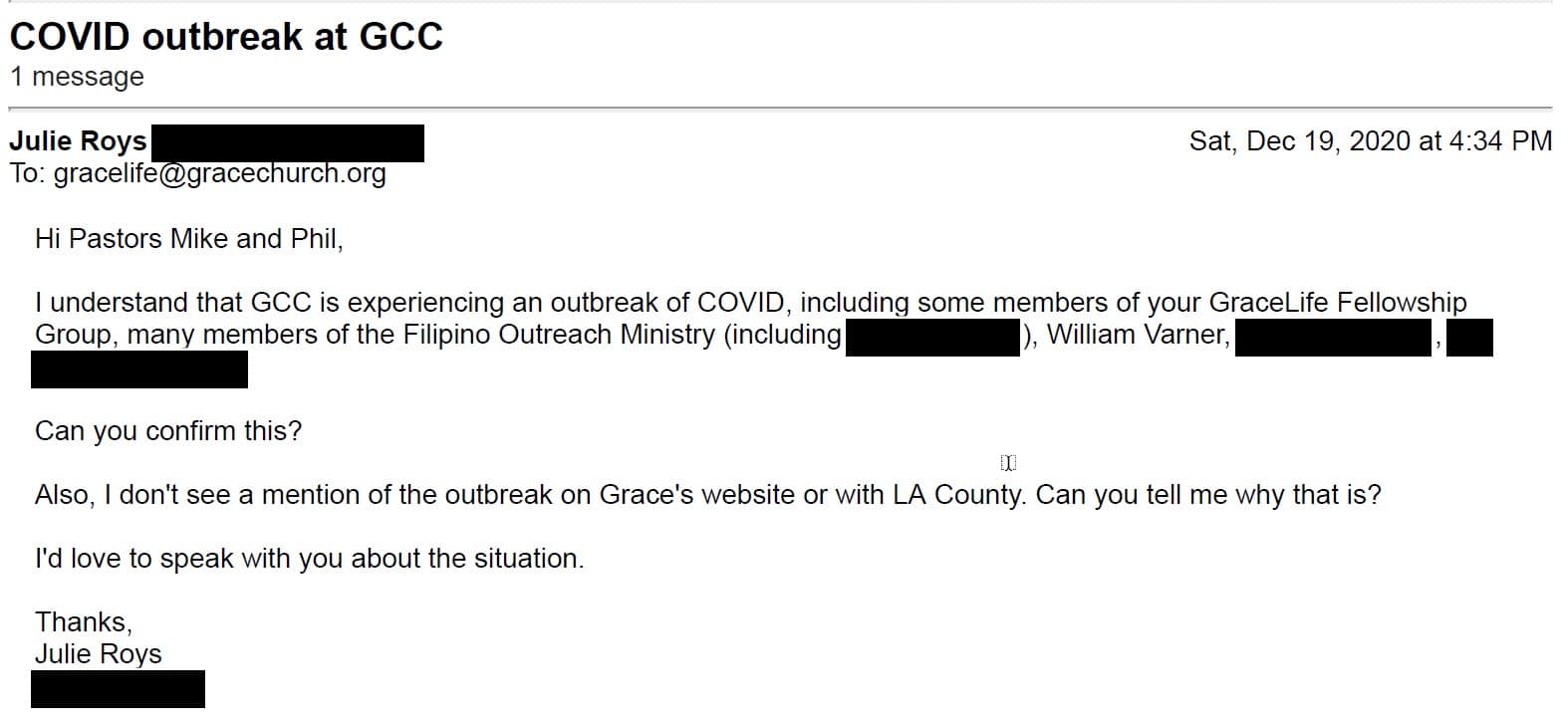 The church never responded to my email.
Yet, as I reported in my first article on the outbreak, the COVID cases among members of GraceLife and the Filipino Outreach were documented in numerous posts in a private GraceLife Facebook group.
Were those with COVID-19 attending GCC?
MacArthur claims in his statement that there's "no reason" to believe that any of the people listed with COVID on the Sojourners prayer sheet had been attending Sunday services.
Yet on Facebook, William Varner stated on November 28, 2020, that "recently" he and his wife "came to church" and were mocked for wearing masks.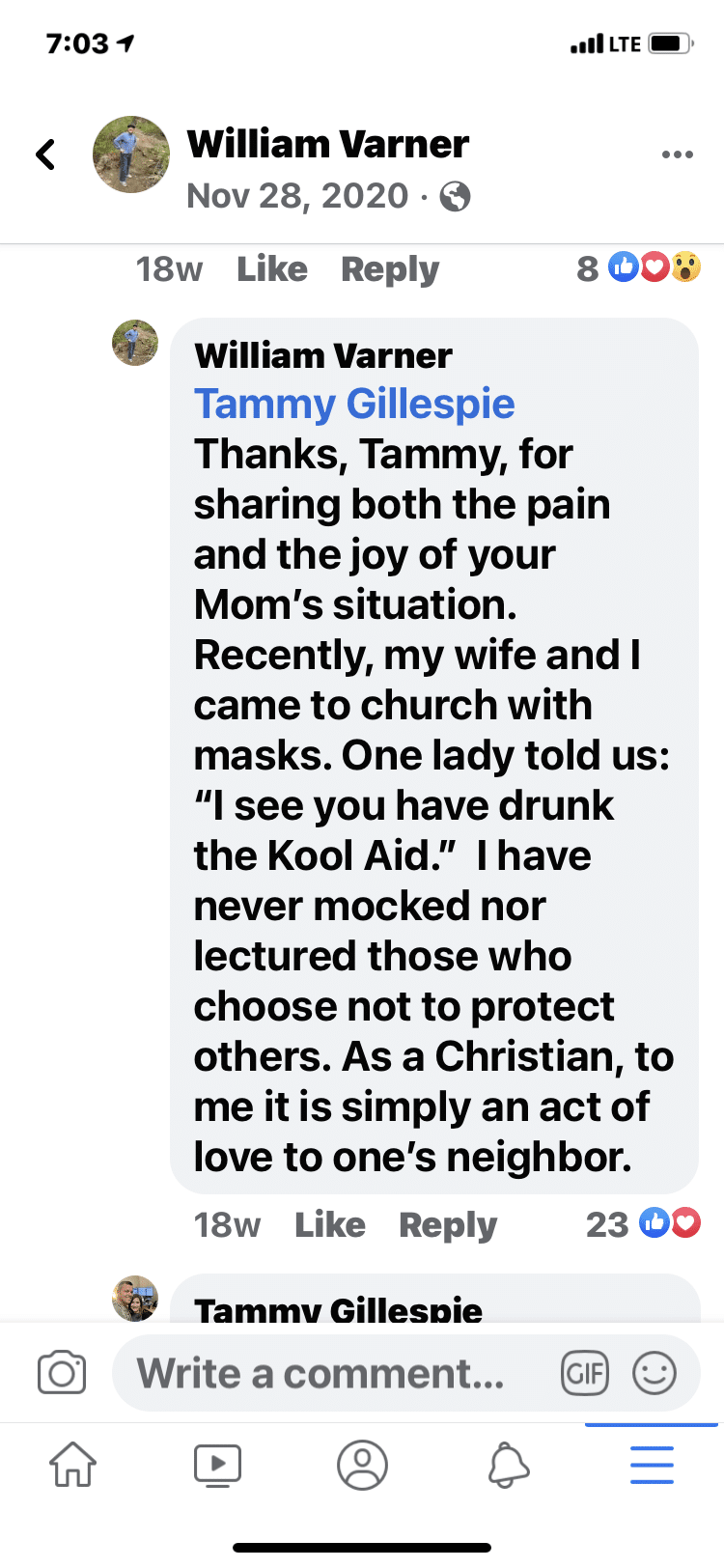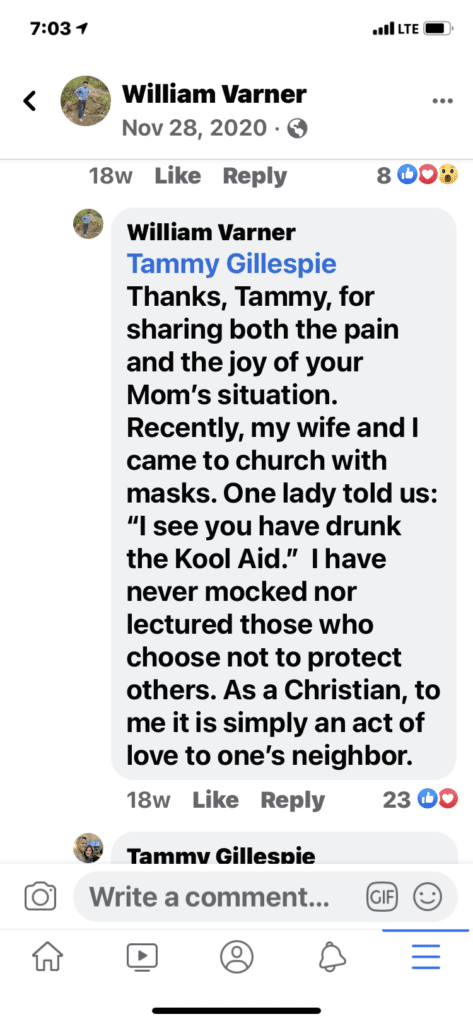 Also, according to GCC's website, Varner preached at Sojourners classes on November 29 and December 6. On December 16, Varner announced on Facebook that he and his wife had tested positive for COVID.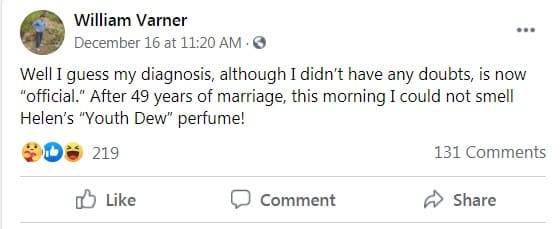 As the leader of Sojourners, Varner would have led the relatively high-profile Sojourners class of about 250 people at GCC on Sunday morning. So, it's hard to imagine that his presence at church would have gone unnoticed.
Varner and his wife recovered from COVID in January. In February, Varner left GCC after more than 20 years serving as the shepherd of Sojourners.
I reached out to Varner for a comment about why he left, but he declined to give a statement.
Were GCC congregants who died from COVID-19 "quarantined"?
MacArthur admits for the first time in his statement that congregants at GCC have died from COVID. But he claims that those "who were hospitalized or died from COVID-19 . . . had remained quarantined because they had other medical conditions that put them at high risk. They did not get infected at Grace Community Church, because they were not attending services."
However, at least one of the GCC congregants who died after contracting the virus was attending services.
As I reported earlier this year, a student in his sixties at The Master's Seminary died in January after contracting COVID-19.
According to the man's daughter, her father did not have any pre-existing medical conditions and was "very healthy" before contracting COVID. She added that her father was attending GCC and very active before he became ill.
Did GCC employees have COVID?
MacArthur claims that "none of the people" listed with COVID on the Sojourners prayer sheet are church employees. He adds that as an employer, Grace Community Church is required to report only employees who contract COVID, not congregants.
MacArthur does not state, however, whether any GCC employees not on the prayer list were sick with COVID.
As I reported in my December 20th article on the outbreak, a the wife of a GCC staff member posted on a Facebook thread about COVID in December that "all 8" of her family were "almost over it." She added, "It was like a flu for Sheldon and I."
MacArthur also does not address in his statement whether he had COVID.
MacArthur uncharacteristically missed a month of preaching in late December and January for an undisclosed illness. When he returned to the pulpit, he looked noticeably thinner. And after coughing and struggling to catch his breath, MacArthur pointed to his chest and said: "It's still in there."
In his statement, MacArthur claims that he was simply resting when he missed a service in late December, and that there was "nothing sinister" about allowing another pastor to preach.
MacArthur claimed that I attempted to "imply something sinister" about his absence in my December 28 article when I wrote: "(Y)esterday, John MacArthur was scheduled to preach at GCC. But GCC Staff Pastor Tom Patton announced during the in-person services that 'our pastor is resting today' and that another pastor would be preaching."
Did GCC pressure members not to report COVID?
The remaining question concerns whether GCC pressured members not to report cases of COVID to the health department.
Clearly, there was an outbreak of COVID at GCC in December, which is defined by L.A. County as at least three coronavirus cases among church staff or congregation within a span of 14 days. According to county records, GCC did not report any COVID cases to the health department after being cleared in November of a small, initial outbreak at the church.
There also appears to be an attempt by MacArthur to discredit my reports about the outbreak, despite overwhelming evidence that they were accurate.
As mentioned earlier, GCC leader Jim Layfield denies MacArthur's claim that Layfield told MacArthur's staff that I "twisted (Layfield's) words to create a false impression."
In my December 28 article, I wrote: "I spoke with Jim Layfield, one of the area leaders of the Sojourners group. He confirmed that a number of people within the group have COVID. When I asked why these cases weren't listed on the health department website, he responded: 'I don't know who's keeping score, but it doesn't seem to be adding up.'"
When I spoke with Layfield yesterday, he again said, "I don't think anybody there (at GCC) was keeping score."
He added that he had spoken with a leader of Sojourners and one GCC elder about what I had published in my December 28 article. But Layfield said he never told them that what I had written was inaccurate.
Layfied said he "really feels bad" about MacArthur's accusation against me. "I'm just sorry," Layfield said. "We need to put this thing to bed."
As I wrote in December, a GCC leader who wanted to remain anonymous for fear of losing his job told me that GCC staff were pressuring members not to report COVID. So did other GCC members who said they feared being ostracized and losing their community if they spoke out.
However, MacArthur writes in his statement: "There was no pressure whatsoever on staff or 'church members' regarding what they should or should not report to DPH. If there was any such pressure by staff members, Grace Community Church would take it seriously and put a stop to it."
I have since urged my sources to go on the record, but none has been willing. If GCC's case with L.A. County continues, however, the county may depose witnesses. This would mean GCC staff and members could be compelled to testify.
UPDATE: Phil Johnson, executive director of Grace to You, and an elder at Grace Community Church, tweeted that he also had COVID-19 in late December. However, Johnson contends he possibly got the virus from change at a truck stop, not from an outbreak at GCC. 
Despite having COVID in late December, Johnson preached at GCC on January 3, 2021, and on December 20, 2020.