Naasón Joaquín García, the leader of the Pentecostal movement La Luz del Mundo, is facing a new lawsuit filed by five women who allege Garcia sexually abused them. The women also allege that other church members groomed them and used the religion as ammunition against them.
The five women are identified as Jane Does in the civil lawsuit that was filed Thursday in Los Angeles Superior Court. The women, who range in age from 20 to 28, were also the Jane Does included in the criminal charges filed against García by the California Attorney General's office, attorneys said.
They cite sexual battery, intentional infliction of emotional distress, negligence and gender violence and seek unspecified compensatory and punitive damages against the church.
Named in the complaint are: 53-year-old García, who is in prison after taking a plea deal in criminal charges brought by California Attorney General Rob Bonta; as well as Alondra Ocampo, Susana Medina Oaxaca and Azalea Rangel, who allegedly groomed the women to be abused by García; and Alma Zamora de Joaquín, who is García's wife and who attorneys said knew of her husband's alleged abuse and the grooming of the young women. García's three children — Adoraim Joaquín Zamora, Eldai Joaquín Zamora and Sibma Joaquín Zamora — were also named in the suit and were allegedly aware of the abuse and grooming.
"Naasón didn't work alone in perpetuating his abuse," Jonati Yedidsion, one of the attorneys representing the Jane Does, told reporters at a news conference in downtown Los Angeles on Monday.
Give a gift of $30 or more to The Roys Report this month, and you will receive a copy of "The Ballot and the Bible" by Kaitlyn Schiess. To donate, click here.
"Many members of the highest level of the church, including several of Naasón's family members, were aware of the church aiding and participating in the abuse of these victims," Yedidsion said.
The five women and their families are not under police protection and have been harassed and threatened by members of the church, according to Yedidsion.
A spokesperson for the church has not returned a request for comment.
The alleged abuses by García occurred between 2015 and 2019, according to the suit.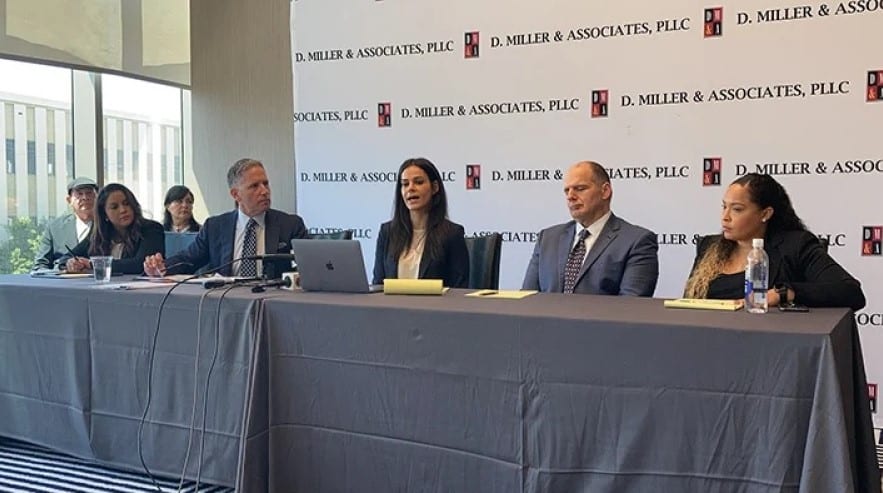 From the time they were young children, the women "were routinely coerced" to believe García's "wishes and desires were direct orders from God, that he was without sin and incapable of committing any wrongs," according to the complaint.
Attorneys in the suit allege that the women were led to believe disobeying García would "lead to catastrophic consequences including, but not limited to, eternal damnation, unspeakable tragedy, infertility, and countless other harms" to the women and their families.
The women, according to the suit, believed in the church doctrine and that their "eternal salvation depended upon them doing whatever the Apostle commanded as well as keeping him happy."
On several occasions, García would sexually abuse the women, including, but not limited to, kissing, fondling and sexually touching those who were minors, according to the complaint.
García instructed Ocampo, Oaxaca and Rangel as well as other La Luz del Mundo ministers to "further indoctrinate and brainwash" the women "by any means necessary," such as reminding them of García's "unfettered power" and the "catastrophic consequences" of denying his wishes, attorneys allege in the lawsuit.
Bible verses and Scripture were routinely used and manipulated to underscore García's power and authority over the women, according to the suit.
"When somebody experiences trauma … we pray that our souls and our foundational beliefs are still intact, and what these women have really experienced is that their trauma was rooted in their beliefs," said Rochelle Guiton, one of the attorneys representing the Jane Does.
The lawsuit follows García's sentencing three months ago to nearly 17 years in prison after he pled guilty to two counts of forcible oral copulation involving minors and one count of a lewd act upon a child who was 15. Under this plea bargain, prosecutors dropped other allegations of raping children and women, as well as human trafficking to produce child pornography.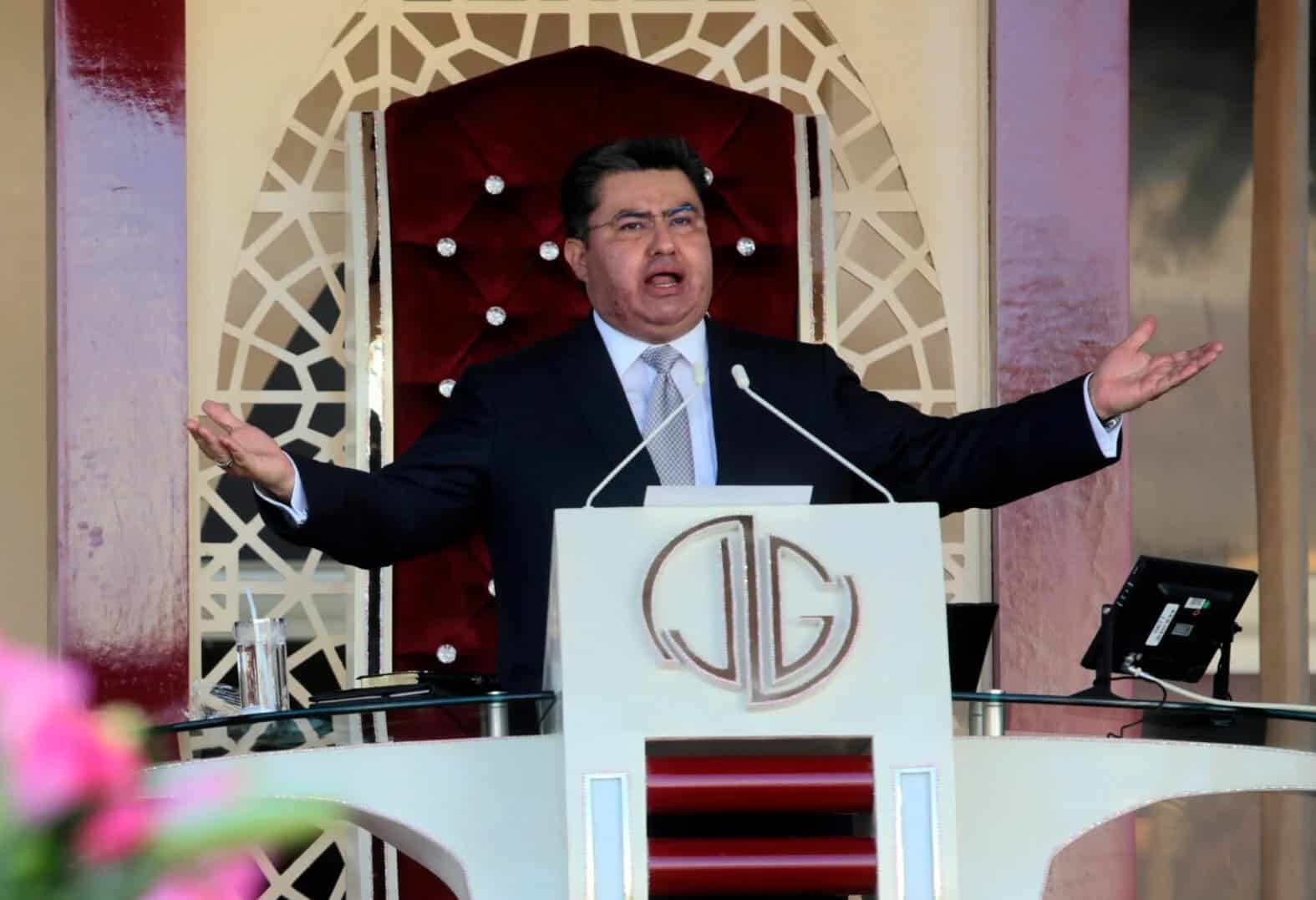 Yedidsion called the plea deal "inadequate" and said they filed the lawsuit "to be able to achieve the justice I believe they were wronged of in the criminal case."
Headquartered in the Catholic stronghold of Guadalajara, Mexico, the tight-knit Mexico-based Pentecostal movement claims 5 million worldwide followers. La Luz del Mundo temples can be found across the United States, with several in Southern California, predominantly in working-class Latino communities such as East Los Angeles, Huntington Park and San Bernardino.
La Luz del Mundo was founded in 1926 by García's grandfather, Eusebio Joaquín González. The church rejects the concept of the Trinity and teaches that Jesus is God's son and that church leaders, like García, his father and grandfather, are his apostles.
In 2020, an ex-member sued the church and more than a dozen of its leaders, alleging decades of abuse at the hands of the group's leaders. García's father was the subject of child sex abuse allegations in 1997, but authorities in Mexico never filed criminal charges.
Followers of La Luz del Mundo don't celebrate Christmas or Easter, but they do recognize the birthdays of García and the other apostles.
At the news conference on Monday, two other women, who, attorneys said, are victims of García's father, Samuel Joaquín Flores, expressed solidarity with the five women in the lawsuit. Yedidsion said they are planning to file a lawsuit on their behalf and urged any other victims of the church to come forward.
Andy Rubenstein, an attorney representing the Jane Does, said the goal of the lawsuit is to "compensate our clients and make them whole."
"What was the value of what was taken from them? … They destroyed lives, they hijacked their faith and they lived under constant fear," Rubenstein said.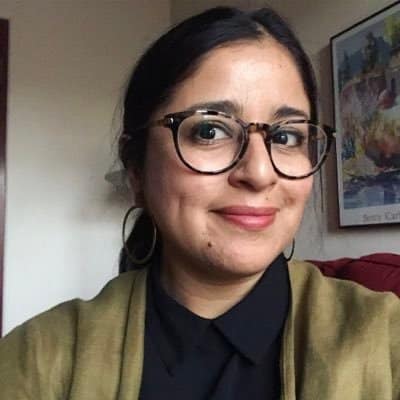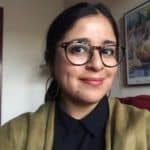 Alejandra Molina is a national reporter for Religion News Service.