As I mentioned in an earlier blog post, Harvest Bible Chapel (HBC) has told two different narratives to two different audiences concerning the recent firing of Pastor John Secrest from HBC Naples—the church Secrest planted in 2016.
In Chicago, on January 19-20, a very mournful group of elders admitted "shortcomings" concerning Secrest's "termination" and pledged to try and "move forward in a healthy way." However, in Naples, elder Fred Ananias reportedly didn't even tell the congregation that Secrest had been fired. He simply said it had been a hard week and encouraged people to come to him or elder Scott Stonebreaker with their questions.
That silence was a glaring omission. But now there's evidence that Ananias lied.
As I reported in WORLD Magazine, Ananias was the one who visited Secrest at his home on January 18 and fired him in person. This happened just hours after Secrest had sent an email to his congregation, expressing his objection to Harvest's decision to allow James MacDonald, Harvest's embattled celebrity pastor, to preach in Naples during his "indefinite sabbatical." Secrest also told his congregation that he had asked Harvest to return HBC Naples to independent governance. (HBC Naples had signed a ministry agreement in September making it a wholly-owned subsidiary of Harvest.)
"When Harvest placed MacDonald on sabbatical three weeks ago . . . the church said it was entering a 'peacemaking process.' Yet there's been nothing conciliatory about Harvest's handling of Secrest and HBC Naples."
Mike Housewert, who began attending HBC Naples shortly after Christmas, told me that before services on January 20, he talked to Ananias one-on-one and expressed his concern over Secrest's firing. Housewert said Ananias then told him that Secrest had not been fired but had left of his own accord.
Give a gift of $25 or more to The Roys Report this month, and you will receive a copy of "I Can't Hear God Anymore: Life in A Dallas Cult" by Wendy Duncan. To donate, click here.

I emailed Ananias, specifically asking him about Housewert's account, but he did not respond.
However, Debra Szemplinski, who also attended services in Naples on January 20, said a security volunteer likewise told her that Secrest had not been fired, but had willfully resigned. In addition, the letter Ananias and the other Naples leaders sent to the Naples congregation never stated that Secrest had been fired either. Instead, it claimed that Secrest "no longer desires to work for Harvest Bible Chapel," and it has "become clear that he should not continue in his role."
Another disturbing report involves Secrest's private Facebook account.
Secrest told me that immediately after he sent the fateful email to his congregation on January 18, he was locked out of his Harvest email account. Yet two days later, he received notification from Facebook that someone had used his Harvest email to hack into his private Facebook page. For 20 minutes, Seacrest said he was shut out of his own Facebook account, and someone had access to all his private messages and information.
Secrest said he reported the Facebook hacking to authorities, who are investigating. 
When Harvest placed MacDonald on sabbatical three weeks ago due to ongoing allegations of bullying, deception, and financial misconduct, the church said it was entering a "peacemaking process." Yet there's been nothing conciliatory about Harvest's handling of Secrest and HBC Naples.
I talked to Secrest this past weekend, and he confirmed that there has been no attempt by Harvest to reconcile with him. Instead, Harvest officially removed Secrest as an officer of HBC Naples on January 23 and changed the church address from Secrest's home to the building the church is renting for services.
According to the official state of Florida website, the only two officers of HBC Naples now are Scott Stonebreaker and Fred Ananias. 
Who's Running HBC Naples?
Over the past couple weeks, I have repeatedly tried to get updates from Harvest on what's happening with Secrest and HBC Naples, but Harvest says it won't comment while its "peacemaking process is underway." However, several sources have told me that Harvest has returned HBC Naples to local governance, as Secrest requested several weeks ago.
One of them is Aaron Tull—a Naples resident who began attending HBC Naples in March of 2018 but recently left the church over Secrest's firing. Tull said Travis Doucette, HBC Naples worship and leadership development pastor, told him that Harvest in Chicago had returned the church to its previous independence. However, Tull said Doucette told him that the church has no intention of bringing Secrest back, but instead is looking for a new pastor.
I called Doucette to try and confirm Tull's report, but he hung up on me as soon as I identified myself. I also have emailed both HBC Naples elders—Scott Stonebreaker and Fred Ananias— but neither has responded. Both are still listed on Harvest's website as members of Harvest's 34-member elder board.
I also have contacted Doug and Joyce Bartholomew, the owners of the building that HBC Naples reportedly is leasing for $10/year. Neither was willing to speak with me.
"Yet even if HBC Naples has become independent from Harvest in Chicago, there's no indication that its remaining leadership is independent from MacDonald."
However, Joyce Bartholomew tweeted last week: ". . . we are not part of HBC Chicago. We are HBC Naples." When I asked her if that meant that Harvest had returned HBC Naples to local governance, she would not answer the question.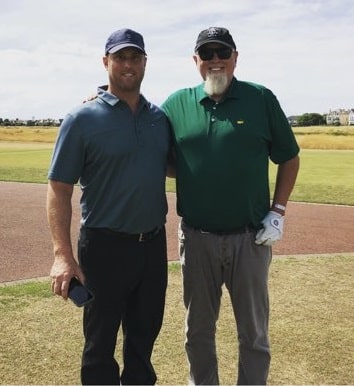 Yet even if HBC Naples has become independent from Harvest in Chicago, there's no indication that its remaining leadership is independent from MacDonald.
Naples Elder Scott Stonebreaker went on a week-long golf trip in England with MacDonald last July. Also, Doug Bartholomew sent an accusatory email to John Secrest on January 22. Among his accusations was an assertion that Secrest refused to "submit to biblical elder leadership, while joining those who oppose James McDonald (sic)."
Bartholomew also accused Secrest of claiming "not to have known about the controversy around MacDonald when actually we talked about it in our earliest discussions."
Secrest responded that he had been aware of the problems at Harvest, which are documented at The Elephant's Debt, for several years. However, at the time of the merger in September, he said he was not aware of my investigation of Harvest, nor of the lawsuit against me and four others, "which (Harvest) had certainly been contemplating before (HBC Naples) signed the ministry agreement."
Secrest said he doesn't want to share anymore details about the events leading up to the merger publicly until he's had a chance to talk face-to-face with his former congregation. He said he sent a letter to Stonebreaker and Ananias this past weekend requesting a congregational meeting, but has not yet heard back from them. 
Many at HBC Naples Remain in the Dark
Much of the congregation in Naples seems unaware of the issues with MacDonald and Harvest. Xochytl Rodriguez-Cantu, who began attending HBC Naples in November, told me that she knew nothing about the current controversy. She added that she knew elders had put MacDonald on an indefinite "sabbatical," but didn't know why.
Carolyn Housewert, Mike Housewert's wife, said she was ignorant of issues with MacDonald when the couple first started attending HBC Naples several weeks ago. Housewert said she initially liked the church so much that she brought about 10 friends to HBC Naples. Then, when she shared her enthusiasm about the church with friends from out of state, they forwarded articles critical of MacDonald to her, which made her feel "sick." Now, she said she doesn't think she and her husband can stay at the Naples church.
Tull said he became aware of the lawsuit MacDonald and Harvest had filed when he googled MacDonald's name last October. He said the lawsuit concerned him, but it didn't seem to concern anybody else at church. Most, he said, didn't even know about it.  
Randy Huizinga and his girlfriend, Elizabeth D'Acquisto, said they didn't know anything about the lawsuit or other issues until very recently. This, despite the fact that they were among the original core group that started the church.
However, in January, Huizinga said a friend sent him the WORLD article I had written, as well as news of the church's lawsuit. "We kind of felt like a bomb blew up," D'Acquisto said. Yet the couple said they were planning to stay at the church until Harvest fired Secrest. For them, that was the last straw.
Secrest's firing was the final straw for Tull, too. Yet he added that he's been "shocked" at how many people have been willing to accept it. 
Evidently, a sizable number of the congregation has not been willing to accept what's happened to Secrest, though. The church, which had been running two services on Sunday morning, has returned to just one.
I will continue to report updates as they become available.