Liberty University has given large gifts to the ministries and nonprofit of powerful trustees, according to a review of the school's IRS 990 tax forms. This is prompting questions of self-dealing at the embattled evangelical school.
In 2019-20, Liberty University gave $55,000 to the ministry of longtime trustee Tim Lee, according to the school's 2019 990 tax form. In April of this year, Lee was appointed chairman of Liberty's Board of Trustees.
Liberty also gave $20,000 in 2019 to the ministry of longtime trustee, Jerry Vines. Vines was recently placed on Liberty's Executive Committee, despite allegations Vines protected a serial sex abuser.
Tax forms also show the university has given $109,000 since 2017 to the Gainey Foundation — the nonprofit of Liberty University Executive Committee Chairman Harvey Gainey. Gainey assumed the top post in 2016 when PR Guru Mark DeMoss resigned from the board due to disagreement with then-President Jerry Falwell, Jr.'s endorsement of Donald Trump.
The gifts given to Lee are especially problematic, though, because Lee draws a salary from his ministry, nonprofit lawyer Michelle Adams told The Roys Report. IRS rules prohibit trustees of nonprofits from receiving goods, services, or excessive compensation from their nonprofits, which is considered self-dealing.
Give a gift of $25 or more to The Roys Report this month, and you will receive a copy of "I Can't Hear God Anymore: Life in A Dallas Cult" by Wendy Duncan. To donate, click here.

Similarly, Rusty Leonard, founder of the watchdog group MinistryWatch, said, "It's a bad look. You shouldn't be benefitting from your service on a nonprofit board."
Liberty's gifts to Tim Lee Ministries
Lee has been a trustee at Liberty since 1991, and Liberty's gift in 2019 was not the only time the school has donated to Lee's ministry, Tim Lee Ministries. Liberty gave $5,000 to Tim Lee Ministries in 2016 and $33,000 in 2011.
During all those years, Lee and his wife, Connie Lee, received full-time salaries from Tim Lee's evangelistic ministry.
However, in 2019, around the time Liberty gave $55,000 to Tim Lee Ministries, the Lees received a combined salary of $177,928 from the ministry, according to Tim Lee Ministries' IRS 990 tax form. The previous year, the ministry had paid the couple a salary of $156,690 from the ministry.
The more than $20,000 difference represents a 14% increase, though there was one other year, 2017, when the Lees received more from the ministry than in 2019.
The Roys Report reached out to Lee and Liberty University for comment, but neither responded.
Liberty's large gifts to other trustees' nonprofits
In 2019, Liberty gave $20,000 to Jerry Vines Ministries, the ministry of longtime trustee and prominent Southern Baptist pastor, Jerry Vines. 
Jerry Vines Ministries does not pay Jerry Vines a salary.  However, in 2019, the ministry paid about one-third of its annual revenue—or $106,000—to Jerry Vines' son, Jon Vines, according to the ministry's IRS 990 form. 
The gift from Liberty also came about the same time that Vines was accused in a Houston Chronicle exposé of protecting serial sex abuser Darrell Gilyard.
The fallout was so serious Vines feared losing his pension from First Baptist Church of Jacksonville, Florida, according to Johnnie Moore, a former Liberty University spokesman who was recently re-hired by the university. At the time, Moore asked then-Liberty President Jerry Falwell, Jr. to consider creating a title for Vines to justify Liberty paying Vines a proposed pension.
Vines never received a pension from Liberty, according to the university's tax filings. However, in November 2020, Liberty put Vines on the school's powerful Executive Committee.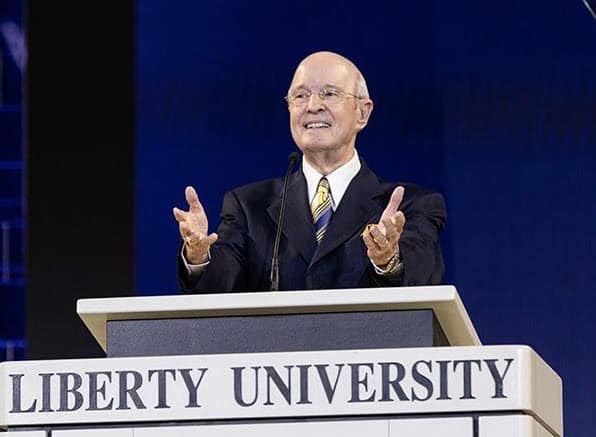 Liberty also has given large gifts to the Gainey Foundation, the nonprofit of Executive Committee Chairman Harvey Gainey.
In 2019, Liberty donated $75,000 to the Gainey Foundation. Liberty also gave $40,000 to the foundation in 2018 and gave it $30,000 in 2017.
Harvey Gainey does not receive a salary from the Gainey Foundation. However, Gainey has been dogged by allegations of shady financial dealings for years.
This summer, the podcast Gangster Capitalism reported that Gainey was accused of illegal activity in a 2008 lawsuit brought by a creditor. That's the year Gainey's former trucking company declared bankruptcy. But according to the lawsuit, Gainey illegally enriched his family by withdrawing $10 million just prior to his company folding, Gangster Capitalism reported.
Also, a 73-page report compiled for an unsecured creditors committee in 2009 found that Gainey submitted two apparently different sets of personal financial records for 2008. One showed a negative net worth of $5.5 million, the report said; another showed a positive net worth of $5.7 million.
The report also concluded that Gainey's $2 million compensation package in 2007, and his $1 million compensation in 2008, were well in excess of industry norms.
Gainey's company was eventually sold at a bankruptcy auction, Gangster Capitalism reported.
Revelations come in wake of multiple scandals
These revelations come as Liberty University is facing not just allegations of mishandling sex abuse cases, but also of financial and sexual misconduct by Jerry Falwell, Jr.
Last year, Liberty commissioned Baker Tilly US, a global U.S. accounting firm, to investigate past business practices at Liberty. According to former Liberty spokesman Scott Lamb, Baker Tilly presented its report to Liberty President Jerry Prevo on September 29.
That report has not been released to the public, nor has Liberty made any public statements about the results of the investigation.
However, Lamb, who said he gave Baker Tilly more than 20 hours of testimony "indicting" Prevo and the board of trustees "for negligence," was fired on October 6.
Yet Prevo, who chaired Liberty's Board of Trustees from 2003—2020, said in a recent student convocation that he does not know what happened at Liberty prior to him becoming president last year. And he promised, he's not going "to cover up anything," but instead, "clean up if it needs to be cleaned up."