Following calls from two advocacy groups, Liberty University has taken steps to approve an independent audit of its handling of sex abuse cases, the groups announced yesterday at a press conference. Then, the university sent a gag order to its former spokesman Scott Lamb, Lamb tweeted this morning.
Near the end of Thursday's press conference, Hailey Wilkinson, a spokesperson for Justice for Janes, announced, "We (Justice for Janes and Save 71) received a phone call with (Liberty trustee and campus pastor) Jonathan Falwell saying that an independent audit will be put into place. This was just approved by the Executive Committee."
Wilkinson said the decision would have to be approved by the full board at its meeting Friday. And she urged, "(I)f this is a serious thing . . . they need do this ASAP. This needs to be done tomorrow."
In the middle of the night, Liberty also served Lamb with a gag order and is asking the court for $1-$3 million plus "punitive damages," Lamb says. Lamb is suing Liberty for allegedly firing him for objecting to the school's mishandling of sex abuse cases.
This university also asks the court to award them $1-3 million, plus punitive damages.

Because of what I've been saying to you since my lawsuit hit twelve days ago.

Once more, for those in the back:
You have a PR problem because you have an actual problem. https://t.co/HizQlvYHlo

— Scott Lamb (@insidervthefirm) November 5, 2021
Lamb also tweeted this morning that Prevo's claim to students yesterday that Prevo has been pushing hard for a third-party investigation since he came to Liberty is a "bald-faced lie." In an interview with The Roys Report last week, Lamb claimed he urged Liberty to conduct a more thorough investigation in an October 4th meeting with Prevo that led to Lamb's firing.
Give a gift of any amount to The Roys Report this month, and you will receive "In the House of Friends: Understanding and Healing from Spiritual Abuse in Christian Churches" by Kenneth Garrett. To donate, click here.

The announcement about Liberty's Executive Committee approving an independent investigation came after prominent abuse survivor advocate and attorney, Rachael Denhollander, said she had met for 90 minutes with Liberty University President Jerry Prevo.
Denhollander described the meeting positively.
"What is taking place today is not a vendetta but to hold the University to its core values," she said.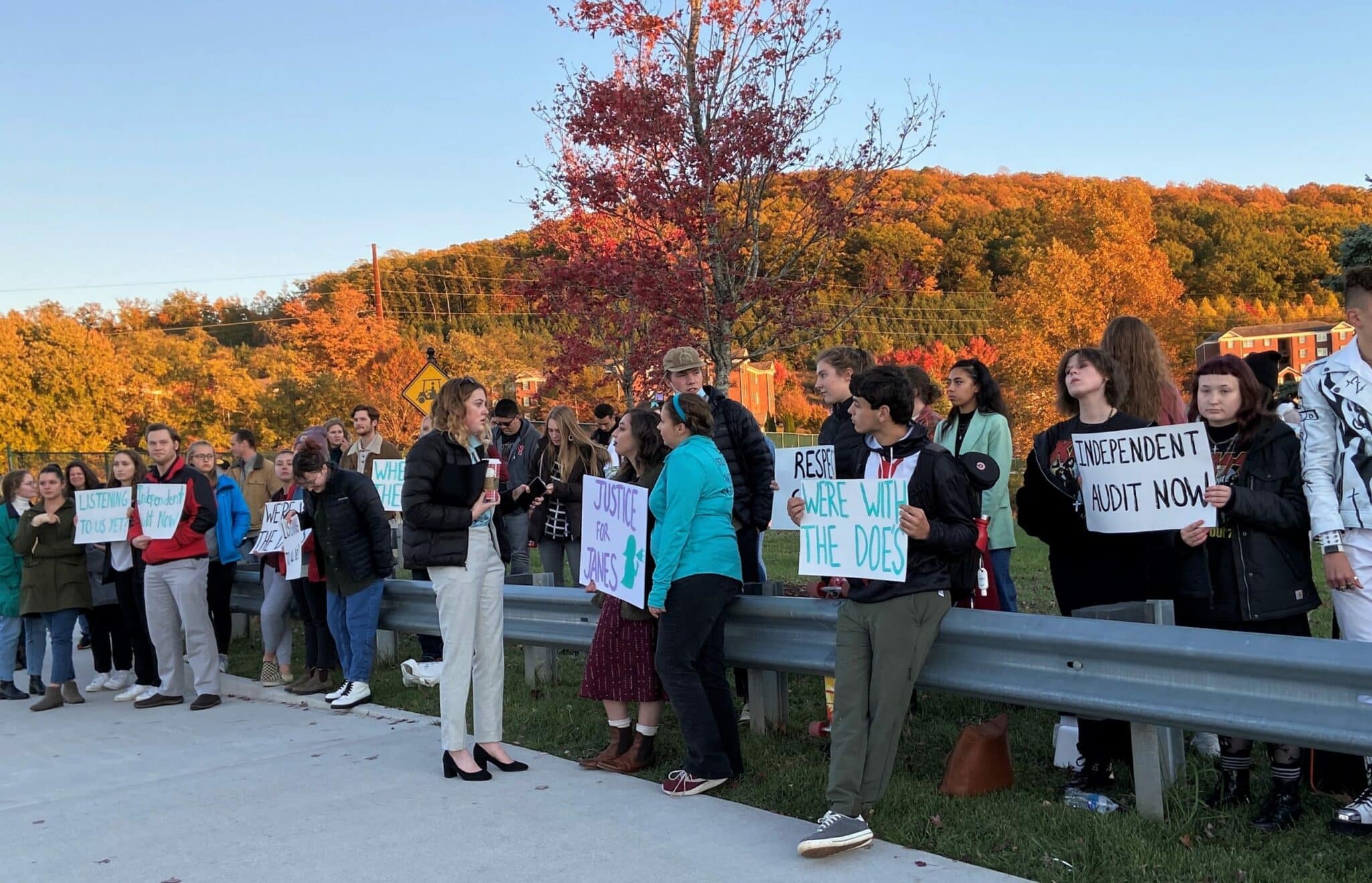 Also speaking at the press conference was Karen Swallow Prior, a prominent evangelical author and former Liberty University professor, as well as Dustin Wahl, founder of Save 71.
Prior urged her former school's administration to act on behalf of the women for God's sake. "Liberty will cease to be God's university when it puts profits before people," Prior said. "Liberty will cease to be God's university when it puts the interest of the institution . . . before the stewardship of souls."
After the press conference, more than 125 students attended a rally organized by Justice for Janes and Save71 near Liberty's campus.
The event had initially been scheduled to occur on Liberty's campus. But on Wednesday, Denhollander tweeted that Liberty's general counsel had told Justice for Janes that the group couldn't gather on campus.
Student leaders organizing a prayer rally to call for a proper institutional response to the crisis facing LU, were told I could not come on campus. 3 yrs ago I was invited to teach on this. Today, when it is needed, it is no longer wanted. Aching to see a heart change tomorrow.

— Rachael Denhollander (@R_Denhollander) November 4, 2021
On Thursday, after a public outcry, Save71 tweeted that Liberty had reversed course, and would allow the group on campus.
Last night, @R_Denhollander, Save71, and @justiceforjanes received an email from LU's general counsel informing us that we can't gather on campus today.

But this morning, LU's top leaders told Rachael that we can.

We will continue as planned and see you there at 6 p.m.!

— Save71 (@save71LU) November 4, 2021
Yet at the press conference, Save71, Justice for Janes, and Denhollander said the university still had not given them a final decision about where to meet. The rally was held several hours later beside one of the traffic circles near campus, which is technically public property.
Holding signs saying, "We're With the Does," "Independent Audit Now," and "Listening to us yet?" the students pushed for change.
President Prevo appeared at the rally for several minutes, talking to students and the press, and answering questions from Justice for Janes and Save71.
Cassidy Burton, a senior at Liberty, met Prevo at the rally and said she talked to him about installing more lights at a dark area on campus.
"I just encouraged him to do the right thing," Burton said.
At a convocation this week, Prevo announced that 12 blue light call boxes would be installed around campus, along with nearly 1,000 cameras—an effort he said would cost $8.5 million.
However, at the press conference, Wahl said that a student group at Liberty has been lobbying for similar safety improvements since at least 2013.
Similarly, "Jane Doe #2" in a Title IX lawsuit against Liberty said she and her roommate repeatedly urged Liberty officials, including Jonathan Falwell, to install cameras and call boxes in 2005, after she was gang-raped on campus.
At the rally, Wilkinson read a statement from "Jane Doe #2."
"I am determined now more than ever to see accountability and justice for how we survivors have systematically been shamed, revictimized, and silenced," the statement said.
Denhollander spoke at the rally, as well, encouraging students that what they do matters and to push on, even when it seems like no progress is being made.
"We have a serious problem in Christianity with how we respond to sexual assault and my heart's cry is that Liberty University is the one that changes that, that it becomes the beacon on the hill for how they should be handled," Denhollander said.
The crowd erupted in applause after Denhollander finished speaking.
The press release and rally are just the first part of an effort to place pressure on the board. A "Pray and Protest" event is planned Friday at the site of the board meeting where many of the issues brought to light recently will be discussed.
"I hope the board follows through with an independent audit—one Rachael (Denhollander) recommended," Hailey Wilkinson said. "(I hope) that Prevo is the man of his word he claims to be, and that the call to action will be effective."
UPDATE: Liberty University announced Friday afternoon that it had authorized President Prevo to hire a third party "to independently assess the facts necessary for Liberty University to make things right with the Jane Doe Title IX plaintiffs, regardless of how long it has been." Board Chairman Tim Clinton said  the last year "has been challenging for Liberty University,." But he added that "these challenges are only making us stronger. This has become a banner year for Liberty University."
"
Robert Locklear is a senior at Liberty University, majoring in journalism. He has written and published videos about the ongoing controversy at Liberty, involving "Jane Does" who say Liberty mishandled their sex abuse cases.