Luke MacDonald, the son of disgraced celebrity pastor, James MacDonald, is launching a new church in the Chicago area this Sunday.
Luke was an executive pastor at Harvest Bible Chapel, but resigned his position in the wake of his father's termination for alleged bullying, deception, and financial misconduct. 
Luke has faced similar allegations. Former Harvest members told The Roys Report that Luke is every bit the bully his father is. Plus, they recounted bizarre stories of Luke MacDonald urinating in meetings, throwing chairs in a rage, and failing to report abuse of a minor in Harvest's youth ministry.
This Sunday, Luke MacDonald's new church, Good News in the Neighborhood, will hold its first services at Chez Hotel in Arlington Heights, a suburb of Chicago.
The church initially was scheduled to meet at Durty Nellies, a bar in suburban Chicago. However, on Thursday, the church announced the new location. The change may be due to Illinois law, which prohibits establishments from getting liquor licenses if they are located within 100 feet of any church.
Give a gift of $30 or more to The Roys Report this month, and you will receive a copy of "Wounded Workers: Recovering from Heartache in the Workplace and the Church" by Kirk Farnsworth. To donate, click here.
After resigning from Harvest in 2019, the younger MacDonald took a pastoral job at Faithful Central Bible Church in Los Angeles. This past November, Luke MacDonald announced he was returning to Chicago to plant a church and began gathering a group of people interested in helping him.
In anticipation of this Sunday's launch, James MacDonald announced his son's church plant on social media. (Despite being disqualified for public ministry by his former church, James MacDonald said he also will be re-launching his new ministry in the Chicago area.)
Also promoting Luke MacDonald's new church is ARC—Association of Related Churches, one of the largest church planting networks in the country. ARC has planted more than 600 churches, and has hundreds more partner churches in the U.S. and around the world. 
Not only does ARC provide training and coaching for pastors. It also matches dollar-for-dollar the first $50,000 raised for new church plants.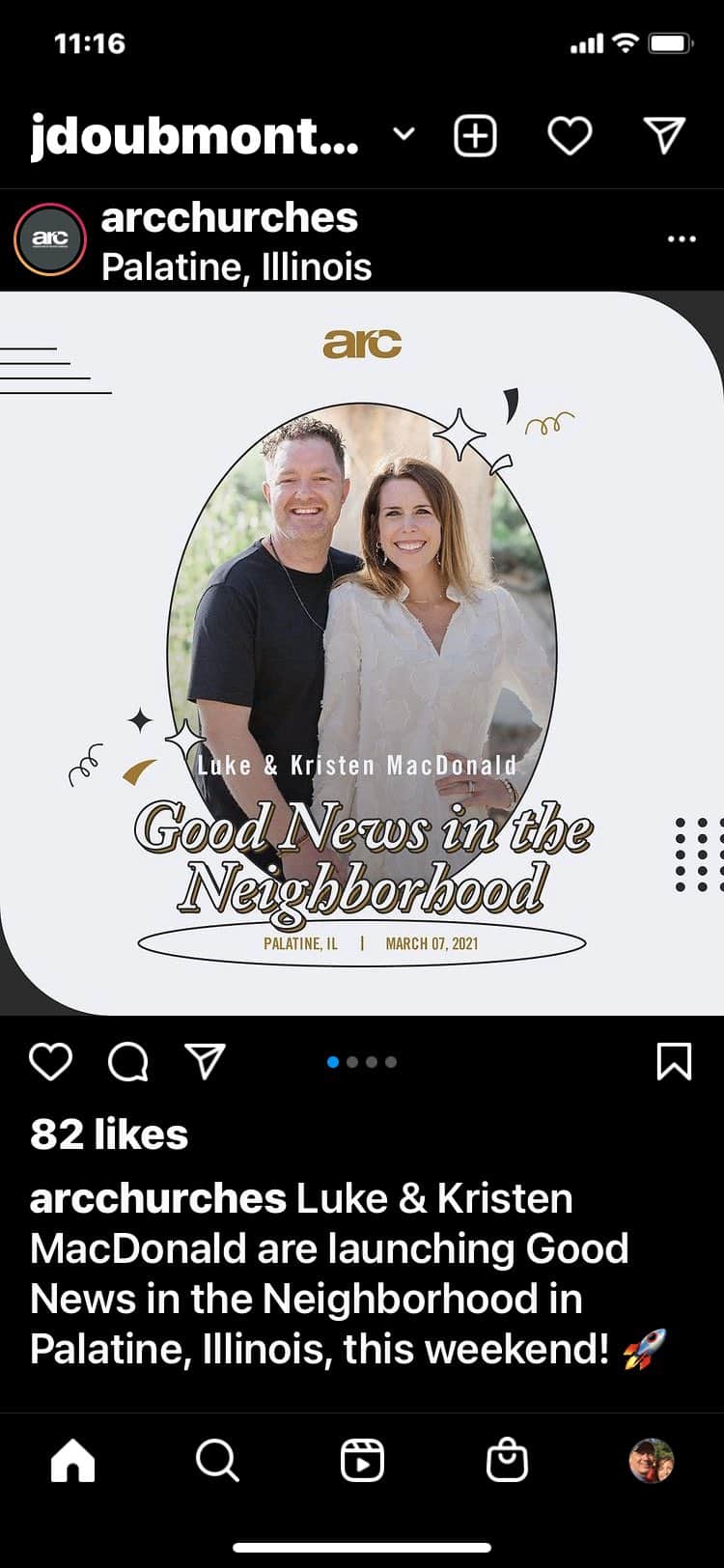 ARC's Lead Team includes at least two pastors who have had extramarital affairs. These include John Gray, the pastor of Relentless Church who's admitted to "emotional affairs." ARC's executive director, Dino Rizzo, admitted to an "inappropriate affair" in 2012, but returned to ministry 14 months later.
Arguably, the most famous ARC-affiliated church is Robert Morris' Gateway Church—the largest church in the Dallas-Fort Worth Metroplex, with an estimated attendance of 36,000. 
When Mark Driscoll—who's been a close friend of James MacDonald's—was disqualified by his former church for harsh and domineering behavior, Morris came to Driscoll's aid. Within days of resigning from from Mars Hill, Driscoll made a surprise appearance with Morris onstage at Gateway's annual conference. Morris also served as an advisor to Driscoll when Driscoll planted The Trinity Church in Scottsdale, Arizona. 
Those attending services at Good News in the Neighborhood tomorrow are encouraged to register before coming. In an email, MacDonald also urged them to pray and to give.
"We are asking every member of our little church to prayerfully bring an offering on March 7," the email said. "Giving is part of our worship and we want to bring all of ourselves to this new venture."