Well-known author and pastor, John MacArthur, announced yesterday that his megachurch in California will not comply with state restrictions on congregational worship, adding that doing so "would be disobedience to our Lord's clear commands."
In a blog post Friday, MacArthur acknowledged that Scripture tells Christians to submit to governing authorities. But he said that when government tries to exercise authority over religious practice, it oversteps its God-appointed boundaries.
"(I)t has never been the prerogative of civil government to order, modify, forbid, or mandate worship," MacArthur wrote. "When, how, and how often the church worships is not subject to Caesar. Caesar himself is subject to God."
MacArthur pastors Grace Community Church—a megachurch in the San Fernando Valley of Los Angeles, California, with average attendance around 8,300. Los Angeles County is the most populous county in California and accounts for nearly half of the state's COVID-19 cases.
For the month of July, Grace has been meeting outdoors under a tent, which complies with California Governor Gavin Newsome's ban on indoor religious services.
Give a gift of $25 or more to The Roys Report this month, and you will receive a copy of "I Can't Hear God Anymore: Life in A Dallas Cult" by Wendy Duncan. To donate, click here.

I called Grace Community Church on Friday and asked if the church will be moving services indoors. I was forwarded to voicemail and did not receive a call back.
MacArthur said his conviction that churches should gather, regardless of what the state says, is based solely on Scripture, not constitutional arguments.
Notice that we are not making a constitutional argument, even though the First Amendment of the United States Constitution expressly affirms this principle in its opening words: 'Congress shall make no law respecting an establishment of religion, or prohibiting the free exercise thereof.' The right we are appealing to was not created by the Constitution. It is one of those unalienable rights granted solely by God, who ordained human government and establishes both the extent and the limitations of the state's authority (Romans 13:1–7). . . . In other words, freedom of worship is a command of God, not a privilege granted by the state.
MacArthur also warned that if churches allow the government to close churches now, they may stay "closed indefinitely":
As government policy moves further away from biblical principles, and as legal and political pressures against the church intensify, we must recognize that the Lord may be using these pressures as means of purging to reveal the true church. Succumbing to governmental overreach may cause churches to remain closed indefinitely. How can the true church of Jesus Christ distinguish herself in such a hostile climate? There is only one way: bold allegiance to the Lord Jesus Christ.
The response to MacArthur's statement on social media has been mixed. A woman named Jeana tweeted: "Yes yes yes! Finally! I cried my eyes out reading this. . . . ENOUGH IS ENOUGH, WE SERVE CHRIST ALONE!"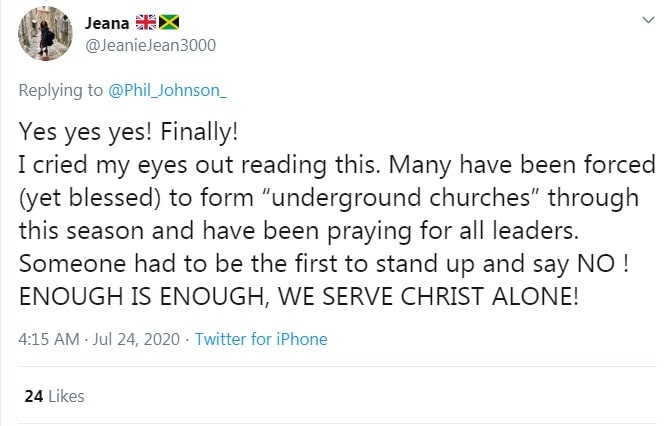 Another person tweeted, "This really may become a defining moment as to whether the state recognizes the independence of the church."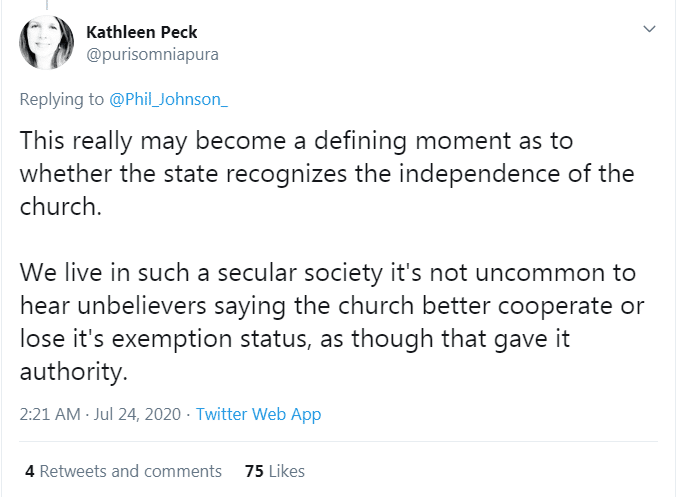 Yet, some strongly disagreed with MacArthur's statement. David Shaw, a lecturer in New Testament from Australia tweeted, "This is not loving your neighbours… you realise after gathering you disperse immediately into the community & become a COVID bomb waiting to explode . . ."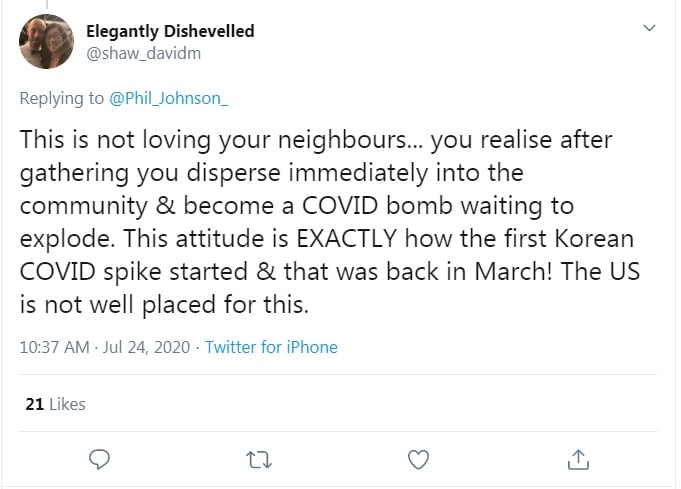 Someone named Anna K also noted that Grace Community Church recently took $1-$2 million in federal COVID relief funds. According to a tweet by Mike Riccardi, pastor of local outreach ministries at Grace Community Church, Grace applied for and received a government loan, but returned it when the church "learned of the changing requirements and strings attached." The IRS reportedly never updated its database, so Grace is still listed as a recipient.
A few asked why Grace originally closed in compliance with the state order, but now was objecting to state-imposed restrictions.
In response, the elders of Grace published an addendum to MacArthur's post, saying they believed that the "original orders were just as much an illegitimate intrusion of state authority." However, they said the church initially complied because it didn't know "the true severity of the virus" and leaders believed "guarding public health . . . is a rightful function of Christians as well as civil government."
Now, the elders say the "original projections of death were wrong and the virus is nowhere near as dangerous as originally feared." They add that "the suffering of Christians . . . has been magnified beyond anything that could reasonably be considered just or necessary."
UPDATE: The information about Grace returning its government loan was added after this article was originally published.