A document obtained by The Roys Report shows John MacArthur's Grace Community Church (GCC) last week knew of at least a dozen people in one of its fellowship groups with COVID-19.
However, there's no evidence these cases were reported to local public health officials. This, despite an order requiring churches to report when at least three coronavirus cases are identified among a church staff or congregation within a 14-day span.
Also, yesterday, John MacArthur was scheduled to preach at GCC. But GCC Staff Pastor Tom Patton announced during in-person services that "our pastor is resting today" and that another pastor would be preaching.
Patton also said that evening services at GCC were being cancelled so that church members "can spend more time with (their) family."
This news comes about a week after I reported that GCC was apparently having a new outbreak of COVID-19 and that church members were being pressured not to report COVID cases to DPH for fear the church would be shut down.
Give a gift of $25 or more to The Roys Report this month, and you will receive a copy of "I Can't Hear God Anymore: Life in A Dallas Cult" by Wendy Duncan. To donate, click here.

For months, MacArthur has defied public health orders, which had banned indoor worship services. Indoor services are now permitted, provided churches require masks and practice strict social distancing, which GCC has not done.
GCC pastors have not responded to multiple requests for information about MacArthur's condition, which I sent yesterday. The only response I received was an out-of-office email from pastor and elder, Phil Johnson.
GCC pastors also have not responded directly to requests I sent on December 19 for information about the alleged new COVID outbreak. Pastors also did not reply to emails yesterday, requesting an explanation as to why the dozen cases of COVID in the Sojourners Fellowship Group have not been reported to the health department.
COVID outbreak in Sojourners
The information about the COVID outbreak among the Sojourners Fellowship Group—one of seven fellowship groups at GCC—was included in the group's prayer sheet for the week of December 13. (The sheet was linked in an official church email sent on December 24  to Sojourners members.)
The sheet requested prayer for nine members of the group with COVID and three members recovering from COVID. Another two members were reported as sick with "possible COVID."
Since GCC's first outbreak in October, the website for L.A. County's Department of Public Health (DPH) has consistently reported five cases of COVID among GCC staff and zero cases among non-staff. On December 19, the health department confirmed in an email to The Roys Report that no additional outbreaks had been reported by the church.
Last week, the number of confirmed COVID cases at GCC listed on the county's website changed to four cases among GCC staff and one confirmed case among GCC non-staff.
I spoke with Jim Layfield, one of the area leaders of the Sojourners group. He confirmed that a number of people within the group have COVID. When I asked why these cases weren't listed on the health department website, he responded: "I don't know who's keeping score, but it doesn't seem to be adding up."
Layfield said he didn't have any knowledge whether the church reported the cases or not.
I reached out to the health department today and over the weekend, asking about the additional cases at GCC. (I had also reached out to DPH last week, following reports that several of GCC's staff and members of the church's Gracelife Fellowship Group had COVID.)
DPH replied that a "follow up" and a response to my request is "in process."
Phil Johnson responds by accusing me of lying
Though no pastors from GCC have confirmed or denied reports of a new COVID outbreak, Pastor Phil Johnson responded to my December 20th article by accusing me of lying on social media.
Johnson tweeted: "Not only did she NOT contact me for comment; she blocked me months ago on social media."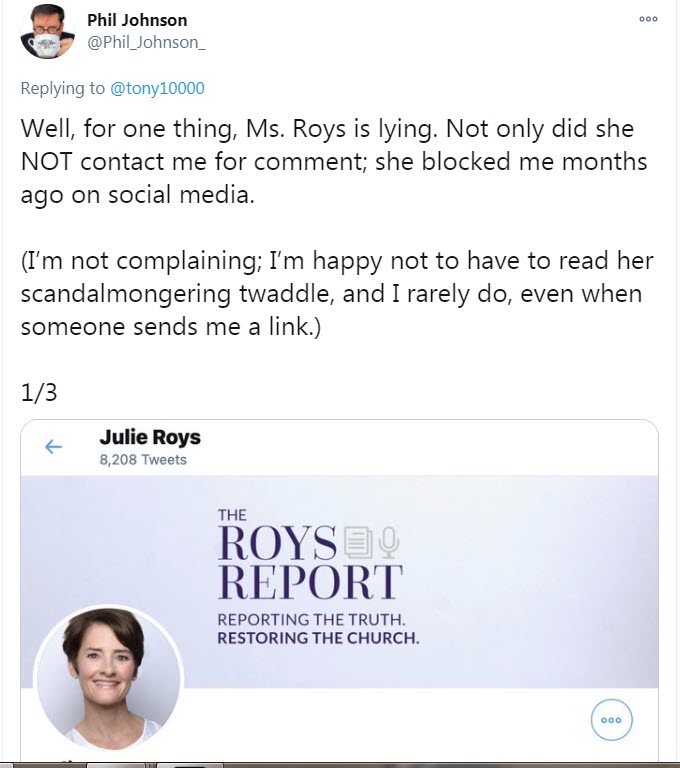 I responded by tweeting the email I had sent to Johnson and GCC Pastor Mike Riccardi via their fellowship group called Gracelife. (That email is below:)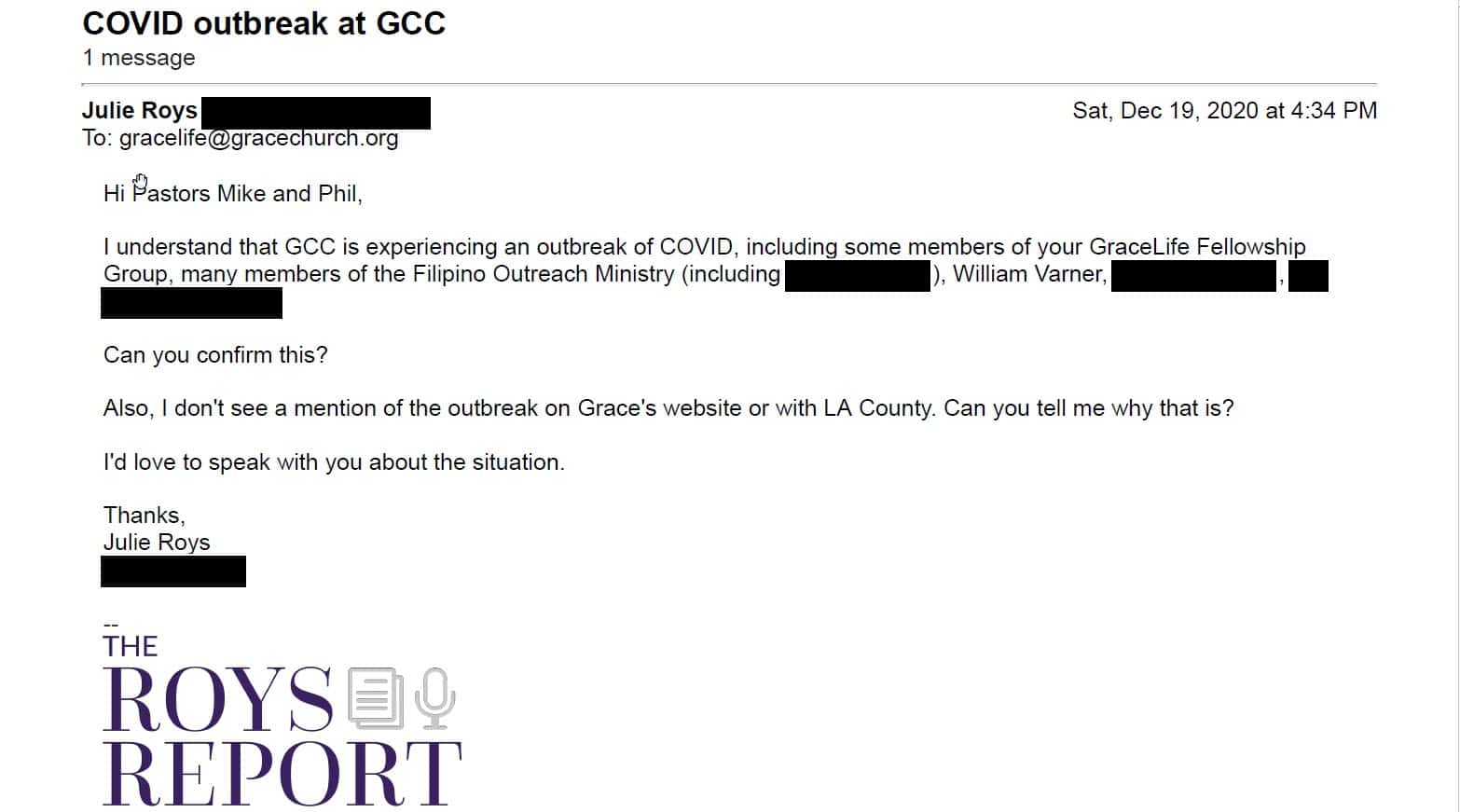 In a twitter thread, someone pressed Johnson to reply to specific questions regarding whether the cases at GCC had been reported to the health department and what parts of my article were true.
Johnson tweeted that he would reply by email, but not publicly on social media to "kooks and miscreants who like to showboat."
I reached out to the person Johnson addressed in that tweet. He said he never sent an email to Johnson because he wanted Johnson to respond in public.