Well-known Chicago radio and TV personality, Mancow Muller, Friday urged Harvest Bible Chapel Pastor James MacDonald to "man-up" and own his sin in a very frank and personal discussion on WLS/AM890. 
MacDonald and Muller are friends. And there's no doubt, MacDonald has had a big impact on Muller spiritually. Muller traveled to Israel with MacDonald and others from Harvest in December, and was baptized by MacDonald in the Jordan River.
However, Muller this morning expressed disappointment and frustration with his friend in the wake of recent revelations of financial and spiritual abuse at the church. This week, Harvest elders announced that MacDonald is going on an "indefinite sabbatical" from preaching and leading in Chicago, but left open the possibility that he will still preach from the church's new campus in Naples, Florida.
Mancow said the "sabbatical" was really a vacation that MacDonald had planned for months and that elder rule at Harvest is a "giant scam." He accused MacDonald of "playing his audience" and urged him to be honest and come clean. 
Below is the audio of Mancow's on-air discussion, which would probably earn a PG-13 rating. (Hours after this discussion, Harvest Bible Chapel Naples founder, John Secrest, was fired by Harvest after publicly announcing that he didn't want MacDonald preaching at his church, and wanted Harvest to return HBC Naples to local autonomy.)
Give a gift of $30 or more to The Roys Report this month, and you will receive a copy of "The Ballot and the Bible" by Kaitlyn Schiess. To donate, click here.
Below is a transcript of the interaction: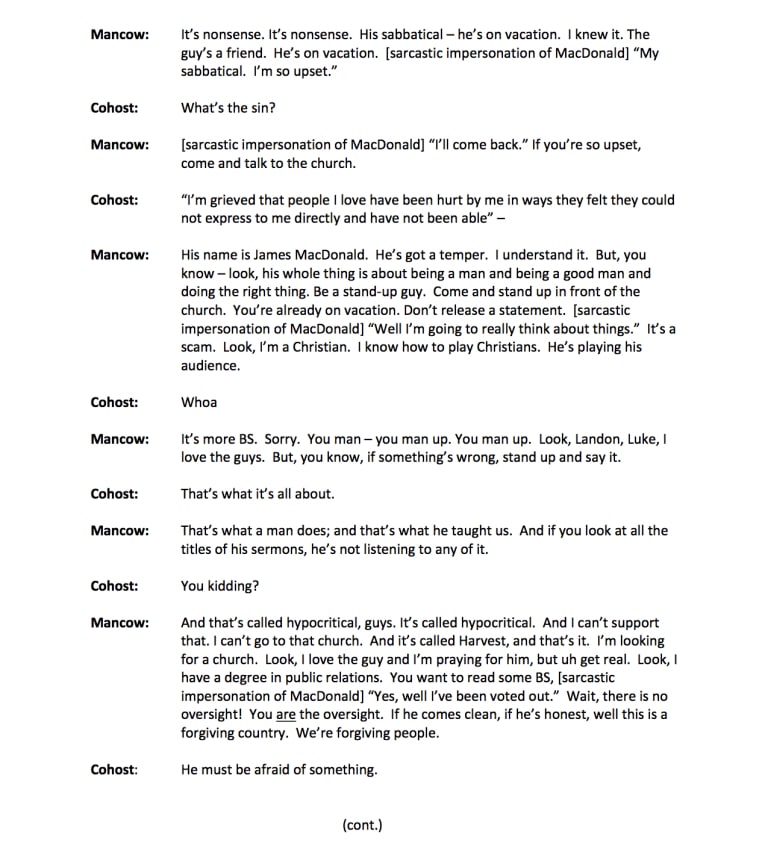 Mancow also gave the following statement today to the authors of The Elephant's Debt:
Let it be known you all reached out to me and I responded. I love Pastor James. That is the FIRST thing I hope everybody knows. I repeat: I love my pastor. I want the best for him and his family.
I also am a guy that gives away 10% of my salary to various charities including Harvest. I think some of the questions being asked are fair otherwise why the various statements from the church? "Where's there's smoke…" Harvest is ONLY James MacDonald. I don't believe it could exist without him. So I want him to be restored . I think he has done endless great things for the body of Christ. But everyone knows there is no one REALLY calling the shots but Pastor James. So when I read that his long planned vacation is suddenly being called a "sabbatical" it's just pure nonsense. 
Proverbs 27:17. I believe HE would want me to say this. How about that? He has always encouraged me to tell it like it is. I'm shocked that none of my other brothers in Christ at Harvest have had the gumption to step up. But then again I'm not on the payroll. We are taught to be men of Christ and take a stand by Pastor James himself ! I want him to man up and do what HE would tell US to do. That's all. I want him to come to HIS church and tell us the truth? What is the sin he mentions? What is he repenting from? Are we sheeple or men of Christ as he himself instructs? 
So much has been mischaracterized about our church and our pastor. I just pray that people don't lose sight of how much great this man has done for the kingdom. I've witnessed him saving marriages and keeping people out of hell and I could go on and on… What a gift! Is there any other preacher on the planet that can deliver a message like Pastor James McDonald? I don't think so! 
He needs to be restored in my opinion. But not through the spin and malarkey that's being floated by "the church" that's so obvious it's insulting. By breaking ranks I realize that this will be of great cost to my family. 
I have young daughters that love and admire Pastor James . He's family! I have a Catholic wife that has been reluctant to pursue the evangelical/ born-again experience with me. This is just so devastating to so many. I have been attacked (as has pastor James) for our friendship by these modern Pharisees that seem to have all the answers but yet have never run a church before like he has. And who exactly did Jesus hang out with? Perfect Christians? Nope taxpayers and sailors etc.
Somehow these folks characterize me as a man not worthy to love Jesus or be loved. Sickening. I hope Pastor James doesn't regret our friendship. I'm heartsick over this situation.
But as a minor public figure I felt I must say something. He taught me to do exactly what I'm doing RIGHT NOW. (Maybe this was his plan for me all along.) He always thanked me for telling him what those on the payroll wouldn't. He is a very complicated conflicted human being. Very smart. He does take everyone's pain seriously. He's not some cold heartless guy. And it's not too late for him to step up! He's worthy of redemption and our forgiveness WHEN he does what he himself preaches. I just fell on the sword for that ideal! I kept waiting and praying for someone else to do it and it just hasn't happened. Please pray for Pastor James! I believe he will still prove himself to be an epic hero for Christ when all is said and done. Psalms 25:11