On Thursday, Arizona gubernatorial candidate Kari Lake held a "Freedom & Faith" concert in Scottsdale, an event that was attended by notable evangelical leaders, including megachurch pastors Tommy Barnett and Mark Driscoll.
Lake, who has earned an endorsement from former president Donald Trump, has repeatedly stated her belief that the 2020 presidential election was "stolen" from Trump and that Joe Biden is an illegitimate president, even at one point suggesting that journalists who have said otherwise should be imprisoned. 
In a video that began circulating on Friday, Lake can be seen surrounded by a group of men and women prior to the rally, as Barnett, pastor of Dream City Church in Phoenix, anoints her with oil. Driscoll, known for his brash demeanor and allegations of abusive leadership throughout his pastoral tenure across two megachurches, was among the leaders laying hands on Lake.
"The anointing is a very, very sacred thing," Barnett can be heard saying in the video before leading the group in prayer. 
"Great to hear your testimony re Jesus changing ur life (sic) in the past year," Driscoll later wrote in a Facebook post alongside an image featuring himself, his wife Grace, and Lake. "Thanks for listening to sermons as you study the Bible. Grace & I love you. Our family is praying for your family."
Give a gift of $50 or more to The Roys Report this month, and you will receive a copy of "The Kingdom, the Power, and the Glory: American Evangelicals in an Age of Extremism" by Tim Alberta. To donate, click here.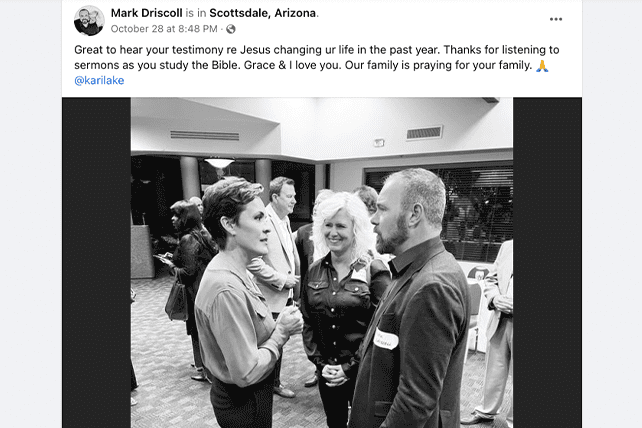 The event, which also featured an appearance by worship leader Sean Feucht and the worship band from Dream City Church, began with the national anthem before Feucht led the crowd in singing praise songs. 
Lake, who later walked onstage as speakers blared "I'm Walking on Sunshine" by Katrina and The Waves, said that during the pandemic, "I handed my life 100% over to God, truly, for the first time. And I can tell you, he has brought me on the wildest ride. When I said, 'God you take me and do with me what you want,' look what he brings us when we hand our life over to God."
"We had some amazing pastors tonight—they led the most incredible prayer," Lake said. "I know that prayer is just going to propel me through the next 12 days and beyond."
Lake continued, "But if your pastor tells you to hand over your life to God; amazing things will happen, believe them, people. Amazing things will happen."
Lake went on to credit God for the traction her gubernatorial campaign has gained, her endorsement from Trump, and for her ability to "expose the fake news media." 
Referring to her campaign as a movement, Lake pointed to the sky and said, "It's God. It's not me. It's not me. It's us and God. It truly is."
"He's just using me right now, as we want to be used by God," Lake said. "I'm running errands for God right now. How many of you are willing to run some errands for God?" 
The crowd broke out into applause.
"We're on the right side of things. You know that, right? We want to do what's right," Lake went on to say. "And we're going to do that."
Lake is running against Katie Hobbs, a Democratic candidate who has served as Secretary of State of Arizona since January 2019.
Evangelical supporters laid hands on and anointed Kari Lake with oil at her Freedom and Faith Revival Night event in Scottsdale. pic.twitter.com/jzxm77b4V8

— PatriotTakes 🇺🇸 (@patriottakes) October 28, 2022
This article originally appeared at ChurchLeaders.com.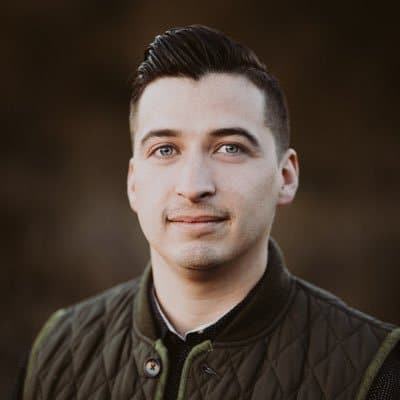 Dale Chamberlain (M.Div) is the Content Manager for ChurchLeaders.com. He is also a blogger and podcaster who is passionate about helping people tackle ancient truths in everyday settings. He lives in Southern California with his wife Tamara and their two sons.