On January 6th, The Roys Report published the article, In Wake of Classmate's Death, Master's Seminary Student Accuses School of Flagrantly Violating Its Own COVID-19 Protocols. In that article, I shared my experience as a student at The Master's Seminary (TMS), and how I was ridiculed by both students and professors for simply trying to follow the school's published health guidelines.
Many have wondered how TMS would respond to my statements—or if the school would respond at all. I've received countless messages to this effect: Has the TMS administration reached out to you? What's been the official response to your story? Has TMS released a statement or made institutional adjustments? Are they even aware of the article?
Hopefully I can shed some light on how events have unfolded since my story was made public. I would also like to explain my reasoning for speaking out.
To begin, the administration at TMS was quickly made aware of The Roys Report article. I know because a TMS administrator called a pastor I know to discuss the article within an hour of the article's publication.
The article then began circulating around TMS, as at least a dozen current seminary students reacted to the article both publicly and privately.
Give a gift of $30 or more to The Roys Report this month, and you will receive a copy of "The Ballot and the Bible" by Kaitlyn Schiess. To donate, click here.
Though many of the public posts attacked both Julie Roys and me, I received three emails that were supportive. Two were from fellow TMS students. Shockingly, one was from a leader at Grace Community Church, who's very well respected there. 
The seminary, one the other hand, hasn't responded at all—at least, not to me.
However, shortly after Julie's article was released, the entire Master of Divinity program was inexplicably moved online for the month of January. If this move was taken as a step toward institutional correction, this was not announced to the students.
Unfortunately, even this significant adjustment didn't translate to a school-wide reformation.
Just one week after the article's publication, TMS held two in-person Doctor of Ministry courses—despite moving their M.Div. program online.
Photos from these two classes have been circulating on social media, showing students more distanced than they were in seminary classes I took this fall. Still, students are closer than six feet apart and no one is wearing masks. These pictures are so precarious that some have suggested they must have been taken pre-pandemic.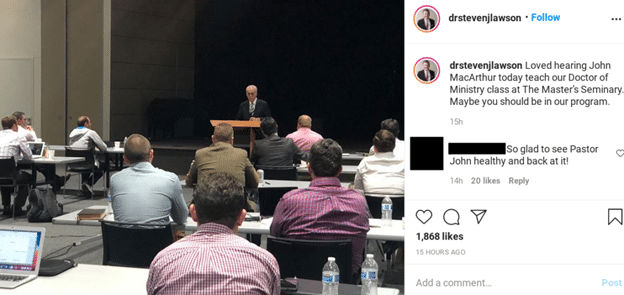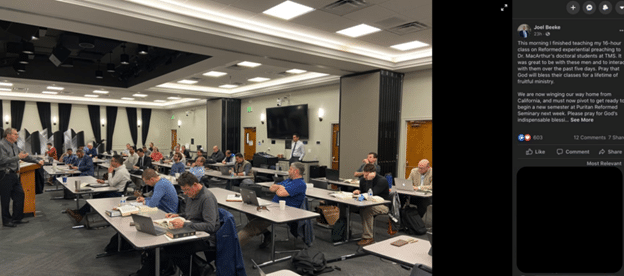 So, as it stands, TMS has quietly moved to virtual classes—but only for its master's degree program.
There's been a notable lack of transparency that plagues both Grace Community Church and her seminary. As of now, no statement has been released regarding COVID-19 cases on campus, nor has the tragic passing of a TMS student been officially acknowledged as being COVID related.
Perhaps the seminary took January off to prepare sweeping campus reforms. But why no acknowledgement of past missteps? And why continue the Doctor of Ministry courses in-person without implementing protocols?
Even more perplexing, TMS has announced that on-campus instruction will resume on February 2nd. COVID-19 heath mandates were not mentioned in the email sent to students.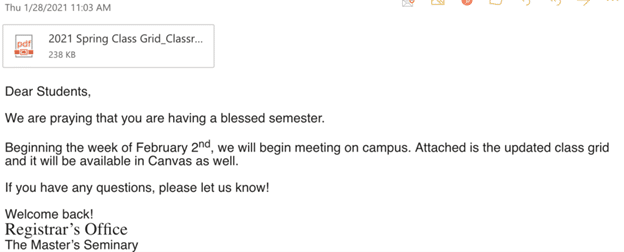 The seminary has also removed information regarding COVID-19 protocols from its webpage, although an outdated FAQ can still be accessed via a direct link.
As of January 22nd, TMS has announced a memorial service for the student who tragically died from COVID-19 on January 4th. He had contracted the virus in mid-December and suffered for weeks before passing away. This memorial service is set to take place on the Grace Community Church (GCC) campus, with all current seminary students invited, and no announced health protocols being implemented.
The campus-wide email indicated that there will be no public reception following the service, but failed to elaborate on the late student's cause of death.
The flippancy regarding the pandemic doesn't end there.
On January 29th, an email was sent to TMS students and leaders regarding the upcoming Shepherds' Conference, a gathering of thousands of pastors from around the world on March 3-5 on the GCC campus.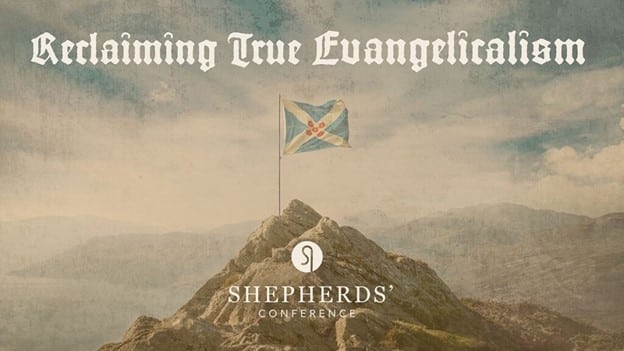 This email announced to current seminary students that they'd spend two Thursdays in February rehearsing for the "Shepherds' Conference choir."
Enrolled TMS students have traditionally been required to attend the conference and participate in the choir. An email sent from the student services coordinator to all students and leaders stated, "All on-campus TMS students will be rehearsing for the upcoming 2021 Shepherds' Conference choir."
On January 30, this email was followed up with another message from the student services coordinator, apparently in response to backlash from the first correspondence. This email stated that involvement in the Shepherds' Conference choir is voluntary.

Despite this subsequent email being labeled as a "clarification," it is far from clear in the first correspondence that choir participation was anything but mandatory. Even so, I doubt students will dare to miss rehearsals or the Shepherds' Conference itself. Considering the climate of fear, intimidation and bullying I faced for merely following institutional and governmental health mandates, it seems unlikely.
With January being the deadliest month for COVID-19, the decision to assemble a choir twice in February is incomprehensible. This brings me to why I publicly shared my experience at TMS.
A comment left by the user "Rapid Roy" to the Jan. 6 Roys Report article summarizes my convictions well.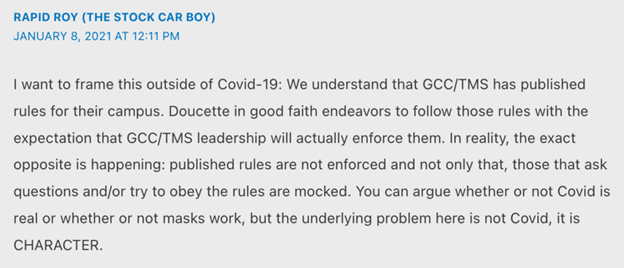 Although my story may appear shocking to some—being ridiculed for obeying health protocols and marginalized for my convictions—my desire was never to get an apology from TMS. I simply wanted to bring institutional issues to the school's awareness so they could repent.
As I relayed to Julie Roys, my experience with TMS Dean of Faculty Nathan Busenitz was indeed a positive one. When I shared my concerns in November, he was apologetic, sympathetic, and compassionate, especially regarding my personal experience with abusive TMS faculty members. He's aware there are significant issues at The Master's Seminary, but feels his hands are tied because of GCC Pastor John MacArthur's stance on COVID-19.
Even so, the bigger problem stands unanswered and unacknowledged. Institutional denial, deception, and dishonesty remain. As "Rapid Roy" stated, the underlying problem is character.
The Master's Seminary is wittingly subverting its own COVID-19 mandates. The school is absolutely conscious that authorities could legally shut them down for flagrant violations of Los Angeles Department of Public Health guidelines.
Ultimately, institutions are comprised of people, and people make mistakes. We all sin and fall short of God's glory. In this instance, the Seminary's administration has indeed fallen short by resisting governing authorities (cf. Rom. 13:1-7; Titus 3:1; 1 Peter 2:13).
Even if you believe a seminary is somehow protected by the First Amendment, TMS is actively violating its own established rules. Health mandates and guidelines were posted on TMS' website and emailed to students, yet disobeyed and ridiculed by faculty members.
How is this in accord with Biblical precepts of honesty, integrity, and truth (Proverbs 11:3; 1 Peter 3:10-12; Colossians 3:9, et. al.)?
Yes, we all sin. But what does it say about a Christian institution when it refuses to acknowledge missteps, doesn't repent from wrongs, and buries its head into the sands of obduracy?
TMS has been aware of its institutional inconsistency for months. Although the school continues to deny COVID, TMS has never once denied the validity of my concerns.
Yet there's no accountability, no repentance, no reform.
Is there still time for the Seminary to change? Yes, of course! God is gracious.
But one student has already died from COVID-19 and others are presumably sick. So what will it take? When will those who have been misled receive an apology?
The road to repentance certainly doesn't involve hosting a potential super-spreader event like the Shepherds' Conference on campus.
While some students have reached out acknowledging the validity of my grievances, others have stated that I'm attacking the church and seminary and suggested praying for my salvation. Apparently, salvation is now faith plus unquestioning loyalty to Grace Community Church. This is the insanity perpetuated by the actions of recalcitrant and unrepentant leaders.
On The Master's Seminary's private Yammer social media page, one student comments on my choice to go public with my story. This post was "liked" by several other current students.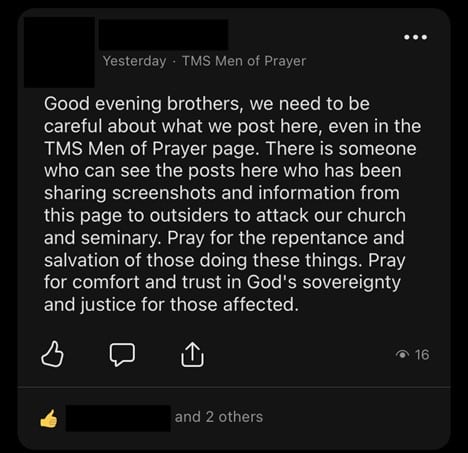 I await an official statement from The Master's Seminary. I also pray for the health of all my former classmates. May God protect them.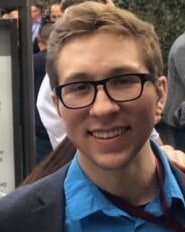 Austin Doucette works as a Student Ministries leader at Cornerstone Moorpark in California. He graduated from The Master's University with a bachelor's degree in biblical studies. He also was an M.Div. Student at The Master's Seminary but is continuing his studies elsewhere.