Matt Chandler's megachurch says the embattled pastor is making "consistent and positive" progress following confessed misconduct and it anticipates he will return to the pulpit "soon."
In an email yesterday, elders at The Village Church in Flower Mound, Texas, wrote that Chandler has "diligently followed" a plan by elders for his "discipline and development."
They added, "Matt has engaged the plan in earnest and with humility, completing what was asked of him and engaging with the elders along the way. In light of this, we are presently formulating a process for his return to the pulpit, which includes the assessment of his readiness as well as the readiness of church and staff. We anticipate his return to be soon, but we are not ready to announce a date just yet given the reasons mentioned above."
In August, Chandler tearfully confessed to his congregation that he had been engaged in an inappropriate online relationship with a woman other than his wife.
The Village Church, where Chandler has pastored for 20 years, announced at that time that Chandler would take a leave absence from teaching and preaching "to focus on growing greater awareness" about "unhealth in his life."
Give a gift of $25 or more to The Roys Report this month, and you will receive a copy of "I Can't Hear God Anymore: Life in A Dallas Cult" by Wendy Duncan. To donate, click here.

Acts 29, a church planting network where Chandler serves as president, likewise stated that Chandler would "step aside" from speaking engagements.
Last week, Chandler signaled his imminent return to ministry, stating in an Instagram post that he was "eager to return to @tvcfm soon" and to serve another "15-20 years."
The post evoked both encouragement and concern.
Some expressed how "needed" Chandler's ministry is. Others noted that details about Chandler's inappropriate relationship remain vague and warned of a "hasty" return.
On Twitter, one person noted that despite his announced leave of absence, Chandler appeared at an Acts 29 gala in early October and apparently addressed the group from stage.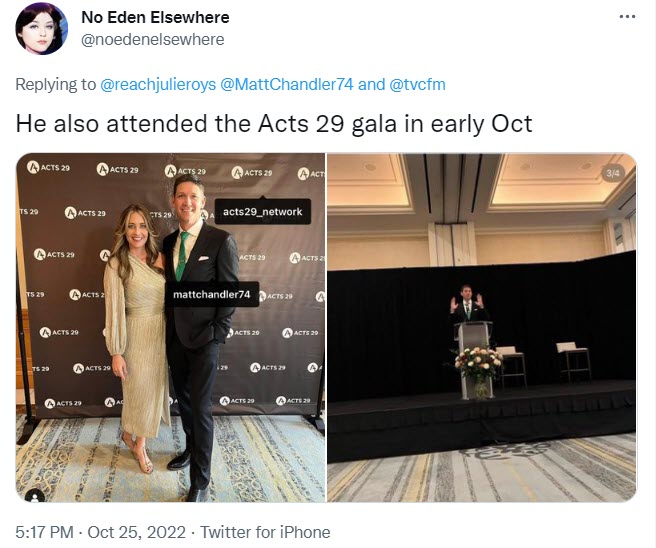 The Roys Report reached out to Acts 29 last week for comment, but the group did not respond.