Andy Ngo, antifa critic and conservative media personality, has been removed as a speaker at the influential Q Ideas evangelical Christian conference.
Ngo, a "gonzo independent journalist" known for posting videos of clashes between left-wing and right-wing activists in Portland, had struck some commentators as an odd fit for the annual TED-style event, described as a "culture summit" for Christian influencers. Since his appearance was announced last week, conference organizers have received pushback on social media.
Ngo was a disciple of James O'Keefe, the founder of Project Veritas, a rightwing activist group. Ngo's critics contend he has dishonestly portrayed his interactions with antifa, inflating the danger they pose, and intentionally provoked arguments with them. He left his position as an editor at Quillete after video surfaced of him seeming to laugh along with members of the far-right group Patriot Prayer.
Supporters once raised nearly $195,000 for Ngo on GoFundMe after a video was posted on Twitter showing him being punched and "doused with a milkshake and silly string" by protesters, according to Rolling Stone.
In a promotional email sent out by organizers, Ngo was originally listed among the speakers for the Q Ideas event scheduled for April 22 and 23rd in Nashville.  The talks focus on what the Q Ideas site describes as 7 channels of culture: church, business, education, social sector, arts and entertainment, the government and media.
Give a gift of $30 or more to The Roys Report this month, and you will receive a copy of "Jesus v. Evangelicals: A Biblical Critique of a Wayward Movement" by Constantine Campbell. To donate, click here.

Among the other speakers at the event are megachurch pastors Matt Chandler and David Platt, Tyler Burns of The Witness, speaker and author Hosanna Wong, and John Lennox, a Christian apologist and professor of mathematics at Oxford University.
In a statement to media, Q Ideas said organizers viewed Ngo as a conservative journalist and antifa expert and asked him to give a talk entitled "What is Fascism?"
"Also, his New York Times bestselling book, Unmasked — writing on this very peculiar subject of understanding Antifa — made him someone of note who had a perspective on this group and its motivation and ideology," the group said.
The statement also explained that organizers had planned to invite an expert on "Alt-right motivations and tactics" so the conversation would focus on two extremes. No such expert appeared on the list of speakers distributed by organizers.
"However, after more consideration, we've decided not to include this discussion as part of our program this year," the statement explained.
Christian rapper and spoken word artist, Jason "Propaganda" Petty, who has spoken at the summit in the past and described Lyons as a friend and Q Ideas as a "last reasonable voice in evangelicalism," told RNS in an email that he had reached out to Lyons to discourage him from hosting Ngo.
"A healthy culture needs to hear a variety of ideas, however this dude is, in my opinion trolling the right wing of our country then hitting them in their wallets," he said.
Ngo has not responded to a request for comment. Fox News reported on Monday that the author had left the country earlier this year. 
"It was just not safe anymore for me. I had already been on borrowed time," he told Fox.
The Q Ideas summits have been held annually for the past 15 years. They feature short talks — between 3 and 18 minutes — on a variety of topics. Tickets for the event range from $99 for a digital pass to $375 for in-person.
In a promotional video on the Q Ideas website, Gabe Lyons, who co-founded the series with his wife, Rebekah, called this year's event "more important than ever."    
"We all understand that there's a lot of disunity, there's a lot of isolation, there's so much confusion," he said. "But we come together, we commit two days of our time when we invite God in and say God, will you help us to see the world the way you see it? And I believe we have an opportunity for an incredible movement to happen."
Lyons sparked controversy when he hosted a pair of conversations with chiropractor Joshua Axe, one at last year's virtual conference. Axe blamed the media for promoting fear about COVID-19 and told people to have faith and follow the Bible's teaching on health as well as use natural forms of medicine.
"A vaccine — again, that's not the ultimate solution," said Axe, who had downplayed the danger of COVID-19 in an earlier conversation with Lyons. "The ultimate solution is God, and also, secondarily, supporting this body God has given us, strengthening our immune system so we can fight off not only this virus, but every virus we're exposed to in the future."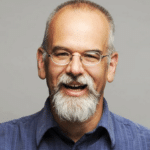 Bob Smietana is a national reporter for Religion News Service.