Dear John MacArthur,
I recently read your open letter to California Governor Gavin Newsom, excoriating him for his upside-down morality and failure to protect the vulnerable.
I resonate with much of what you wrote. As you rightly state, Scripture teaches the "chief duty" of civic leaders is "to reward those who do well and punish evildoers." And I agree that Governor Newsom has not only failed in this regard but has routinely turned this duty "on its head, rewarding evildoers and punishing the righteous."
I also share your outrage that Newsom twisted the words of Jesus from Mark 12:31 in a campaign to support abortion. Civic leaders should be protecting the unborn, but Newsom has promoted their slaughter and blasphemed God in the process.
Yet, I am stunned to read these words from you—someone who has likewise failed to protect the most vulnerable and has instead protected those who have harmed them. And you are not a civic leader; you are a pastor, and biblically held to a higher standard.
Give a gift of $30 or more to The Roys Report this month, and you will receive a copy of "Pivot: The Priorities, Practices, and Powers That Can Transform Your Church into a Tov Culture" by Scot McKnight and Laura Barringer. To donate, click here.
You sided with child-abuser David Gray when his wife brought allegations against him. And even after Gray was convicted of sexually abusing his children, your church supported his in-prison "ministry." An endorsement, reportedly by you, appeared in Gray's newsletter in 2012, which you have never refuted.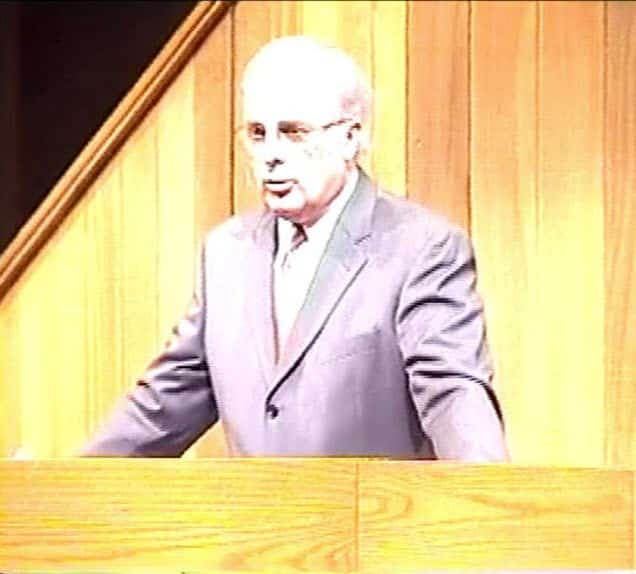 Meanwhile, you punished Gray's wife, Eileen, excommunicating and publicly shaming her for refusing your unholy pressure to allow David back into the family's home.
Many have sought to defend you, saying you were ignorant of David Gray's abuse, but that seems impossible.
David Gray confessed he abused his kids in counseling with Carey Hardy, an elder at Grace Community Church (GCC), prior to Eileen's 2002 excommunication. Gray even handed Hardy a hand-written "list of sins" during counseling and admitted he used a "belt & rod way too harshly—brutally" on a child; "tied up" and "locked up" the child; and was not always "adequately dressed" in the child's presence.
Plus, Hardy confirms in a declaration given to a Los Angeles court that  the church knew about Eileen's allegations of abuse and the restraining order she'd obtained for her and her children's protection.
Yet, you and the other GCC elders urged Eileen in multiple letters to remove the restraining order. And Hardy told Eileen in counseling to "submit to (David Gray), even in spite of his admitted abuse of her and their children," according to a court declaration supplied by an outside pastor.
What you did to Eileen Gray and her children was despicable.
And yet, you have not repented of any of it—nor apologized to Eileen for the irreparable harm you caused her and her family.
How can you possibly stand in judgment of Gavin Newsom or anyone else for a "war on children" when you punished a mother for refusing to allow an abuser back into her home?
There may be a war on children being perpetrated by those outside the church. But there's also a war being perpetrated by those inside the church. And sadly, you have enabled it.
Before pointing a finger at others, you would do well to examine yourself. As Romans 2 states, "You have no excuse, you who pass judgment on someone else, for at whatever point you judge another, you are condemning yourself, because you who pass judgment do the same things."
But there's more than the David Gray debacle.
According to an eyewitness, Guay confessed to you that he had sexually abused his own daughter, Wendy Guay.
I have published documents supporting this allegation, including a handwritten letter by you to Wendy in which you state that you and Paul Guay "talked at length about the situation"; you urge Wendy to forgive her father; and you confirm that Paul Guay will remain "a faithful part of our staff."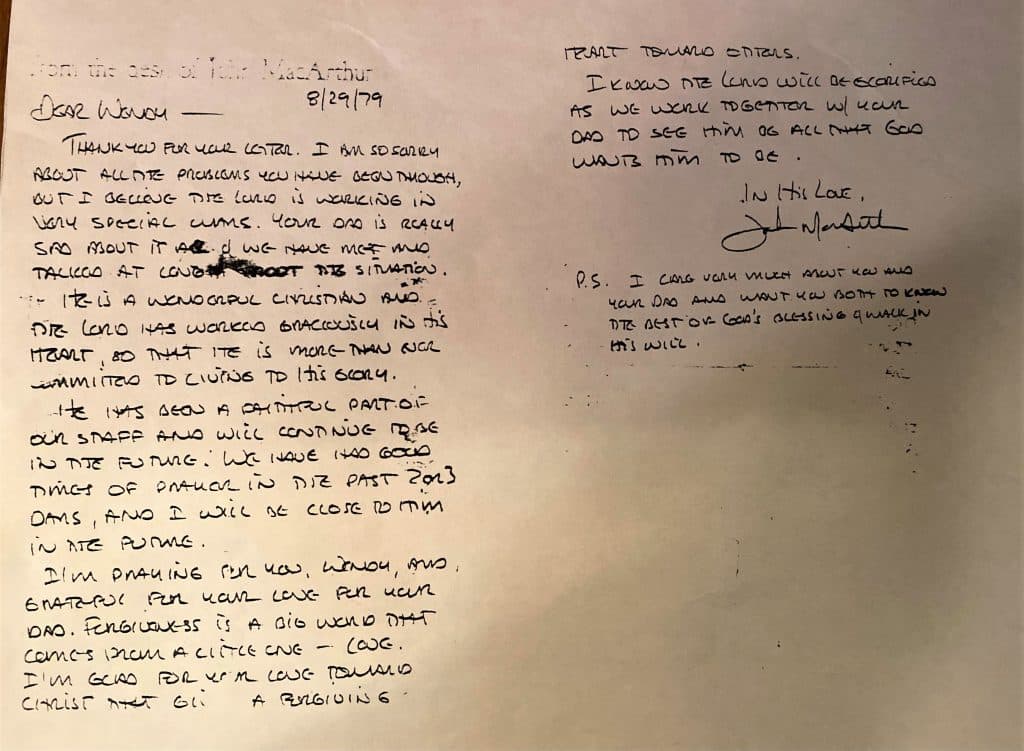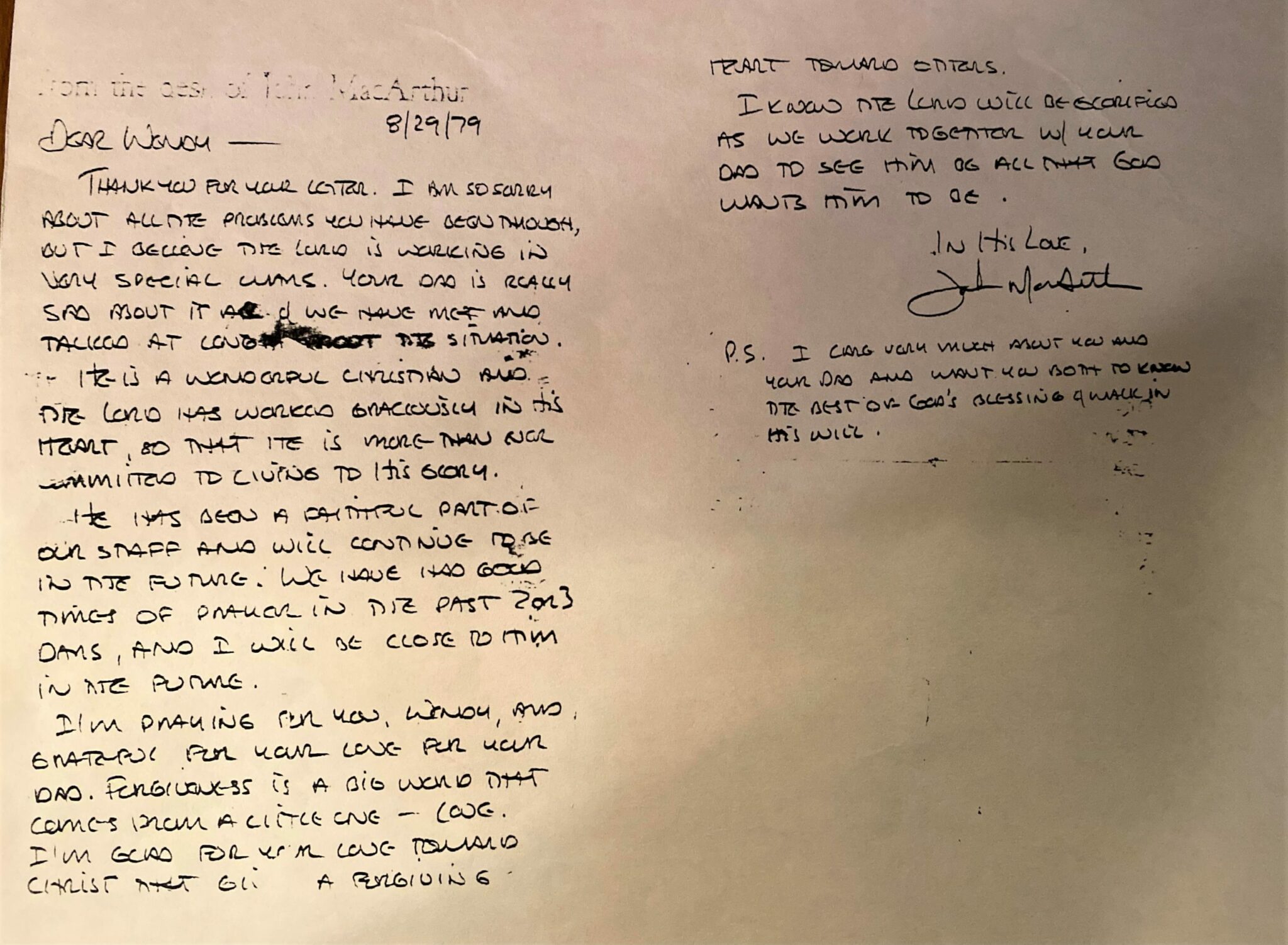 For three years after his reported confession, Paul Guay remained a pastor at GCC.
And decades later, when Wendy asked you for help exposing her father to the church he was pastoring, you responded in an email: "I'm not sure why all this has become an obsession for you after so many years, but neither myself nor anyone at Grace can do anything more than encourage you that we conducted ourselves with biblical integrity."
As a shepherd, your job was to protect the sheep. But you allowed a wolf into the pen and ignored the bleating of the most vulnerable. Your cruel and dismissive response devastated Wendy Guay—and permitted her pedophile father to continue pastoring for another nine years.
Paul Guay's church, which failed to remove Guay after Wendy and other victims reported his abuse, has since repented of their abysmal response. But you have failed to even acknowledge the part you played, let alone repent.
What's worse, you claimed you were being persecuted, and had the gall to suggest God would judge your accusers.
"Never take your own revenge, beloved," you stated from your bully pulpit shortly after I published Wendy's story. "(B)ut leave room for the wrath of God, for it is written, 'Vengeance is mine. I will repay, says the Lord.'" 
John MacArthur, you have publicly called Governor Newsom to repent. But you've seemingly ignored a long list of your own transgressions.
Besides how you treated Eileen Gray and Wendy Guay, you have:
Defended slavery, stating that "it's a little strange that we have such an aversion to slavery" and adding that "working for a gentle, caring, loving master was the best of all possible worlds. If you had the right master, everything was taken care of."
Told Beth Moore to "go home." Such condescending behavior towards another person is never justified, regardless of theological differences.
Inflated your credentials. You do not have an earned doctorate, so using the title on a ministry website is deceptive.
Embellished a story about your involvement with Black leaders when Martin Luther King, Jr., was assassinated. There are key differences between the story you've repeatedly told and the story told by eyewitnesses. This isn't "misremembering"; it's misrepresenting.
Enriched yourself with ministry dollars. You took at least three ministry salaries from 2005 to 2015. I don't know how much you earned for pastoring GCC during that time. But I know that in addition to your church salary, you earned $3.2 million during those years. Now, your ministries keep all your salaries secret. If your salaries are justified, then why not fully disclose them?
Accused me of publishing "falsehoods" about the December 2020 COVID outbreak at GCC when you were the one who failed to reveal the truth and warn your congregation. My reporting was accurate. Congregants died. And you were absent from your pulpit during that time because you had COVID, not merely because you needed "rest."
In addition to these transgressions of your own, you've overlooked and tacitly supported the bullying behavior of GCC elder and Grace to You Executive Director Phil Johnson.
His twitter account is a steady stream of insults and condescension that in no way reflects the fruit of the Spirit. But his decision last year to dox me and then defend his behavior truly crossed a line. Yet you said nothing.
You also are platforming John Street, head of the graduate counseling program at The Master's University, who instructs Christian wives to endure abuse by their husbands as a missionary endures persecution.
Because of this teaching, countless women and children have been put in harm's way. Yet, the teaching remains online—even after I and others called it out.
You wrote to Governor Newsom that his soul "lies in grave eternal peril." But have you considered the peril facing yours? You, too, have allowed the people entrusted to your care to be harmed. And you, too, will give an account to God.
John MacArthur, you have preached the Word of God—and for that, you should be commended. Yet, Scripture says that even if we speak with the "tongues of men and of angels, but have not love, we are a ringing gong or a clanging cymbal." (1 Cor. 13:1)
Similarly, Jesus warned that in heaven, "many will say to me, 'Lord, Lord, did we not prophesy in your name, and cast out demons in your name, and do many mighty works in your name?' And I will declare to them, 'I never knew you; depart from me, you evildoers.'" (Matt. 7:21-23)
I do not presume to know the condition of your soul. But I do know that you have grievously wronged people I have grown to care for deeply. And I pray—for your sake and for the sake of the many wounded souls I have interviewed—that you change course and make things right.
May God have mercy on all of us.
For His glory,
Julie Roys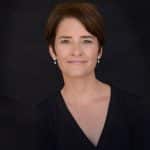 Julie Roys is a veteran investigative reporter and founder of The Roys Report. Before that, she hosted a national talk show on the Moody Radio Network, called Up for Debate. She's also worked as a TV reporter for a CBS affiliate, a newswriter for WGN-TV and Fox News Chicago, and has published articles in numerous periodicals.