On Jan. 7, 1951, Rev. Vernon Lyons led the first service at Ashburn Baptist Church, an independent, fundamentalist congregation on Chicago's southwest side that would birth a sister congregation in Orland Park in 1988.
In the 1980s, Ashburn's Easter services attracted more than 1,500 souls. By the 1990s, members of the two churches were tithing more than $1 million a year, with as much as 10% going to support foreign missionaries. Ashburn also helped launch 36 additional churches.
By 2018, more than 400 people were still attending the sister churches, but the church had plateaued, with no new growth. That's when Lyons, then 90, and his congregation invited a younger pastor, Tommy Thompson, to succeed him.
"I was getting old, and losing my vigor," Lyons concluded at the time.
Pastoral transitions can be difficult. But the process at Ashburn has devolved into a war of conflicting claims that's decimating the church. And tonight, Lyons will face a congregational vote on his excommunication from the church he led for 70 years.
Give a gift of $30 or more to The Roys Report this month, and you will receive a copy of "Wounded Faith," edited by Rev. Dr. Neil Damgaard. To donate, click here.
"You could say I'm grieved," Lyons said in a tearful Monday phone interview. But Lyons says his goal isn't reinstating himself in leadership. He says he merely wants to keep the church he founded alive.
Troubled transition
"The Rev. Vernon Lyons wants to make one thing clear: He's not retiring," he said a 2019 article in The Orland Park Prairie news. "After 68 years at the helm of Orland's Ashburn Baptist Church, Lyons is relinquishing his title and taking up a new one as assistant pastor."
But Thompson offered a different version of events. He says the two never agreed that Lyons would stay on staff as an assistant pastor, but instead would retire and become pastor emeritus. Yet when Thompson offered Lyons the emeritus position, Lyons refused.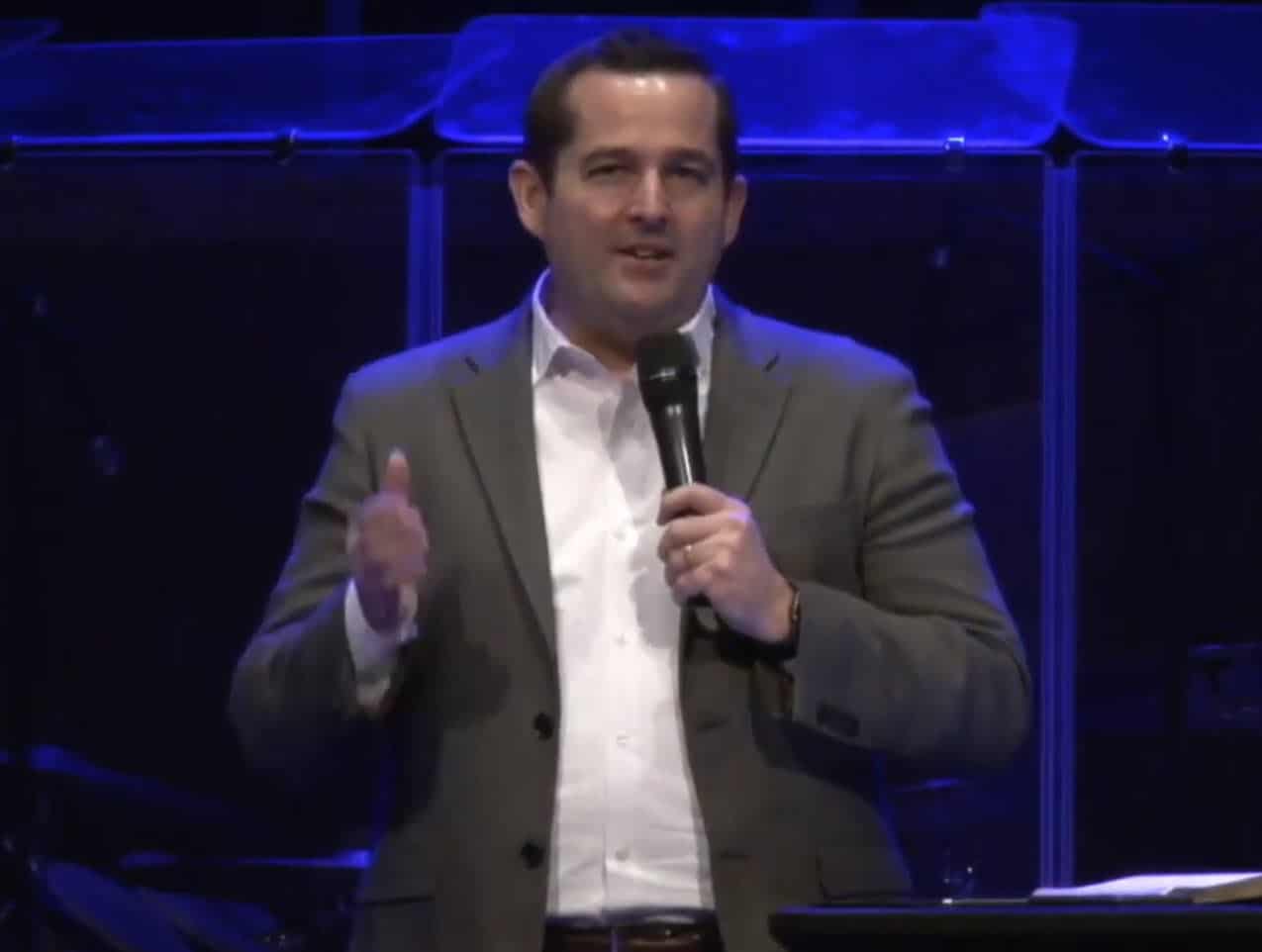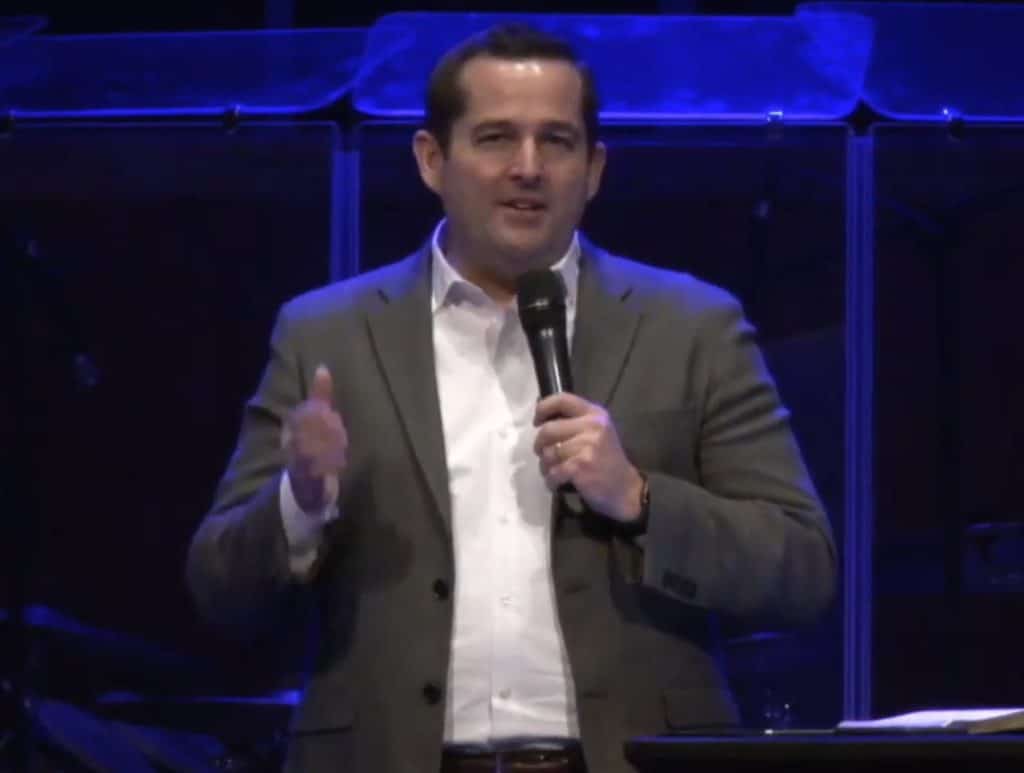 In a Facebook post in March 2020, Vernon Lyons claimed that he was "fired and given two weeks to vacate his study in the church, with its thousands of books, and turn in his keys."
Lyons says Thompson fired him without the required congregational vote. But Thomson told Lyons in a letter that this was a "false charge," adding:
"These actions, and your refusal to accept the role of Pastor Emeritus are accepted by the deacons and myself as a resignation….What I don't understand, is why you would purposefully make a decision that you knew would hurt the church of God, you spent your entire life leading."
Exacerbating matters, Thompson removed Lyons' son, Sam Lyons, who had served as an associate pastor at Ashburn for nearly 45 years. According to Thompson—and a written confession by Sam Lyons—Sam was involved in an inappropriate relationship with a female member of the church, "which was not adulterous but was so wrong."
Yet Sam now says he felt "under pressure" to make the statement and that the relationship was never romantic.
Thompson claims the departure of Sam Lyons is part of the "much deeper story" of problems he has uncovered at Ashburn under the senior Rev. Lyons. "There is behavior that our leadership has tried to hold him accountable for, and instead, he continues to lash out, and continues to recruit people to attack us."
Among the behavioral problems Thompson cited was a scandal involving Lyons's other son, Charles, who pastored another congregation, Armitage Baptist Church. In 2019, the 68-year-old Charles resigned from Armitage, which he had led for 45 years, after confessing to sexually abusing a family member when he was a teenager. 
Vernon Lyons still attends the church when he's not guest preaching at other churches, but his continued presence generated the excommunication charge, and Wednesday's 8:00 p.m. meeting, which will follow a 7:00 p.m. service.
"The pace of excommunication has accelerated tremendously"
Like many independent, fundamentalist churches, Ashburn Baptist Church has long practiced excommunication of members who fail to meet the expectations of its church covenant. According to letters provided to The Roys Report ranging from 2007—2013, members have been excommunicated for "failing to tithe," "filing for divorce," and "failure to attend the regular services of the church."
David Montoya, a former Ashburn member, contends that under Lyons, offenders had a chance to defend themselves before congregants voted anonymously on each case. But under Thompson, Montoya said, "The pace of excommunication has accelerated tremendously."
Montoya left the church in June 2020, after he and five other members were charged with sowing division. Montoya said the congregation initially voted not to excommunicate him and the others. But he said Thompson recharged the group four months later, and by that time, most of those charged had moved on to other churches.
Montoya describes the heartbreak members are experiencing, but says that as a former  Mormon who was baptized at Ashburn in 2015, his decision to leave the church was a "cake walk."
"When things got abusive, I had already walked down this road before in leaving the Mormon church," he said.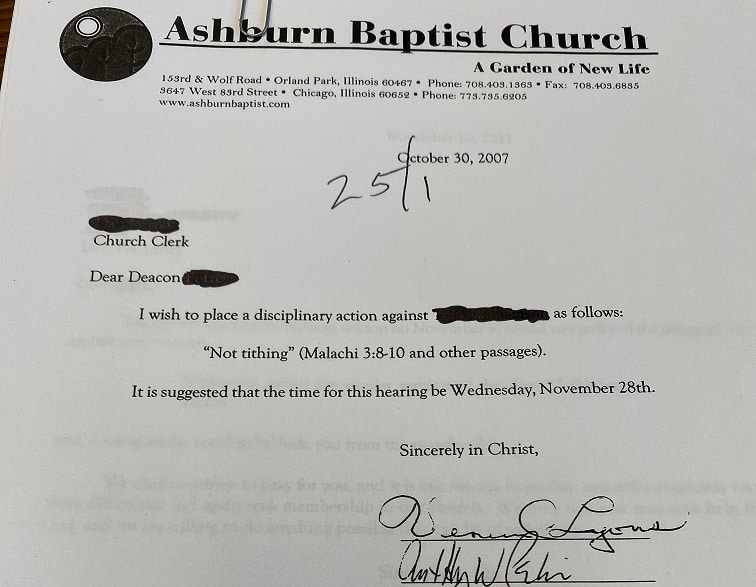 When asked about the recent excommunications, Thompson alleged that over the years, Lyons has "weaponized the church covenant" to excommunicate those he didn't like. When asked if Thompson is doing the same thing, Thompson replied, "Scripture says you live by the sword, you die by the sword. . . . I'm not doing anything that hasn't been done for 70 years."
The church's implosion has been brutal for everyone involved.
Lyons said he's seen beloved, long-time members depart "to the four corners of the compass." He has watched the church decline over the last two years. He saw the church cut off support for a missionary in Israel Ashburn had supported for a decade. In at least one case, police were called to the church to settle a dispute between members.
"Since (Thompson) has come on, we've had a frightful exodus," said Lyons, who declined to indicate what he would say when he speaks at tonight's meeting on his excommunication. "Things have been roughly cut in half. Sunday morning is like a ghost town. It's a great grief, but the church is what's crucial, not me."
Thompson, on the other hand, said he's simply defending the church from Lyons's assaults. He added that the founding pastor has been involved in "two years of antagonism and division, and those within our church are very aware of it."
UPDATE: Ashburn Baptist voted to excommunicate Vernon Lyons by a vote of 46-9 on Wednesday night. Votes were cast anonymously.