An elderly man who attended John MacArthur's Shepherds' Conference earlier this month has passed away due to a"highly suspected case" of coronavirus, according to multiple Facebook posts. Yet someone who attended the conference, which gathered about 5,000 people at Grace Community Church in Sun Valley, California, says attendees still have not been informed of their possible exposure to the virus. And Phil Johnson, executive director of Grace to You and one of the speakers at the conference, has deleted his Facebook post about the man's death.
On Thursday evening, Johnson posted about the death of Alexey I. Kolomiytsev, pastor emeritus of Word of Grace Bible Church, an evangelical, Russian-American church in Battle Ground, Washington. (Kolomiytsev's son, Alexey A. Kolomiytsev, is the current pastor of Word of Grace Bible Church.)
Johnson wrote: "Alexey Kolomiytsev and his father were at the Shepherds' Conference two weeks ago, and shortly after returning home, Alexey's dad tested positive with the Wuhan virus. Alexy (sic) writes: 'Our dad has gone to heaven . . .' Nothing is known about the funeral yet. We will let you know as soon as it is clear."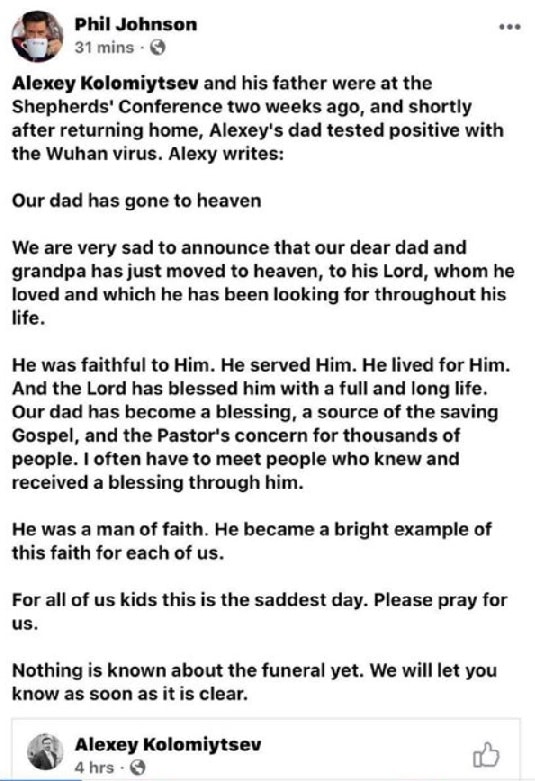 Soon after Johnson posted, several people who had attended the conference on March 4-6 began asking why the Shepherds' conference had not notified attenders about their possible exposure to the virus. Simo Jovovic, an Australian who told me that he had traveled to California to attend the conference, posted, "With 5,000 men there in attendance, it's only reasonable for ShepCon to make an announcement of possible exposure."
I corresponded with Jovovic and he confirmed seeing Johnson's post on Thursday evening. Jovovic added that as of 1 a.m. Central Time Saturday morning, he still had not heard anything from the Shepherds' Conference.
Give a gift of $25 or more to The Roys Report this month, and you will receive a copy of "I Can't Hear God Anymore: Life in A Dallas Cult" by Wendy Duncan. To donate, click here.

I reached out to Phil Johnson, asking him why he had deleted his post, but he did not respond. (see update) I also reached out to John MacArthur, pastor of Grace Community Church, asking him why the conference had not notified attenders that they may have been exposed to coronavirus, and also inquiring about whether the church had notified government authorities. To date, MacArthur has not responded.
I also checked the Facebook page for  the Shepherds' Conference and it has no mention of Kolomiytsev's death or of conference attenders' possible exposure to coronavirus.
I contacted the health department in Los Angeles County, where Grace Community Church is located, and asked if anyone from the church had contacted them, but have not yet heard back. I also reached out to the health department and sheriff's office in Clark County, Washington, where the deceased pastor lived, but have not heard back from them either.
I  reached out to Alexey A. Kolomiytsev, seeking confirmation of the details posted to Facebook, but he has not responded. However, the family has multiple posts on Facebook concerning the elder Kolomiytsev's death. One mentions that Kolomiytsev was a "highly suspected case of coronavirus," but says the family is still awaiting results.
Lance M. Roberts, a missionary sent by Grace Community Church to the Czech Republic, also posted to Facebook about Kolomiytsev's death and confirmed that both the younger and older Kolomiytsev were at the conference. "Please pray for my friend Alexey," Roberts wrote. "He just lost his father to the coronavirus. His dad attended Shepherd's (sic) Conference with him where I was two weeks ago and upon returning home fell ill with the virus."
Roberts has since deleted his Facebook comment. I reached out to him to ask why, but he did not respond.
I will continue to monitor this situation and post updates as they become available.
UPDATE: Phil Johnson has since responded and said he deleted his Facebook post because someone close to the family told him that the cause of Kolomiytsev's death has not been determined. According to a post by a family member, Kolomiytsev was a "highly suspected case" of COVID-19, but not confirmed. The copy has been revised to reflect this information.
UPDATE 2: The Shepherds' Conference today posted an update online, which informs attenders that a 90-year-old man who attended the conference passed away. It adds, "There are posts online that he passed away from the coronavirus, but the physicians who treated him have not confirmed that information at this time." To read the full update, click here.
UPDATE 3: The Shepherds' Conference just posted another update, confirming that Kolomiytsev died from COVID-19.