From the fall of 2012 through 2015, imprisoned Iranian-American Pastor Saeed Abedini and his wife, Naghmeh, were the public face of persecuted Christians. As part of a global #SaveSaeed campaign, millions of dollars were raised, and Saeed was freed from prison in January 2016.
Yet when Naghmeh revealed that she'd been abused by her husband, she went from being the darling of the Christian community to an outcast. She says prominent figures Franklin Graham and Jay Sekulow, who had long supported her, began pressuring Naghmeh to make the accusations go away.
In this eye-opening episode of The Roys Report, Naghmeh tells how Pastor Saeed, trained by Hezbollah, nearly beat her to death. She also reveals how Saeed consistently abused her emotionally and spiritually—even from an Iranian prison. 
Naghmeh also tells how Christian leaders backed her when her story was building their platforms. But when her truth-telling destroyed Saeed's heroic image and #SaveSaeed's fund-raising potential, Naghmeh says those leaders' disposition towards her changed dramatically. 
This is part one of a two-part podcast series in which you'll hear exclusive audio from a meeting Naghmeh had with Franklin Graham, as well as revealing emails between her and Graham.
This is a sobering story. Yet Naghmeh Panahi shares details of her difficult experience because she's appalled at how the Christian community continues to treat abuse victims. She hopes that when others learn about what happened to her, they'll lobby for change.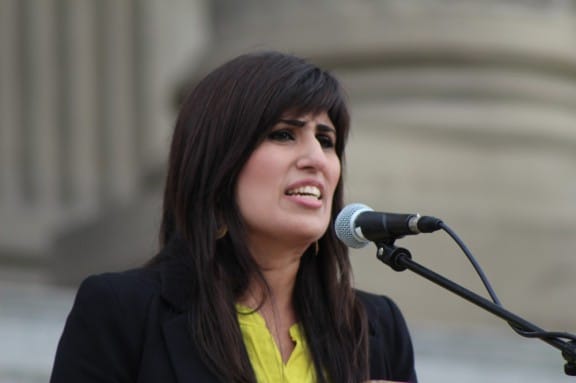 Naghmeh Abedini Panahi made national news in 2012 when she publicly advocated for the release of her then husband, Saeed Abedini, who was imprisoned in Iran for his Christian faith. Through Saeed's imprisonment Naghmeh was not only able to bring worldwide attention to the plight of the persecuted Christians, but she was also able to proclaim the Gospel to millions of people worldwide by speaking to governments, human rights groups, and major news outlets. When it came to light in 2015 that Naghmeh had been abused throughout her marriage by her "hero" husband, the Christian community turned on her. Though Naghmeh was judged, abandoned, and rejected by the Christian community, she trusted in Jesus to be her defense and to fight her battles. Naghmeh's story is a story of God's amazing rescue and restoration.
SPEAKERS
JULIE ROYS, NAGHMEH PANAHI, FRANKLIN GRAHAM
JULIE ROYS
From the fall of 2012 through most of 2015, Pastor Saeed Abedini and his wife, Naghmeh, were the public face of persecuted Christians. Yet in November 2015, that all changed. In a leaked email, Naghmeh told supporters that she'd been abused by her husband. And suddenly, she went from being the darling of the Christian community to an outcast. And she says those, like Franklin Graham and Jay Sekulow, who had long supported her, began pressuring her to make the accusations go away.
Welcome to The Roys Report—a podcast dedicated to reporting the truth and restoring the church. I'm Julie Roys.
And joining me today with her truly stunning story of being abused by her husband—and then shunned by the Christian community when she spoke of that abuse—is Naghmeh Panahi.
Naghmeh is the former wife of Pastor Saeed Abedini. And as you probably remember, Pastor Saeed made international news in 2012 when he was sentenced to 8 years in prison in Iran for evangelizing. And over the next three years, Naghmeh, became a well-known advocate for Saeed.
But as she'll explain, behind that advocacy was a secret history of physical, sexual, and emotional abuse. Yet, when Naghmeh opened up about that abuse, she didn't receive empathy and support from the Christian community. Instead, she says she received scorn.
And for the first time, she's released emails from Christian leaders like Franklin Graham, showing how she was treated. She's also released audio from a meeting that she had with Franklin Graham in 2016. All of this, I think you'll find extremely eye-opening.
But before we begin our discussion, I'd like to thank the sponsors of this podcast—Judson University and Marquardt of Barrington.
Judson is a top-ranked Christian University providing a caring community and an excellent college experience. Plus, the school offers more than 60 majors, great leadership opportunities, and strong financial aid. Judson University is "Shaping Lives that Shape the World." For more information, just go to JudsonU.edu.
Also, if you're looking for a quality new or used car, I highly recommend my friends at Marquardt of Barrington. Marquardt is a Buick GMC dealership where you can expect honesty, integrity, and transparency. That's because the owners there—Dan and Kurt Marquardt—are men of character. To check them out, just go to BuyACar123.com.
Again, joining me today is Naghmeh Pawn-uh-hee. As I've stated, she's the former wife of Iranian-American pastor, Saeed Abedini. She's also an abuse survivor whose story not only sheds light on the confusion surrounding abuse. It also shows how abysmally the Christian community responds to abused wives—especially if their husbands are Christian leaders. So Naghmeh, welcome. It's truly an honor to have you join me
NAGHMEH PANAHI
Thanks for having me. Appreciate it.
JULIE ROYS
Well, Naghmeh I know that you've been on an incredibly difficult and painful journey. Yet in many ways, you've been vindicated. Many of the allegations that you leveled against Saeed, back in 2015, have been affirmed by the courts. And it's my understanding, you have full custody of your children. And even right now, there's a warrant out for Saeed's arrest in Idaho. Is that correct?
NAGHMEH PANAHI
Yeah, I have been vindicated. Everything I said about the abuse, and the danger that the kids and I were under came to light. And I was awarded full custody of the kids thankfully.
JULIE ROYS
And the warrant out for Saeed's arrest? He didn't show up to court, is that right? And so, if he steps foot in Idaho, he could be arrested?
NAGHMEH PANAHI
Yes, he has a warrant out for his arrest in Idaho. And he hasn't been in Idaho since March of 2018.
JULIE ROYS
So, you're not speaking to me today because you have something to prove about Saeed or about the allegations that you leveled against him. Instead, you're speaking to me because of the experience that you recently had, when you posted an article that I published about Ben Courson. And for those of you who don't know, Ben is a megachurch pastor from Oregon who has been accused of sexual misconduct and abuse. And Naghmeh, you simply posted about how this story hits close to home for you, and you urged the church to deal with Ben and Ben's sin in a biblical manner. Would you tell me what the response was to that? And how that prompted you to do what you're doing today?
NAGHMEH PANAHI
Yeah, I've read some of your articles. But this one about Ben Courson really hit close to home because he was a really big name in the Calvary Chapel circles. When I shared there was a lot of backlash, again, to be silent, you're damaging the cause of Christ, you're causing division, the outside world's going to look at this and laugh at us. Why are you doing this? Why are you doing this publicly? Even though Ben had admitted to the sexual misconduct/abuse. And I prayed a great deal about it and almost went silent again, and then I prayed about it. And I thought, you know, no, I'm going to speak and I'm going to speak things I've never spoken before. It actually emboldened me. And I went back to six years ago when there was all those voices, and I felt so ashamed. And I didn't want to damage the cause of Christ, I was being bullied into silence. And I did go silent for a season. And this time, I said, you know what, no, my battle is done. My kids are safe, I am safe. I've been vindicated about his abuse, physical, emotional, spiritual, psychological, his adultery, his porn, and everything has been vindicated. So, it's not about me, it's been six years. It's about the many, many women especially in children. And you know, at times men that are not believed when they come out and speak out about abuse in the church or abuse in their household. And your article on Ben Courson is what motivated me to not be silent anymore.
JULIE ROYS
Well, I'm so glad we published that because I think your story, not just Ben's story, but your story is so unbelievably powerful. And I had no idea. Like you said, you're speaking out for the first time about the extent of the abuse. But I do think one of the things about your story that was puzzling, you didn't see what he was doing to you, even though as you'll explain, as we go through your story, you are beat to a pulp terrified for your life at times. Yet you didn't see this as abuse. Would you explain why that is coming from your particular cultural context and even the Christian context that says, wives, just take it and love your husband and God will change him?
NAGHMEH PANAHI
There was so many factors that played into the fact that I didn't see it as abuse even when I was physically beaten to almost death. As you said, one of it is cultural. Women are not treated with a lot of dignity and respect in the Middle East. The culture I was raised in put in with the theology of the Proverbs 31. The wrong understanding of Proverbs 31, because the Proverbs 31 woman is a fearless woman who only fears the Lord. She does not bow down to abuse or corruption. But the wrong understanding of Proverbs 31 is really what helped the abuse to flourish. Also, my pastor, I mean, he knew Saeed was into porn. He knew Saeed was violent. And he didn't blink an eye. He just was very; he didn't really call it abuse. He didn't say you're an abused wife, you need to get out. Years later, I realized why because he was into the same things as my husband had been. He was an abusive pastor. So unfortunately, a culture of the church on my own Middle Eastern culture, I didn't see it as abuse, you know. I'm a selfish prideful person who can't handle much and I'm just you know; I just need to suck it up and be a good Christian wife.
JULIE ROYS
Wow. And your pastor Bob Caldwell, Calvary Chapel, Boise, Idaho, that's who you're talking about, he actually plays a role in your story. He does advocate for you, interestingly, later on when this comes out, and we'll get to that part of the story. So yes, he did do some good on your behalf. But exactly right, he did resign because he had an adulterous affair which he admitted to. I think to understand what happened to you, and the church's response to abuse, we first have to understand the abuse that you were under. Let's back up like 20 years, when you and Saeed first met. So, I understand that you had graduated from college, went back to Iran, because you wanted to reach people for the Lord. And so, you met him there, and would you just explain what your early relationship was like, your dating relationship? And just those first few years of marriage? Did you start to see kind of some of the seeds of what later became much more serious abuse?
NAGHMEH PANAHI
Yeah, actually, we just passed the 20th year anniversary of September 11. So, I went to Iran exactly 20 years ago, and September 11 played a big role. I was a very strong believer, conservative girl. And when President Bush spoke about terrorism and sending military in my mind, I was going to the Middle East to share the gospel to change the atmosphere. And in my mind, I thought that's the answer. It's not soldiers, its soldiers for Christ. About a year into it, I had five or six people who'd come to know the Lord, mainly family and cousins. And I ended up visiting a building church, Central Assemblies of God and in the middle of Teheran, the capital of Iran. And Saeed, I saw him he was praying for people, he was very charismatic, he would lay hands on people, they would fall, I'd never seen anything like that, never been part of a charismatic church or movement. And so, I thought, that's spiritual. That's amazing. Soon I got lured into a relationship with him. Because of the purity movement at that time, I had not dated anyone. I was very innocent, very naive. And early on, there was something in my spirit, the red flags that now I see was the Holy Spirit saying back off, he started putting me down he said, you're so dark, your dark hair is so ugly, or your eyebrows, you need to do surgery. Your eyes, you need to pull them up a little like push them up kind of your nose. He started tearing me apart. I was skinny, he called me fat. I was like a size four. And he picked apart my looks, my weight. And I didn't know that's abuse of tearing me down. So, I had lost confidence. At that time. I was a very confident girl. My dad was a businessman and had given me a lot of confidence in his businesses. He had me travel for him making deals with big companies. So, I was a very confident businesswoman making million dollar deals and working with my dad and my dad always praised me. And a lot of people think you end up in abuse because you kind of have a low self-esteem of yourself. And you come from poverty. No, I came from a well-off family. And so, I didn't realize what Saeed was doing was breaking me down so he could control me. So, one thing that kept happening in our courtship was him putting me down and I started believing it. I started wanting to hide my face and piling on makeup and thinking I'm so ugly, I just need to cover up, because you want to please your future spouse. The other thing he did, he started questioning my relationship with my parents, my friends. He would say, oh, I see spiritual problems in your sister. Oh, your brother has this. So, I started believing him because he was this charismatic leader. And I believed everything he said, and so he started isolating me where I didn't trust anyone around me but him. And there was pushing and shoving. And if I did something that upset him, he would just give me the silent treatment. He wouldn't talk to me for days. Sometimes, you know, weeks. This all happened in our courting. And there was a few times where I just threw the ring, and I said I'm done. But early on in our relationship, which abusers do, he crossed sexual boundaries. We didn't have sex, but he kissed me. He forcibly kissed me. So, I thought, oh, I'm damaged goods because the purity movement said your first kiss should be at your wedding. So, in my mind, I thought he's kissed me, I gotta marry him. That's how naive I was. It progressed into other things. We're taking off our clothes and so on. Never sex. But I felt like I was damaged goods. No, no man would ever want to marry me.
JULIE ROYS
So, in 2005, just a few years after you were married, the two of you were returning to the US. And you had to stop, I believe in Dubai, you were awaiting a visa for Saeed so he could enter the US. And there was a horrifying incident, as you've described to me privately. Would you talk about what led to that? And then what happened?
NAGHMEH PANAHI
Yeah, when I went to Iran after September 11, God really took me there at his perfect time. That was at the beginning of the house church movement. So, it grew quickly, and the Iranian government took a note of it and I myself was arrested a few times threatened to be killed and raped if I denied Christ. And God delivered me from that. So, there were so many arrests that we just thought we need to leave. This is not good for us. This is not good for the house churches because the government is tracking us. And they're going to find all the leaders if we continue. So that's when we decided to leave Iran. And we had, I think it was a Baptist Church that we were in communication with that basically said, you can come to Dubai, we have an apartment, you can have it until Saeed can get a visa. So, we'd arrived in Dubai, and someone picked us up and we got to the apartment late at night, probably 12 midnight, one in the morning. And I was so tired, and Saeed had packed the suitcases and he always packed them so perfectly. So clean. And I just opened the suitcase that was mine. And I was looking for my night gown I was tired. And that was about two months pregnant with my daughter, and I was super tired. And the stress of having left persecution, we didn't know if they were going to stop us at the airport, what was going to happen. And I was looking for my night gown. So, I was throwing clothes around and Saeed said you're making a mess. And I said so what and that was it. Before I knew it, I A lot of people don't know this, or they might know this Saeed was trained by Hezbollah, which is a terrorist group. So, before he became a 'Christian', so he knew how to kill with his hands. And I'm a pretty weak person. I was born as a twin; I was always the weaker twin. Doctors Always thought she is not going to survive. She's really weak. I was always the scrawny, sickly twin. So, I was not a very strong person. So next thing I know Saeed is beating me up, I'm having bruises all over. I have bumps like the cartoons. I remember looking at myself and thinking, I would laugh at Tom and Jerry, where Tom would get hit, and there would be a bump. And as I think Tom is the cat, but I remember looking in the mirror and thinking there's bumps coming out of my head. I remember I was getting kicked so many times in my tummy, including in my tummy where the baby was. And all over my body punched in the face, in the head kicked in the face and the head. I just remember crawling to the bathroom and locking the door. I'm thinking I'm gonna die. And no one's listening to my screaming and yelling. This is the Middle East. This is normal. I'm sorry to say it, but this is normal for a woman to be screaming and yelling, no police nothing. And that's the first really bad incident. Before that incident, which was November of 2015, and Saeed and I had gotten married 2014. And I've met him 2012. So, the three years that I've been with him there was pushing and shoving and spitting at me and things like that. But somehow, again, I dismissed those. This beating was the first full on beating that was a near death experience.
JULIE ROYS
And yet at that point, you didn't leave him. I don't know if it was because of again, the cultural, the conditioning that he had already given you to think kind of low of yourself. You justified this somehow. You rationalize it. How did you do that?
NAGHMEH PANAHI
That I talked back, I shouldn't have said so what, he's tired, he's under a lot of stress. I've already been degraded to a point where I just didn't think so high of myself that I didn't say this is not the way to be treated. And I was attached. There's trauma bonding that happens with the abusers. I'd never dated. He was the first man I'd ever kissed or been with, you know, sexually or anything. I was bonded. I didn't know how to break free. And I had two choices. I was pregnant with my daughter. I could walk away and be a single mom, which I was definitely afraid of and again, in my culture, and in the church culture, divorce is taboo. And being a single mom was a big fear of mine. So, I had a choice to draw the boundary and say no, this is it. You just beat me up pretty bad. This is it. Or downplay it, minimize it, justify it to keep the marriage and to keep our family together, which I thought was godly. All the woman's retreats that I went to all the teachings of Proverbs 31 as being a quiet spirit and not you know, being loud and just submitting. And so, I thought I'm going to do my part and God's gonna bless that. It wasn't till recently, that God revealed his heart to me that submission to abuse and corruption is not from me. But that's not honoring me. That's actually dishonoring me. So, I thought that was the godly thing to do. And so, I decided to minimize in my mind and justify it and I was pregnant with my daughter, and I didn't want our family broken up.
JULIE ROYS
The two of you then ended up settling in Boise, Idaho, but two years later, so in 2007, the same thing happens except this time, you're actually on a Skype call with his family members, right?
NAGHMEH PANAHI
Yeah, he was on a Skype call with his parents and his sister, and he was saying things and I said That's not true. He was putting me down. And again, I said something like, That's not true. And he left the computer, he came after me grabbed me by my collar around my neck and shoved me against the wall start rebuking demons out of me. And I saw the same thing in his eyes as I'd seen in Dubai. And I want to say, between 2005 where he beat me pretty bad in Dubai, until 2007, he accomplished his goal, which was I was willing to do anything not to get to that point of anger. I wouldn't talk back. My pastor had told me seeing Saeed angry a few times and seeing my life in danger, had told me just cook and clean and don't try to tell him anything. Because I tell my pastor, but he's watching pornography, but I think he's, you know, he goes out to clubs, and people have seen him with women and my pastor had seen him being very aggressive with me. But you know, my pastor's advice to me was just submit and be quiet. And so, between 2005 and 2007, I was the shell of a person, I would submit to anything he would say. I would not talk back, because I knew that he could kill me, I knew now. And he grabbed me, and he shoved me against the wall, and I thought, I'm gonna die. And my infant 10-month-old daughter is watching this happen, I didn't know what to do. And I just cried out to God, in my mind, I said, God, please deliver me. And all of a sudden, he left me. And he grabbed his computer and went to the office and closed the door, because he realized he needed to finish this conversation with his parents before he came back and did what he needed to do to punish me. I was afraid his phone call with his parents was going to be over soon. And he was going to come after me. And I just didn't know what was gonna happen to my daughter, what he was going to do in front of her, so I called the police, and they took him. So that's the 2007 incident.
JULIE ROYS
And that actually led to a conviction, even though from what I understand, you didn't want him to be convicted? In fact, you testified on his behalf at the trial, is that right?
NAGHMEH PANAHI
Yeah, the next day, I just woke up thinking What have I done? I am pregnant with my son. I was pregnant again. And I have a daughter. I cannot be in a broken home. I cannot be a single mom; I have kids who need their dad. And I felt so ashamed and guilty for having called the police on him. I paid $3,000 and got a lawyer and went and testified to get him out. At that time, it was no longer me against Saeed. It had become the state of Idaho against Saeed. So, I couldn't necessarily drop the charges. But I tried to reduce it as much as I could. And he ended up being released. He had to take like an anger management class. It still came out as a domestic abuse charge. To which the Saeed actually admitted in 2007.
JULIE ROYS
Well, as I understand it, there were other outbursts of abuse at one point Saeed, and this is from reading the divorce proceedings, which are public that you provided me, but he smashed a window of your mom's car, he trashed parts of your parent's home, he broke your father's nose. And interestingly, even in the transcript of what he said at the divorce proceedings, he admitted that he broke your dad's nose, but he said he was defending you from your father, that your father was trying to beat you up.
NAGHMEH PANAHI
That's an interesting incident because later my lawyer said, my lawyer and his lawyer had agreed not to talk about the nose breaking, him beating my dad, they had come to an agreement I won't bring it up, if you don't bring it up and Saeed brought it up himself. Like, one of my friends was like, you know, the mouth of a fool is a tool in God's hand. He just brought up all the abuse he did. I just went in the middle between my grandma and my dad. And I said, hey, let's just not argue about this, because my grandma was getting very heated, that she was really upset that my dad wasn't visiting her three times a week. And they would play card games together once a week. And so, I said, let's just not argue and the kids were there. I didn't want argument in front of the kids. And before I know it, and my dad, basically who's never ever beat me and unfortunately, he passed away of COVID last year, but my dad who's never beat me in his life, looked at me and said knock my back off. And again, same thing that happened to me in Dubai happened to my dad in 2010. Next thing I know, my dad is bracing himself and Saeed is kicking and punching him in the head and his body, and my dad is just crawling around trying to get away. And the doctor report showed his nose had been so badly broken that it could have the doctor said it could have killed him It could have actually affected his somehow into the brain. The police said you know what's gonna happen? Next time someone's gonna die if you guys don't press charges, but we didn't press charges and there were other incidents where I had a golden retriever dog and Saeed would beat him up. Unfortunately, I ended up getting rid of my dog, for his protection, and in my own mind, I didn't walk away myself.
JULIE ROYS
And all this time. And this is where it's just, I don't know, just mind blowing to me the compartmentalization, you know, where he can travel back and forth from Iran, establishing orphanages, meeting with church leaders, and all these things, and at the same time behaving this way. And then in 2012, I understand that you were with his parents and his father started beating you. And at this point, you are like, no.
NAGHMEH PANAHI
I'm leaving.
JULIE ROYS
Yeah. And you did leave. You took the kids. Right? And you went to your parents had a house about 45 minutes out of Tehran, is that correct?
NAGHMEH PANAHI
Yeah. How did you know this detail? Was it on the court transcript?
JULIE ROYS
Yeah, I did a lot of research. I did a lot of research.
NAGHMEH PANAHI
Okay. I'm like Not a lot of people know this. Yes, that decision to go to Iran with kids because women have no rights. I could not leave the country. Husbands have full custody of kids no matter what. You have to have permission to leave your kids have to have permission to leave. Saeed would leave me alone in the apartment. It was a two-bedroom apartment with his mom, dad, sisters, for it was about 10 people and a dog they had a small dog. I was homeschooling the kids; I couldn't get out. I was afraid. He was putting me down. It was abuse coming from his family. My parents had a house 45 minutes away. I called one of my dad's friends to come pick us up and his dad didn't want us to leave. So, he started attacking me and I thought Whoa! Saeed grew up in a domestic violence home, his dad was always beating his mom cheating on her all of that. But he'd never touched me. And I thought, whoa, this is now transferring over to the dad. And one night I just lost it, and I said I want to go back, and I just had an emotional breakdown. And he said you're mentally ill you need to see a doctor. And he took me to an Iranian psychiatrist the next day and Saeed spoke the whole time the psychiatrist didn't talk to me. The reason I say this is because Saeed has mentioned over and over again that I'm mentally ill. And he took me to a psychiatrist, the psychiatrist after talking to Saeed for half an hour, Iranian psychiatrists, he assigned me medication that was schizophrenia, OCD, and Parkinson's. I immediately took a photo of that, send it to my doctor here. And my doctor said, don't touch that medication. It's going to destroy you. So, I pretended I was eating that medication. And because Saeed at that time, has all passports and I and this is not America, I can't just leave. And I start freaking out after I left my parents' home and I called him and I said, Saeed, can you please give me my passport? I want to leave the country. He said nope. And basically, he wanted me to come back. He said, you need to make it up to my family. What happened last night, in order to come back. I had to come back to their apartment, and I had to kiss his dad's feet and his sister's feet because I had upset them. I had to go to the ground and kiss their feet and ask for apology to be able to come back to the apartment. And then he continued to keep my passport. And then he said you need to see I said what do I need to do? And he took me to the doctor. Long story short, I agreed. And finally, he allowed me to leave the country because I said your parents can't come to America, you need me to work, to be able to sponsor them to come to America. If you keep me here, how are they going to come to America? And I convinced him that it was wise for us for me and the kids to go back. This idea of saying I'm crazy. The reason I'm bringing it up is such a normal thing by abusers to do whether it's a pastor trying to discredit someone coming up against them to discredit that person or it's a wife. The idea of trying to present the wife as crazy and unstable is so normal so that's why I wanted to bring it up. But beginning of 2012 his dad was physically beating me, and I was stuck in Iran with not being able to leave the country until God really truly delivered me because you can't leave the country without husband's permission.
JULIE ROYS
Wow. Such a misogynistic culture. I mean, it's just unbelievable how women have so few rights and the gaslighting you're talking about again yes completely classic abuser kind of behavior. So, we've got a pattern of abuse, we have both physically sexually in the sense that he's got this porn addiction that you have to live with, mentally psychologically. I mean what he did to you to make you take drugs or to try to make you take drugs that could have been very harmful to you. infidelity on top of all this and then he gets arrested 2012. Did it ever enter your mind at that point when he got arrested, Great. I'm free of this marriage? I'm done. You know I mean that ever out of your mind or just?
NAGHMEH PANAHI
How I wish that would have entered my mind! No, it did not. And I don't know why, except for God's sovereignty in all of this and allowing it. No, actually, what even might make me come across as insane to people is that actually right before his arrest, I had a pretty good idea that he was cheating on me. But I refused to believe it. I don't know why I didn't see it. But at that time, when he got arrested, in my mind, I thought, I'm going to prove to Saeed how much I love him and I'm going to save our family. I'm going to fight for him, he's finally going to be not with other girls. I thought he's gonna just want to be faithful to me. But I knew I really knew, but I didn't want to know. And I thought, I'm going to save our marriage. I'm going to fix this. He's going to see what a faithful wife and loving wife I am. And maybe this is how our marriage is going to get saved by me being the hero wife, and him finally appreciating that.
JULIE ROYS
So, this is where many of us learned of your story. I remember at the time I was working at Moody Radio. And I remember, I think you were probably on Moody Radio. I know we pray for you.
NAGHMEH PANAHI
Yes, I was on Moody Radio.
JULIE ROYS
I thought so. We prayed for you. Your story was huge at this point. And you're going on Fox News and CNN at one point. I think you spoke before the UN, didn't you? And I mean government bodies. I mean, it's unbelievable. And you're so well spoken. I mean, you wouldn't know that this is a wife who's been toiling away, supporting her husband being abused and everything else. You were so well spoken like you've been doing this your whole life. It's really amazing. And it's about this time that you mentioned Franklin Graham CEO, both Samaritan's Purse and the Billy Graham Evangelistic Association. He gets involved. Would you describe Franklin Graham's involvement, what he did for you, personally, but also, I think he lobbied for you with some pretty high-level politicians?
NAGHMEH PANAHI
Franklin Graham got involved early on. Someone, I think one of my lawyers at ACLJ said, you know, Franklin could help. And I thought how? I mean, I know Billy Graham was an evangelist. And I mean, how can Franklin help? And I was told that you know, he's very much connected with really crazy governments that usually don't allow Christians into their country like North Korea and China and Russia. And so they said he might be able to use that influence those countries could be the one that would be advocating for you to get Saeed out. Because sometimes if America steps in, it gets harder. So, I remember calling his office, I think I talked to his vice president or someone pretty high up at Samaritan's Purse, and I did tell them I had spoken to Saeed on the phone. That Saeed had some access. At that time, Saeed did not have his own phone, he had some access to talk directly with me. I told them and later ACLJ found out and said, no one can know that you're having any access with Saeed, because if it ever leaks out Saeed could get in a lot of trouble with Iranian Government, because it was all smuggled phones. So, I did tell that person I said, Can I talk to Franklin, they said, well, he's on a road trip, but we'll have him call you. I think about a day later, he called me. He had bad reception he was on his motorcycle. And he said, I will do whatever, tell me what I need to do. And I have an email where I sent him basically, I said, can you use your connection with countries? Can you make this story known? And he got involved pretty fast. He sent people from Decision magazine, and it became the front story. He would fly his private jet and have me speak at Samaritan's Purse and Billy Graham Association to get the word out. He did get the word out. He had meetings with different governments towards the end of Saeed's imprisonment, I want to say towards the end of 2015. I know he met with the Russian president and talked directly to Putin about Saeed. So, I actually got a call from him saying that and on his social media, you can see he visited the president of Russia. But at that point, what I heard was, the Russians told Franklin that America was already making a deal. And it was a process of getting the Americans out so Russia couldn't step in.
JULIE ROYS
He did give you some money. Can you talk about that?
NAGHMEH PANAHI
Yeah, every time I spoke, the first time I spoke, he gave me I think $5,000 honorarium. I didn't even know what honorariums were.
JULIE ROYS
Was that Samaritan's Purse or from Franklin?
NAGHMEH PANAHI
No Samaritan's Purse, or Billy Graham. Every money he gave me or every time his private jets were used or anything it came from, not from his personal at all. It all came from donations of people to Samaritan's Purse, or Billy Graham Association. It was quite a bit he used his private jet quite a bit. And I remember asking how much does it cost each time you guys kind of do this flight? And it was about 30,000 each way and I realized, oh, I did a contract with them where they were going to do a documentary on site. And I basically gave them all rights to the movie, and he had a camera crew flying to Boise. And he spent a great deal of money on this story. I actually have an email where I sent his secretary and I said, can you please tell Franklin not to give me money? I don't feel good about this. You guys have already done so much getting the word out. That's enough. I don't need private jets to go anywhere. I can happily fly on economy. But he continually did it. And I remember giving back the cheque to him at one point, he said, Naghmeh, you're really upsetting me, you need to accept. At that time, Franklin was becoming an idol to me. So, I listened to whatever he said. And I unfortunately, in the course of two years, I received around $30,000. from him. It was through Samaritan's Purse.
JULIE ROYS
Gotcha. You mentioned Jay Sekulow. It sounds like he got involved pretty early on advocating for you and, you know, working legal channels to I don't know, was he putting pressure internationally on the Iranian government? How did that work? How did his advocacy help you?
NAGHMEH PANAHI
ACLJ was pretty much the first people I contacted. They were involved from day one, even before Saeed went to an actual prison. When he was under house arrest. I actually didn't know exactly to the extent what they could do. I was just told, hey, you need to contact the ACLJ. So, I did, but they did a good job. I mean, they got the word out. At that time, Franklin and ACLJ were not very well known on social media world. Saeed noticed that from prison as he got access to a phone that using his situation, and later other people in the news is really what brought a lot of I think from a few 1000 or maybe, close I don't know 10s of 1000s to millions of followings and, and interaction sites story was a really big deal. It was while we were in the middle of a nuclear agreement with Iran. The reason I got called by Donald Trump to meet with him in 2014, was, I was told is because it was the biggest issue on the internet. And so a lot of the GOP people wanted to meet me, running for president, including Ted Cruz wanted to meet with me, they want to talk and be the hero of saving sites. So, Jay Sekulow really got the word out. He spread the word and talked about religious freedom. And why is there a nuclear deal when there's Americans in prison in Iran at that time, we thought Saeed was the only one and then we realized there's a Marine, there's this, they really brought it to the forefront.
JULIE ROYS
There's no doubt that Jay's advocacy helped you. Franklin's advocacy helped you.
NAGHMEH PANAHI
Yes.
JULIE ROYS
But it helped them. And I did just look on their Facebook and noticed the first posts about you back in 2012, or 2013, a few 100 engaged. By the time Franklin Graham posts about Saeed's release in 2016, it was like 240,000 likes. I mean, it was it just exploded.
NAGHMEH PANAHI
If you look at their posts, on anything in the 2012, before Saeed's stuff, there was few 100 likes on any of their posts, maybe 1000, maybe a few 1000. It was not in the hundreds of 1000s that it is right now or the millions of followings that it is right now.
JULIE ROYS
It became a huge story, a huge social media platform builder for them. I'm not saying that that's necessarily wrong. I mean, I've done stories about big stories, and there's no doubt.
NAGHMEH PANAHI
And I appreciate them. And I appreciated them for it. I never, you know, Saeed came out of prison started attacking them. He felt like they had stolen his followers. I always appreciate them even when the stuff about my abuse came out. And they didn't believe me. I told them I said Saeed is going to come out and attack you. Because he thinks he's paranoid. He thinks you guys have stolen his fame. So interesting that all Saeed could think of towards the end of his imprisonment was fame because he would accuse me of stealing his fame. And I would say this is about you getting you out. He saw that I was becoming confident. And he didn't want that. So, he kept making sure I knew, I'm sorry to say this, He called me whore Jezebel worthless. And if I remove my last name of Abedini from you, if I come out and divorce, you're going to be a nobody, if there's any attention to you it's because of me. And he just wanted to make sure I knew that. But I told Franklin and Jay I really appreciated what they did. They really stood with me through advocacy for Saeed. They really did and I told them I said, please protect yourselves. Please protect your ministry. Please don't associate with Saeed. When he comes out, he's gonna come after you which he did. But no one believed me.
JULIE ROYS
Well, and it was not a good PR story at the point that you came out about the abuse that kind of ruined the fairytale story of the, you know, persecuted Christian, who is a hero in everybody's eyes. And yeah, I mean, it was just it was such a shock when this was you know, when it finally came out end of October beginning of November 2015. Finally, you let your supporters know in an email about what's happening. But that happened because you had a discussion with a pastor where it sounds like you reached a breaking point. The pressure all of the again Saeed's asking you to get out there and constantly travel and so you're traveling all over. You've got kids at home, that are missing their mom, you've got incredible stress, you're being verbally, psychologically emotionally abused by your husband, all of this and the pressure finally gets to the point where you break down in front of a pastor and his wife, Dr. David Chadwick, who you were speaking at his church, and describe what happened and why the light bulb went on, when he said to you, Naghmeh, you're being abused.
NAGHMEH PANAHI
Yeah, the pressure had built up. I had just done Saeed's prayer vigil, and I traveled three or four times in September, I had traveled to North Carolina, I had spoken at a Baptist woman's conference, then flown all the way to California, spoken at Joshua Springs Calvary Chapel. And then I was back again, North Carolina. Speaking at Dr. Chadwick's church. I was exhausted. I hadn't talked to Saeed for a week because after my trip to Joshua Springs, Calvary Chapel, Saeed had called me and called me all sorts of names. And for the first time I drew a boundary, I basically said, Saeed, if you can't be nice to me, I'm not going to talk to you anymore. Don't call me and he didn't call me again. He didn't call me even when he got out of prison. And my only request was, if you can't be nice to me, don't call. And so, he didn't call. So, I hadn't talked to Saeed for a week before I flew to Pastor Chadwick's church, and not having talked to him, I was just broken. Because a big part of me still loved him. I wanted our family together. And I just couldn't make sense why he would attack me when I was laying down my life. And finally, I spilled the beans. I just said Pastor Chadwick, I don't understand this. This is how it's been. This is how it is, why would he attack me from prison? And he said, Naghmeh? Do you know, I'm not just the pastor, I have a doctorate degree. And I said, no, I didn't know that. He said, Yeah, and my doctorate degree in psychology, and he said, Naghmeh, you're an abused wife.
JULIE ROYS
And you had never till that point, admitted that to yourself.
NAGHMEH PANAHI
No, it's kind of like, you have a back pain, your body aches, there's different things and you're eating Advil or Tylenol. And then you go to the doctor, and he says, oh, you have stage four colon cancer. And you're like, oh, this is why all these symptoms, there was a lot of something's wrong. I'm wasting away. A lot of times, woman under abuse, start developing autoimmune, which I did. And so, I just couldn't put all of it together until Pastor Chadwick gave me that diagnosis. And everything made sense, the isolation, because I googled it. And I saw, and I thought, wow, how does someone look into my life, and write it down? Because I googled abuse, abused wife, and everything Saeed had done in my life was on the internet.
JULIE ROYS
Wow. So, as I understand, that night, you put together an email to a group of about like 100 women or so that you really trusted, had been praying for you and you shared some pretty private stuff before you get on the plane after sending this email. And by the time you get off, this email has been leaked. To this day, you don't know who leaked it again, you send it to 100 people and then when you're trying to find out who leaked it, you know, you found out people are like, why gave it to me, you know, I send it to my mom, I send it to my brother or whatever. So, it's gone a million different ways. And you know, who knows how it actually got out. But you got off that plane, and my understanding is that you got three calls. You may have gotten a lot more than this, but there were three that are really notable.
NAGHMEH PANAHI
Well, I want to say that night that I spoke to Dr. Chadwick I went to my hotel, I couldn't sleep. I googled abuse. The next morning, my flight left at six in the morning. I got on the plane. I cried all the way to I think it was Texas. I had a layover. In my layover. I had about a couple hours. That's when I wrote the email. I closed my laptop. And I don't know how many hours it is from Texas to Boise, a few of maybe three or four. And by the time I got here, my phone was exploding. There was a lot of calls coming from Franklin, Franklin Graham. The email I sent I don't know how many people for the life of me, I don't remember but it was over 100 people it wasn't in the 1000s and it was trusted people that I had shared deep intimate stuff with that had never been leaked. And I told them please I know you love Saeed. I know you love our family. You would never think bad of Saeed. I'm just feeling safe telling you this happened. I felt like they wouldn't leak anything. I didn't even think someone would leak such a personal thing that I'd shared. Later, you know, when I realized it was leaked to media, I couldn't figure out who leaked it because they had sent it to so many people. It could have been the people that they sent it to. But when I landed, actually, the first phone call was that I answered after talking to my pastor because I remember ignoring the phone calls until I could tell the story to my pastor. The first one it was actually Franklin and then it was George Wood and then it was ACLJ.
JULIE ROYS
Well, we're going to pause on Naghmeh's story there. But in part two of this podcast, you'll hear what happened in those phone calls with Franklin Graham and Jay Sekulow of the ACLJ—or American Center for Law and Justice. After learning of Naghmeh's horrific abuse, did they respond with support? Or, was the abuse a public relations nightmare they needed to erase?
Again, you'll hear all about that in part two of this podcast.
You'll also hear exclusive audio obtained by The Roys Report of a meeting in 2016 between Naghmeh, Franklin Graham, and Saeed. Here's just a short clip from that meeting.
FRANKLIN GRAHAM
It takes two people to make it work. If you want to make this work, you're going to have to move a little bit. Okay? Somebody's going to have to move a little bit.
NAGHMEH PANAHI
I'm sorry, but in abuse
FRANKLIN GRAHAM
Don't tell me you're sorry because it doesn't matter to me, Naghmeh.
NAGHMEH PANAHI
I'm sorry Saeed, but the abuse has to be dealt with.
JULIE ROYS
There's so much more to this story. And in addition to that audio, I'll be sharing emails between Naghmeh and Franklin Graham—and also Anne Graham Lotz, who stood as an ally to Naghmeh.
This is such an important story. And has so much to teach the church about how to respond—and how not to respond—to victims of domestic violence.
Thanks so much for joining us on this episode of The Roys Report—a podcast dedicated to reporting the truth and restoring the church. I'm Julie Roys.
If you'd like to connect with me online, just go to JulieRoys.com.
Also, just a quick reminder to subscribe to The Roys Report on Apple Podcasts or Google Podcasts—and now on Spotify, as well! That way, you'll never miss an episode! And while you're at it, I'd really appreciate it if you'd help us spread the word about the podcast by leaving a review. And then, please share the podcast on social media so more people can hear about this great content.
Again, thanks for joining me today! Hope you have a great day and God bless!