In 2016, imprisoned Iranian-American Pastor Saeed Abedini became the focus of a worldwide #SaveSaeed movement. But according to his wife, Naghmeh Abedini, Saeed was a fraud and an abusive husband. Yet because the Christian world idolized marriage and wanted a hero, Naghmeh says leaders suppressed the truth. 
Featuring a powerful talk from the recent Restore Conference, in this podcast Naghmeh Panahi addresses the idolatry evident among some evangelical leaders that has led them to cover-up abuse in the church.
For years, Naghmeh didn't fully recognize Saeed's abuse and she explains why. She also unveils the ways Christians pervert marriage. Instead of viewing it as an institution God created to protect the family, they use it to protect abusers.
Most notably, Naghmeh says well-known Christian leader and CEO of Samaritan's Purse, Franklin Graham, repeatedly ignored Naghmeh's pleas for help. And instead of protecting Naghmeh and her family, Franklin urged her to reconcile with Saeed. Yet Naghmeh, a brave truth-teller, uses her voice to confront evil and confront the powerful. 
With abuse rampant in the church today, this is such an important podcast for those who care about victims and care about the family.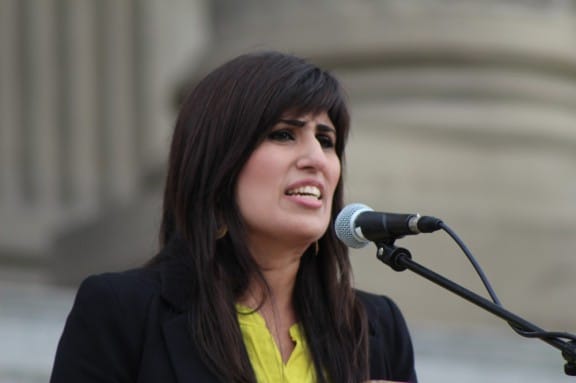 Naghmeh Abedini Panahi made national news in 2012 when she publicly advocated for the release of her then husband, Saeed Abedini, who was imprisoned in Iran for his Christian faith. Through Saeed's imprisonment Naghmeh was not only able to bring worldwide attention to the plight of the persecuted Christians, but she was also able to proclaim the Gospel to millions of people worldwide by speaking to governments, human rights groups, and major news outlets. When it came to light in 2015 that Naghmeh had been abused throughout her marriage by her "hero" husband, the Christian community turned on her. Though Naghmeh was judged, abandoned, and rejected by the Christian community, she trusted in Jesus to be her defense and to fight her battles. Naghmeh's story is a story of God's amazing rescue and restoration.

SPEAKERS
JULIE ROYS, NAGHMEH PANAHI
JULIE ROYS 00:04
In 2016, imprisoned Iranian American Pastor Saeed Abedini became the focus of a worldwide safe Saeed movement. But according to his wife, Naghmeh Panahi Saeed was a fraud and an abusive husband. Yet because the Christian world idolized marriage and wanted a hero Naghmeh says leaders suppressed the truth. Welcome to The Roys Report, a podcast dedicated to reporting the truth and restoring the church. I'm Julie Roys. And in this podcast, you'll hear a powerful talk that Nagmeh gave at a special dinner event at the recent Restore conference.
In it Naghmeh explains why she didn't recognize Saeed's abuse for so long, and she unveils the ways Christians pervert marriage and instead of viewing it as an institution God created to protect the family, they use it to protect abusers. Most notably Naghmeh says well known Christian leader and CEO Samaritan's Purse, Franklin Graham, repeatedly ignored Nagmeh's pleas for help. And instead of protecting Nagmeh and her family, Franklin urged Nagmeh to reconcile with Saeed. With abuse rampant in the church today, this is such an important podcast for those who care about victims and care about the family. And I'm so honored to be able to share it with you.
But first I want to thank the sponsors of this podcast, Judson University and Marquardt of Barrington. Judson University is a top ranked Christian University providing a caring community and an excellent college experience. Plus, the school offers more than sixty majors great leadership opportunities and strong financial aid. Judson University is shaping lives that shaped the world. For more information, just go to JUDSONU.EDU. Also, if you're looking for a quality new or used car, I highly recommend my friends at Marquardt of Barrington. Marquardt is a Buick GMC dealership where you can expect honesty, integrity, and transparency. That's because the owners there Dan and Kurt Marquardt are men of character. To check them out, just go to BUYACAR123.COM.
Well, again, you're about to hear from Naghmeh Panahi who has a story of abuse, and then betrayal from top Christian leaders. And in case you missed it, I first broke Naghmeh's story in a series of podcasts last fall. But in this message from a dinner at the Restore conference, Naghmeh tells more details of her story. And she addresses head on the idolatry in the church that's compelling leaders to cover up abuse. Naghmeh is an incredible warrior for survivors and someone I'm proud to call a friend. Here's Naghmeh Panahi.
NAGHMEH PANAHI 02:45
I kind of came into the public eye once I went to prison. And what people didn't know, was that and what I didn't know at that time, was that I had been caught up in an abusive marriage. And so, I, you know, I came to know the Lord, I, you know, got saved out of Islam, and right after September 11, I felt like, you know, I'm gonna go serve the Lord. And in I'm going to change the Middle East by sharing the gospel like, you know. I remember when President Bush was talking about sending soldiers into the Middle East, I was thinking, you know, I'm gonna be God soldier, and the only way to change Iran, or, you know, the more radical countries, is the love of Christ and the gospel. So, in my mind, you know, in my 20-year-old mind, 27-year-old mind, I thought I could, you know, change, you know, all of that. But God in His amazing goodness had me go to Iran right at the beginning of a revival of a house church movement. So, I got caught up, I was right in the center of one of the largest house church movement in Iran. And so I was, I met my husband who was very charismatic. And we, I was the pastor's wife to thousands of new converts from Islam, and, you know, all of that.
But, throughout our marriage, I knew something was wrong, but I couldn't really pinpoint it. I thought marriage is hard. It's just a hard marriage. And so, I don't want to go into too much detail. You know, my life even though in Iran, we were pretty well known because we were leading one of the largest house church movements. I wasn't really in the public eye, at that time. I don't think like the early 2000s there was much social media, or I don't remember really being on social media. And we came to America. I had my daughter in 2006, and my son in 2008. And I pretty much lived a very quiet life, and I liked it like in Boise, Idaho. Just worked with a mom and was a slave, my husband and work and he, you know, he believed he was a pastor and work should be just ministry. And there was no you know; he should be making money in ministry. So, I was the one working and raising our family. And he was really depressed being in the American culture and all that. So, he started going back to Iran soon after my son was born. He kept traveling back and forth. At that time, I didn't realize he was in an adulterous affair with someone in Iran. So, so long story short, on one of his travels, he's arrested for what the Iranian government said his Christian faith, and I fasted for about six months before everything blew up pretty much. That's where my private life became public. I didn't want publicity at all. And so, I was thinking if I pray and fast, God's just going to release him. And soon after he was arrested, I got in contact with a group called ACLJ. And, and then I contacted the State Department, and they, we kind of decided to keep it quiet, and see what happens what the Iranian government would do. And within six months, it was obvious he was going to get like 10 years imprisonment, and that they were going to kind of play the hostage game. That he knows he was an American citizen, there was a nuclear deal. It was, you know, so we figured they're not going to let them out. So that's when we decided to go public
First Fox News did an article to kind of see how famous it was, like how many people would read it. And so, after the article was released, I guess millions of people were like reading it. And were like, really interested because I got a call from Hannity. And that was the first TV program I was in was with Hannity. And it was interesting, because hear I was talking about my husband who was imprisoned for his faith, and like, really serious stuff. But I was very stoic. I looked at my interview, I had no emotion, because what happened was, I couldn't fly to the Fox News headquarters. So, I had the camera crew come to my house. And so, I was like, there was light, you know, there was like, I could hear Hannity in my ear. I wasn't really talking to the person. Even though on TV, it looked like me and Hannity were like talking, I was just talking to a camera, and I was hearing his voice in my ear. So, it was from like, a working mom, you know, it just to TV. It was just like, so overwhelming. But something happened at that time, that really, I didn't realize it; that God was putting me on a journey of freedom.
So, what people don't know, the night before Saeed was arrested, I was crying out to God because I called, because he had traveled to the country of Georgia with a girl. And I had begged him not to, and I begged him not to stay in the same hotel as her. So, I called when it was like, two/three in the morning. And she answered, so I just was like, lost it. And he said, you're crazy, you need to see a psychologist, you lost your mind. And I believe it. Like, the abuse had brought me to a point where I no longer trusted my feelings. I thought, I am crazy. I am depressed. I am a sick person. I even getting angry over a husband staying with someone else in a hotel, I was questioning myself and not that. But I remember thinking, like there's nothing I can be upset about. Like, I could have no emotion in that marriage. If I was upset, I was an angry, you know, abusive person. If I cried, I was trying to manipulate him. Like I had to be completely stoic. And so, I just remember thinking, I can't even be upset about him being in a hotel room with a girl and I'm the problem? And is this going to be my marriage for the rest of my life? Because at that time, I believe you just don't divorce that's just not an option. So I went to my bathtub, and I was just crying like God is this I didn't even ask for a rescue. All I said was, God, this is really what you want from me?
Since I was saved out of Islam at age nine, I've had a passion to reach Muslims. And I would share the gospel with refugees in my city. And after I was married, and came to America again, I realized my marriage sounds so similar to these Muslim women. How is this possible? I'm trying to give them hope, like come to know Jesus, but I'm like, but my marriage is the same way. Like it makes no sense. I remember thinking that, but I cried in my bathtub, and I just said God, is this what you want from me? And like two hours later, I got a call that Saeed was arrested. And me and my shallow narrow thinking I thought, God this is what I get? like I'm already like pretty broken. And I get now one of the worst governments in the world has arrested Saeed? Like I'm not going to be able to stand up to the Iranian government the bully. They don't answer to anyone. But what God was doing from that moment of his arrest, he was building my confidence back in him. Because I remember that first interview with Hannity, people are saying, you're so well spoken. And you're so you know, people were saying positive things about me. And I thought, wow, like, this is the first time someone's saying like, anything positive, because my husband had been, I believed I was the ugliest person. I was, like, I was probably fifteen pounds lighter than now. And I was covered with makeup because he was just like, if I woke up in the morning with no makeup up he'd be like, so I was just covered. I just felt like I was ugly. He chose what I got, like clothes. He'd be like, oh, you're wearing that he actually would pick out my outfits. And so, anything like hanging out with family, friends, all of that was control. And so, for the first time, I was making decisions, and I was speaking, and people were saying, you know, you're doing like, wow, you're well spoken. I remember ACLJ and Fox News. Like, they gave positive feedback. So, I basically I was on media every, some of you might remember I was on Fox for like three days a week, where my kids thought I was working for Fox News. And then they're like, Mom, are you working for a news station now? And then from there was like CNN, and then you know, and then it became such a big story, because here, Iran's holding hostages, and we're making a nuclear deal. And a lot of like, there was a Marine that had been in prison in Iran for three years. And his family was like, how did you bring this to light because we've been like, shut down to talk about this?
But long story short is, all of a sudden, I was given this platform to share the gospel. You know, President Obama flew to Boise, and I met with me. I met with Trump, I met with heads of states of different governments. I spoke in front of the Congress, and every single time, God reminded me that at age nine, when I had become a Christian, and my parents were still Muslim, I had been given a Bible and I had read the verse in Psalm 2 that says, today I have begotten you. Ask of me and I will give you the nations as Your inheritance. And God reminded me. Like I'm giving you the nations to preach the gospel. And I remember being at the United Nations in Geneva. And I had all these translators, and I was given a platform to talk to all these ambassadors about Saeed's imprisonment. But I got to share about the gospel. He's in prison because he believes Jesus Christ came into this world to die for us. And so, every single opportunity sitting with Obama and Trump and whoever I spoke at the German parliament, Dutch parliament, European Parliament, all of it , it was an opportunity for me to share my faith.
So, at that time, I could see how God was using Saeed's imprisonment for me to give me the desire of my heart, which has always been evangelism. So, my story is not just about abuse, people want to put you in a box and be like, you know, you're an abuse advocate. No. If I had to, like label myself, I came out of Islam, I have been passionate about sharing the gospel to Muslims, whether it's been refugees in my city, going to Iran, and being arrested and threatened to be killed gunpoint for my faith, and experiencing persecution there. And then God giving me a megaphone for the persecuted church. It's interesting, because for 5-6 years I served in Iran, I saw the Iranian government kill and imprison Christians. And I have friends that were killed for their faith. And years later, God gave me a megaphone to call out the Iranian government. Every meeting they went to at the UN, I was there like tapping on their shoulder. The Iranian president was visiting New York, and I happen to be staying at the same hotel, and I ran after I mean, they were just like, she is everywhere, you know? I was just like, everywhere, anywhere that Iranian government was, I was there, and I knew they couldn't arrest me. I'm like, in Europe, and I'm in America. And I'm uncovered and I'm a woman talking to these in Iran, a woman isn't supposed to lift their eyes to look at a man. So here I'm like, calling out the Iranian president in his face in New York, you know? Like, why are you guys persecuting Christians? So, all of this being said, God, from the moment Saeed was arrested, I couldn't see it, but that was God's rescue of me.
And another thing God did, I became very politically involved, mainly with the GOP kind of, and a lot of big names kind of came alongside me like Franklin Graham. I mean, just a lot of the Christian names became, I was given platforms at like mega churches. We were just talking about speaking at a church in Florida, the family was saying about the pastor, and I was like, oh, I spoke at his church and it's like, I didn't know Do that at that time, but it was like a really big church of like 10,000 people, I think, maybe 30,000 now. But I was given platforms to speak at, like, really big events. Looking back now God was allowing me to see these celebrity pastors and leaders, because at that time, I would kind of sense something, but I didn't know what was wrong, because I come from Calvary Chapel world. And so, I would be going to a green room. And then I was treated like separately, like, I don't, you know, and then a lot of these pastors didn't like to interact with the flock. You'd go speak and then you'd leave. And it was just kind of the way they treated the people.
I was visiting a church in California Calvary Chapel. And I remember I wanted someone my pastor's wife knew from Boise that was a janitor at that church to come eat with us. And the pastor was just like, we don't do that. You know, it was just like, you had a certain table that you know. So, I picked up on things that was like, this is not supposed to be Christianity, because I'd grown up in a way in the house church. And in the house church, being a Christian is not, you don't get a book deal. You don't get a platform. It's like if you're like, I'm a Christian, you die. So, no one's like trying to be a famous pastor in Iran. In a house church, you don't really get much, you actually lose a lot. So, for me, I could kind of see the difference. But what happened was within the last year of Saeed's imprisonment, he got a smartphone inside of the Iranian prison. And we were just talking last night with Scott and my friend Melody that our internet wasn't working well on our phone. And we're like, but Saeed had like perfect Internet, in the worst prison in like the world. Because I was like, God, why? Because I was trying to get him out, and yet, he could get on social media. He was like, could get access to like my Amazon account. He was like he was on the internet in one of the worst prisons in the world. And I'm thinking why? I think it was because now looking back, God was giving me a glimpse, this man has not changed, but fame has actually got, he'd become worse. But I couldn't understand that people were praying for Saeed as a persecuted Christian, but he was looking at how rich we could become off of it. And, before even realizing it was abuse, God was revealing verses to me that friendship with the world is being an enemy to God. And so, I thought, I can't I've always like, I left America, you know, there's, you hear about a lot of the persecuted church and all these countries, but rarely does someone come out of those countries and then goes back. Like, I came from America back to Iran as a Christian, after September 11, when there was talk of war into one of the most radical countries.
Becoming a follower of Christ, for me, it was all about giving, not receiving anything. And like Christ had already given me everything when he saved me out of Islam. So, for me being his follower, was always about giving, not taking. And so, for me when Saeed was like, talking about private jets and million-dollar houses, and I was to be honest, having like, been on a lot of private jets, like with Franklin Graham, you kind of start justifying it. Like, well, I can be a Christian and have all this too. But within me, the Holy Spirit was like no, friendship with the world, that's not what you should be pursuing. Friendship with the world is being my enemy. And so, through the phone calls, I could see that there was a desire for fame and money, and I didn't want to be a part of that. But I didn't know how to do that. I'd always been taught to submit to my husband. But he was through the phone calls. So, I was kind of struggling with that and saying people are praying for him, but he's really wanting to like we should have been Christian multimillion, like we had booked deals and movie deals, and this was like the perfect story. And so, I was I thinking like, what, what do I do with this? But he was calling me names from inside the prison. I couldn't understand. He was calling me a whore, Jezebel. And he would say, you know, don't think when you go out to speak, people are clapping for you. They're clapping for me. And later, I realized that he was seeing the confidence. I was not the girl I was before he went to prison. And that was really scaring him. And so, he was trying to push me down so he could still, you know, control me. But he pushed me so bad because I was not sleeping. I was writing articles for like Washington Post and all these or I was on the news, I was traveling, I was like trying to get him out of prison. But he kept pushing me to a point where I finally broke. I would tell him if you do not want me to travel, I won't travel. If that's what's bothering you. He would be like, no, you need to travel, and my name is alive in the media and to get me out. So, I was stuck. If I traveled, he got mad at me. If I didn't travel, he got mad at me. And so, he pushed me so hard, I finally confessed to a pastor. I was speaking at a really big church in North Carolina. And I told the pastor finally I broke down after I'd spoken at the church and prayer meeting, him and his wife took me out to dinner. And I confessed and I said, I don't understand. Here's Saeed's text messages from prison. And you know, the pastor was shocked. And I said, I finally just told him everything. And he looked at me, he said, do you know I'm not just a pastor, I'm a doctor. I'm actually a doctor in psychology. And he said, You're an abused wife. And so that diagnosis was finally given to me because like, you see things and I know a lot of you that have gone through church abuse, you kind of sense stuff, but you're taking Tylenol, you're like, I don't know and then someone's like, it's cancer, and you need to do chemo. This is serious stuff. This is not just little Christian problem of you know, of a normal problem that a Christian marriage has or a church has. This is like a bigger issue of abuse. So, when he diagnosed that I did search on the internet, I couldn't sleep that night. I searched up what abuse was, and I had all the signs every sign of abuse, from physical to isolation to you know, all of it. And I was flying back to Boise. And on my way, I was stopping in like Texas somewhere. And I sat down, wrote like an email saying to my close friends, that I'm an abused wife and Saeed has been contacting me from prison. That was the first time, and I closed my laptop, I went to Boise. And by time I got there, I was getting calls from ACLJ. from Franklin Graham, I was constant calls, like constant calls from Christianity today, from like, just my phone was blowing up. And I was like, to realize that it's been leaked to media, and within like a three-hour flight, two-hour flight, it was like all over. And at that time, I was upset because I felt shame. I didn't want to embarrass my husband. Like I was just pouring out my heart to a group of Christians.
But I see that it also as God's goodness, because within six weeks after the abuse stuff came out, then Saeed was released. God did not allow him to be released as a hero Christian. And you know, just his perfect timing. I was just starting, I spoke everywhere. And I associated with all sorts of people. One of them was the Olsteen's. And, you know, now I would definitely be more careful. I just didn't understand that there was abusive, and you know, the whole prosperity gospel. Anyone that gave me a platform I spoke.
But I was told I didn't have enough faith for Saeed to come out of prison. But it's interesting, the timing happened, actually, when God unveiled the truth. And then he was released from prison. And people think, because it was so close, people think Saeed came out of prison, and then I said, oh, I'm going to his wife. Because I was like cheating on him. So, I wanted to like, but the timing was not that way at all. The abuse came out, and then God released him. Because at that time, President Obama was still president. And I believed 100% that it was going to be like the 1970s hostage crisis. That when the President changed, I think was Reagan that became president, that the hostages were released. So, I thought, for sure it's going to happen when we have a new president. And Iran is going to be afraid of new policy. And that's when it's going to happen. But it didn't happen within weeks of this stuff about abuse coming out. So, Saeed didn't come out as a hero because the abuse stuff had come out. Not widely so a lot of people don't know, because not a lot of Christian media wanted to touch it. Not a lot of secular media really touched it. I think Washington Post did a story, I think Huffington Post, and some others more secular did some stories about abuse. And then that was it. It wasn't like, you know, big but I just want to share with you things that I had to understand, because I didn't really talk about this until recently. And the reason I talked about it more openly is because I saw, and I didn't know much about Julie Roys. When Julie shared a report about Ben Courson and coming from the Calvary Chapel world. That's a really big name; Ben and Jon Courson are big names. So, when I saw that story, I shared it and then I got attacked for being a gossip and negative and then I went into a shell again because I just was coming out of my shell. And I went back in my shell, and I thought, God, should I just not be touching this? Should I just mind my own business, you know? And that's when I, through a lot of prayer and fasting, I felt like no, keep talking about it. And then I talked to Julie about Franklin Graham, and she did the story.
But it's a really hard road of talking about abuse. So, I had seven years of shell and meditation of what happened because it was pretty traumatic. Because the difference of having the support, of close to a billion people, were reached about Saeed's story. ACLJ was tracking all the data, like how many people were reading about it. And even I was told the reason Trump wanted to meet with me was because it was like one of the main topics on the internet. Like, you can kind of track what's popular. It was so the contrast of having every Christian of every background supporting me to completely being rejected by the Christian world. And, you know, I felt like my first stone was when I, when Franklin called me and I shared this, and he asked me if I was cheating on Saeed. When I was pouring out my heart about this is what happened and that the only thing you could say, are you cheating on Saeed? Not I'm sorry, this has happened to you. It's like an accusation. And I've talked to my friend Melody. I kind of grew up in the purity movement. So, it's for someone who's never dated anyone we never held hands with anyone who was faithful to my husband to this day, I haven't dated seven years, six years after the divorce. I've been focused on the Lord like for that accusation. It was really heartbreaking to be labeled. Cheater, or someone who did it for fame and money, you know. And so that was pretty devastating. So, I got all sorts of accusations thrown at me. So, I withdrew from social media, and I was processing Lord, what happened? And just at that moment, I didn't know when but I that moment, I felt like God's saying, to me, the cries of many have reached me. And he allowed me that's why every time I share about abuse, I get attacked. I recently shared about John MacArthur, like I do share Julie's stuff, and I get attacked. Every single time I go back to what the Lord had me walk through. I walked through being abused. And then I walked through being mistreated by the church for a reason. That's my story. I can't deny it. And he allowed me that journey, that suffering for a purpose, and to be a voice for that, you know, and so it's not the most popular, it's what got Jesus in trouble was calling out the religious leaders. But I do believe he, he took me through that journey for a reason.
So, what was shocking to me and what came to light to me and recently, like, I'm so glad, like Sandy and Paul are here. I got involved with their church, when they went through this stuff with Calvary Chapel, Houston. But I realized through my stuff, I started understanding abuse of others. Not just spousal abuse, but abuse of pastors and how the church treats you. Like, when you talk about it, you're treated as untouchable., I went from being very touchable. I was one. I mean, I was invited to speak at big event, every single week. Like, for the rest of my life, I could be speaking at these big, big events and you know, to we don't want to touch her. And at that time was heartbreaking. But God's like I'm protecting you from wolves. They're not touching you now, because you're talking about abuse. So, the wolves are running away from you. Even though it hurts, but I'm protecting you from those who were trying to benefit from your story. Because imagine is Saeed would have come out and the abuse hadn't come out. There was a lot of wolves out there that really wanted to benefit from the story of the persecuted pastor. But once the abuse stuff came out, I became untouchable. But it was pretty shocking, going from being very touchable, sitting at table with presidents and famous Christians, to we don't you know, no texts, no calls. But it helped me see how the abused are treated not just in the spousal abuse, but in church abuse, you know. And how they're not believed. They're called liars, all sorts of accusation are hurled at them. And they're silenced by saying you're bitter, you're angry, you're unforgiving. This is not love, you know, just love, and move on. And I want to share with those of you who might, you know, have experienced abuse – one thing that touched my heart because I had to reevaluate my relationship with God. Like, why did God allow this all? I wanted since I was nine years old was to share the gospel.
I went to Iran sharing, like, why would he allow me to get caught up in this? And one thing that I learned through this journey about the heart of God that I want to share, before I close is, 1) he revealed to me about Sabbath of all things. God revealed to me that he had touched an institution that was no longer serving. God created institutions for our benefit. Marriage, church, to protect, to nourish. And the same way with Sabbath. It was made for man. And so, when the institution becomes oppressive, it's not doing the function that it was supposed to do. And so, God revealed to me I did not, I did not come to this world to die for marriage. I came to die for you. You matter more to me than an institution. If an institution falls apart, if an organization falls apart, if a marriage falls apart, it's okay. I was so afraid of divorce. I did not actually divorce my husband, even though he cheated on me. He beat me. You know, I had every ground for divorce, but he actually divorced me the moment I drew boundaries to bullies, you know, to abusers. The moment you draw boundaries, and you say this is no longer acceptable, I was no longer his slave. So, he actually filed for divorce. And I was in tears because my biggest idol was never, by God's grace, has never been money or platform or anything, but my biggest idol was marriage. I wanted my kids to grow up with a mom and a dad. And they didn't really get that because Saeed went to prison when they were three and four. And they never got that. Because soon after he came out, he divorced he moved on, he brought the girl he was cheating on with to America. I lived with her for a while. It was devastating to me because marriage was such a big deal for me.
In order to save my marriage, I did everything. To get away, I got out of book deals, I sold everything I had, I got out of a book deal, movie deal, I got out of every single deal that would have made us rich. And I went to a very simple life back in Boise, Idaho. And Saeed was not happy when he came out of prison. 88 And so for God to just reveal his heart to me that you are so much more than an institution. If an institution falls apart, so what. You're more important. And I think that's true about churches. That's true about marriage. That's true about any ministry. Like the Ravi Zacharias or the Franklin like, you know, the Samaritan's Purse and all of that. One thing people are always confused about. And I want to close with.. I mean, there was there's been a lot of revelation through the seven years, but a lot of people are confused, because they're like, but they are doing so much good work. Well, I want to compare something. If you remember Matthew 7:22-23, Jesus doesn't really care about big works. In the last days, many will say to the Lord, like I prophesied in your name. And it could be prophecy in terms of telling the future or prophecy in terms of being good teachers, there's two kinds of prophecies. I, you know, I cast out demons did miracles, and what does Jesus say? I never knew you. Get away from me. Like Jesus does not want to associate with these kinds of people. And what does he call them? Those who practice lawlessness. So, what do you think is the law that they're not practicing? We see in Matthew 25:35-45, where Jesus actually separates the sheep and the goat. And he actually says what a true believer would do. He calls the sheep. He says, you know, you fed me when I was hungry, you gave me water when I was thirsty, you clothed me, you visited me when I was in prison. He lists things that are like small jobs that no one really saw. Only a true believer would want to do these menial jobs that doesn't get any it's actually about giving than receiving. You're, you're helping, you're feeding someone, you're not receiving from the sheep, you're actually giving. So, it's like the feeding you know, giving food, giving water, giving clothes, visiting someone who's sick, giving of your money and your time. You're not benefiting. As a true believer these are the things Jesus lists as a true believer, it's things that are as a follower of Christ you're giving, you're not really receiving and then what does he's the people that he casts away and says, get away from me are people that say, and then these people are very humble. They're like, Jesus, but we didn't see you to give you water or food and they're like you did it to the least of these. So, what's a true mark of a follower of Christ is when you do it to the least of these that you're not getting anything back, but you're the one giving and no one's seeing it. You're doing it according to the way that the Bible tells us to do it. You're not getting any glory from man. No one knows that you did that. I mean, it's so hard, it requires a daily death to yourself to give, and then not let anyone know.
To give sacrificially like the lady that you know. And I just have to say, and throughout the years, God had me practice these verses. Where I had a little bit of a saving, that it was kind of it was my idol, I was kind of relying on even after the divorce, and I read the verse where Jesus feeds the five thousand. But he tells His disciples, He says, they're like, oh, these people that are needy, send them away. He's like, no, you feed them. It's on you. And, you know, they gave Jesus everything they had, and he blessed it. So, there's a lot of stories, but I do want to share this; following Christ is hard. I had to give up that saving. And it was really, really hard to obey this. That you feed them because I had abuse women coming to me. And I was like, oh, I have my savings, oh, I'll be praying for you. Like, I know, you need a lawyer right now, or you need a house or like, but God's like No, give you give, when it's not tax deductible, when it's not seen. And so that's the mark of walking with Christ is actually the cross, and I just want to close with this and encourage you.
It might seem, it's really a hard road of continual death to self, of not getting the glory. You know, John the Baptist said, I must decrease, and he must increase. that decreasing of self-take, you know, there's so many times I'm like, take the last seat. You know, I have to tell myself like, don't try to be you know, die to yourself, become less. It's a daily reminder to myself to be less, to hang out with the least of these. I would rather hang out, a majority of my time is, with hanging out with least of these, then, you know, I don't really like platforms. I really don't like, really, my heart is really what Julie and what she does, and the attack she's under. So, I told her, I'm like, I will do this. It's, you know, but I wanted to do this. But I don't really enjoy platforms, you know. I'm at a place, you know, I'm the executive director of, you know, Tahrir Alnisa. That was two years ago. I closed it down. I don't receive any donation. And even when it was open, I never touched the money. It went to other things. Never got $1 from that money as a salary. So, but all of this to be said is, it's a death to self to continually be like, as a follower of Christ. I'm to give, I'm not supposed to benefit from the sheep, I'm supposed to give feed the sheep not you know, benefit. And so, it's a daily death and calling out abuse is extremely hard. I go through his condemnation, self-condemnation. Every time I speak out, I struggle, I cry. I read people's words that are online. And I try not to, but it gets to me. And then I'm like, but then I go back, God, you had me walk through the journey of abuse for a reason. So, I'm not going to be silent. And you are going to, you know, sometimes it's overwhelming. You're like, I'm not going to be able to change anything. But I'm supposed to be a voice and I might not see a change in the church, but I'm going to be faithful to what you know, God has walked me through.
There's a reason he had Saeed's story becomes so big, and then he unveiled the abuse. And so, he was not just it was just not about domestic abuse. It was about how the church handled it, it was about a hero, Christian hero, it was about a pastor, it helped so many things that needed to come to light. And so, I keep going back to that God allowed this to come to light for a purpose. And because he allowed me by His grace, to walk through that suffering, to be able to understand the suffering of others, like Sandy and her husband, and other people who've gone through church abuse and spiritual abuse, then it's worth it. If I am able to connect with the broken and understand and sit with the broken like that's where I actually find soothing in my life. It's when I'm actually sitting with the broken. That's where you know I have deep communion is with the broken. So, if that's where it's brought me, then it's worth what I you know, in so what I've gone through. And again, it was pretty extreme. It was like high of people's praise down to like you are a cheater and adulterous and you're this and that, all sorts of accusation from my closest friends at that time and my biggest supporter.
So, I just want to encourage you. We all have walked through stuff. Don't be discouraged. Keep speaking out. It is very hard because a lot of times we don't see fruit and we feel condemned. Like why am I just caught talking about like, why am I causing drama in the body of Christ by talking about this? I'm just going to mind like, I've made that decision so many times, I'm just going to mind my own business, live with my like, you know, just live a peaceful life in Boise with my kids and I'm not going to talk about this anymore. And then something comes up. I'm like, I gotta share about John MacArthur, like, I got, I can't do this like, and then I keep going back. There's a reason God gave me and it's touching the untouchables. It's touching things that, it's Matthew, what we've talked about in Matthew. It's giving to the least of these and that's what differentiates true follower of Christ, the goats versus the sheep, the sheep versus the goat. So, I hope you're encouraged. I'm glad this is over. Thank you.
JULIE ROYS 40:41
Well, again, that's Naghmeh Panahi, speaking at a special dinner at the Restore conference. And I so appreciate that word from Naghmeh. One thing I've learned about Naghmeh in the past year is that she's a fighter, and she's a truth teller. And that's what we're called to be in Scripture, right? As Paul says, in Ephesians 5:11, have nothing to do with the fruitless deeds of darkness, but rather expose them. So, I want to thank Naghmeh publicly for using her voice to confront evil and to confront the powerful. And I want to encourage all of us with her admonition to do the same.
I would ask, too, that you consider supporting The Roys Report. We can continue to do our work of reporting the truth and restoring the church only as you enable us to do it with your prayers and financial gifts. And in August, we have a great premium for those who give a gift of $30 or more. We're offering The Lord is My Courage by author and trauma informed therapist KJ Ramsay. KJ also is a survivor of spiritual abuse, and in this book, she walks through Psalm 23 phrase by phrase, exploring the landscape of fear, trauma, and faith, that's so common for those who have experienced religious trauma. To give a gift and get KJ's book, just go to our website, JULIEROYS.COM/DONATE. Lastly, I want to encourage you if you haven't already, please subscribe to The Roys Report on Apple podcast, Google podcast, Spotify, or YouTube. That way you'll never miss an episode. And while you're at it, I'd really appreciate it if you'd help us spread the word about the podcast by leaving a review. And then please share the podcast on social media so more people can hear about this great content. Again, thanks so much for joining me today. I hope you were inspired, encouraged, and blessed.