For years, Naghmeh Panahi heroically advocated for the release of her husband—Iranian-American pastor, Saeed Abedini—from an Iranian prison. Yet months before his release, Naghmeh revealed a dark secret: for years, Saeed had been physically, emotionally, and sexually abusing her.
Yet rather than rallying to support this battered wife, Naghmeh says the Christian community attacked her. And she says some—including Franklin Graham and Jay Sekulow—relentlessly pressured her to reconcile with her abusive husband, or to even lie about what happened.
In this second of a two-part podcast with Naghmeh, you'll hear audio from an intense meeting Naghmeh and her pastor had with Franklin Graham and Saeed in 2016. Julie also shares emails between Franklin and Naghmeh, where Franklin calls Pastor Saeed a "hero" and rebukes Naghmeh for revealing her husband's abuse and embarrassing him.
You'll also hear about a surprise visit to Naghmeh's house that Franklin Graham arranged by flying Saeed, his parents, two counselors, and a bodyguard to Boise on a private jet.
And you'll hear part of a campus-wide gathering at Liberty University where Saeed is praised as a "hero of the faith." This convocation happened several months after Naghmeh went public about Saeed's abuse.
The entire story is incredibly sobering. But it's also necessary to bring to light how battered women are treated in the church.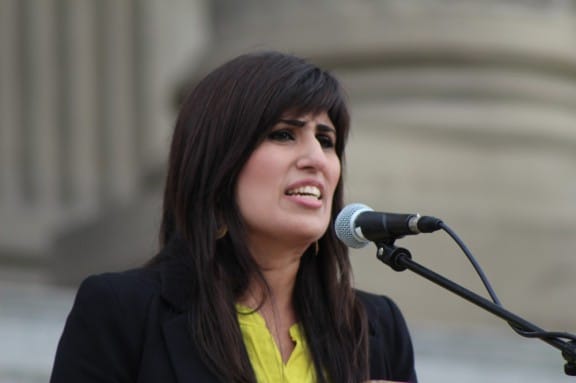 Naghmeh Abedini Panahi made national news in 2012 when she publicly advocated for the release of her then husband, Saeed Abedini, who was imprisoned in Iran for his Christian faith. Through Saeed's imprisonment Naghmeh was not only able to bring worldwide attention to the plight of the persecuted Christians, but she was also able to proclaim the Gospel to millions of people worldwide by speaking to governments, human rights groups, and major news outlets. When it came to light in 2015 that Naghmeh had been abused throughout her marriage by her "hero" husband, the Christian community turned on her. Though Naghmeh was judged, abandoned, and rejected by the Christian community, she trusted in Jesus to be her defense and to fight her battles. Naghmeh's story is a story of God's amazing rescue and restoration.
SPEAKERS
JULIE ROYS, SAEED ABEDINI, FRANKLIN GRAHAM, PASTOR BOB CALDWELL, DAVID NASSER, NAGHMEH PANAHI
JULIE ROYS
For years, Naghmeh Panahi heroically advocated for the release of her husband—Iranian American pastor, Saeed Abedini—from an Iranian prison. Yet months before his release, Naghmeh revealed a dark secret—that for years, Saeed had been physically, emotionally, and sexually abusing her. Yet rather than rallying to support this battered wife, Naghmeh says the Christian community abandoned her. And some—including Franklin Graham and Jay Sekulow—pressured her to reconcile prematurely or even lie about what happened.
Welcome to The Roys Report—a podcast dedicated to reporting the truth and restoring the church. I'm Julie Roys.
And today, I continue my interview with Naghmeh Panahi. And in this podcast, I'll be sharing emails from Franklin Graham, showing how Naghmeh was treated. I'll also be playing exclusive audio from a meeting Naghmeh had with Franklin Graham in 2016. And despite Naghmeh's insistence that she doesn't feel safe with Saeed, Graham repeatedly pressures her to come to North Carolina and submit to face-to-face counseling with Saeed.
You'll also hear part of a convocation at Liberty University where Saeed is praised as a hero of the faith. This convocation happened several months AFTER Naghmeh went public about Saeed's abuse.
The entire story is incredibly sobering. But it's also necessary to bring to light how battered women are treated in the church.
Before we hear the rest of Naghmeh's story, I want to take a minute to thank the sponsors of this podcast—Judson University and Marquardt of Barrington.
 
We now pick up my interview with Naghmeh Panahi where she describes landing in Boise, Idaho, in 2015—just hours after sending an email to supporters telling them about Saeed's abuse. And then, several high-profile Christian leaders called. The first was Franklin Graham.


JULIE ROYS
When Franklin called, what was the content of that conversation?
NAGHMEH PANAHI
Franklin said, I realized you'd sent this email. Like, I'm shocked and I start crying pouring out my heart, someone just coming out of abuse or understanding abuse, they babble. They're like, wow, I just was like talking all over the place, crying, pouring out my heart. And there was silence. And he said, Naghmeh, can I ask you a question? I said, Yes, Franklin. He'd become such a good friend to me. And he said, Are you cheating on Saeed? And at that time, I felt like this bleeding woman on the side of the road. And this big stone being thrown; the first stone of adulterous and I just didn't know what to say. I was like, saying all of this, that I've been abused that I've been physically that I've been cheated on that all of this and your comment is, Are you cheating on Saeed? It just it boggled my mind. Later, I realized when other people started accusing me of adultery and trying to be famous, and I realized they had to reconcile, they had to say, Well, why is Naghmeh saying all this? Oh, it must be that she's with someone else, and she's trying to throw Saeed under the bus. So that really shook me. I just remember just being confused and hanging up and I saying no. And later, I sent him an email saying, and I have that email saying, Franklin, I am really sad that that's what you said on the phone. And then the phone call after that was Dr. Wood because I remember telling Dr. Wood like, can you please explain what you're telling me on the phone to Franklin Graham?
JULIE ROYS
Again, George Wood is superintendent of the Assemblies of God. He also was kind of Saeed's pastor, right?
NAGHMEH PANAHI
Saeed comes from the denomination of Assemblies of God. That's the church I met him in in Iran. The Iranian pastors overseeing site had put him under church discipline at one point. I didn't know Saeed had been under church discipline. But Dr. Wood being the head of at that time, he's no longer at that time, he was the superintendent of Assemblies of God had gotten all these reports. He Dr. Wood knew Saeed's history of abuse.
JULIE ROYS
And in that phone call, he divulged that to you.
NAGHMEH PANAHI
He called me and he said, Naghmeh? Can I ask why you came forward with this? He said, because we knew this. He said, What happened? I explained how I realized I was an abused wife. And his response to me was, I am so glad this came out. Millions could have been deceived. And then that's when I poured out my heart. And I said, Dr. Wood, can you please explain to Franklin Graham what you just said, because no one's believing me right now and Franklin has accused me of adultery. Can you please write a letter? And he said, Okay, I will write a letter to Franklin.
JULIE ROYS
That letter you've sent to me. And he's very clear in that letter, which again, you forwarded to Franklin that there were reports of physical and verbal violence against you, and your parents, also destruction of property. So that was sent to Franklin and also just that Saeed had also expressed his desire to become rich and famous by writing a book and speaking, which I know was something you were concerned about, as well. So all that did go from Dr. Wood to Franklin Graham. But again, you also got a call from Jay Sekulow.
NAGHMEH PANAHI
The message I got from ACLJ was now media is on this, we need to have a statement, there was two concerns one, what are we going to say to the media, we can say you're on medication, and you are mentally ill. And I said, No, I'm actually not on any medication. And I'm not mentally ill. I'm actually seeing clearly now what I've been under. And I cannot say that in good conscience. But they they said, How do we salvage what has happened then? We came up with a statement. I don't remember exactly kind of saying basically what everyone says when they don't want to talk that I've been under a lot of stress, and we would appreciate privacy. So something to try to fix the stuff that come up about Saeed, but I refused to say I was crazy, or I had mental illness or I was on any form of medication. Jay was on the call or his staff was on the call when they suggested that you say you're mentally ill? Jay and I believe he has a top staff advisor. His name was Jean. Jean Cap.
JULIE ROYS
So I did reach out to Jay Sekulow for response; specifically asked him whether he urged you to claim you were mentally ill or on medication. His press person responded. The answer to your question is no. We will have no further comment due to attorney client confidentiality. I also reached out to Franklin Graham for comment specifically asking him about your conversation. And I'll talk more about this statement in a bit and read more portions of it. But he did not address that specific allegation that he had asked you about being unfaithful. In mid-November, right after the emails come out, Christianity Today published the story about your leak the emails, this became really huge news. So now it's not just the insiders knowing about it now it's become very, very public. How at that point when it was published to the world, basically, how did the Christian community respond?
NAGHMEH PANAHI
Closest people to me started attacking me. Oh, it wasn't a leaked email. You really wanted it out there. You were trying to destroy Saeed, you're probably cheating on him. At its best, there was silence. At its worst, there was a lot of accusations coming from those who had supported me who had really been support to me during the three years I advocated for Saeed.
JULIE ROYS
January 16, 2016, Saeed is released from prison in Iran. It takes him a few days. He initially goes to Germany. And this is kind of a public relations nightmare in a way for Franklin Graham, because he wants you to show up in Germany with Saeed when he gets off the plane. Is that correct?
NAGHMEH PANAHI
Yes. Yes, I got I got a call from Franklin saying I'm going to get Greta Van Susteren on the plane. We're going to come pick you up on a private jet and take you to Germany so that the reunion there's the camera captures that. All of that. A big part of me wanted that reunion. So I went to grab my passport couldn't find it. I actually called Congressman Labrador at that time was Idaho congressman came to my house and he said, are you flying to Germany? And I said, I can't find my passport. I think it's at the bank. And he called the head of the bank, Dale Evans, and they said, Well, it was like a weekend where the Monday was off with some holiday. And they said, well, it's on a timer. You she can't get till Tuesday. So I told Franklin, can you guys come pick me up on Tuesday, like 10am. So I can go to the bank, get the passport, and then we can fly out to Germany. Well during the three-day weekend while I was waiting to go get my passport, I was getting advice saying this might not be a good idea to get your kids and go to another country. Because Saeed could do stuff there and you don't have the legal rights you have in America. And so after much counsel I decided the three days I was waiting for my passport, I decided not to go. So by Monday night, I messaged Franklin and said don't come. I'm not going to go. I said he hasn't called me since he's been in Germany. And the three days I waited when his sister sent me the phone number, I did call Saeed and he was angry. He threatened to come and take the kids back to Iran. So I told Franklin, I'm like, I'm dealing with a very angry person. I'm not going to go to Germany. Interesting enough. Later, months later, the passport was actually in my closet. I hadn't found it. In God's design, I couldn't find it. I thought it was at the bank. So yes, he wanted me to go Germany do the story. I didn't and he was very upset about that. He ended up sending his private jet with some of his security people. And they went to Germany and picked up Saeed and brought him to America.
JULIE ROYS
So you didn't do the Germany thing. But several days later, Saeed came to North Carolina. Again, another opportunity for a photo op. Franklin really wanted you to come to that. Again, you said no. Was there a lot of pressure from him to do that?
NAGHMEH PANAHI
It was not a firm no. I really wanted to and then I kept going back and forth which a lot of abused woman do. I first I said yes. And then I said I was really afraid. I knew Saeed saw me as his enemy. And I honestly feared for my life. And at first I said, Okay, then I said only for him because he was going to put us in the same room romantic, like, lights, candles.
JULIE ROYS
Wow!
NAGHMEH PANAHI
I said, separate rooms, I need bodyguards. I made the mistake of asking for marriage counselors. At that time. I didn't realize if you're dealing with an abusive person, marriage counseling is not the answer. And so I was really wanting to go and he was really pushing me for to go he was really, I would say bullying me to go to North Carolina. It was all over the news that I was going to go to North Carolina. And that was going to be the big photo op opportunity of our family reunion that millions of people were waiting for. And a big snowstorm hits. Franklin was supposed to come get me on Friday. And the big snowstorm hit and we decided he can have the reunion with his mom and dad and sister, and me and the kids could join that Monday. So I said no he can have the reunion with his family. We'll join later. During that time I really prayed and sought the Lord and God's amazing grace, I found a lawyer that said if you leave Idaho and Saeed files for anything, a legal separation, divorce, you will have to stay in North Carolina and fight and Saeed had threatened to take the kids back to Iran and my lawyer said he can do that. He's their father. He has every right. So I had talked to a lawyer which helped me make the decision not to go to North Carolina, and Anne Graham Lotz helped me a great deal. Right before I made my final decision she called me she said Naghmeh, don't go there's no cell phone reception. Because I think my last question to her was is there cell phone reception, and she called me, she said, there's no cell phone reception, you're 50 miles from your closest place. And she said, there's a snowstorm there. She's like, it's dangerous for you to go there. So she actually confirmed what I already was coming to that decision not to go.
JULIE ROYS
Well, and you've released to me some emails, and one of them is from Anne Graham Lotz. You also gave me some emails from Franklin Graham. January 18. At this point, he's urging you to come Asheville, North Carolina, the Billy Graham Center retreat there, remote place, and to submit to like a week of intensive marriage counseling. And so you write him on January 18. And you write because of the tremendous abuse that I've gone through the last 11 years of our marriage, including his time in prison, and including his being Saeed, call with me yesterday in his hunger for fame and wanting to work through ZiZi to get that famous. ZiZi, by the way, is Saeed's sister who works at Liberty University, and because of Saeed's heart yesterday showing his lack of repentance and his continued vicious cycle of having me beg for his forgiveness and try to fix things and lie to the world that things are not that bad, I need to keep the boundaries that the Lord has clearly spoken for me to keep. This means I will be more happy for Saeed to get counseling by himself. The kids and I will not be part of that process and try to sugarcoat the horrors of the abuse. It is real and I cannot force myself to back down on my boundaries. Then skipping to the end of your email you write the most loving thing that I can do for Saeed is to keep my boundaries and hope for true repentance. Thank you for your understanding. Franklin responds, Naghmeh, I'm very sorry for you and Saeed. The Bible is very clear. When we get married, we're to leave mother and father and be joined together and become one flesh. He then confronts you for living with your parents and writes, even if Saeed was able to prove to you that he's changed and satisfied all of your conditions, I'm afraid that you would raise the bar even higher to make it impossible. He then talks about how a broken home harms children and states, I hope you'll think of them and give reconciliation a chance. God hates divorce. My offer is still good. Then you respond to Franklin, your decision about my character is not accurate. My bar has been very low. I have no intention of divorce. This is not my heart. But I cannot go back under the extreme abuse. I don't have a bar. I don't want abuse anymore. Three days later, you get another email from Franklin. In it, he says, You haven't seen Saeed in three years and you talk about true repentance and reconciliation. How do you know unless you come to see him and spend some time talking with him face to face? I'm counting on you to keep your word, as you promised. I'll see you Monday. The following day, Franklin also sends another email this would be Saturday. Your husband is a hero. He was jailed for his faith. He has suffered greatly for his faith. He is a hero to millions of people around the world, you did the right thing to make his story known to try to help him. That is the duty of every spouse. Later in the email, he states I know many people in the ministry who want money, fame and to sell their books. I'm not saying that Saeed is not guilty of abuse or watching pornography. And I'm sure he's guilty of much more. The problem is you exposed him publicly to the world and embarrassed him.
NAGHMEH PANAHI
Oh no. That's so much worse than the abuse.
JULIE ROYS
Well, apparently. Then Franklin complains that you didn't come to Germany to meet Saeed. When he first arrived in North Carolina. Then he mentions how you changed your mind several times. He ends by writing, you want Saeed to crawl the you in Boise where he has been publicly exposed, embarrassed and shamed. To have your family and friends wag their finger in his face to humiliate and shame him more. I recommend that you come for one week of counseling with him and then make your decision. But you need to get away from Boise to be with him quietly where you will be protected. That is my recommendation.
NAGHMEH PANAHI
He basically wanted my support system gone. There's emails where he says you have bad counsel. He didn't want me listening to my abuse counselors. He didn't want me listening to pastors and people that knew Saeed and were advising against reuniting in a private romantic setting. He was dismissing my parents which they were safe haven for me to run to, saying my family was causing the division. Standard being high, I just didn't want to be beaten and cheated on. That was my standard. And I wanted him to get help on that. And the things I was accused of, there was no understanding. There was no him saying I'm sorry for the abuse you've endured. Franklin doesn't address any of my deep concerns and he's just worried about Saeed's reputation.
JULIE ROYS
Hmm. To be fair, I want to read Franklin Graham's statement that he sent to The Roys Report when I asked him about his actions relating to you and Saeed. I'm not going to read the whole thing because it's very long, but I will post it to my website. But he writes, like everyone else who accepted Naghmeh's pleas for help securing our husband's released from prison and work to mobilize prayer support and public awareness, I was both shocked and saddened to hear just days before his release of her account of abuse suffered during her marriage and I continue to try to help this family in any way I possibly could. Certainly abuse of any kind, physical, emotional, psychological or spiritual is wrong and should not be tolerated or excused. While I'm not a licensed counselor, I did offer limited counsel to both Naghmeh and Saeed as a minister. Since then, Naghmeh has been publicly critical of me and the council I may or may not have given her. Though she is certainly free to discuss whatever she wishes about her life and her communications with me, I do not believe it would be appropriate for me to publicly disclose or discuss advice or counsel I may have offered to this couple, other than to say it was always my sincere desire to see Naghmeh and Saeed experience biblical reconciliation and a god given restoration to their marriage. I have not communicated with either Naghmeh or Saeed for several years, and do not intend to discuss the matter further, and certainly not publicly. Naghmeh, what's your reaction to that statement?
NAGHMEH PANAHI
That's a misinformation and lie. First of all, my information was not released days leading to Saeed's release. It's a narrative that Franklin and others have painted that I realized Saeed was coming out and I thought, Oh, I'm with someone, how am I gonna get away with cheating on Saeed? Or let's call him an abuser. And so I can get away with adultery? That's not the case. It came out months before Saeed got out. It was not days. So that's false. So his worry for psychological emotional abuse? Why hasn't he told me that in the six years that he's had a chance? Where's the fruit and Franklin's life, saying that he stands against the abuse? On the contrary, he has advocated for Saeed when he knew Saeeed was an abusive person.
JULIE ROYS
And it's my understanding what you are asking for is saying, I'm not going to submit to being alone with my husband or even face to face in a week of counseling in a remote area. What I need to see from my husband is that he's repentant, but he needs to deal with the abuse, he needs to meet with an abuse counselor. And it's interesting, I talked to David Chadwick about this again; the pastor that you divulged what had been happening to you back in November of 2015. And he said, from his experience, again, he has a doctorate in counseling and in pastoral ministry, he said, Absolutely, you have to see that change over time, you do not put an abused wife with her abusive husband in marriage counseling, when that husband hasn't shown any repentance and hasn't shown to her that that he's safe, that she can even be with him.
NAGHMEH PANAHI
Why would I put myself in a situation where I'm alone in a room with someone who's threatening to harm me and take my children?
JULIE ROYS
And I found stunning the part of Franklin's letter where he's like, well, lots of people want to get rich on the ministry. Like that's okay. Because lots of people do it.
NAGHMEH PANAHI
Yeah, it's okay to be making money off of ministry. What's wrong with that?
JULIE ROYS
And it's my understanding too, during this time, you actually had been paid in advance to do a story with Saeed about, you know, everything that happened. You paid back, not just what you had paid, what would you had been paid, but what your agent had been paid, what Saeed had been paid. You lost money, you paid 10s of 1000s more back to get out of that deal, because you didn't want to write a lie. Is that correct?
NAGHMEH PANAHI
So yes, I sold everything I had, and I got out of the deals. And that was one of the reasons Saeed was very upset because he wanted to write a book and be famous.
JULIE ROYS
Well, good for you. I mean, I've been in that world. And, boy, I tell you.
NAGHMEH PANAHI
Today I share something on my social media. It's not Christianity. It's been morphed into something I can't even recognize anymore. I work with the underground churches in Iran and Turkey. The pastors are laying down their life, they're not celebrities. It's hard to be a wolf when you have to give your life. So there's not a lot of wolves.
JULIE ROYS
Kind of weeds them out, doesn't it when you have to lay down your life for Christianity.
NAGHMEH PANAHI
Being a wolf here is easy because you get a platform, you get money, you get fame, you get a book, you get movie. So you can be a wolf in sheep's clothing here, but in the Middle East where you have to actually die for the sheep and for your faith. A lot of wolves are done. They actually are like, actually, I'm a wolf. I'm done. I'm moving on. You know, so it's harder, but it's not Christianity, what we're saying the celebrity world of Christianity where pastors are treated like mini gods and they lord it over people. They abuse the flock financially. In every sense of the word, and they don't lay down their life, they sexually use their position to sexually abuse, emotional abuse, financially abuse. This is not Christianity, and how are we going to be a light to the world? And that's why I wanted to get out. That's not what sent me to Iran to share the gospel. I didn't go to Iran thinking how can I become famous? I had no social media. The first time I started a social media was to advocate for Saeed. I wasn't even on social media barely before 2012. I didn't care for people to know what I was doing. I actually recently took a break from my ministry because I don't like talking about what God's doing, and rescuing woman from abuse and persecution in Iran, and trying to make money off of it. It's ministry has become such a dirty word to me. But this is not Christianity to become celebrities and have the praises of people. So I wanted to untangle myself from the world. That's why I got out of the book deal.
JULIE ROYS
One really interesting development, which you mentioned, is that while you're corresponding with Franklin, you reached out to Anne Graham Lotz, Franklin's sister, and specifically you told her how scared you were to go to North Carolina. But you're also asking for advice. Like, again, you were saying how you were kind of waffling like, Am I doing the right thing? She responded on January 21, 2016. In an email she writes, and this is stunning. Your email. I love this. This is always how I've imagined Anne Graham Lotz. She seems like such a godly woman. Your email? Yeah, your email. Beloved Naghmeh is an answer to my prayers. I prayed for you throughout the night last night. When I woke early this morning, I found myself praying for you deep down in my spirit. Then I prayed for you during my devotional time. What you shared below is the right thing to do. I totally confirm that you are to stay in Boise where you have a network of support. You're right. Franklin does not understand. And I also can tell you, Franklin is not a good listener. Just never mind him. If that's possible. Wow! I mean, that must have meant a great deal to you. I mean, I'm sure it means a great deal to you today. But at the time, I'm sure that was just like water in a dry desert.
NAGHMEH PANAHI
Her confirmation was one of the reasons that me and my kids life was saved. And we didn't go to North Carolina. I was asking the Lord for a confirmation. And she sent me that email, and she called me.
JULIE ROYS
Wow. Well, not to be deterred. It sounds like Franklin put Saeed, his counselors, the marriage counselors he wanted you to meet with, Franklin's own body guard on a private jet, sent them out to you on January 26. So this is just five days after Saeed's arrived in the US. And from what I understand you were actually on the phone with like a Reuters reporter? And that's how you found out like, you didn't get any warning on this. Is that right?
NAGHMEH PANAHI
My lawyer said, if he ever comes, you need to file for a legal separation and a protection order, so he can't take the kids and take him to Iran. That was my biggest worry. Then I get a call in the morning from Reuters saying how do you feel about Saeed coming to Boise? And I said, Oh, no, he's not! They're like, Oh, yes, he is. Like, I don't think so. I'm like arguing with the Reuters reporter. They're like, we confirmed it with the Samaritan's Purse people. His private jet has just taken off. And I'm thinking, Oh, my goodness, I have probably less than four hours because I'd been on that private jet going back and forth. I thought I don't have that much time. So I called my lawyer. And she said he cannot take the kids. She said with a private jet. It's so easy. He just comes takes them. He's their father, he can do whatever he wants. He can take him out of state if he wants to. And who does that when I've told Franklin, I'm afraid Saeed has threatened to take the kids? Who does a surprise with a bodyguard and Saeed and his parents and his sister and the marriage counselors? They show up unannounced on a private jet. Like that is traumatic. And that's what the media didn't understand. Why did I all of a sudden get a protection order. So he can't take the kids. The court gave me that because I'd explained the threats, Saeed's threats and anger towards me and wanting to take the kids and then I had to file for legal separation. So the kids had to stay in Idaho. He couldn't take them legally. I didn't want to divorce Saeed. I just wanted protection until Saeed got help. As I pull in, I'm talking to my pastor on the phone. And I see as I am literally just pulling into the parking lot. I see another car come beside me and it's Franklin Graham's bodyguard, Tim, and next to him is sitting Saeed. Saeed is sitting next to him and I look at the backseat of his mom and his dad and his sister. And then I see another car behind them that I don't recognize, who were the marriage counselors and I'm beside myself and I run out. I just I stress out and my pastor says hand the phone over to Saeed, I'm gonna explain to him he can't come and take the kids. So I give the phone to Saeed. I look at the body guard and I say, you know, there's a protection order, and Saeed cannot take the kids. Because that was my number one worry if he was going to take the kids. And I found out as I was talking to the bodyguards, I was like, when are you guys planning to leave? Oh, we were planning to leave tomorrow. Now we got to get a hotel. And I was like, Whoa, because they realized that this was going to be a longer process.
JULIE ROYS
So they were anticipating they could take the kids back?
NAGHMEH PANAHI
Yep. They weren't anticipating on staying in Boise. Because from what Tim told me, he's, he's like, well, now I guess we got to stay long. And he said, I need to go back tomorrow. But I guess the marriage counselors, and that's how I realized it was marriage counselors. He said, I guess they have to stay. From what he told me, I was shocked that their plan wasn't to come and stay in Boise. Their plan was to come and get me, get me and the kids or just the kids, I don't know. I told him Saeed cannot take the kids. He has supervised visits in the next few days. He can spend as much time as he wants. I basically told the judge that Saeed can have every single day with the kids except for overnights because he hasn't seen the kids, you know. So he did. He had them for every single day until we had a court hearing. But I was just shocked that I was given a surprise visit on a private jet, knowing that Saeed had threatened to take the kids. And it was very traumatic. It was very, very scary to do that. And then that's when the reunion happened. The kids came out, saw him in the parking lot. And there was photos that was released by the Idaho statement the next day showing the kids reunited with their father.
JULIE ROYS
Wow. So for the next several months, there's a lot going on behind the scenes with you Franklin, Saeed, and in the middle of all this, I was stunned to find this out on the internet. In March 2016, the video still out there, Saeed suddenly appears at a convocation at Liberty University in front of thousands of students. Again, his sister ZiZi works at Liberty in David Nasser who was the VP of I don't know spiritual life, basically the chaplain there at Liberty. He's Iranian American. He talks about it from the stage, how ZiZi had reached out to him and Saeed's apparently having a little family reunion. They're in Lynchburg, Virginia. And so Wow, let's have him speak at convocation here at Liberty University. So they actually have this pre produced. I mean, it's supposedly it just sort of happened. But you know, overnight, they produced a promo video that actually opens with you advocating for him. So here, you're talking about abuse, it's become public. And they're showing a video opening with you, basically lionizing, your husband, making him look like a hero. And then David Nasser begins to interview Saeed and ask him about his time in Iran, his experience, the persecuted church. Then at the very end, and I'm going to play a clip, David Nasser asked him about the troubles in his marriage. I'm going to play a clip that gives Saeed's response, and then also what Nasser says, and then I would love your response to what you hear.
SAEED ABEDINI
I'm the same as the other people. The last part of my story was the hardest. Still, I got free from prison. But to be honest with you, still, I couldn't feel my freedom yet, because of the new battle that I went through. I had, you know, different imagination when I'm going to be free how it's going to be. But now I'm just seeing that the things that are in my life, it's not in good position, actually, especially in my marriage. But I believe God's in it. God's is in the middle at the bottom of everything in our life. And we need just to trust and keep fighting, and don't give up and stay under any pressure. And we're going to see that he's going to be glorified.
DAVID NASSER
Amen. Now, we are heavy hearted for what's happening right now with your marriage. And I know that, that there is great hope and knowing that you're not staying that you're not alone in this, you know, from Pastor Franklin Graham, to other just brothers and sisters in Christ. There's an army of people who are standing with you, fighting with you, praying with you.
JULIE ROYS
An army of people. Saeed's got an army.
NAGHMEH PANAHI
Interesting he mentions Franklin Graham.
JULIE ROYS
Yeah. Did you hear that at the time when it happened?
NAGHMEH PANAHI
I don't remember it. I remember just feeling sick to my stomach when he got that Fox News interview and then I knew he was at Liberty. I just couldn't listen to it. And then he spoke at an event at a church where Mark Driscoll prayed for him. All the victims of abuse abusers who, who acted like victims. They all felt sorry for him. And oh, you know, he was really shocked. He wanted to come out of prison as a hero. He wanted to be worship like most abusive pastors do. And he wanted to make a lot of money. None of that happened.
JULIE ROYS
What's your impression, though, of David Nasser, the way that he presented Saeed, the way that he responds when Saeed talks about the troubles, but God's going to be glorified?
NAGHMEH PANAHI
There's no mention of the abuse, there's no addressing it. There's no concern. They obviously gave him a platform. And it's all about poor Saeed, and we're with you. I mean, there were a lot of people were with me when I was advocating for his release. Is there anyone with me when I'm saying that I'm in danger, and he's abusive? It's just one sided. And that's how it was. It was one sided of poor you. I mean, I think a lot of religious leaders who are abusive, were shaken thinking, Oh, no. The interesting thing with my case that I believe God has given me a platform is I had become somewhat of a hero too. Usually it's the pastor, the person who's famous, they can easily silence the wife. And because I've been given a platform Saeed didn't have as much of a weight even though Franklin was on his side, you know, Liberty gave them a platform. I was the one advocating for him. So I had what most women don't have, I had somewhat of a voice and a platform. And that's why Saeed didn't get as big as he wanted to.
JULIE ROYS
About a month after this Liberty convocation, you send an email to Franklin Graham. Apparently you had met separately with his counselors, Dan Stevens and his wife, correct?
NAGHMEH PANAHI
Yes.
JULIE ROYS
And you inform him that the Stevens' agreed with you, that Saeed should get abuse counseling, before you ever submit to any marriage counseling. Franklin Graham replies, and I quote, "I've waited to respond. I know that you wouldn't want to hear what I have to say. However, it is important that I be very honest with you. The only hope for you and your children is for you and Saeed to reconcile. You have made many demands since Saeed got out of prison. I think both of you need to see a counselor together. If you continue this way, you and Saeed he will destroy your children. Your children need you and they need their father, they need both of you. They need the both of you to be together as one. I'm willing to help both of you, but only the two of you together."
NAGHMEH PANAHI
I told Franklin, Saeed has severe PTSD and paranoia. I am his enemy. He wants to destroy me. And he laughed at me. And to know all of that, and to still say it's on me that my family is getting destroyed. To know all the fear all the things and to have it confirmed by pastors. Most women don't have that; they don't have pastor saying Yes, she's right. We're behind you. I had that I had pastors saying, We confirm Saeed's pastors, my pastors, I had many people. And still Franklin says it's my fault that I don't want to get alone in a room with Saeed and do marriage counseling? And, and my standard is too high for wanting no more abuse in my marriage? And it was really getting to me. Those words of Franklin Graham were really, really affecting me. I can look back at it now and see how silly it was. But at that time, I was really considering what Franklin Graham was telling me.
JULIE ROYS
So about the same time that all of this is happening, Christianity Today publishes an interview with Saeed. In that interview, Saeed argues that your accusations are false, that he never abused anyone in his life. He's never been addicted to anything at all. Did Christianity Today, did they reach out to you for your side of the story on this?
NAGHMEH PANAHI
No. If you read it, they never said we reached out to Naghmeh and Naghmeh had to say this. The stuff that came out about the abuse, they talk about that and then Saeed answers it. No reaching out to me about Saeed's comments, I didn't even know it was coming out.
JULIE ROYS
And how did you feel when you read that?
NAGHMEH PANAHI
I just felt I was being kicked again and again and again. And Saeed was given a platform and I was everything was trying to discredit me, and give Saeed a voice.
JULIE ROYS
I should mention I did reach out to Saeed to hear his side of the story. Initially, he said yes. I had to reschedule because something came up. And then he was not interested in talking to me anymore. So I don't know what exactly happened there. But he just stopped communicating. So but I did make the effort and will continue to if he wants to make a statement or say something. This whole time; again, spring 2016 Saeed is in Boise. Is that right? Where are you in the kids are?
NAGHMEH PANAHI
Yeah, the majority of 2016 Saeed was in Boise and we were going through our legal battle.
JULIE ROYS
So then beginning of the summer, Saeed heads out to Alaska, and works for Franklin Graham for the balance of the summer, I believe. At the end of that time, Franklin requests did he request a face to face meeting with you? Is that how that happened?
NAGHMEH PANAHI
In August of 2016, I get a lot of calls from Franklin and my body's shaking, what's going on? I listened to the message and it says, Naghmeh, I want to meet with you. And Saeed has confessed to some things. And he wants to make this relationship work. I'm shocked because up to this point, I'm the liar and Saeed, there's been no confession from Saeed. And then I didn't answer. I called my abuse counselor, he said, write Franklin Graham and say, Franklin, I have nothing to do with you. It was really hard for me to do that. But I realized why my counselor helped me come up with that short email is because Franklin still had a hold in my life. And I had to break that idolatry and for the first time say no,I don't want to meet with you. And then after I sent that to Franklin, I get a lot of calls and messages from Saeed. I want to work on our marriage. Can we meet? And at that time, I was afraid to say no because I thought they're gonna say in media that Saeed tried to make your marriage work, but Naghmeh didn't even want to meet. So I said, Okay. I talked to my a counselor, again, abuse counselor, and he said, If you meet with Saeed, bring two witnesses, and record it. In trying to save himself and have a ministry of his own, he confessed to Franklin a lot of things that I had said was true. And that's why Franklin and Saeed reached out to me. They wanted to meet with me, and according to both of them, Saeed had confessed some things to Franklin and he really wanted to try to work on the marriage. So I decided to meet with them.
JULIE ROYS
I have several clips. Again, you met in Boise at a conference room at a hotel there. And you did record it. And you've given me that recording. Here's the first one. This is from the beginning of the meeting, kind of Franklin, giving a preamble to sort of set the stage for how the meeting is gonna go. In this he vouches for Saeed's character. I'd like to play it and then hear your response.
FRANKLIN GRAHAM
I have not found Saeed to to lie to me. I have asked him questions that he did not answer. And that's his business. But, but I found everything that he has said to me has been true. When I've asked him a question, and he's answered something. And I think Naghmeh for both of you, that this can be fixed. And it can be fixed easy. If you want to fix. And I know Saeed has come to that place in his life where he is willing to do whatever it needs to be to fix the marriage, for the sake of the children. It's not about his happiness or your happiness, Naghmeh. It's about your children and their happiness and their life together. I'm not a marriage counselor, Naghmeh, okay? That's not what I do. I wouldn't do that for all the tea in China. I promise you don't have a gift of this. But I want to see this marriage, I'd like to see this marriage, if it's God's will, to survive.
JULIE ROYS
So it sounds like sideSaeed's being honest? He wants the marriage to work. Naghmeh, you got to change.
NAGHMEH PANAHI
Exactly. Actually, in the meeting, Franklin calls me the liar because I didn't tell him that Saeed was communicating with me via phone from prison. So I am the liar, untrustworthy person who's destroying the family and Saeed is the trustworthy person who's trying to do everything to save the marriage for the sake of the children. All along, I've told Franklin, I'm afraid for my life. I'm afraid for my kid's life. I'm afraid I'm afraid, I'm afraid. And it's on me to save the marriage when all I've asked is no more abuse. Past is forgiven, no more abuse, I will not divorce you. We can still work this out. But just no more abuse. That's my standard.
JULIE ROYS
There are two other clips from that meeting that I want to play. And in this next one, Franklin appears to downplay emotional and psychological abuse that you've endured. Of course, at this point, he knows about the physical abuse, but perhaps he thinks Saeed's changed. But it's clear that Franklin does not believe that abuse counseling is necessary. He also seemed surprised when you mention that Saeed may have PTSD. And there's a story in here and it's easy to miss. So I'm just kind of giving people a heads up. Franklin tells a story that's kind of shocking, about a marriage that he supposedly saved; yet in the same breath He says that the husband was just killed a couple weeks ago in an altercation with police. So you have to wonder how safe was this wife in this marriage that was supposedly saved. But take a listen judge for yourself
FRANKLIN GRAHAM
In discussing this abuse counseling, in the counseling business, this is something Naghmeh, that is kind of a gray area because all marriage counseling, counselors deal with abuse. And in most marriages, counseling, abusive husband comes home and he drinks a six pack of beer. That he's six beer he jumps up out of the chair because the kids are making noise and he beats his wife and beats the kids and that's that's something that goes on almost every day. So these marriage counselors are dealing with abuse. All of them to deal with abuse. But to have a counselor who specifically, is designated as an abuse counselor, that is something that nobody really knows of, hasn't really heard.
NAGHMEH PANAHI
The outside world has come to send some articles to the counselors outside world knows, I guess, is wiser than the children of God? They know that there's no way you can solve an abusive relationship with marriage counseling. The abuse has to be dealt with first. And if you look at any, you said, You're not a counselor. If you look at any Christian counseling, they say, never do marriage counseling when there's a case of abuse.
FRANKLIN GRAHAM
You're talking about a relationship where the wife comes home every night and she's being beaten. And she's being stomped on. These are the types of situations and that's not what you've been facing. Your husband has been in prison.
NAGHMEH PANAHI
I was beaten.
FRANKLIN GRAHAM
Your husband has been in prison for three and a half years. And he's not the same person that went into prison.
NAGHMEH PANAHI
He's gonna be there more dangerous, he might have PTSD. I've had military wives talk to me who say, I have military wives.
FRANKLIN GRAHAM
PTSD? Post traumatic syndrome disorder. You're saying he's got that.
NAGHMEH PANAHI
He's been in a prison. He was abusive before prison. He was verbally and emotionally abusive in prison. And he was three and a half years in a prison. Should he not. I've had military wives contact me and say, I wish there was a transition time our husbands get handed over to us, and it's hell. And we don't know what to do with it.
FRANKLIN GRAHAM
Naghmeh, this is what I do every week. I have military companies, marriage counseling that we do. I'm doing right now in Alaska. And these are couples that have not only brain injuries, I'm talking about serious brain injuries. I'm talking about guys who are missing legs, limbs, eyes, and burns. Marriages that are coming to a point where they're wanting to divorce. And I have a couple of couples come to me today up in Montana that were with me last year. One of them's husband was shot by the police a few weeks ago, and it got some kind of altercation and the police shot him. And so his wife came to me just crying today put her arms around, hgged, but thanking me for helping to save their marriage, which is unfortunate that the fact that the husband got into this altercation with the cops. And another man, a black man whose marriage was finished. He said thank you for helping to save my marriage. My marriage would be there. I deal with things to combat veterans every day. Okay, Naghmeh? I'm just here to listen. You can read all the articles you want.
NAGHMEH PANAHI
It's just scripture.
FRANKLIN GRAHAM
Okay. But listen. Takes two people to make it work. If you want to make this work, you're going to have to move a little bit. Okay?
NAGHMEH PANAHI
I'm sorry. But in abuse.
FRANKLIN GRAHAM
Don't tell me you're sorry, because it doesn't matter to me.
NAGHMEH PANAHI
I'm sorry, Saeed, but the abuse has to be dealt with. You know more than anyone how much I loved you. You always said it was astonished. The whole family was amazed how much I love you. I know, the three and a half years I gave my life to. I know what I did.
JULIE ROYS
Wow! I can imagine. I mean, I don't know. Does that evoke strong emotion when you you hear this conversation?
NAGHMEH PANAHI
Mm hmm. Yeah. Because I was at the end of myself, I had no energy. I was in middle of trying to protect me and the kids and I still wanted the marriage to work. I didn't see divorce coming. Divorce happened soon after that. Saeed filed. But it's shocking that Franklin basically says abuse is if a man gets drunk every night and beats his wife, if you listen to the recording. He's basically saying that's not Saeed. Abuse is if someone's drinking and getting drunk every night and beating his wife every night. That's abuse. That's what we deal with. And then to say that he saved the marriage but then the husband had altercations with the police? I mean, how safe was, you're happy that you save the marriage that could have potentially cost the wife her life? And for him to not think Saeed had PTSD? Where it's obvious he had PTSD and he works. He works with military they do the ministry in Alaska to serve military and are they dismissing the cries of the women who are saying he has PTSD and abuse? Franklin can't see it. What are the advice they're giving these families? And for him to say Saeed doesn't have it and then later for have the courts psychologist to come out publicly and say Saeed has severe PTSD and paranoia? And then for him to say it's on me for the marriage to work when all I've asked for is to deal with abuse? I mean, Franklin, it's obvious that this is so different than the statement he gave in his the message we just heard his own voice. He dismisses every other form of abuse. He thinks abuse is a man getting drunk every night and beating his wife every night. And even then I said, I was physically abused. And he still then he says, it's on you to save the marriage. Still, he's giving bad advice.
JULIE ROYS
Well, he doesn't even skip a beat, when you say I was abused. He just I mean, it sounds like he has an agenda. And no matter what you say, it just seems to move in the direction that he wants it to go.
NAGHMEH PANAHI
Exactly. Exactly.
JULIE ROYS
At one point, though, it gets kind of heated. A couple times he does accuse you of lying as you said, he accuses you of lying because you didn't tell him about your communication with Saeed, which again, Jay Sekulow told you don't do that, because that could get Saeed in a lot of trouble. But secondly, Franklin confronts you because you said your pastor, Bob Caldwell, knew everything about the abuse. And in this clip, Pastor Caldwell responds to that. And the two of them kind of go head to head but I think this is pretty telling.
NAGHMEH PANAHI
It got very heated.
JULIE ROYS
You can hear it in this clip for sure.
PASTOR BOB CALDWELL
Be careful, okay? Because you don't know what you don't know.
FRANKLIN GRAHAM
No, all I'm saying is.
PASTOR BOB CALDWELL
No, wait, don't interrupt me. I know you're a big shot. Don't interrupt me.
FRANKLIN GRAHAM
No, what she told me.
PASTOR BOB CALDWELL
Do I have a right to talk?
FRANKLIN GRAHAM
You go right ahead.
PASTOR BOB CALDWELL
I appreciate it. Because you said something about me. I like the response. Appreciate it. From my observation of her statement, that I know everything. I knew nothing about the imprisonment stuff. Zero, okay? When he was in prison. The things that I know all about is I know him better than anyone else. I know the history better than you guys, and so in my life with her and with you, I know him in a way that nobody else knows him. That's all. I know everything. I know her weaknesses. I've seen her weaknesses a lot.
FRANKLIN GRAHAM
Why didn't she say something to me?
PASTOR BOB CALDWELL
Because I believed he's in prison. And I believed that her advocacy for him was the only thing that was going on now. She didn't tell me anything about him cussing her out. She didn't tell me anything about the pornography. I didn't know about any of that. Pornography was not. None of that came out until she said it all to everybody.
NAGHMEH PANAHI
November 1 I told you.
PASTOR BOB CALDWELL
I didn't know that stuff.
SAEED ABEDINI
I myself told.
PASTOR BOB CALDWELL
No, you called me after she. Then you called me on the phone from prison.
FRANKLIN GRAHAM
First of all, I apologize. I was under the impression that you knew everything. And I'm thinking to myself, if you knew everything, why Didn't you warn me?
PASTOR BOB CALDWELL
I knew everything about these guys. That's all. So that is an example of something that I just think, you know, in a sense, we're all equal in this room right now. Okay? We are all facing a crisis. You want it fixed. She wants tit fixed. I want it fix. He says he wants it fixed. These guys are watching. So I've watched them fight. I've watched the interaction. I've watched the verbiage. And the things that have happened, that she said in November, were similar to the things the conflicts that they had before, okay? And so when he got out, the behavior, the things that she can prove, by showing you that, you know, things he said, up till, let's say three – four weeks ago, this is a similar dynamic. So that she does not want to divorce. And she has a simple request. I want to feel safe psychologically. Mate, you've never been around, obviously, psychological abuse, because if you have, it is worse by far sometimes than any physical abuse. If we deal with this, I understand well, I'm serious.
FRANKLIN GRAHAM
No, I know you're serious. I understand.
PASTOR BOB CALDWELL
Then let's respect it.
FRANKLIN GRAHAM
I'm not disrespecting it. But you are saying that her weakness in this situation is she's not getting beat up. So therefore, it's not real abuse. It's kind of mental abuse that can be dealt with by talking it over. And trying to find a counselor.
JULIE ROYS
Wow! Again, Bob Caldwell's talking about the abuse, the emotional abuse, psychological abuse. Franklin's saying, I get that. And yet at the same time, but I'm talking about we just need to get into some marriage counseling, he says at the end. At the end of this meeting, did you feel like Franklin understood or did you feel like it was just more of the same?
NAGHMEH PANAHI
It's the same. As Anne Graham Lotz said in her email, he doesn't listen. He doesn't want to listen. He wanted a saved marriage, and that's the cycle he kept going through for 2016. It's your fault. You need to make the marriage work. Go to marriage counseling. No regard for my safety, my fear, my concerns, my pastor speaking out, no understanding of psychological, emotional or any other form of abuse. He just keeps going back to marriage counseling.
JULIE ROYS
Does this make you concerned for, again, Franklin Graham's talking about he does this all the time?
NAGHMEH PANAHI
Many woman have reached out to me from our military, saying, I'm being abused. And this really concerns me that he is advising anyone on any form of marriage or abuse. It's concerning he has a ministry that does that in Alaska. It concerns me that he is a religious figure that people look to and have him speak at events when his view on abuse is so horrific as so unbiblical. It should shock every person that someone who is proclaiming to be a follower of Christ to be a leader has this kind of a view on abuse.
JULIE ROYS
And I have to say, before I started reporting on this, I never, never would have dreamed it's this bad. I grew up in a home where my mother was respected and she was treated with dignity and respect. I'm in a home where my husband treats me that way. He's never lifted a hand to me. I had no idea how rampant abuse was. Again that's physical abuse. I've never been subjected to emotional or psychological abuse either and yet you know it's it's just rampant. I talked to a woman after woman and so I'm, I'm so glad that you're speaking out about this. I would have never guessed either the callousness on the part of men and the men who are Christian leaders who I thought cared about women. I thought loved women. Obviously we haven't learned as a Christian community. I'm hoping after the #METOO movement, the #CHURCHTOO movement now you coming out and speaking women are finding their voice. Would you just speak though to other women who are in the same situation that you were in and I know you have an organization? It's called TAF for short. Can you pronounce it for me so I don't massacre how to Pronounce it?
NAGHMEH PANAHI
Yes, it's on hold right now. Tahrir Alnisa Foundation. Tahrir means freedom. And Alnisa in Arabic means woman. So Freedom for Woman Foundation. It comes from the truth has set you free, you're free indeed. It's setting a woman free through God's amazing rescue that he rescued me. I've struggled with having a ministry. I started it in order to help persecuted woman but again ministry is such a I'm sorry to say it has become such a curse word for me. I want to help women without having a ministry. So we put it on hold. I'm still ministering to women. There's just the ministries on hold. We don't receive donations and we do videos once in a while. There's just something about money and ministry that has really traumatized me. But I would say when Saeed's story got really big, it was women that made it big. Majority of people that share it on social media and call Congress and senators were women. The majority of people that did prayer vigils were women, majority of people that orchestrated for me to speak at churches were women. And now as women, we have a voice. We can wait. You know, our leaders were forced to do something to get the Americans out of Iran because all of us women spoke out. There was a few men but majority were women. And it became a movement. As women, we have a voice to speak out for each other. I wanted the religious leaders to speak out. I wanted for someone, there's just the bond between them. There's loyalty, and it's hard when one falls for others to say, speak out or protect the sheep. It's rare. So I want to say as women, we do have a voice. I found my voice. And each of us has a voice. And this voice, as your voice, is so crucial, Julie. Our voice can make a change. I saw that with Saeed. There was a prayer movement, millions were praying, thousands of cities were praying across the world, for the persecuted church to get Saeed out. And I believe there can be a movement to say no more. We are no longer going to idolize, we're going to break down like the Old Testament. godly King came and he tore down the idols. Let's tear down the idol, the idolatry of celebrity pastors and worship leaders and those we put, you know, we worship and we say, Don't you dare say anything negative about them. Let's tear them down and say you're accountable. You should be above reproach. And if someone comes out about abuse, let's investigate. You should be the one not the victim should not be the one to try to prove it. Let's believe the victims and as women we can raise our voice and be that change. Unfortunately, those who are supposed to be that voice have not been that voice. They've been quiet. Maybe because they struggle with the same things. I don't know. But there's been silence from those who should be defending the flock, pastors, leaders, elders. And unfortunately, the sheep have to start defending each other. And we can. I just asked every woman to be a voice, speak out keep people like Franklin, and others accountable for their view on abuse, for the bullying, to return to an abusive marriage to the danger that's causing to the woman and children. And I believe our individual voices can bring a change and health to the church, it can be a safe place. It can be a light that brings in many, many broken women.
JULIE ROYS
Amen. And I said it in a talk I gave at the Restore Conference we had in 2019. Each of us has that one smooth stone, right? Just like David had to slay Goliath. We have a Goliath of corruption and abuse in this church.
NAGHMEH PANAHI
So interesting you said that because I was thinking of that. Today, I kept thinking Goliath, before my interview with you. God kept telling me Goliath, reminding me of David had experienced previous battles. So he was able to face the Goliath, and say, Who are you to stand before the living God? God has given me experience being bullied by radical Islamic government to deny my faith in Iran. Then when I was advocating for Saeed, I had the Iranian government breathing down my neck saying, Be quiet, don't say anything. And I was threatened to be quiet by them. And that was preparing me to speak, unfortunately, to bullies within the church and the Goliath of corruption, of hiding abuse of all forms of abuse, will come down. We are his daughters, we are His Bride. God does not tolerate his bride and his bride, his church, and his daughters being treated like this, and this is his battle. And we say to the Goliath of corruption and abuse, who are you to do this to the Church of God? And He will come down, and it requires each of our stones and each of our voices as you said.
JULIE ROYS
Amen. And God is for us. It needs women coming forward. But men, you're not off the hook either. We need men stepping up, men saying, truly being men of God, truly fighting just like Jesus did for the oppressed. And like you said, throughout the Old Testament, you see the prophets calling out the Kings because they didn't care about the oppressed. And so this is God's heart. Naghmeh, thank you so much for taking this time for telling your story for your obedience to Christ, for your integrity, it is just an honor to get to know you and to tell your story.
NAGHMEH PANAHI
Thank you. And it's all by his strength and by His grace that me and you I know Julie can do this. It's really him. So we give him all the glory. And may this be used to bring glory to His name and to bring health back to his church. Amen. Thank you. Thank you for having me.
JULIE ROYS
You bet. Well, and thanks so much for listening to The Roys Report, a podcast dedicated to reporting the truth and restoring the church. I'm Julie Roys. If you'd like to connect with me online or see some of the documents that I've referenced today, just go to Julie roys.com. Also, just a quick reminder, if you subscribe to The Roys Report on Apple podcasts, or Google podcasts, and we just got on Spotify. That's a way that you can be sure to never miss one of these podcasts. And we do appreciate it, if you'd help us spread the word. We've got a mission that we're trying to accomplish here, again, of rooting out corruption and abuse in the church. And you can be a part of that simply by sharing this kind of important content and helping it get out there. So again, thank you so much for joining me. Thank you for listening. Hope you have a great day and God bless.