Authorities in Edmonton, Canada, have fenced off and surrounded a Canadian church that defied COVID-19 restrictions.
A chain link fence now surrounds GraceLife Church—a church that's been at the center of controversy since February. Security guards and police are also patrolling the area, while police cars block entry.
GraceLife's pastor, James Coates, was jailed for more than a month for hosting services at full capacity and without the use of masks. Coates was released on March 22, after 35 days in jail. He then resumed hosting church services, seemingly at full capacity.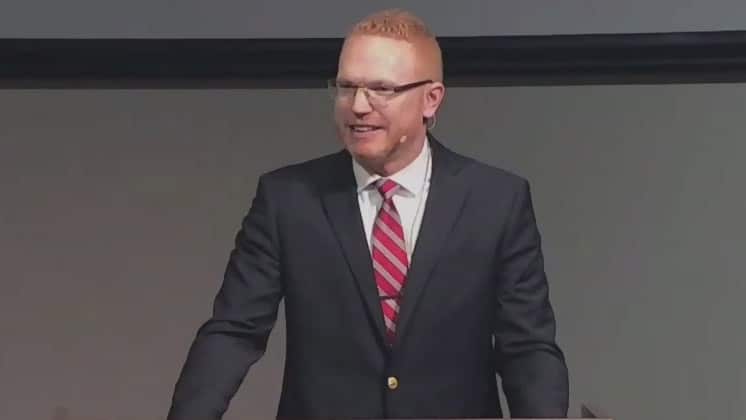 Alberta COVID-19 restrictions permit churches to operate at 15% capacity while congregants wear masks and socially distance.
The church has consistently violated the health restrictions put in place by Alberta's Chief Medical Officer of Health for several months, according to a press release from Alberta Health Services released today.
Give a gift of $30 or more to The Roys Report this month, and you will receive a copy of "The Lord Is My Courage" by K.J. Ramsey to donate, click here.
The release states that the government issued a closure order to GraceLife on January 21, requiring the church to be shuttered until "compliance with the restrictions was obtained."
On March 27, Alberta Health Services (AHS) sent a letter to Coates, providing him with information on the continued spread of COVID and requesting a virtual meeting. According to AHS, Coates did not provide any dates to meet.
"GLC has decided not to follow these mandatory restrictions, nor have they attempted to work with AHS to reduce the risk of COVID-19 transmission," the Alberta Health Services press release said.
Coates, however, maintains he's just trying to faithfully pastor his church.
"I'm simply here in obedience to Jesus Christ, and it's my obedience to Christ that has put me at odds with the law," Coates told the judge in his case on March 22.
Some church members are arguing that fencing off the GraceLife equates to government-backed persecution.
"They jail your pastor for freely opening the doors of the church and serving Christ's sheep and hurting people," said Erin Coates, James Coates's wife, on Instagram. "Now they've chained the doors of GraceLife Church enclosing in chain link fence. This is all under guise of a health order. Too bad the Church isn't a building, it's a blood bought people – Christ has and will prevail."
Erin Coates said that by closing GraceLife, the Canadian government was disregarding Canada's bill of rights and legal code. Doing so put leaders under God's judgement, she added.
Yet others are criticizing GraceLife for continuing to host services.
"To be clear: GraceLife Church would be open right now, like other places of worship, had it followed restrictions around capacity, masking. It had months of warning," said reporter Carrie Tait on Twitter.
"While we're posting spicy takes everywhere, GraceLife church is not being persecuted," said Christian blogger Sara Kellar. "This shouldn't be a spicy take, but alas."
After the church's closure today, some people gathered at the church. According to Global Edmonton reporter Kim Smith, the people called media members "fascists," "communists," "Nazis," and "puppets."
Smith said people from GraceLife started showing up at the church, hugging each other and not practicing social distancing.
The closure of GraceLife follows a renewed tightening of Alberta Covid-19 restrictions, according to Premier Jason Kenney.
This tightening of restrictions happened in response to rising COVID-19 case numbers in Alberta. Many of the new cases come from variants of COVID-19, which reportedly can spread or kill faster than the original disease.
Global Edmonton Coverage of the GraceLife Controversy:
CORRECTION: An earlier version said James Coates was jailed for only two weeks, instead of more than a month.
Jackson Elliott is a Christian journalist trained at Northwestern University. He has worked at The Daily Signal, The Inlander, and The Christian Post, covering topics ranging from D.C. politics to prison ministry. His interests include the Bible, philosophy, theology, Russian literature, and Irish music.