Ravi Zacharias International Ministries (RZIM) yesterday announced it is suspending "all fundraising activities" following "recent revelations" concerning its late founder, Ravi Zacharias. Meanwhile, a longtime RZIM board member posted on Facebook that he has no intention of resigning from the board, despite calls by "atheists" to do so. 
The actions follow the conclusion of an investigation, which found Zacharias had sexually assaulted and harassed several massage therapists who had treated him. The investigation also found that Zacharias had used RZIM funds to pay his victims and obligate them to do whatever he asked.
On its website, RZIM posted: "(W)e find it prudent to suspend all fundraising activities until a path forward can be envisioned that includes care for all of Ravi's victims, as well as the staff and supporters of RZIM."
Also, Tony Cimmarrusti, who says he's served on RZIM's board for 25 years, Tuesday posted to Facebook that he will not resign despite "a devout atheist, or group of atheists" who "have attempted to publicly defame, slander and say to me, you 'must step down.'"
"Until I hear from the Lord, I am not abandoning the team of young teachers, evangelists and leaders," Cimmarrusi wrote. "There may come a time when I will need to resign . . . But 'quitting when the going is toughest' does not seem like the way forward, at least not at this juncture."
Give a gift of $30 or more to The Roys Report this month, and you will receive a copy of "Jesus v. Evangelicals: A Biblical Critique of a Wayward Movement" by Constantine Campbell. To donate, click here.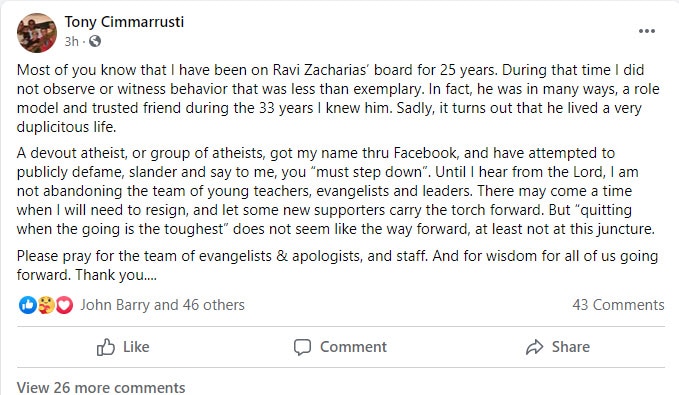 Cimmarrusti apparently was responding to comments earlier in the day by Steve Baughman—the atheist lawyer who first reported Zacharias's misconduct in his 2017 book, Cover-Up in the Kingdom—and Benjamin Wheeler, an avowed atheist and abuse survivor advocate.
In reply to an earlier post by Cimmarrusti on forgiveness, Baughman publicly identified Cimmarrusti as a board member and commented: "Ravi is now a confirmed pathological liar and sexual predator . . . And all you have to offer is some sappy cliche sh-t about forgiveness? you (sic) are a coward. Shame on you."
Similarly, Wheeler commented, "As a board member of RZIM, you should have known . . . about Ravi's horrific international sexual predation since at least 2017. Your and the board's failure to have stopped him 2017-2020 constitutes irrepairable (sic) failure on your part. I'm ongoingly deeply shocked that you and the entire board haven't resigned in shame or outrage or both."
Cimmarrusti is listed as a board member on RZIM's 2015 IRS form 990. However, RZIM has not filed a 990 in six years and has resisted calls to identify the members of its board. An Open Letter by the board published last week in response to the investigation report was signed simply, "The International Board of Directors."
Cimmarrusti has since deleted not just his one Facebook post about his board service, but practically all the posts on his Facebook account.  The thread from Cimmarrusti's post about his board service, however, was captured in screenshots and is posted at the bottom of this page.
Many of those commenting on Cimmarrusti's post voiced support for Cimmarrusti. "Thank you for all you did as a board member," wrote one person. "No doubt the ministry of RZIM is making a huge impact for the kingdom of Heaven."
"Tony. God called you there to serve," wrote another. "Wait until He calls you to leave."
The RZIM announcement at its website currently does not appear on mobile devices, but only desktop. Below is a screenshot of the announcement: