Andy Wood, the incoming pastor of Saddleback Church, has a predatory pattern of trying to acquire multi-million-dollar properties from small, aging congregations, leaders of a California Baptist association say.
Mike Stewart of the Great Commission Association of Southern Baptists Churches (GCA) told The Roys Report (TRR) that Wood and Echo Church plotted in 2013 to acquire a $10- to $12-million building from an elderly congregation in Campbell, California. Echo Church is the multi-site megachurch in San Jose that Wood co-founded in 2008.
Stewart said the plan by Wood and Echo was foiled when upset congregants contacted Stewart about the proposed "partnership strategy," and GCA blocked the deal. But the tactics Wood used were "unethical" and calculated to exclude GCA, Stewart told TRR.
"It was obvious to me that there was a coordinated plan," Stewart said. ". . .  And that quickly formed in order to move from being without a pastor to becoming an Echo campus as soon as possible, and to exclude the association from becoming involved."
Stewart said Wood exhibited similar behavior in 2018, when Echo joined GCA but then withdrew when Echo's plan to acquire another small church was foiled.
Give a gift of $30 or more to The Roys Report this month, and you will receive a copy of "I Didn't Survive: Emerging Whole After Deception, Persecution, and Hidden Abuse" by Naghmeh Abedini Panahi. To donate, click here.
GCA Assistant Director of Missions Se J. Won confirmed Stewart's account with TRR. Won said Wood exhibited a pattern of caring about the assets of small churches, but not the people.
"That's kind of the repeated theme I saw," Won said. "(Wood) was interested in getting relationally involved if there was something there. But if there wasn't, then not." He added that GCA wants to support "new works" at shrinking churches, "but not at the expense of stepping on, or driving out, older senior adults."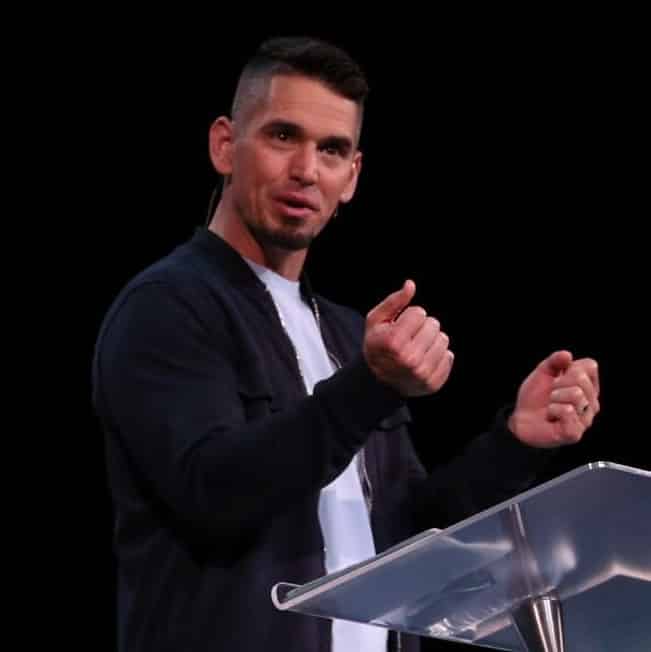 TRR reached out to Wood for comment through his PR agent, Kristin Cole of A. Larry Ross Communications. Wood responded through Cole that "in the 14 years he served in the Bay Area, there were no allegations of unethical behavior against him or Echo Church related to the Great Commission Association."
TRR also reached out for comment to Grace Tran, director of marketing and communications at Echo Church, but she did not respond.
These new allegations come on the heels of reports that Wood bullied and spiritually abused staff at Echo Church. Though a third-party investigation commissioned by Saddleback cleared Wood of the allegations, former Echo pastors say victims' voices were minimized to protect Wood.
Wood also is facing criticism for interviewing disgraced pastor Mark Driscoll at a 2021 leadership conference, and then offering what critics say was a misleading apology.
Additionally, Wood has been accused of misrepresenting the nature of a 2020 merger between Crossroads Church in Fremont, California, and Echo Church.
According to Lance Hough, a former pastor at Crossroads—now Echo's Fremont Campus—Echo presented the merger as a "marriage," combining unique elements of both churches. But Hough says Echo replaced everything unique at Crossroads with Echo's own brand and culture, and the "marriage merger" was more like a "hostile takeover."
Over the past 15 years, Echo has grown to four campuses and a weekly attendance of around 3,000 people in part due to the merger with Crossroads and two other small, struggling congregations.
All three mergers—billed as "adoption," "rebirth," and "marriage" mergers—had been featured on Echo's website.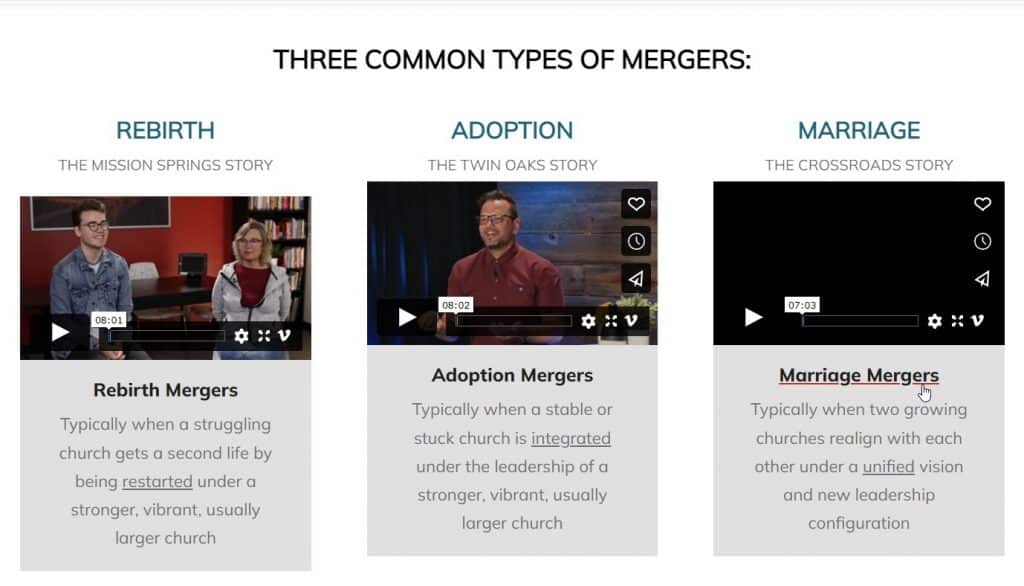 However, sometime this summer, Echo removed the video and description of the Crossroads merger, and the page now features two mergers only.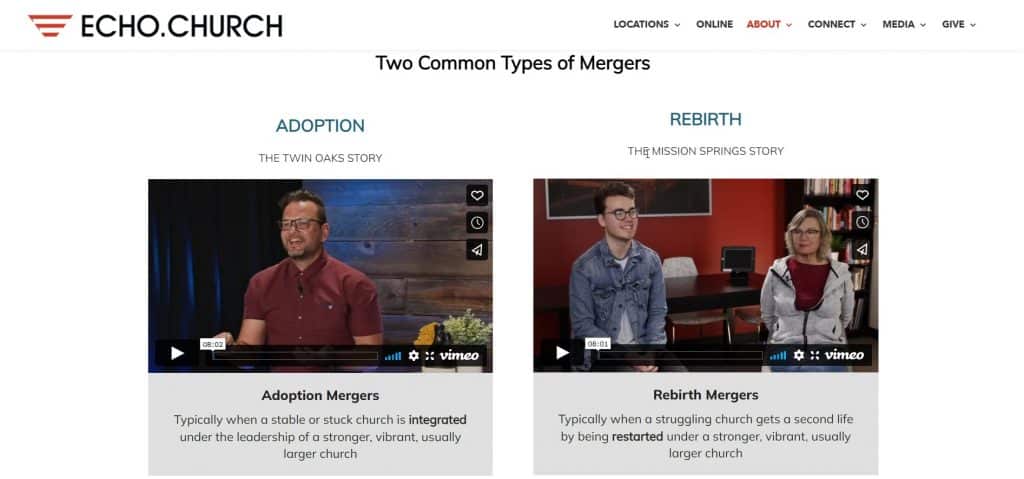 TRR reached out to Echo for an explanation about why the Crossroads merger had been removed from its website, but the church did not respond.
Plan to acquire church in Campbell
Stewart said that in early 2013, he learned that South Bay Church (now called Echo Church) was trying to acquire First Baptist Church of Campbell (FBCC) and that FBCC congregants were upset.
Stewart said a church member called him and said that FBCC pastor Bruce Daniels had resigned suddenly, and that Don Fugate, pastor of neighboring Foxworthy Baptist Church, had assumed the role of interim pastor.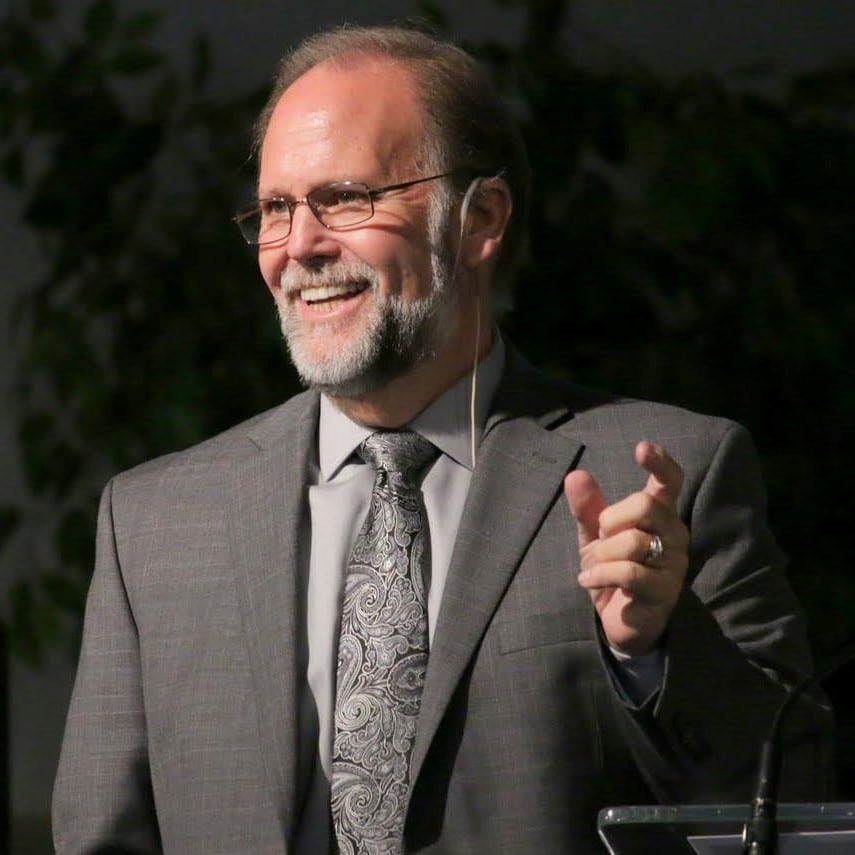 The congregant told Stewart that leadership from South Bay had begun showing up at FBCC services and that Fugate had arranged for South Bay to present a merger proposal to the congregation. The congregant reportedly expressed that the congregation—about 25 elderly people—felt like they had no voice. Instead, they felt Wood and other South Bay leaders were directing everything—and that Pastor Fugate and one FBCC deacon, Bob Duell, were acting in concert with South Bay, Stewart said.
At the time of the proposed merger, Don Fugate's son, Dave Fugate, was serving as the worship pastor at FBCC. And according to a presentation by South Bay shown at a May 2013 meeting at FBCC, South Bay pledged to hire Dave Fugate "for a minimum of three years" should the merger go through.
South Bay also proposed that FBCC donate its assets—a multi-million-dollar building at 400 Llewellyn Ave. in Campbell—to South Bay and that FBCC become a South Bay campus. In return, South Bay pledged to invest $1.2 million renovating FBCC's building and to host "a traditional worship service, as needed." (South Bay's services were contemporary, but FBCC's services were more traditional.)
This proposal and process completely bypassed GCA.
Yet according to Stewart, FBCC's bylaws included a protection clause, naming GCA as the recipient of FBCC's assets should the church dissolve or cease to function as a cooperating Southern Baptist church.
Unlike South Bay, which was not a GCA member though it had some Southern Baptist ties, FBCC had been a member of GCA for more than 50 years. And Stewart said protection clauses like FBCC's had become increasingly necessary due to skyrocketing property values and opportunists seeking to prey on vulnerable churches.
"So, you can't just let the church dissolve," Stewart said. "If that happens, then . . . you can't get it from us, especially if you're not a member church. You're not going to get access to the facility and you're certainly not going to get the deed."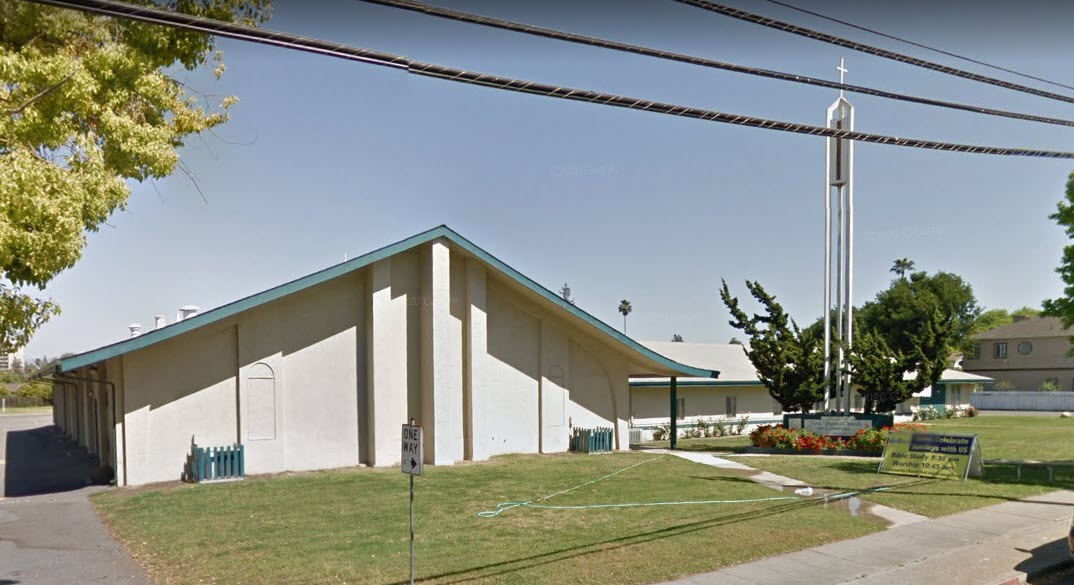 Despite this protection clause, neither South Bay nor Pastor Fugate contacted GCA at the beginning of the 2013 crisis, Stewart said. Instead, Stewart said the first he heard of the proposed merger was when the FBCC congregant called him.
Soon, more congregants began calling GCA, Stewart said, expressing similar concerns that they were being excluded from the process.
"They felt like they were not getting a chance to be heard," Stewart added.
Claims of "unethical" incentive
Soon after hearing from the congregant, Stewart said he and Se J. Won arranged to meet with Wood and two other South Bay pastors—Filipe Santos and his father, Renan Santos. (Filipe Santos is now acting lead pastor at Echo and Renan Santos is Echo expansion pastor.)
According to Stewart and Won, Wood claimed in the meeting that the merger with FBCC would help reach the "lost." Wood reportedly added that South Bay could send 300 people to attend the proposed campus in Campbell, which would free up space at South Bay's North San Jose campus.
"It had a spiritual ring to it," Stewart said. But Stewart added that when he suggested that South Bay instead allow FBCC to remain independent and send 100 people from South Bay to help the struggling church, South Bay's leaders were not interested.
"They said that wasn't possible to do because FBCC would not be their brand," Stewart said.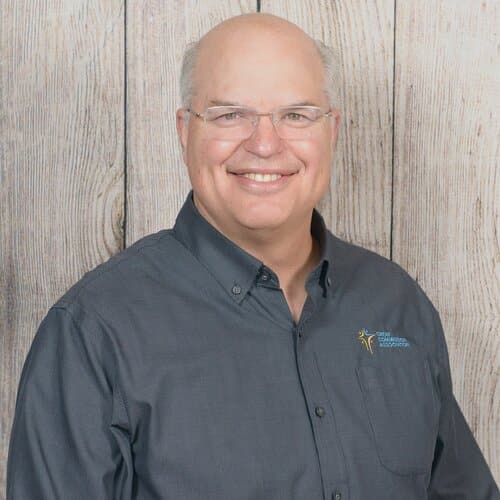 Wood then proposed that if GCA would step aside, it could be very good for the association, both Stewart and Won said. Specifically, Wood suggested that GCA would benefit financially from the merger because South Bay would direct many of its young families to a preschool GCA co-owned with FBCC.
Stewart and Won told TRR that GCA's job was to represent the best interests of FBCC's congregation, not GCA's. Stewart said he viewed Wood's suggestion as "unethical," adding: "I told them that's the wrong road to take with me, and that the only (organization) that I was there to represent was the member church that had been with us 50 years."
After meeting with South Bay leaders, Stewart said GCA then sought to meet with FBCC congregants without South Bay leaders present. However, Pastor Fugate and Deacon Bob Duell canceled the meeting at the last minute, Stewart said.
TRR reached out via email to both Don Fugate and his son, Dave Fugate, for comment. Only Don Fugate responded, stating, he was "not interested in being interviewed about Andy Wood."
Stewart said Don Fugate has since apologized to him for Fugate's involvement in South Bay's "takeover attempt" and "this wound has healed."
TRR also reached out to Bob Duell. Because Duell now reportedly suffers from dementia, we're not including any information from our interview.
South Bay's new proposal
Soon after meeting with Stewart and Won, South Bay presented a new proposal to FBCC, which Stewart claimed was another attempt to bypass GCA.
According to South Bay's proposed lease agreement obtained by TRR, FBCC would remain a separate church and retain title for its property at 400 Llewellyn Ave. South Bay then would lease the property from FBCC for 17 years for an undisclosed amount and be allowed to make improvements to the property.
This theoretically would prevent FBCC from dissolving or ceasing to function as a cooperating Southern Baptist Church and avoid triggering the "protection clause" in FBCC's bylaws reverting the property to GCA.
South Bay also proposed that FBCC agree to the terms of a "Shared Services Agreement," also obtained by TRR.
This agreement allowed South Bay to host two Sunday services in FBCC's building—at 9:30 a.m. and 11 a.m.—and to provide any "staffing necessary." All FBCC staff salaries and job descriptions would be subject to approval by South Bay. And donations collected at the two Sunday services, and "any additional service added by (South Bay)," would be directed toward South Bay.
FBCC would be allowed to continue a "traditional service" at an undisclosed time, the agreement stated, adding that donations collected during the traditional service would go to FBCC.
Firm warns of "de facto" merger
When GCA learned of South Bay's proposal, it commissioned a law firm to assess the legal consequences of South Bay's actions and to suggest options available to GCA (then the Central Coast Baptist Association).
In an analysis letter, obtained by TRR, Smithers Law Firm stated that South Bay's proposed "Shared Services Agreement" gave South Bay "broad rights to determine how FBCC should 'function'" and had many signs of being a "'de facto' merger." This jeopardized compliance with FBCC's bylaws, which stated that FBCC "is subject to the control of no other ecclesiastical body," the analysis stated.
As examples of the "de facto merger," Smithers noted that the Shared Services Agreement required FBCC to obtain "written approval" by South Bay to enter into "any new agreement, obtain any new liability, or purchase any fixed asset." The agreement also gave South Bay an "equal say in the nomination and choosing of a Senior Pastor."
Smithers also warned that South Bay would likely obtain a loan to improve FBCC's property, which would involve "encumbering the FBCC property as security." Smithers also noted that South Bay could terminate its lease without obligation on relatively short notice. (The lease agreement stipulated 180 days' notice, but the Shared Services Agreement stipulated only 30 days' notice.)
"This 'early termination' provision poses the potential for South Bay to mortgage the property, and then vacate the premises on very short notice," Smithers stated. "In other words, the proposed tenancy by South Bay for 17 years is illusory; South Bay can terminate the lease on short notice with or without cause. FBCC would be left without South Bay as a tenant—but still obligated to make the mortgage payments initiated by South Bay."
Stewart said the legal analysis confirmed his suspicions that South Bay's proposal was not a good faith offer in the best interests of FBCC's congregation, but an attempt to work around the protection clause in FBCC's bylaws.
"It was an attempt to try and get (FBCC) to be okay with Echo (South Bay) basically taking over operational control," Stewart said. ". . . It was not righteous."
Smithers' analysis concluded that GCA had a legal right to protect its "reversionary interest" in FBCC's assets and to request a hearing between GCA's Executive Board and FBCC.
The purpose of the hearing would be to determine if FBCC had ceased to function as a self-governing Southern Baptist Church. If that were determined to be the case, GCA could enact the provision in the protection clause and assume control of FBCC's assets.
Contentious deliberations precede hearing
Stewart told TRR that Wood requested that South Bay leaders be allowed to attend GCA's hearing with FBCC. Stewart said he denied Wood's request because South Bay was not a member of GCA.
Similarly, FBCC Deacon Bob Duell and Pastor Don Fugate, whom Stewart said were acting as "puppets" of South Bay, also requested that Fugate be allowed to attend the hearing. Stewart said he denied the request because Fugate was not a member of FBCC, and Fugate's church, Foxworthy Baptist Church, was not a cooperating GCA church.
Stewart said Duell also asked that Douglas Griffin, an attorney with the California Baptist Foundation, be included in the hearing to represent FBCC. Stewart said he would allow an attorney to attend the hearing if the attorney was legitimately hired by FBCC, not just Duell. Stewart told TRR that the other FBCC officers opposed the merger with South Bay.
In a 2013 email thread shared with TRR, Stewart wrote Baptist polity expert Dewey Squyres, asking for advice. Squyers responded that Duell could not hire an attorney to represent FBCC on his own.
Squyres added, "It would be HIGHLY inappropriate for an attorney employed by the California Baptist Foundation (CBF) to become involved in this case. The CBF serves all California Southern Baptists and should not insinuate itself into a matter such as this . . ."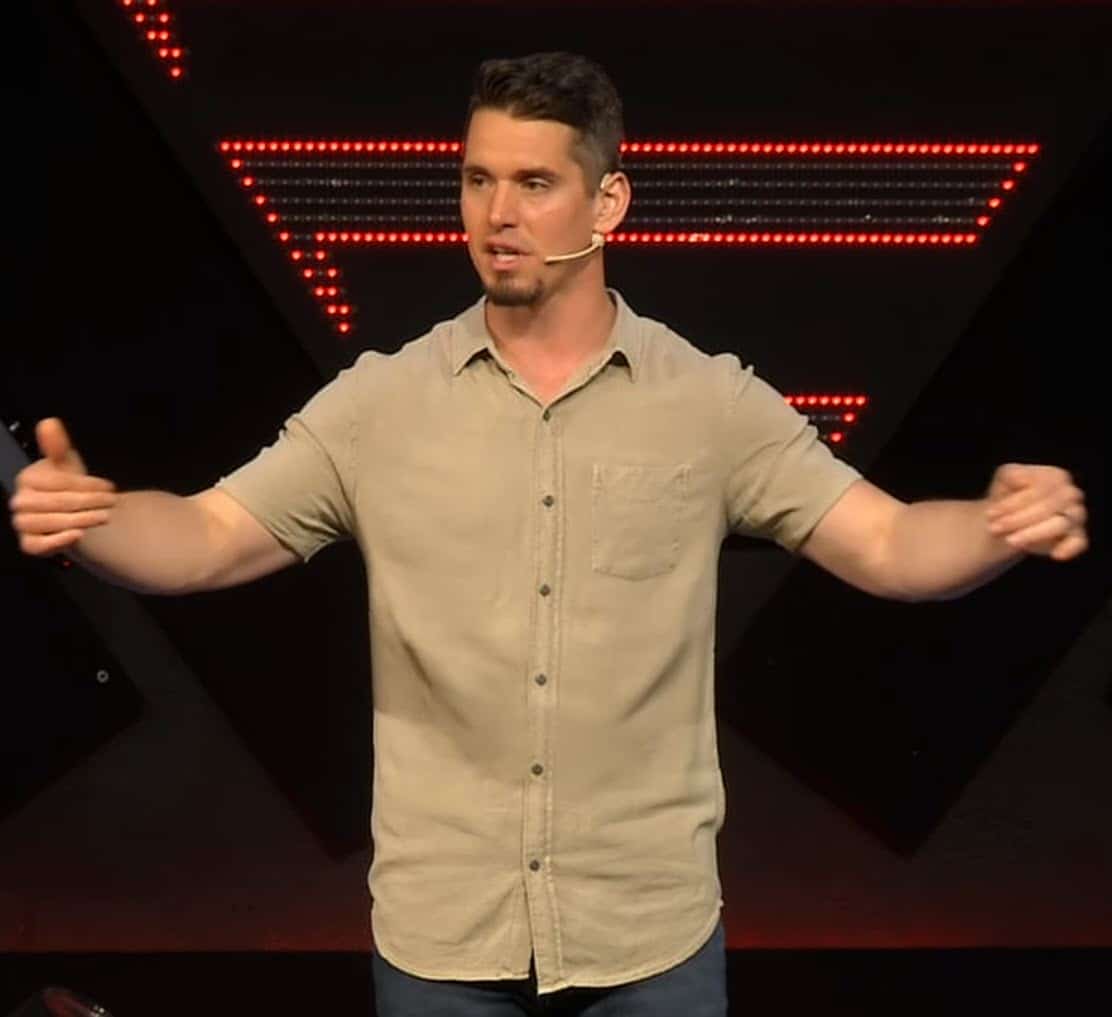 On July 20, 2013— the day of the hearing—Wood sent an email to then-CBF President Philip Kell and CBF Attorney Douglas Griffin complaining about Stewart's "tactics." (The email also went to Se J. Won, Deacon Bob Duell, Don Fugate, and several others.)
"Not allowing South Bay to be in this meeting to represent herself considering the accusations that are being made is concerning," Wood wrote, adding that Stewart had also denied FBCC from having "any legal representation" at the hearing. "I would ask yourself today if this is a just procedure that is pleasing to God."
Wood wrote he would like to meet with the recipients of the email but had decided with his attorney and Duell that "it would not be wise to lower ourselves by fighting Mike (Stewart) to be in this meeting."
TRR reached out to CBF Attorney Griffin and Kell, asking about their response to Wood in 2013, but neither responded.
At the hearing on July 20, 2013, GCA's executive board voted 21 to zero in favor of sending a letter to FBCC strongly warning against the merger with South Bay, Stewart and Won said.
"All 'partnership' considerations with South Bay Church currently being considered should be discontinued immediately," the board stated in its letter to FBCC. "This is an impossible arrangement. If the proposed 'partnership' were to be implemented, it would result in the virtual disappearance of FBC Campbell and the transference of its property to (GCA)."
According to Stewart, the letter was read to FBCC's congregation the following week, and all but two or three members were "ecstatic."
South Bay then withdrew its attempt to partner with FBCC, Stewart and Won said.
The next year (2014), GCA brought in John Wallace to pastor FBCC—a role Wallace still holds today. FBCC (now called True Hope) remains an autonomous church and is in the process of merging with another small Baptist church, Eden Church.
Wallace told TRR that the merger has been a "very positive," organic process that started two years ago, when Eden lost its meeting place due to COVID and began meeting in FBCC's building. Wallace said Eden's pastor, Daniel Atondo, loved and embraced FBCC's congregation, which has been reciprocated.
When the merger is complete, Atondo will take over the combined congregation of about 130 people as lead pastor. Wallace will continue as teaching pastor and will lead the smaller of two services at the church.
Angry meeting with Andy Wood
In 2013, about two weeks after GCA's hearing, Stewart said he sent Wood an invitation to meet with him and Won to "clear the air."
Wood came to the meeting with Filipe and Renan Santos and was upset and angry, Stewart said.
"They felt like I had gotten in the way of something great that God wanted to do," Stewart said. "And after about 40 minutes of talking about how God was going to judge me . . . I told them, 'Look, I get it. You're upset. But I have a Savior and I've tried to do what he's led me to do. . . . And I don't actually answer to you guys.'"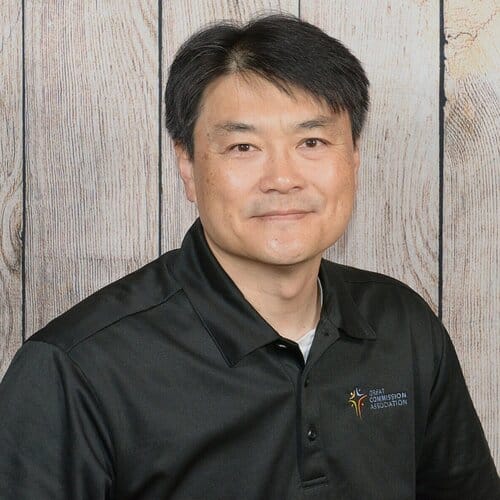 Won said Wood was "very angry" and disrespectful in the meeting.
"I have never seen a pastor, young pastor, do and speak like that to any other pastor or leader, or somebody older," Won said. "If you're frustrated, you're still talking to a brother in Christ, who serves the Lord. We could disagree, but . . . the tone, the way of pointing the fingers—that wasn't right."
About a year later, Wood apologized to Stewart for the way he behaved, Stewart said. But the saga with Andy Wood and South Bay (Echo Church) was not over.
In 2018, Echo seemed eager to make amends with GCA and applied for membership in the association—but there reportedly was a catch. Echo again was seeking to acquire a small, struggling GCA church. And according to Stewart, when Echo was rebuffed, Wood retaliated.
We tell that story in part two of this report.