Samaritan's Purse, today airlifted a 68-bed emergency field hospital to Milan, Italy, to help with the coronavirus outbreak there.
A DC-8 owned by the  humanitarian aid organization left from North Carolina this morning, carrying 20 tons of medical equipment, including a respiratory care unit developed specifically for this response. Also on the flight were 32 disaster relief personnel, including doctors and nurses, who will stay in Italy for at least a month.
"This is what Samaritan's Purse does," said Edward Graham, the youngest son of Samaritan's Purse CEO Franklin Graham. "During a time where other people won't go, Samaritan's Purse will. And that's what we're called to do–to be good Samaritans."
Samaritan's Purse says it will set up its field hospital about 50 miles outside Milan in the city of Cremona.
More than 2,500 people have died in Italy due to coronavirus. And according to Samaritan's Purse, about two-thirds of those deaths have been in Lombardy region, where both Cremona and Milan are located, and the healthcare system there is overwhelmed by the need for intensive care beds.
Give a gift of $30 or more to The Roys Report this month, and you will receive a copy of "The Ballot and the Bible" by Kaitlyn Schiess. To donate, click here.
Among those most susceptible to COVID-19 are senior adults, and Italy has the largest senior population in all of Europe.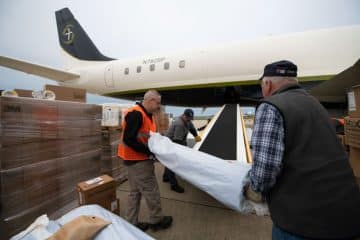 Samaritan's Purse says it is the first international organization to provide emergency medical relief in northern Italy. The group adds that its team of infectious disease experts have been working with the World Health Organization and the Centers for Disease Control and Prevention to ensure that their team takes necessary precautions.
In addition to medical aid, Graham said his team will provide spiritual comfort and work alongside local evangelical churches and chaplains in the area.
"We have an unbelievable staff willing to do this and share the hope of Jesus Christ along with their medical expertise," Graham said. He added, "Medicine is a magnet for the Gospel."
Samaritan's Purse says it is monitoring the developing situation in the U.S. and is also prepared to respond at home, if asked.