Students attending a camp run by the Chicago-area megachurch, Harvest Bible Chapel, were subjected to hazing that included humiliating "punishments" and something called the "Icy Hot Challenge," according to a recent statement by the church.
The hazing reportedly occurred from July 14-24 at Camp Harvest, a 650-acre, year-round camp in Newaygo, Michigan.
The church said that in some cases, students were urged by a Harvest student pastor to participate in a dare called the "Icy Hot Challenge."
The statement did not describe the challenge. However, according to the Urban Dictionary, the Icy Hot Challenge is a "very painful experience" where a group of guys apply Icy Hot, a lidocaine cream, to their genitals. Then the group sees who can stand the pain the longest.
Harvest said it found "no evidence of any person-to-person contact during this incident," nor was there "any moment where any person visibly exposed themselves to others."
Give a gift of $30 or more to The Roys Report this month, and you will receive a copy of "The Lord Is My Courage" by K.J. Ramsey to donate, click here.
Harvest said the pastor who administered the challenge has been fired, but did not divulge his name.
In another incidence of hazing, Harvest said students were invited by camp staff and cabin leaders to play a game called "Silent Football" in the late hours of the night.
The game reportedly involved participants keeping their participation secret from others. And at the end of the game, losers were required to receive a "punishment" from other participants.
"While some of these 'punishments' can be characterized as juvenile and immature, other punishments clearly crossed the line of what is acceptable behavior from our cabin leaders and Student Ministry staff," Harvest said. "These punishments had a general pattern of embarrassment, humiliation, and gross behavior."
Harvest said it does "not condone hazing of any kind" and added, "(W)e want to apologize to you, our church family, not only for what has occurred but also for broken trust.  We wholeheartedly seek forgiveness and healing, and we covet your prayers for the next steps ahead."
The church said it fired a summer camp staff member for "overseeing 'inappropriate punishments," and suspended two camp staff for "some participation" in the game. Harvest did not disclose the fired or disciplined staff members' names.
Harvest said it also accepted the resignation of a second student pastor and a staff member at Harvest Christian Academy, Harvest's K-12 private school in Elgin, IL, for "observing situations at camp that should have been reported." Harvest did not disclose who the second student pastor's name either.
Harvest reportedly sent emails to impacted families and reported the incidents to the state of Michigan's Licensing and Regulatory Agency (LARA), which handles camper licensing matters. The church said it also reported the incidents to the Illinois Department of Children and Family Services and the Michigan Department of Health and Human Services.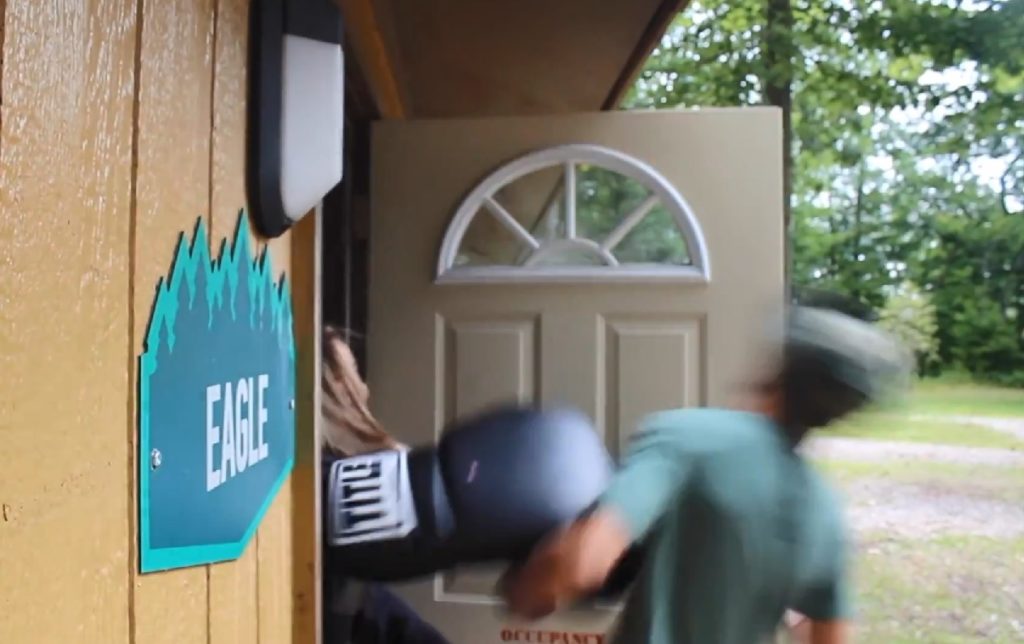 More Troubles for Embattled Church
The past couple years have been very tumultuous for the multi-campus, megachurch. In February 2019, Harvest Senior Pastor James MacDonald was fired for a pattern of bullying and lewd comments, as well as financial and spiritual abuse.
In May, a former youth pastor at Harvest, Paxton Singer, was found guilty of disorderly conduct for sending text messages to a teen boy that alarmed the boy's parents. Singer, who also served as a counselor at Camp Harvest was sentenced to one year of supervision.
Pranks and laughing about people being harmed appear to be part of the culture at Harvest. An unofficial Harvest High School YouTube channel features 99 videos of "people getting hurt." 
The official Harvest Students YouTube Channel shows people being physically assaulted as part of pranks overseen by former youth pastor, Landon MacDonald. Landon MacDonald is James MacDonald's son who resigned from Harvest last year and currently serves as executive pastor of youth ministries at Cornerstone Church, a multi-site megachurch in the Phoenix area.
In one video, MacDonald laughs as Tommy Cruetz decks seemingly unsuspecting people who enter Harvest's youth ministry office. Cruetz currently serves as the co-campus pastor of Harvest's Elgin Campus.
Parent Complaints Prompt Investigation
In its statement, Harvest said it became aware of the recent hazing when parents complained about the "punishments" their children had received the second week of camp. Harvest said that at the same time, its camp director and senior director of operations also had "uncovered information" about the silent football game.
Harvest then conducted an investigation, which included "extensive interviews" with staff, volunteers, parents, and students who may have been involved in the incidents.
Harvest said it is will continue to evaluate potential violations of its policy. And it pledged to address the situation "at every level within our camp and student ministry departments."
The church added that all student ministry will be held online only until an "assessment, re-training, and re-certification" is completed.