Feet splashed in puddles on a rainy Sunday afternoon as almost 1,000 people came together in Smyrna, a small town in Middle Tennessee.
They were focused not on water from the sky but on raising money to build wells for developing nations around the world.
Along the way, they set a record.
The rainbow assortment of church members and community guests who trod the slippery streets of Smyrna — a community of 56,000 about 20 miles southeast of Nashville — raised $60,000 for Healing Hands International. 
The recent fundraiser drew the most participants ever for a Walk4Water event benefiting the Nashville-based Christian humanitarian aid organization.
Give a gift of $30 or more to The Roys Report this month, and you will receive a copy of "Wounded Workers: Recovering from Heartache in the Workplace and the Church" by Kirk Farnsworth. To donate, click here.
Greater Together, a group of Nashville-area congregations that organized four rousing multi-congregational worship gatherings last summer, coordinated the Walk4Water. The event followed a similar format to Healing Hands fundraisers hosted by churches across the country.
Walk4Water raises awareness about people in other nations who travel on foot nearly four miles to get water, explained Healing Hands coordinator Sean Judge. Walkers make donations and inspire others to give to the ministry of drilling wells in Africa and other continents.
At the Smyrna event, participants could walk a full four miles or opt for shorter courses.
"Welcome to the largest Walk4Water in the history of Walk4Water," Judge told cheering participants in the Smyrna Church of Christ parking lot.
The biggest walk before Smyrna took place in 2015 in Paducah, Ky., as 677 people participated. The Greater Together walk broke the record with 933 people, Judge said. Healing Hands began Walk4Water in 2007.
"This is what we want to see across the nation," Judge told the exuberant crowd. "We want people coming together not only to make a difference for lives around the world but to show that we are one community."
The Smyrna event far exceeded the initial goal of $15,000 and two wells. The $60,000 raised will fund eight wells.
Aaron Tremblay, minister for the Smyrna church, described the walk as the next step in the growing collaboration by six Nashville-area congregations. 
"All of our elderships and us as ministers, we all agreed that this needs to continue. … We need to kind of ride the wave," Tremblay said. "What could we engage in together that would have a tangible result and would involve all of us? One of the first things that came up was Walk4Water."
Eager to choose the best site, the ministers picked Smyrna — centrally located for many of the walkers and an easier site to organize a walk than Nashville, the leaders said.
Tremblay praised his fellow preachers' spirit of cooperation. There were no squabbles over location or who would get the glory.
"We don't care whose church it's at," Tremblay said. "It's not about churches getting the credit. It's about God getting the credit."
With the group's decision made, the Smyrna minister met with town officials to determine the route. While Walk4Water events often take place inside parks or in wooded areas, Tremblay said, he wanted a more central location.
"I wanted to push for a … gathering that would have more visibility," he said. "I wanted to do that … for the community outreach aspect because I didn't want the community to feel like this is just a Church of Christ thing. I wanted the community to feel like this is a community thing."
'This is a community thing'
Tremblay proposed a route to Smyrna town manager Brian Hercules that would begin and end at a prominent park, not the church, hoping to avoid the impression that the walk was just for church members.
Hercules rejected the proposal, concerned that using the public park would set an unwanted precedent, Tremblay said. But the town manager came up with an alternative.
The Smyrna official did more than help plan the walk. He attended.
"They trusted me … and it worked out very well, and here we are at their church," Hercules said. "It's a great event. … Look at this crowd and the diversity of our community coming together."
Town officials were not the only people Tremblay found supportive. He did a 45-minute interview about Walk4Water with a local radio station and spoke about the event at the Rotary Club. The Junior ROTC program at nearby LaVergne High School furnished cadets to help police with traffic control.
Local businesses displayed posters, and some signed up to participate. One convenience store put the Walk4Water flyer right under a beer sign.
Growing out of informal meetings among ministers, Greater Together has seen many multi-ethnic area churches come together, with Churches of Christ alongside congregations with other denominational affiliations. 
Some of the churches have significant percentages of White, Black and Hispanic members. Jackson Street Church of Christ is predominantly Black.
Smyrna's Tremblay, Antioch minister Patterson Morgan, Rural Hill minister Joshua Jackson and Jackson Street minister Christopher Jackson are relatively new to the area. Darrick Shepherd joined the Una church as its preacher on Sept. 1.
Tusculum pulpit minister Mark Adams grew up in Nashville but has only been at the congregation since January 2022 after moving back to Tennessee from Texas.
"All the rest of these guys are from other places, and none of us has been at our existing congregation for all that long," Adams explained, "and so, for them, they don't have any presuppositions or baggage about why we couldn't do anything together."
Living water
Organizers viewed the Greater Together Walk4Water event not only as a way to bring awareness about water — but also to evangelize.
"As Christians, it's not just about doing good things in the world," Tremblay said. "What we're really after is having opportunities to share the Gospel with people. … This whole Walk4Water thing … it's really just creating a platform for us to bring the community together. But then we get to present them with the Gospel."
"The people … that we're trying to reach who don't necessarily go to church, or who haven't been to church in a while, or who have no desire to go to church, they wouldn't necessarily be opposed to coming out and walking," said Rural Hill's Jackson. "So it opens it up for the community to participate and not just the church to participate."
A brief worship service followed the walk and preceded a cookout at the Smyrna church. In a brief message, Anthony Walker, minister for the Highway 231 Church of Christ in Murfreesboro, brought together the afternoon's themes.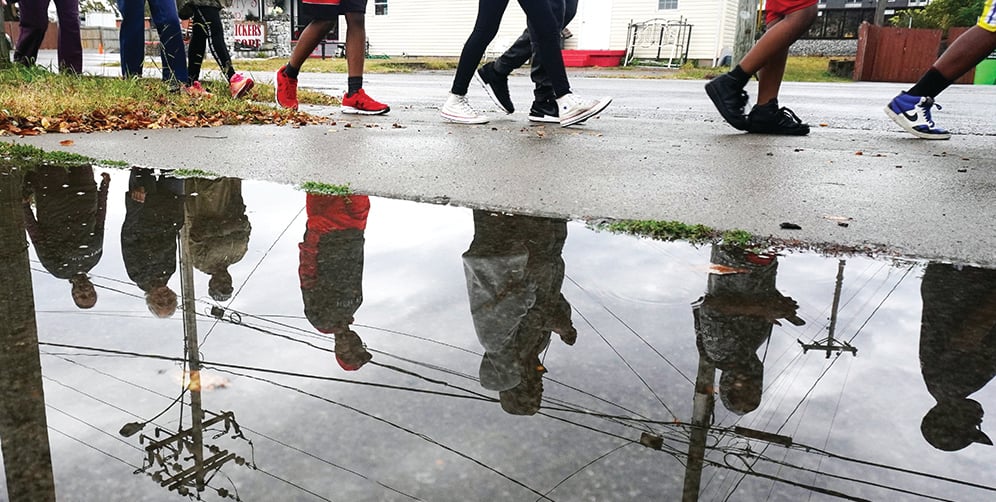 "I want to tell you … about a woman who actually in the Bible walked for water," Walker said, turning to the story of the Samaritan woman at the well. 
He pointed out that Jesus and the woman talked about two types of water — the common kind that quenches thirst and the spiritual kind that addresses people's deepest need.
"I'm not a gospel preacher if I don't tell you about some other water," Walker said.
For Smyrna church member Maggie Sims, Walk4Water was about more than the satisfaction of completing the course. 
"I feel great, but I'm more excited about the accomplishment of the … wells," she said after the walk. "There's all these cars going by and watching, and it's just a great … message from Christ."
Corey Spivey, the Jackson Street church's assistant minister, almost headed home when he saw the cloudy skies. He was glad he stuck it out. 
"You see so many different nationalities of people. We don't look the same," Spivey said about the event participants. "But we've got the same blood running within us. That's the blood of Christ.
"I think it's just a great representation that when we all come together, put all our differences aside … just the amazing things we can do."
This article originally appeared at The Christian Chronicle.
Ted Parks, a native of Chattanooga, Tenn., is a correspondent for The Christian Chronicle. He attended Lipscomb University, Harding School of Theology and the University of Texas at Austin.