The offering was over and the worship team at Global Vision Bible Church had just finished singing "Oh How I Love Jesus" when the Rev. Greg Locke began telling his church about his conversations with demons.
Those demons, he said, had revealed the names of a group of "full-blown, spell-casting" witches who'd been sent to infiltrate Global Vision, a nondenominational church east of Nashville, Tennessee, where Locke is pastor.
"To God be the glory, I lie not," he told the congregation at Global Vision on Sunday, which was meeting in a packed tent on the church's property. "We got first and last names of six witches that are in our church. And you know what's strange, three of you are in this room right now."
Locke told the congregation that he'd gotten the names while casting a demon out of a woman who had recently begun coming to Global Vision. The preacher, known for his sensationalist sermons about politics and COVID-19 skepticism — went on to describe the exorcism in detail, quoting a demon with scruffy voice who accused worshippers at the church of being witches.
Two of the witches were in his wife's Bible study, said Locke, who warned the alleged witches not to make a move during his sermon. He then retold the New Testament story of Jesus casting a demon out of a man and into a herd of pigs, turning it into an extended monologue about witches in the church.
Give a gift of any amount to The Roys Report this month, and you will receive "In the House of Friends: Understanding and Healing from Spiritual Abuse in Christian Churches" by Kenneth Garrett. To donate, click here.

"You so much as cough wrong and I'll expose in front of everybody under this tent, you stinking spell-casting, pharmakeia devil worshipping and mongrel," he said, using a Greek word that sometimes describes those who practice witchcraft or sorcery. "You were sent to destroy this church."
In recent years Locke has used his sermons to attack LGBTQ people, accuse Democratic politicians of child abuse, spread claims about election fraud, denounce vaccines and claim that the COVID-19 pandemic is a hoax. During Sunday's sermon, he blamed witchcraft for an outbreak of illness in the church.
In recent months, some vaccine skeptics have claimed that pharmaceutical companies were practicing sorcery by creating the vaccines, because of the resonance with pharmakeia. That led to a surge in searches for the word "sorcery" in the Bible in 2021, according to Christianity Today, and warnings from pastors and Christian celebrities about the spiritual dangers of the pharmaceutical industry.
And against God. The foolish and ignorant will run for it thinking they're doing morally great things. Revelations also emphasizes how the whole world will be deceived by Pharmakeia.
Source: revelation 13:17 and 18:23

— Danny Gokey (@dannygokey) November 30, 2021
An edited clip of Locke's sermon was posted online by atheist writer Hemant Mehta.
In an email to Religion News Service, Locke said his words had been taken out of context in the edited video. He said two of the alleged witches were men and were "ALL sent here on assignment to disrupt."
Locke, who recently held a book burning of Harry Potter novels and other "satanic" works, also said "trouble-makers" in the church had brought the witches to Global Vision to lure church members into adultery.
"WE WILL NOT TOLERATE THAT!!" Locke wrote in his email. 
In a phone interview, Mehta said that he had edited clips of the video so that it could posted on Twitter, where the video has been viewed more than 900,000 times. None of Locke's comments were taken out of context, Mehta said.
During the sermon, Locke repeatedly told his congregants he was not lying to them, going so far as to swear on the Bible that he was telling the truth about his encounters with demons, saying that if he lied about that, "what won't I lie to you about."
"Hand to God," he said. "In the name of Jesus, if I'm lying, if I'm over exaggerating what I'm trying to tell these people for the purpose of clicks and likes, may I drop dead preaching on this platform having blasphemed the power of the Holy Ghost in front of everybody."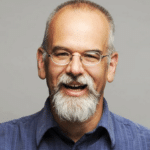 Bob Smietana is a national reporter for Religion News Service. Elizabeth E. Evans is an Episcopal priest and freelance writer.