Last May, Vicki Blue discovered through her husband that the famed apologist, Ravi Zacharias, had died.
"I'm glad," Blue recalls saying. "Now he can't hurt anyone anymore."
Blue is one of several victims who spoke anonymously to Christianity Today (CT) for an article last fall exposing Zacharias' sexual abuse and harassment of massage therapists at spas he co-owned. In an exclusive interview with The Roys Report, Blue for the first time revealed her identity for publication and shared her experience with Zacharias in detail in hopes of helping other abuse victims.
Blue was not merely a massage therapist at one of Zacharias' spas. She was co-owner with Zacharias and his friend, Anurag Sharma, of Zacharias' first spa, Touch of Eden, from 2004—2007.
According to Blue, Zacharias exploited his position as her spiritual mentor to sexually abuse both Blue and other therapists at the spa, including Blue's daughter, Becca.
Give a gift of $25 or more to The Roys Report this month, and you will receive a copy of "I Can't Hear God Anymore: Life in A Dallas Cult" by Wendy Duncan. To donate, click here.

For more than a decade, Blue kept silent about what happened. She said when she left the spa in 2007, Zacharias threatened to "ruin" her and Becca if they ever told anyone about the abuse.
"Ravi kept talking about an anonymous donor that he could get limitless money from," Blue said. "He said, 'I can keep it going and make your life miserable until you die.'"
Blue said she also was emotionally fragile at the time. And several years later, when her daughter, Becca, died suddenly from virus in the heart, Blue said she attempted suicide twice.
Yet after Zacharias' death, Blue made a discovery that prompted her to break her silence. She learned that Zacharias had groomed and sexually exploited a Canadian woman, Lori Anne Thompson. And for Blue, that was the last straw.
"I looked on the internet after my husband mentioned Ravi's death," Blue told me, explaining that she hadn't followed news about Zacharias for 10 years. She then discovered raviwatch.com—the website of Steve Baughman, author of Cover-Up in the Kingdom—and read about the 2017 sexting scandal involving Thompson.
Blue said after reading about Thompson, she "felt guilty for not crying out to the world about (Zacharias') deviant appetite." So, she emailed Baughman, who eventually connected Blue with a reporter. This led to CT's article in September and an investigation by Miller & Martin, revealing the extent of Zacharias' abuse, which spanned decades.
"When the first (Miller & Martin) report came out, I cried for three days," Blue told me. "I felt so bad. All those ladies and maybe girls. I figured there were hundreds."
Blue said she felt "totally broken" by the report. But she said she also saw God's providence in bringing everything to light. She noted that the day before she found Steve Baughman's website, she had prayed to God, asking Him to do something about Zacharias and his victims.
"God is doing this," she said. "Everyone's thinking this is being done by me, or by other women, or by reporters, or by whatever, but it's not. It's God."
"The Closest Person to God Other Than Jesus"
Blue said she first met Zacharias in 2000 when he began coming to her for massage therapy at a spa she co-owned, called Salon Sedona. He continued as a client when she left Salon Sedona and opened a new salon, called Victoria's Spa.
Blue said she would talk with Zacharias about her many spiritual questions. "I was a Christian looking for answers," Blue said, explaining how she was abused as a child and struggling to "put things together."
She said Zacharias helped her immensely with her spiritual confusion and she considered him "the closest person to God other than Jesus."
But then, Zacharias began to cross emotional and sexual boundaries.
Blue said Zacharias repeatedly told her he was dissatisfied with his marriage, saying it was "all business," and describing his wife as a "taskmaster" who "kept adding more and more and more lectures." 
Yet Zacharias claimed Blue was "his soulmate" and said he "couldn't survive without (her)," Blue said. She added that Zacharias would call her every day. And when he'd come home from trips, he'd come to her spa before he'd even go home.
One time when Blue was massaging Zacharias, she says he reached around her waist and pulled her down to kiss him. Blue said she didn't stop him.
However, during another massage, Blue said Zacharias reached up her leg to her groin.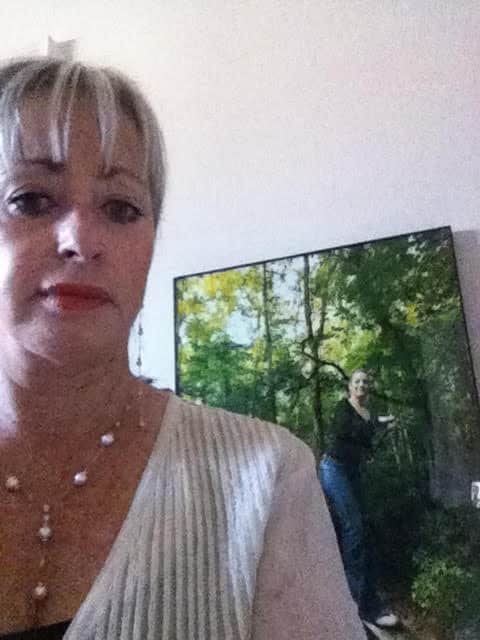 "My heart sank at that point because I realized what he was doing," Blue said. She said she responded by pulling his hand away and saying no. But the sexual advances didn't stop.
Blue said Zacharias would turn over during therapy sessions and beg her to come close. She said Zacharias exposed himself and masturbated in front of her 50 to 100 times.
Blue said Zacharias twice asked her to have sex with him, but both times she refused because Zacharias was married. She said Zacharias also asked her for pictures of herself, and she sent him one fully clothed with Becca in the background "to make a statement."
At the time, Blue said she believed Zacharias behaved the way he did because he was in love with her. "He talked like I was the most precious person on earth," she said.
Blue added that Zacharias would also argue that he "needed" a sexual outlet. "He would say, 'It's my reward. It's part of my therapy, my relaxation,'" Blue said.
Blue now views what Zacharias did as abuse. But back then, she says she was vulnerable and confused, adding, "It's hard to explain. When someone gives you spiritual advice and you know everything he says about God is true, yet he's also doing these things to you—it took years of therapy to realize I didn't do anything wrong."
At the end of 2003, Blue said Zacharias insisted that she start a spa with him and Anurag Sharma. She said she was doing fine financially at the time, but Zacharias kept pushing her into the business, claiming she'd make more money, so she agreed.
To come up with the initial $40,000 investment, Blue sold her townhome and also used an inheritance she'd received from her grandmother. Blue said Zacharias and Sharma also invested an initial $40,000 each.
Blue's testimony matches what Sharma told me in an interview several months ago, though Sharma said he thought the initial investment was around $50,000. Sharma said he was on "Cloud 9" when Zacharias invited him to be a business partner.
"(Sharma) worshipped Ravi . . . as much as he worshipped God," Blue said. She added that Sharma was like a "bodyguard," protecting Zacharias.
As a result, Blue said Zacharias called all the shots in the business, like the location for the spa—a strip mall in Alpharetta, Georgia. Blue said the location "was a disaster" because there was construction in front of building for the entire three years she was in the business. But the building was close to Zacharias' home, so he reportedly insisted on it.
Over the three years she co-owned Touch of Eden, Blue said she invested a total of $68,000, which she lost entirely. Blue said she also gave back half her salary during the final year of the business to keep pace with the investments Sharma and Zacharias were making.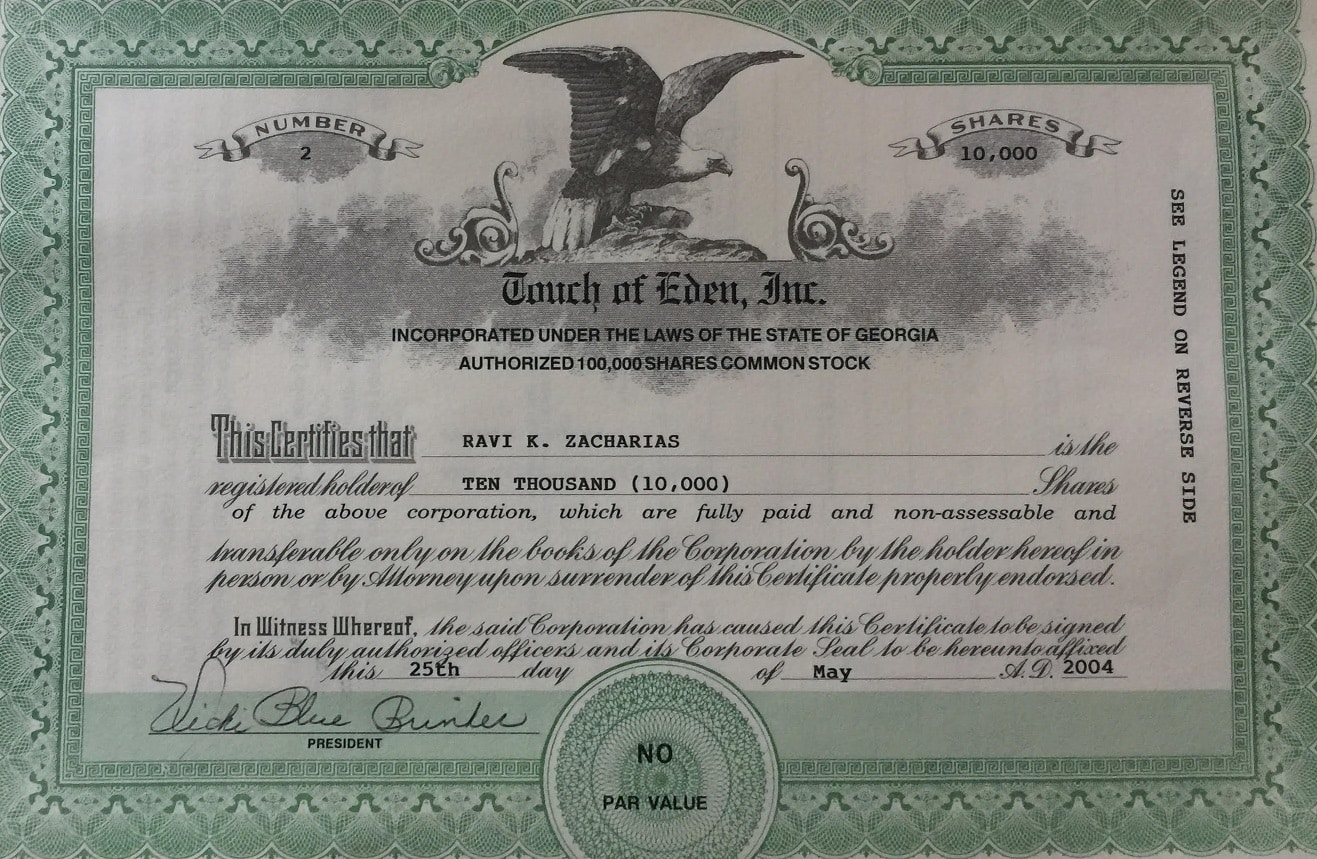 More Abuse Revealed
In 2007, Blue's daughter, Becca, who was a therapist at Touch of Eden, told her mother that Zacharias had molested her. Blue said she then talked to six other therapists who said Zacharias had either molested, or "done something perverted," to each one of them.
It was a devastating and eye-opening moment.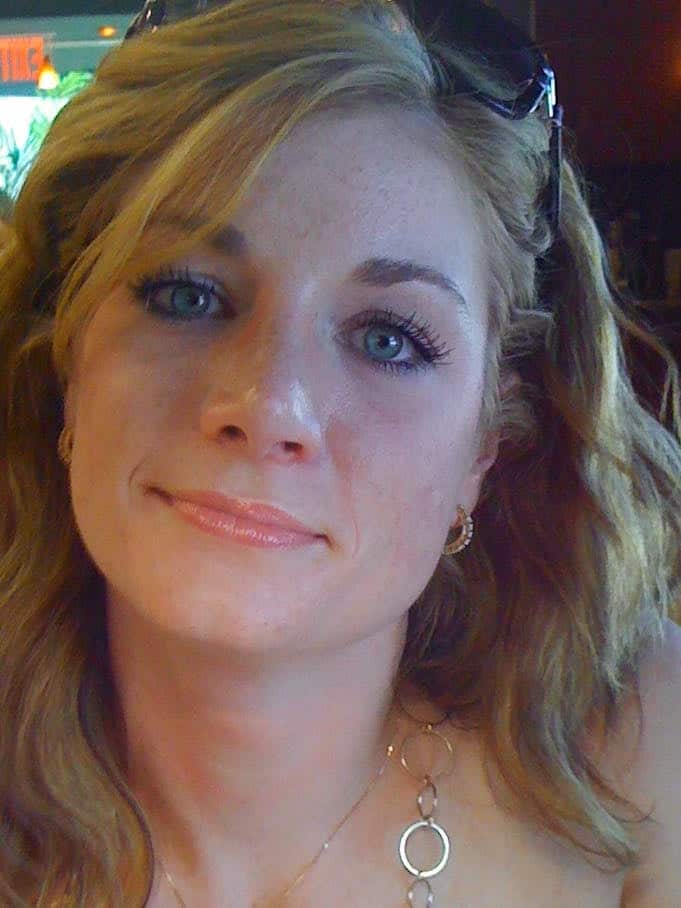 "I realized then how much I had been used and manipulated," Blue said.
Blue said she also realized that what Zacharias was doing was "so illegal," and she immediately wanted out of Touch of Eden.
Yet she said she was carrying tens of thousands of dollars of business debt on her credit cards and realized she had to be very careful how she maneuvered out of the business.
She added that simultaneously, Zacharias and Sharma were urging her to convert Touch of Eden into a spa specializing in Ayurveda, an ancient Indian medicine system with Hindu roots. Blue said she didn't want any part of it.
"To me, (Touch of Eden) was a Christian place," Blue said. "I told them, 'No, that's with all the chakras and Hindu religion. I can't do that here . . . Absolutely not.'"
Blue said Zacharias and Sharma also wanted her to bring in women from Asia to train and work under licensed therapists at Touch of Eden. This especially scared her.
Over the next several months, Blue said she was able to extricate herself from the business and get Sharma and Zacharias to pay off the credit cards. Sharma and Zacharias then launched an Ayurvedic spa, called Jivan Wellness, and Blue, who said she was penniless, went to work elsewhere.
However, before leaving, Blue said she confronted Zacharias about the abuse and urged him to confess to his sin to his "brothers and sisters" at Ravi Zacharias International Ministries (RZIM) and get help. She said Zacharias refused.
About a year later, Blue said one of the former aestheticians at Touch of Eden approached her about suing Zacharias. Blue said she told the aesthetician that she would testify on the aesthetician's behalf but was afraid to sue Zacharias because of the threats he had made to destroy her. Blue said the aesthetician never filed a lawsuit.
In 2011, Blue's daughter Becca died. And Blue said Zacharias contacted her and asked if she would massage him in his home. Blue said she was in "total agony and totally lost" at the time, so she conceded, wanting to talk with Zacharias about Becca's death.
Once again, Zacharias crossed sexual boundaries. And once again, Blue confronted him, except this time, she named some of the women who had accused Zacharias of molesting them.
Blue said Zacharias "lost it" and began yelling about how she was betraying him and the ministry.
Blue said she quickly tried to pacify Zacharias, so he wouldn't hurt her. "I knew if I wasn't careful, it would be bad for me," she added.  
That was the last time Blue said she ever saw Zacharias.
Hope for Healing
Blue readily admits that the past 11 months have been an emotional roller-coaster.
When the allegations of abuse from her and other spa workers first became public, RZIM denied the victims' claims, stating that the allegations "do not in any way comport with the man we knew for decades."
Three months later, the ministry reversed its stance and said it found the women's claims credible. And in February, when the Miller & Martin report released, RZIM apologized to the victims, stating that the ministry's trust in Zacharias was "severely misplaced."
Blue says she's skeptical of claims that no one at RZIM knew about the abuse but said she doesn't have first-hand knowledge one way or the other. She said she's just glad the truth finally came to light.
"God is cleaning up this entire mess," Blue said, adding that she hopes that by coming forward, she'll encourage other victims.
"I felt like if I told anyone . . . I'd be laughed at," she said. "It's important to victims to know they're not alone. They need to know they can get help."
Blue added that seeing the truth finally come to light has been incredibly "faith building" and "healing" for her.  
"That's the best thing that's come out of this for me," she said. "I deeply needed that in my personal life."
Email Vicki Blue Sent to Steve Baughman in May 2020:Documents Provided by Vicki Blue: