Best-selling Christian author and blogger, Ann Voskamp tonight is battling a serious infection and her family is asking for prayer.
Voskamp yesterday had a fever of 39.5 Celsius (103 Farenheit) and spent 12 hours in a hospital emergency room , according to an Instagram post on Voskamp's account by her sister, Molly.
Molly said Voskamp's fever broke last night and she is home on bedrest. But doctors reportedly still do not know the cause of the infection, despite "2 CT scans, a lumbar puncture to test spinal fluid, chest X-rays, a cardiogram, and blood work.".
The family is awaiting the results of cultures and tests and is requesting prayer. In addition to Voskamp's illness, the family is also dealing with the tragic death of Voskamp's father less than three weeks ago.
"Your wildly generous prayers . . . & God's kind grace are carrying us through a deep valley of grief & pain & heartbreak that we are trusting is for His great glory & our genuine good," Molly wrote. "We couldn't walk this dark vale without the saints upholding arms & our family deeply thanks you for loving us well through this brutal chapter in His story that will most assuredly end with a good and king last line."
Give a gift of $25 or more to The Roys Report this month, and you will receive a copy of "Is it Me? Making Sense of Your Confusing Marriage" To donate, click here.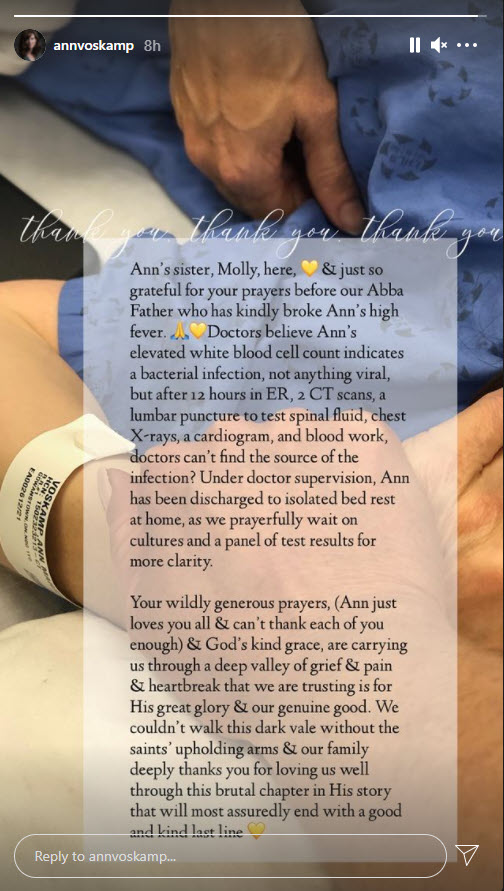 Voskamp's father, Bryan Morton, died on April 29. In an Instagram post on May 3, Voskamp wrote: 
"My dear Dad was killed this past week the same way our sister was—both killed under a farm tire in the same farmyard. There are stories we find ourselves living that we'd never choose, but this I know in my bones: God is the Word, & He is more than good. He is kind, & He ultimately only writes good stories.
"This page of the story is not good. And this chapter feels pitch dark & nauseating & we are sorta just staggering through.
"But this page isn't the end of the story. This chapter isn't the final chapter. And the dark doesn't write the last line. The Word does, the Light does, Love Himself does."