As La Luz del Mundo leader Naasón Joaquín García was sentenced to nearly 17 years for sexually abusing young female followers, Jack Freeman — a spokesman and minister for the Los Angeles church — remained steadfast in his support for García as God's elected.
"Even if the whole world would come against me, I would still declare with my faith. I am a Child of God and a believer of Apostle (Naason) Joaquin!" Freeman said on Twitter a day after García's sentencing. 
La Luz del Mundo leaders continue to maintain García's innocence, even after he was called "evil," a "monster" and the "Antichrist" in his sentencing by five young women he was charged with sexually abusing. The women urged the judge to impose a longer sentence than the 16 years and eight months he received. 
His followers believe the claims of abuse are fabricated and his guilty plea is the result of a fraudulent justice system. García abruptly pleaded guilty just before his long-awaited trial was to start.
Church leaders have noted that their congregations continue to grow in the U.S., where a new house of worship was just inaugurated in Waukegan, Illinois, and as new members were baptized in a ceremony in Pachuca, a city in the Mexican state of Hidalgo.
Give a gift of $30 or more to The Roys Report this month, and you will receive a copy of "Jesus v. Evangelicals: A Biblical Critique of a Wayward Movement" by Constantine Campbell. To donate, click here.

In the church's official statement, leaders say García, who goes by the title of apostle, is on a "path that God has placed in front of him for a reason, as he did for Apostle Paul."
"The Apostle will continue ministering to the church," they said.
Church leaders are going to reach for whatever biblical analogy they can to justify the situation, said Arlene Sánchez-Walsh, a professor of religious studies at Azusa Pacific University. "Because that shores up the true believers' idea that this is a persecution," she added.
"The church is going to say that they are persecuted, like the historic Christian church has been, tying their persecution complex to the biblical idea of persecuted leaders in jail, like Peter and Paul," said Sánchez-Walsh, author of "Latino Pentecostal Identity: Evangelical Faith, Self, and Society."
Sánchez-Walsh said the church could continue to move forward despite García's imprisonment. If a church has a substantial base of true believers and money, "it has enough to keep going for as long as they want," she said. 
As well, she noted, there's just too much to lose in leaving a belief system in which followers have invested "a lot of time, money and emotional currency." 
"That's incredibly difficult to do for any organization, particularly a religious organization that's given you a worldview that says, 'We are God's chosen. We are led by God's apostle. We are the true church," Sánchez-Walsh added.
Headquartered in the Catholic stronghold of Guadalajara, Mexico, the tightknit Mexico-based Pentecostal movement claims 5 million worldwide followers. La Luz del Mundo temples are across the United States, with several in Southern California, predominantly in working-class Latino communities such as East Los Angeles, Huntington Park and San Bernardino.
La Luz del Mundo was founded in 1926 by García's grandfather, Eusebio Joaquín González. The church rejects the concept of the Trinity and teaches that Jesus is God's son and church leaders, like García, his father and grandfather, are his apostles.
In 2020, an ex-member sued the church and more than a dozen of its leaders, alleging decades of abuse at the hands of the group's leaders. García's father was the subject of child sex abuse allegations in 1997, but authorities in Mexico never filed criminal charges.
Followers of La Luz del Mundo don't celebrate Christmas or Easter, but they do recognize the birthdays of García and the other apostles.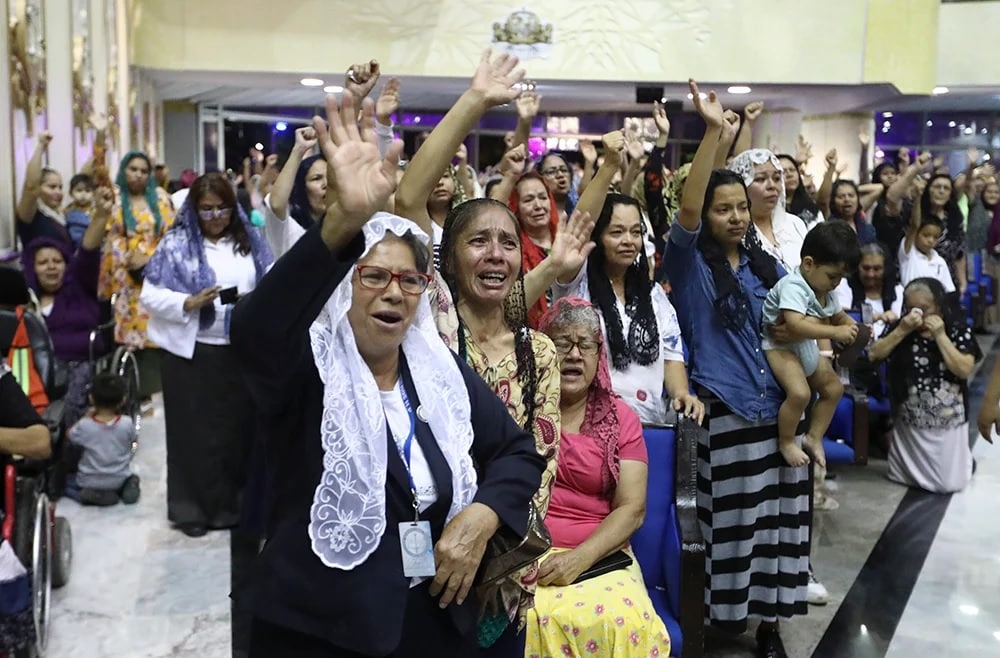 As a former pastor of La Luz del Mundo, Sergio Meza said he understands why congregants would choose to remain in the church.
Meza was labeled as no longer "being of God" when he left his pastoral position years ago in about 1986, and he said if church members decide to leave, "they have to be willing to lose their entire family, their husbands and wives, their children and parents — everyone."
"As soon as you start to question, you are seen as the enemy of the apostle and of the church," said Meza, 72, of Los Angeles.
Meza served as pastor in churches in East LA; in San Antonio and Houston; in Ensenada in Baja California; and in various parts of Mexico. Pastors are reassigned every two or three years, he said, causing his family to move often. He said he made no money as pastor and sold food on the street to make ends meet. 
He left the church for good in about 2000. Aside from his wife, children and grandchildren, he said he has no other family, considering that many of his nephews and cousins still remain in La Luz del Mundo. His family's involvement in the church spans five generations, with his mother, a former Catholic, joining in 1950. 
"I understand that leaving is not easy," he said.
La Luz del Mundo leaders have not answered questions as to how García will minister from behind bars, but García has been reported as addressing his followers through letters he wrote as he awaited trial from his jail cell. In one letter, according to the BBC News, García wrote that he was fulfilling a "divine mission" by preaching to fellow prisoners.
"God's plan is perfect, even though it is not always pleasant," he said in the message read out at the 2019 Holy Supper gathering in Guadalajara.
Daniel Ramírez, a Claremont Graduate University associate professor of religion, said the letters García sends to congregations "are received like the epistles of Paul in the New Testament."
"A lot of his epistles were sent by Paul from Roman jail, so the faithful receive it in that genre of apostolic exhortation," said Ramírez, author of "Migrating Faith: Pentecostalism in the United States and Mexico in the Twentieth Century."
"No matter where the letter was read, whether Chicago, Atlanta or elsewhere, it was received with great emotion, great joy, as word from God's apostle on earth," Ramírez added.
Ramírez said it's not completely clear how García's imprisonment could ultimately affect the state of the church, but he did note "an explosion of dissent of former Luz del Mundo members and victims, who have now been able to use this moment to expose everything."
He said this may be an opportunity for ex-members to reach out to their loved ones who remain inside. "It may stymie future growth," Ramírez said.
Ramírez noted some distinct differences from decades ago, when church membership grew after Mexican authorities failed to bring criminal charges against García's father when he was accused of child sex abuse. 
La Luz del Mundo's followers saw those accusations as proof of discrimination against them by Mexico's Catholic majority, who often refer to them derogatorily as a sect or cult. Ramírez said the group's leaders have in the past used setbacks to their advantage.
Now, Ramírez said, it'll be interesting to see how the younger generations, including those born in the U.S., react to these developments. They're social-media savvy, Ramírez said, and "they can run around any kind of barriers of information."
To Raquel Guerra, who grew up attending a La Luz del Mundo church in San Antonio, Texas, the majority of church members "are good people."
"They just put their faith in the wrong person," said Guerra, who blames the church leadership for "falsifying and twisting everything."
She said many don't believe the claims of abuse, partly because the women alleging the abuse are listed as Jane Does in court documents. While Guerra recognizes their names aren't listed in order to protect them, she said others may not grasp that. Some simply think such claims are fabricated, she said. Still, Guerra said there are those who say that, even if Garcia is responsible for abuse, "we cannot judge him."
To some, Guerra said, leaders like Garcia "are able to experience pleasure of all kinds because they're sent by God."
While Guerra said she didn't directly see any sexual abuse while she was a part of the church, she became more aware of stories of abuse after leaving the church and connecting with other ex-members.
She left La Luz del Mundo at around age 19 because she was pregnant and in a relationship with a man who wasn't part of the church. An insular community, the church frowned on relationships with outsiders, Guerra said. She recalls church leaders saying the child was a product of sin.
Guerra still has family in the church who have "received her with open arms, even knowing that they consider me an apostate."
"There are still some good members out there who practice love instead of hatred as his doctrine teaches," Guerra said.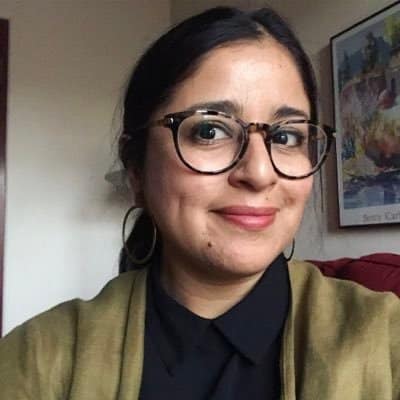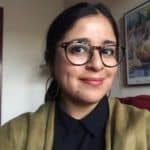 Alejandra Molina is a national reporter for Religion News Service.